<! ----------------------------------------------------------------------->
---

Among the components of iLife, I use iPhoto almost daily. I am, therefore, quick to notice any changes to software I use so regularly. iPhoto has had major changes to the user interface and to what happens behind the scenes improving the working environment.
The most obvious difference is the way imported images are now grouped. In previous versions, photographs were organised by date or by roll: a hold-over from the analogue camera (that uses film). This application is designed for use with digital images. These cameras are widespread and some have massive storage. As an example, I take pictures in RAW format and my 1G memory card can hold about 175 images. If I switch to JPG, then the same card can hold almost 600 images: about 16 rolls of film.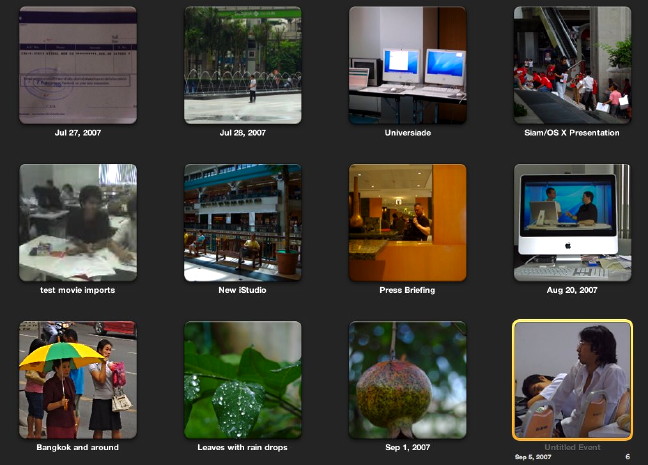 Now imported images can be listed as "Photos" (as before) and sorted in a number of ways via the View menu; or by a new "Events" concept in which a group of photographs is stacked together. A few hours after beginning to use this, it had become second nature. The first image taken is the key image, but this can be changed easily. Events can also be sorted: by date, title or manually, in ascending or descending order.
Images in Event windows may be viewed quickly by running the mouse across the Event. With the mouse over the panel, other details are revealed about the group pictures. Stopping at a specific image and pressing the Control key displays some options, including making that the key image. A double click on the date opens a panel which alows an Event-title to be entered.
Double-clicking on any of the images opens all from that Event in a panel. Double clicking a second time allows them to be viewed as single, large images (a Hide icon gets you back). In earlier versions of iPhoto that double click would open the editing functions, but this is now selected using an icon at the bottom of the screen.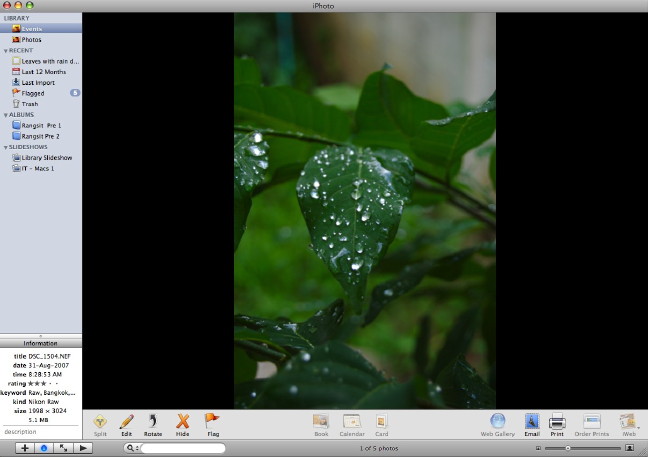 It is easy to merge Events, so if images come from several days, or from a selection of memory cards, they can be grouped together, either by selecting two or more events and using a "Merge" button at the bottom of the panel, or by dragging one Event into another. Flagged images may also be merged into events. Flags makes them easy to find in other applications, like iMovie.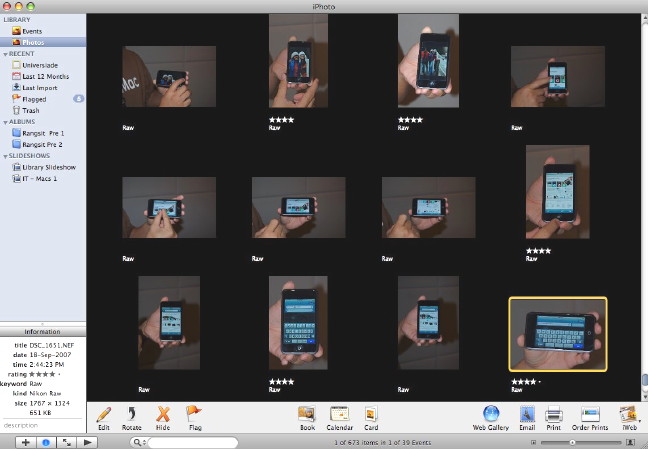 In Photos view, individual images can be dragged from one event to another. I found this useful, for example, when I took pictures on the bus going into the city recently and then attended an Apple Press briefing. I can group the Apple-related images together in one event and move the others.
Importing images from a camera has been changed and is now similar to the method used in Aperture. Instead of importing all with a single click, the images on the camera's memory card are displayed first. This is a little slower to open than the previous, simple import but does allow early image rejection. A user may "Import All" or select some of the images. This is more flexible than importing in the earlier version.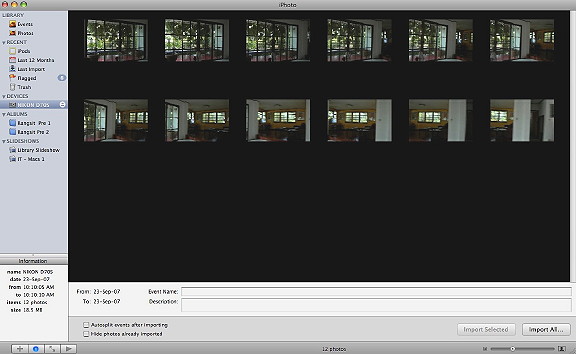 At the time of import, a panel is available for entering details of the Event (Title, Description), but not Keywords. Two boxes are provided that can be checked for Autosplit and to hide any photographs already imported.







When all Events are viewed, beneath the panel are ten icons as well as some controls. New Event and Edit are grouped to the left with Merge. In the centre are print export types: Book, Calendar and Card. To the right are the image export forms: Web Gallery (for those with .Mac acounts), Email, allowing various sizes of images to be included in messages, Print, Order Prints (only available in certain countries) and iWeb, which sends images to that other part of iLife.

A major change has occurred in the way the images are stored once imported. While earlier, an iPhoto folder was used inside the user's Pictures folder, images are now stored inside an iPhoto library, like the Aperture library. Clicking on this opens iPhoto.

To gain access to the contents of the library, we use the Finder's "Open Package Contents" action. As before, all originals and modified images are retained, which does tend to take up a lot of extra space (unlike Aperture or Adobe Lightroom).

The library also includes the iPod photo cache for those who synchronise their images to the iPod. Any movie files imported are stored in the "Originals" folder. Clicking on these in iPhoto will open QuickTime.

I use iPhoto regularly because the user interface is simple to use and, particularly now, has plenty of tools for editing and exporting: enough so that for many operations I do not need to resort to third-party applications. I will be examining the iPhoto controls in the near future.


See also, Part Two of this look at iPhoto

<! ----------------------------------------------------------------------->