eXtensions
AppleTV in Bangkok: Expectations and Limitations
By Graham K. Rogers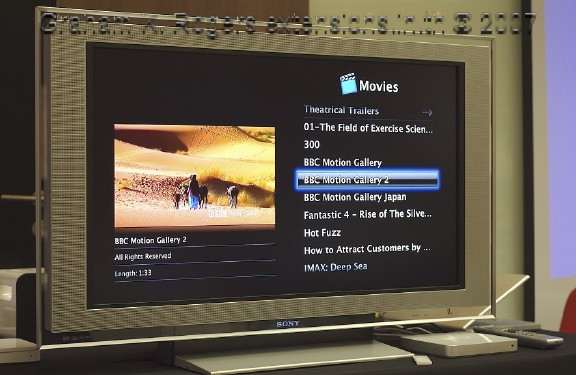 On Tuesday 12 June this year, Melvyn Chen, Product Marketing Manager for Apple, demonstrated Apple TV at the Apple offices in Siam Tower. The official price is to be 15,301 including VAT. I have already seen some units on sale in retailers in central Bangkok.
The system is compatible with Enhanced-definition or high-definition widescreen TVs capable of 1080i 60/50Hz, 720p 60/50Hz, 576p 50Hz (PAL format), or 480p 60Hz. The test system in Apple's Siam office was using a Sony Bravia TV with a 40" screen.
As well as the wifi and Ethernet connections, the AppleTV has connectors for HDMI (video and audio), Component video, Optical audio, Analog RCA stereo audio, USB 2.0 and Built-in IR receiver for the Apple Remote.
The AppleTV interface is almost identical to Front Row on all current Macs. Both use the remote IR device to bring up an onscreen menu system that plays music on any linked computer and can show photographs, movies or DVDs.
iTunes is the controlling software both for content and for synchronisation of such media. Apple TV is an intermediary device: it depends on both hardware and content. It may well have a limited appeal to users in Thailand because of what is not available to us from the iTunes shop.

Media are synchronised via AppleTV, in much the same way we might sync to an iPod, and can then be played on a High Definition Television (HDTV). The connection is via an HDMI port or component video and audio ports. Data transfer uses wifi: 802.11a, g and n (if available). The device can also make media transfers between Mac or PC computers using 10/100 base-T Ethernet connections. A Mac would need to run OS X 10.3.9 or above while PCs need at least Windows XP Home/Professional (SP2).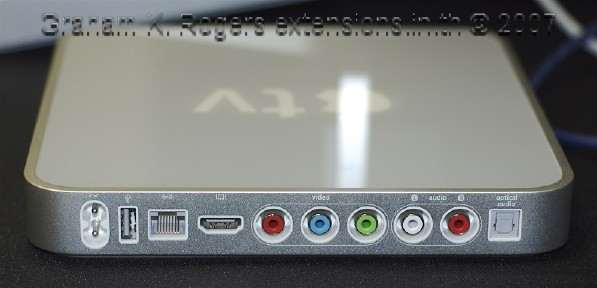 Apple TV comes with a 40G hard disk as standard which will store up to 50 hours of movies and TV shows or 9,000 songs or 25,000 pictures, so you may use it without your computer or iTunes running. In the US recently a 160G option was also released but we were told this is not available in Thailand as there is no online shop, something which is also overdue.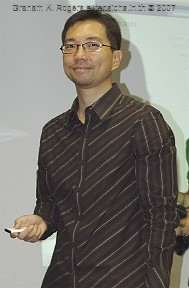 Aware of the bar on purchasing music and videos from the iTunes shop in Thailand and much of Asia, Melvyn highlighted the media that are accessible here. In the USA, for example, with movies and TV shows for download, there is much for the customer but this is not going to happen here for now, if ever.
He focussed on available podcast content in the main. Although this had an amateurish tinge to it a year or so ago, there are now numerous professional (and high quality) podcasts, some of which are already available in HD format. There are several from some well-known organisations, such as BBC, CBS, MTV and many more.
Melvyn also took time to talk about the iTunes U service that provides links to (currently) more than twenty universities in the United States who are providing curriculum content downloads accessible from the iTunes shop.
Any video file that is downloaded can be optimised for the AppleTV using a new feature in the iTunes "Advanced" menu. Any music already in iTunes, including Thai titles, can also be used on the device. Recorded content via Mac-compatible tuners, such as Elgato, can also be used.
Coming this month (June) but likely to be unavailable for the time being is the link that Apple recently created for thousands of free YouTube videos streamed directly from the Internet. We do not know how long the ban on such content will continue, but should it end there will be thousands of entertaining and educating videos that can be used with this system. QuickTime movie trailers are also to be available for streaming.
Strongly rumoured is a movie rental service for the iTunes shop later this year. Apple is rumoured to be in discussions with several movie houses with a time-limited rental for a price of about $2.99 (100 baht). Again, one suspects that, even with software that automatically deletes such downloads after a given time, this will not happen in the Land of Smiles.

Even without the iTunes shop, there are separate sources, such as Joost (for PC and Intel Macs) which currently has some 130 channels that are available worldwide, or some more open services like ustream.tv. While Joost is not currently supported by AppleTV, some people have already devised a hack. What arrangements Apple makes for the future are anyone's guess.
Such free-ranging (and free) services may also indicate the real value behind a device like this: we are limited because of limited iTunes paid content; but AppleTV can provide a focal point to handle the downloadable media to come that can then be made available for HDTV.
---

For further information, e-mail to
Back to eXtensions
To eXtensions: 2004-05
To eXtensions: Year Two
To eXtensions: Year One
To eXtensions: Book Reviews
Back to homepage