eXtensions
Mac Pro 2.66GHz Workstation: Muscle machine
By Graham K. Rogers
When the Mac Pro was delivered, the first thing I noticed was the weight. This looks like the G5 PowerPC I reviewed two years back, but inside there is total change. The weight is due to full use of aluminium for chassis, case and the modules inside. This is clean inside and out with no wires visible.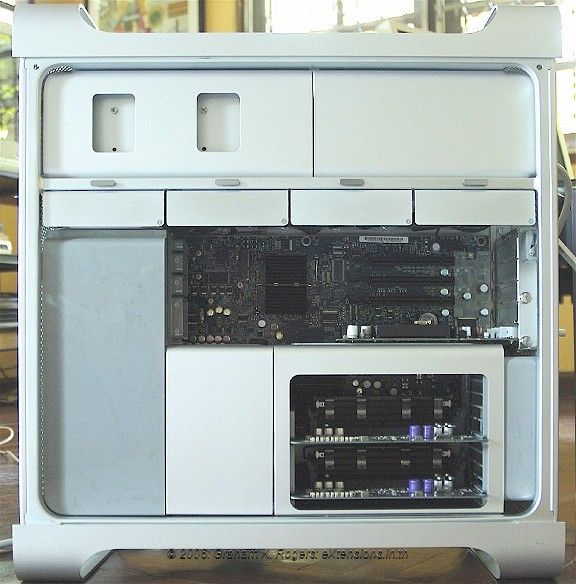 The box, itself an example of the total design that Apple applies to its products, shows that this is not a computer: "Mac Pro Quad Xeon 64-bit Workstation". This is smooth, muscular and well-equipped.
Excellency of design is shown in the availability of ports. For convenience, at the front are headphone, two USB (2.0) ports, Firewire 400 and Firewire 800. A superdrive was installed and there is space for another optical drive, both hidden by sliding aluminium panels.
At rear are three USB ports, Firewire 400, Firewire 800, optical audio ports, analog audio connections and two Ethernet ports: enough here to run a network, if Apple Server software and its unlimited user licensing were used.
Internally, there are three PCI-Express expansion ports free, and four bays for extra hard disks (with maximum 750G each). In Thailand the specification is for two dual-Core 2.66Ghz processors. The Mac Pro has 2GHz and 3GHz processors which are special orders here. Although 1GB of RAM is standard, this machine came with 5GB which eased things nicely.

The 23" Cinema Display that came with my loaner MacPro was almost the perfect complement with its resolution of 1920 x 1200. With two video ports on the Mac Pro, a pair of these displays would have been better. Seriously though, one was fine. The information that can be displayed on such a monitor is a boon to work-efficiency. Imagine two browser pages viewed side by side, for example. Editing photographs (or other visual media) full-screen makes those tasks so much easier too.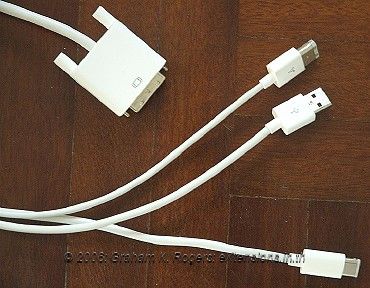 The monitor cable has four connectors: for the power source, the video connection, plus Firewire and USB links. That slightly untidy setup with the four-from-one cable does however mean that the desk is kept a little clearer when devices are connected to the monitor with its rear Firewire and USB connectors.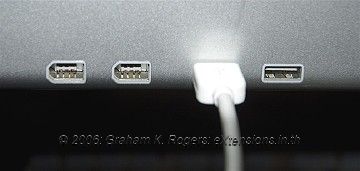 As well as OS X, the Mac Pro includes the usual utilities plus iLife, Comic Life and other applications: it works out of the box as we have come to expect. With Boot Camp, which was not installed on this machine, Windows operating systems can also be used.
I plugged in the network cable at home, turned it on and was online immediately. All of the software I used connected as expected (e.g. iTunes, Safari). Downloads and computer-to-computer data transfers were simply effected.
One of those transfers was my photo library to give me some pictures to play with. I exported 200 images (in iPhoto as RAW images) to TIFF format in just over a minute on the Mac Pro. On my 1.5GHz PowerBook, the same 200 images took a few seconds under 8 minutes and brought the fans into action, which had certainly not happened with the Mac Pro. Big fans there are, front and back, but I never heard them once.
The latest computers from Apple are fast, and the Mac Pro is the current leader of the pack. My students who had a look at it, wanted to know the price. They all thought it expensive at a little over 100,000 baht. If all you want from a computer is writing reports, e-mail and some Internet surfing, then of course it is.
This, however, is a major work machine. The sort that professional photographers go for. It is also a computer to make movies with, and the software, Final Cut Studio, had been installed for me, although I had little time to try the parts out.
I was also brought the disk for installing Shake: special effects software. Seen King Kong? That used Shake; and Weta Digital won an Oscar for that. Seven Oscars have been won with Shake in the last few years. Shake works well on the MacPro.
A colleague who planned to help me with the movie-making software had a series of scheduling conflicts and I was left to my own devices. I tried Motion 2, which is an application for making advanced motion graphics. Although this makes complex effects, it is not hard to grasp the basics, and I was able to come up with a simple title sequence in a couple of minutes. Although that may sound glib, the user interface is intuitive and changes are incorporated in real time: no long wait for rendering.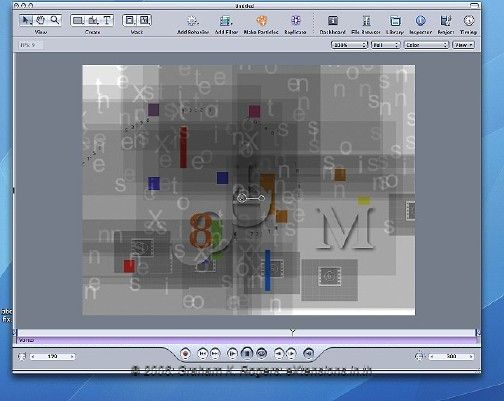 The Mac Pro is perhaps one of the best computers ever made: ideal for high level applications. The expandability also make it adaptable for many studio or production scenarios.
---

For further information, e-mail to
Back to eXtensions
To eXtensions: 2004-05
To eXtensions: Year Two
To eXtensions: Year One
To eXtensions: Book Reviews
Back to homepage