Press Briefing for 13" MacBook series, Metropolitan Hotel, Bangkok
By Graham K. Rogers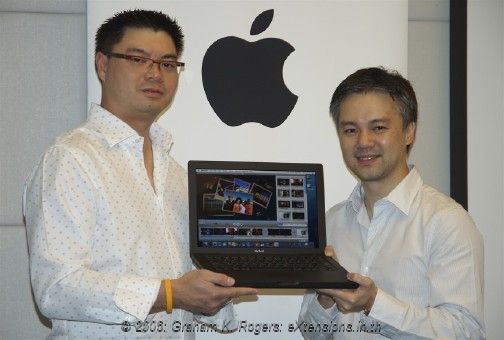 On Tuesday 30 May, the Metropolitan Hotel, Sathorn Road, Bangkok saw the Apple press briefing for MacBooks. Therdsak Skulyong, Apple's Managing Director for Thailand introduced Tony Li, Director Product Marketing, Asia-Pacific. Suvapal Promprakan translated.

After a warm up, Tony spoke of the Intel anouncement, in June 2005. In under 12 months, the entire range of laptops has been moved to the platform: seven months ahead of schedule. The 13" MacBook replaces both the iBook and the 12" PowerBook. Many mourn this loss.

Apple moved to Intel chips because the G5 chips could not work in laptops due to heat and power considerations. Intel's Core Duo uses much less power and has an advantage in the 2MB L2 on-board cache: the chip has less work to do.

The MacBook package now follows other computers released in the last months, with an iSight camera, Front Row and the remote control, along with PhotoBooth and the iLife package as standard. Like all Macs, there is a huge range of bundled Apple and third party software.

Macooks now have widescreen displays with a 16 x 10 aspect ratio, particularly appreciated when watching HD movies, or even creating your own. The display also has a glossy finish like Sony laptops, for example.

The MacBooks outperform the iBooks and the 12" PowerBook by a considerable margin and Apple claims up to five times the speed. For some applications this is lower (e.g. GarageBand 3.9 times). Battery life "with optimised settings" is much enhanced with up to 6 hours for the MacBooks; with WiFi use it is up to 3.75 hours; and with DVD playback, up to 2.75 hours. These are all better than the MacBookPro.

These new models now come with the MagSafe connector for increased safety against kicking the cable. Tony also explained that the target market for the iBooks being students, heavy use had seen a number of problems, including broken latches. The MacBook now has a strong magnet to secure the lid. In another design improvement, the four feet are now fitted flush into the body rather than being stuck on: they sometimes became unstuck. The computers are considerably thinner at just over 1" with a weight of 2.6Kgs..

There are three models of MacBook: a white 1.83GHz with 60G hard disk and combo drive at 45,200 baht; the white 2GHz, with 60G hard disk and superdrive at 53,600 baht; and a black 2Ghz model with 80G hard disk at 61,500 baht. These are already available here.

Tony described them as "Ultra compact; ultra cool."


I compared prices following the Singapore release of the MacBooks last week where the 1.83GHz MacBook is priced at S$1889 (US $1099 in America). A quick online conversion (www.xe.com) gave the Singapore price as 45,728 baht and the US price as 42,136 baht. Other Singapore prices were: White 2GHz S$2248 (54,353); Black 2GHz S$2588 (62,691). The cheaper Thai prices are therefore competitive within the region.

While a quick glance may lead us to think that the MacBook is fairly similar to the MacBookPro, an examination of specifications reveals that there are considerable differences: cosmetic and technical. Internally, for example, the hard disks, are larger in the Pro range and also run slower in the MacBooks (5400rpm). The MacBookPro range also has better connectors and output ports.

In a brief question and answer session, Tony neatly sidestepped questions on sales figures in Thailand but did answer a well-placed query on Boot Camp. He emphasised that this was beta software and that Apple had put this out for users to experiment with. He confirmed that It has developed much interest, but suggested that it was not used on mission-critical machinery. Suvapal (while translating) suggested to much laughter that it could be put on the girlfriend's Mac.

Tony added that Boot Camp will be "a standard feature of the next OS."

When the session was over, the audience had a chance to examine the half a dozen or so computers there for the purpose and I spoke to Tony while exaamining the black MacBook. It has only the advantage of a 20G larger hard disk for about another 8,000 baht. It is expected that many users will buy this model mainly for the cachet: being seen with such a device says something about the user.

Now that many other manufacturers have belatedly switched to white, Apple steps sideways once again. Black or white these are desirable machines. Anyone currently using an iBook would find considerable improvements to their working performance if they were to acquire one of these. When the time comes to replace my current 12" PowerBook, the MacBook will be on my list.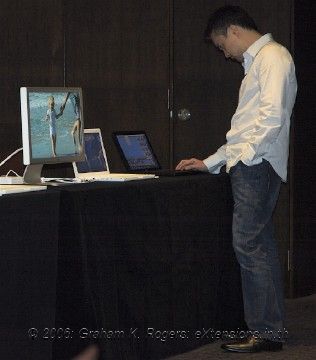 A Pensive Tony Li


An extended report, with photographs is also available at via this link.
---

For further information, e-mail to
Back to eXtensions
To eXtensions: 2004-05
To eXtensions: Year Two
To eXtensions: Year One
To eXtensions: Book Reviews
Back to homepage