eXtensions
Late notes from MacWorld 2007, San Francisco
By Graham K. Rogers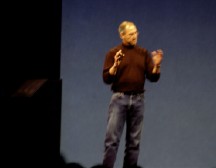 The main event for followers of Apple at MacWorld Conferences are the Keynote speeches from Steve Jobs. I had heard about his professional approach. It was a lesson in how to make a presentation.
The iPhone introduction, long-expected, was the highlight for many. The days that followed produced hundreds of pages of comment: online and in print. There were also hundreds of pages of FUD (fear, uncertainty, doubt). Several, for example commented on the lack of 3G for the iPhone.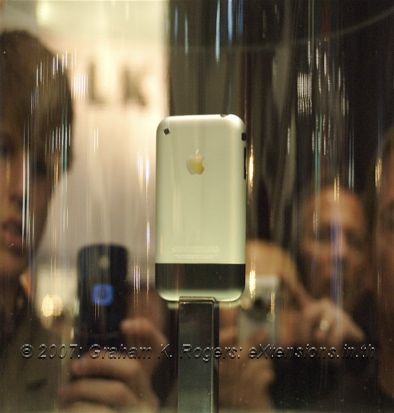 If one weighed Apple's own information, the phone is scheduled for introduction in the US market in June only after FCC approval; then the European markets in the fourth quarter. There is a clear intent to go to Europe and that would not be wise without 3G. It is probable that the iPhone can be updated using sofware: any change to 3g is either already part of the firmware or can be implemented as an update.

This is expected to be similar when introduced in Asia on a market-to-market basis: once local approvals are made. In South-east Asia, for example, all markets use unlocked phones, so changes would need to be made to iPhones here.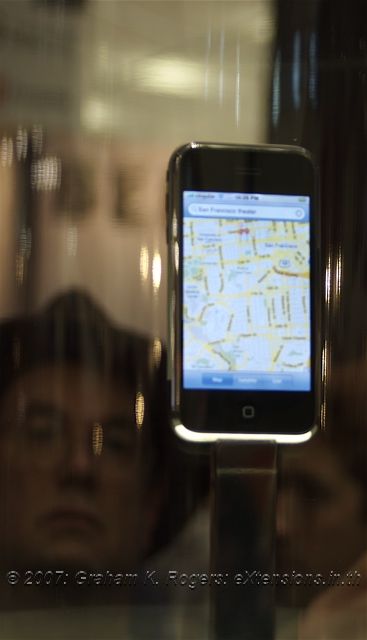 Steve Jobs introduced two other products: the AppleTV (renamed from iTV) and a new Airport Extreme wifi router (for Mac and PC). These are not available in the USA until February. Airport Extreme has the as-yet unconfirmed 802.11n standard. Some countries, among them Thailand, have not adopted 802.11n so its sale and use would not be legal. It will be unavailable here until the standard is confirmed.
AppleTV is intended to be a digital hub and will allow sharing of data between computers, iPods, televisions and other devices. As some of the usefulness of this device is wrapped in streaming of movies and TV shows, the value of this device here is unclear right now. No date has been set for availability here.
---

Along with the Keynote speech, there is a huge exhibition and conference taking place over the four days of MacWorld, in the North and South halls of the Moscone Center. For all four days, both halls were packed out. I took my camera round and put several images on line with the reports I wrote each day. I even managed to snap Robin Williams.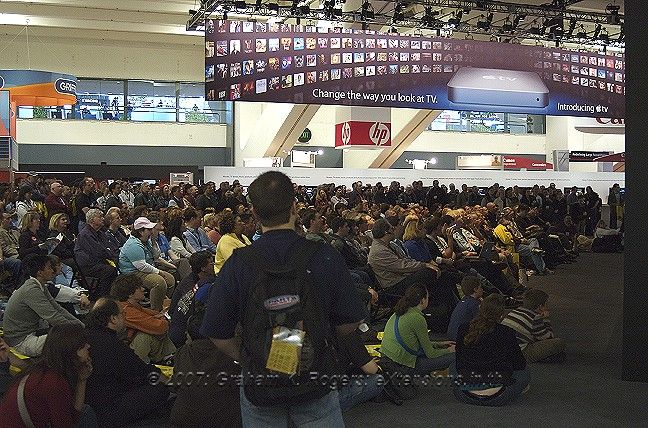 Apple had twin presentation theatres in the south hall. Each of the presentations on the phone and on OS X Leopard, for example, were over -subscribed, with all seats filled, people on the floor and then more standing behind.
Several other exhibitors also had demonstrations, including Adobe, File Maker, O'Reilly Books, Quark and MacWorld magazine where there were panel discussions on developments. LaCie was present with a rich collection of drives and connectors. Microsoft, which had just released an important update to its Office suite for the Mac had empty seats. It seemed odd to see the Microsoft Blogger Lounge filled with people using iMacs.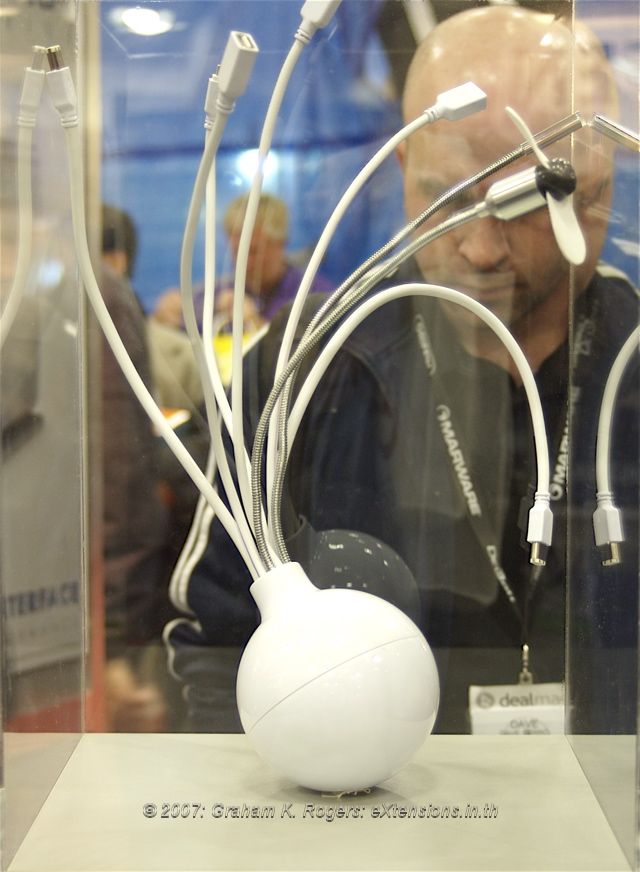 I was disappointed at the Disk Warrior booth. The product had been updated to work with Intel and PowerPC computers and I brought my disks for an update. It was the full version only and I must resort to the Internet and snail-mail for the update disk.
I also found booth-numbering hopeless. The rows were numbers in the hundreds, but individual booths were unmarked. I needed a specific booth for a webcam I wanted and I asked several exhibitors in order to narrow down my search.

Many were confused that there was no "one more thing" from Steve Jobs. There were no Macs nor new software: much had been expected. Where were updated computers using the latest Intel processors; where were the updates to iWork (Keynote and Pages) and to iLife; where was Leopard (neither new features nor release date)?
There are two answers here. With the iPhone announcement the whole of the public's (and Apple's) attention could be focussed on that single, major product, which was announced by Apple to control the flow of information rather than have leaks from the time it was sent for approval.
One product that I have been told is certainly heading our way is the co-developed Nike iPod Sport Kit which should be available in Bangkok in March. Nike will control the introduction of the shoes and the device with Apple covering the iPod side.
With the wave of publicity surrounding the iPhone, Apple has the attention of the media and the public: any product release within the next few months (and I would expect much more than one) will receive wide coverage and pique the interest of more potential buyers: particularly those who may not yet be Mac users.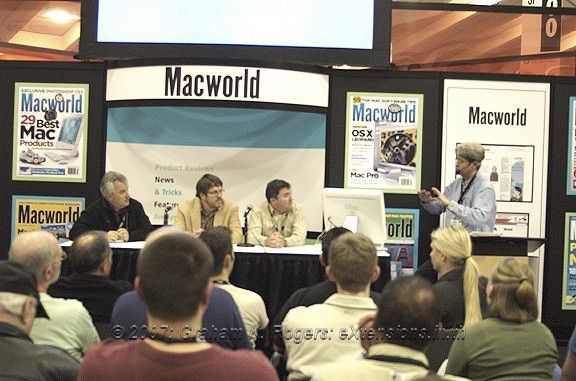 I have put a number of reports and photographs from the keynote speech and the MacWorld Exhibition online
---

For further information, e-mail to
Back to eXtensions
To eXtensions: 2004-05
To eXtensions: Year Two
To eXtensions: Year One
To eXtensions: Book Reviews
Back to homepage