eXtensions
The Twelve Days of Christmas: Apple fashion?
By Graham K. Rogers
The traditional Twelve Days are from Christmas Day to the eve of Epiphany. There is still time to run to the shops for new Apple products.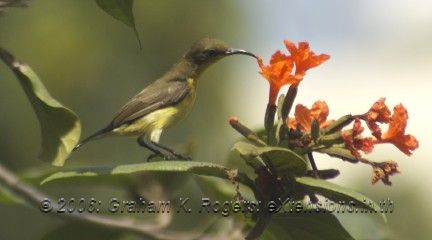 On the twelfth day of Christmas, my true love sent to me
Twelve keyboards typing, Eleven displays shining,
Ten Leopards leaping, Nine iLifes darting,
Eight modems mailing, Seven mouses tracking,
Six iPods playing, Five iMacs,
Four MacBook Pros, Three MacBooks,
Two Mac minis
. . . and a MacPro with three-year warranty.


Twelve keyboards typing. Apple Keyboards are finished in that clean white and Bluetooth keyboards connect without wires, so you can sit a couple of metres back rather than slaving over a hot processor. There are keyboards with wires too.

Eleven displays shining. The clear Apple Cinema Displays are in 20", 23" and 30" versions and size really makes a difference in how we work: peering into the gloom or full width performance.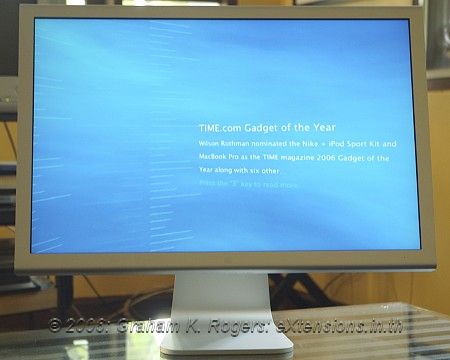 Ten Leopards leaping. At MacWorld in January, the next version of OS X, 10.5, called Leopard will have final details announced, including (we hope) an announcement of its release. We have been told that there can be multiple desktops, and that Boot Camp (currently in beta) will be integrated. The Conference falls outside the real 12 days, I will put the cash in reserve now. No one knows the official price as yet, but I would anticipate around 5,000 baht.

Nine iLifes darting. iLife is the consumer multimedia suite with iTunes, iPhoto, iMovie, iDVD, iWeb and Garageband. You can pay for it if you like, but it does come "iFree" on new Macs ready to run out of the box.

Eight modems mailing. With wider availability of WiFi and Ethernet, the modem was removed from all recent Macs. I cannot remember the last time I used a modem, but Apple modems are available and link to the Mac via the USB port.

Seven mouses tracking. Before anyone reaches for the dictionary, "mouses" is correct. The Mighty Mouse, whatever you think of its name, is a multi-function device that links to the computer using Bluetooth. Each function can be set up exactly how the user wants and functions are easily switched. Despite the apparent simplicity of the oval shape, it fits nicely into the palm of the hand.

Six iPods playing. As you have a choice of three types of iPod (iPod, nano and shuffle) with different sizes, six is the right number here. If we could add the rumoured iPod phone, we would have one for every day of the week. If you are unsure, buy one for the significant other then both agree that you must have one of your own too.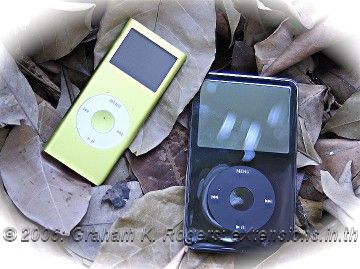 Five iMacs. With 17", 20" and 24" versions, and options of Combo or Superdrive, these set a sort of gold standard in home computing for me. There is a clear LCD display; and the compact design means that the iMac fits cleanly into a narrow space, for example up against a wall. Too beautiful to hide, this almost qualifies as a powerful piece of furniture.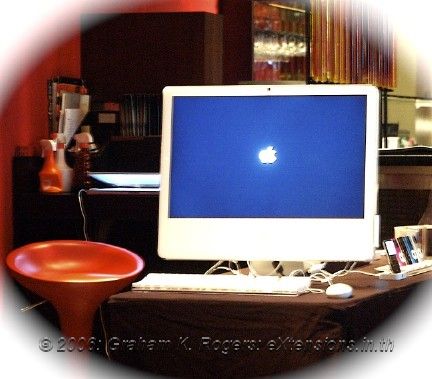 Four MacBook Pros. Two basic sizes in the range, with 15.4" and 17" models, there are also different processors to choose from. The latest models have the Core 2 Duo Intel processor. The 15.4" has either the 2.16GHz or the 2.33GHz chip, while the "portable desktop" 17" has the 2.33GHz chip only. Like the other Macs with Intel chips, there are different ways that Windows may be run as well as OS X.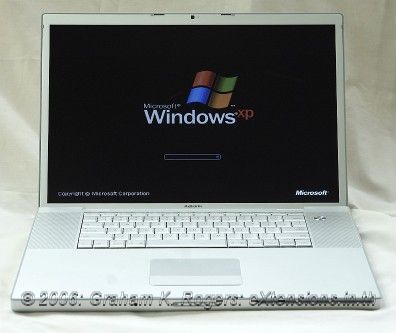 Three MacBooks. White, white and black. The 13" MacBook has been a major seller worldwide putting to rest that idea that no one uses Macs. The white polycarbonate is lovely to look at and an early discoloration problem has been dealt with. The case is robust, making it an ideal student machine. It comes in two chip sizes: 1.83 and 2GHz Core 2 Duo processors. The black MacBook, with more features and more panache, is slightly more expensive.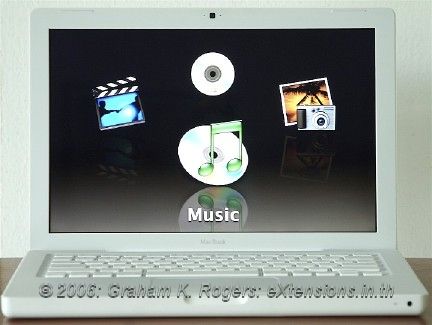 Two Mac minis. I have always loved these from the moment they were released with PowerPC processors. Now with 1.66GHz or 1.83GHz Intel processors, they are ideal for a home media center with the Apple Remote. Plug the mini into a large LCD television, attach speakers and maybe even link to other computers on a home network.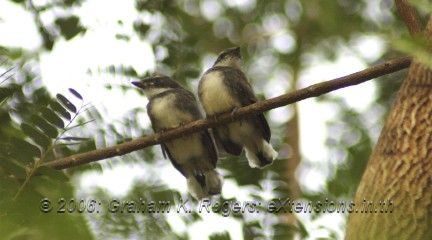 And a MacPro with three-year warranty. The heavyweight here, this is really two gifts in one. Instead of a pear tree, the 3-year cover takes care of some of the risk that goes with computers, such as hard disk failure, logic board: things that might fail in normal usage. Spilling Chistmas pudding and custard over it does not count.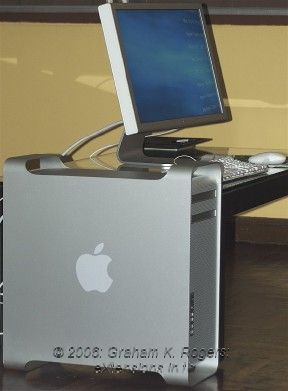 ---

For further information, e-mail to
Back to eXtensions
To eXtensions: 2004-05
To eXtensions: Year Two
To eXtensions: Year One
To eXtensions: Book Reviews
Back to homepage