eXtensions



Looking through the small stuff: Disk Utility and Dashboard
By Graham K. Rogers
I have been tracking down some of the changes with OSX Tiger.

We use Disk Utility to Repair disk permissions and for basic disk repairs. It also has new functions concerned with management of disk images. Immediately obvious when starting Disk Utility are new icons on the Toolbar: Convert and Verify. The former is used to change the format of a disk image (dmg), for example from read and write to read only. It can also be used to add AES-128 encryption. A disk image is selected and two panels are available to make such changes.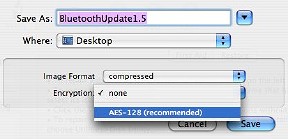 "Verify" checks the integrity of the image: download corruption is sometimes a problem. These tools are also in the "Images" menu, along with "Checksum": a form of redundancy check for protecting the integrity of data by detecting errors (Wikipedia, see below).
The Disk Utility panel shows the same buttons as before: First Aid (below), Erase, Partition, RAID and Restore; but here is a new feature in Partition. As well as equally-sized partitions (2 - 16), there is now a button marked "Split".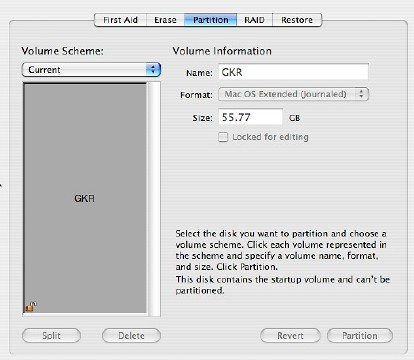 I had a close look at this feature with the PowerBook (after backing up my data). It splits the partition into two equal parts with a slider: used to change the partition sizes to exactly the size required. All data is lost in the partition process.
I am disappointed Apple did not take the opportunity to incorporate an "on the fly" partition-resizer. I used such software on a Windows machine in my office when I installed Linux. Resizing without erasing can be done with a third party application from SubRosaSoft: VolumeWorks.

Repairs are made with Disk Utility on the install DVD, or from another computer connected by Firewire: the one repaired is started in Target mode, by holding down the "T" key at startup or by selecting Target mode in System Preferences.
If you change the startup disk for this purpose, it is a good idea when finished to reselect the OSX disk in the Startup Disk preference otherwise you will be haunted forever by the brief appearance of a folder (perhaps with a question mark) as the computer searches for a system.
I cannot repeat often enough that when carrying out maintenance, or even as a regular task, it is essential to back up data. I know several people who have had disk failures on different operating systems. I explain to my students that I have backups of important data on four different sources (including the iPod) and they all laugh. "The computer ate my homework" is not a valid excuse.
---
I am still undecided about Dashboard and Widgets. To make some of them work you have to have an ON Internet connection; while to make others of any use, you have to be in the United States (Yellow Pages, Seattle traffic).
The weather widget is one of the working ones: current weather plus a 7-day forecast. It has a couple of little tricks hidden away. We are unlikely to see snow or ice in Thailand, but the mini-graphics for displaying these phenomena are included. To see what there is, put the cursor over the weather image, and press the Option and Command keys, then click. The Widget cycles through weather types. At the same time, the city becomes "Nowhere", so revalidate Bangkok, then close and reopen Dashboard.

I certainly like having a Dictionary Widget available. It saves starting the main dictionary application for one thing. Along with this, there is now a Wikipedia widget. Both are slim bars on the screen with a space for entering a query. A panel opens underneath with the answer. The dictionary can be used any time. Wikipedia needs the Internet for searches, but is significantly quicker than using a browser.
Another new arrival is SysStat. A couple of years ago I was using MenuMeters to put basic system information on the menubar, but this Widget has a panel with considerably more information than could previously be displayed, including computer uptime. I managed just over 8 days on both home machines before running system maintenance requiring restarts.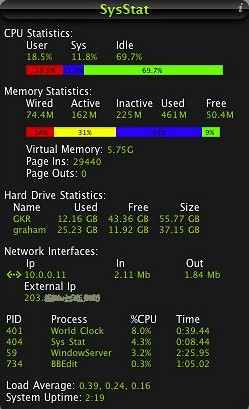 In the last year or so, I have become an enthusiast of Sodoku. To get the latest puzzle used to entail visiting a website and printing out the page. Now there is a Sodoku Widget that can be played offline, but needs a connection for a new puzzle.
When installing Widgets a white cross appears on the top left of them all. Click on a cross and a Widget is gone. A quick way is to use Option and Command (move the mouse a little) and the cross appears on the individual Widget. There are (as I write) 580 widgets available for download, but when is someone going to send me a localised one?
---

For further information, e-mail to Graham K. Rogers.
Back to eXtensions
To eXtensions: Book Reviews
To eXtensions: Year One
To eXtensions: Year Two
Back to homepage