eXtensions
Security and Using OSX: LapCop and a Missing Manual
By Graham K. Rogers
I heard a sad tale of a Bangkok student whose 15" PowerBook was stolen only a few days after purchase. Not only was this story confirmed locally, but in the Siam area, at least three more computers have been lost.
The attractiveness of a laptop computer is the very weakness that makes it so stealable. A first step in security is never to leave it where light fingers operate. It takes a second for a laptop (or a bag) to disappear. It is not simply the cost of the computer that causes disruption. A student might have project work or homework. I have much information (all backed up several times). What do you have on your machine?

I prepare for the worst. The serial numbers of my computers are locked away, so they are traceable. That student also had his serial number (SW852327TRG3): it is now on the Internet. To find a number, click on the Apple icon and select "About this Mac". Where the version number is shown, click and the build number will appear. Click again and the serial number is displayed.
I lock the computer with Open Firmware Password in the Utilities folder. Once activated, the computer cannot be started with a disk (the passwords cannot be changed) or using keystrokes. This was demonstrated recently at Creative World. Maccenter offered to check the computer. No need to worry about the password, their test disk would bypass that, I was told. Minutes later, the technician came running after me: they could not get in. I entered the password and the tests went ahead (all OK too).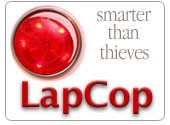 Another tool is LapCop from SweetCocoa. I wrote about this in 2003. It has been updated as OSX has evolved.
Lapcop's task is to "phone home". When I change location and access the Internet, it secretly sends e-mail with a message with an IP number. Also included is the serial number of the computer and my address. With the IP number it is possible to trace where it is being used.
LapCop used to be invisible as a utility. There is now a Preference Pane. I chose to show this only in the Adminstrators' account, so it is not visible in my working account on the PowerBook. One nice touch is the addition of a check to ensure that the mail is being sent correctly.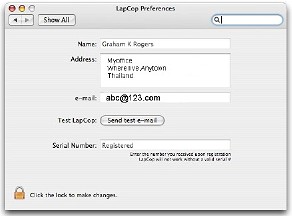 With LapCop, I might have some extra mails on a Saturday if I use the computer at Siam Discovery Centre, at TKPark or at the Central Pinklao mall, but compared with the scores of Spam mails I am sent daily it is a small inconvenience. Do not accept the possibility of loss: get even.
---
Pogue, David. Mac OSX: The Missing Manual, Tiger Edition. O'Reilly; Sabastopol, CA. US$29.95. ISBN 0-596-00941-0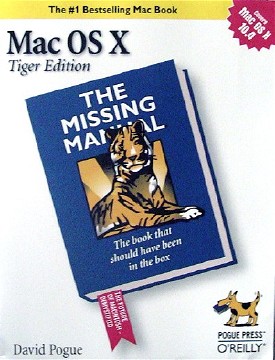 David Pogue's, Missing Manual series from O'Reilly books has been one of my favourites since the time I have used OSX. For ordinary users who want to find out the potential of the Mac in front of them it is invaluable. With the recent update to Tiger (the book covers 10.4.2), the Missing Manual for OSX needed considerable revising and new chapters. There was a delay while it was being rewritten: about 4 months, instead of Pogue's usual 10 weeks, but is now available, and is in Bangkok outlets (1290 baht).
Although Pogue did much of the work on beta versions of OSX, the finishing had to wait until the full release. Part of the delay was due to checking out OSX, but also looking for online tips that users make available. While Pogue likes the earlier Panther release, he commented (MacTeens video) that Spotlight and Dashboard were significant ways to enhance the work environment. It is the chapters on these that have added most weight: now almost 850 pages. There is still a chapter on OS 9; the ApppleScript chapter has Automator added.
The content is superb: there is far more here than I have been able to track down in the way I use OSX; and turning the pages there is always something new. He details some third party programs that are useful as well as useful bundled Apple applications.
As usual, the Missing Manual is printed in clear text with scores of relevant images and screen shots, plus occasional text boxes with extra tips. This is a valuable tool for anyone using OSX, and does include advice for those switching from Windows: as I have seen, those who try to use Macs in the same way they ran their Windows machines may generate problems.
As usual there are a comprehensive index and several appendices, such as the complete list of keystrokes. I would recommend this to any user of OSX who wants to do more than just check e-mail and write letters home.
---

For further information, e-mail to Graham K. Rogers.
Back to eXtensions
To eXtensions: 2004-05
To eXtensions: Year Two
To eXtensions: Year One
To eXtensions: Book Reviews
Back to homepage