eXtensions
Some notes on using Apples: Bluetooth, iPod earphones and iWatermark
By Graham K. Rogers


I took a trip last weekend to Tak with students to visit the Bhumipol Dam. What does an Internet junky like me do, stuck in the countryside for a weekend? Fortunately I had the Bluetooth phone ready for such a situation. Before setting off, I saved Inet pages that gave me telephone numbers for north Thailand modem connections.
I set up the PowerBook using an extra location, "Out & About" I keep for the purpose. This saves writing over my home and office settings. The telephone number was easy, but I made a mistake with the account name. When using such a connection with an Inet Gold account, enter the username plus @ followed by inetgold. There is no co.th or anything else. I entered the password and when I pressed "Apply" the number of dots increased to ten: a security feature.
The last thing was to select the Bluetooth modem. As the Ericsson 520i I now use is not on the list, I used the Ericsson R520 settings at 28.8kbps. I dialled and watched progress on the menubar: first Connecting, then Authenticating. Then we were in.
Speeds with Bluetooth phones are not fast, particularly if one is used to a network or ADSL. The 28.8 connection with Bluetooth actually connects at 14.4Kkbps. It is a sobering thought that we used to connect with 2400bps modems and I can even remember 300bps.
This is not a serious alternative to a regular fixed line connection, but as a way to use e-mail while up in the hills, it is a working solution.
---

A criticism of some Mac fans is that they are, well, fanatic. When defending my use of Macs and OS X I am sometimes given reasons for not using Macs which are based on little more than air.
Much criticism in the last couple of months has focused on iPod earbuds. I downloaded several articles for my reading in Tak and an item in Beta News, titled "iPod's Headphones Cause Hearing Loss" by Ed Oswald, made me see red.
I need to quote two sentences. The second paragraph ended, "With the advent of the Walkman, the sound moved closer to the ear through muff-style headphones." The next paragpraph begins, "Now, with the iPod and other MP3 players, sound is now pumped directly into the ear, which is a potential health issue."
The position of these sentences suggest that Apple is to blame for this new blight. It follows a series of articles recently that misquoted Pete Townsend and all suggested the same.
Bad Apple.
I have been digging around and, for the record, the iPod was launched on October 23, 2001 with those white earbuds. I found a reference to the SONY MDR-E565 and also to the 868 and the 888, written on 20 Feb 1998. I am not too good on maths, but it would appear that Sony had (and still have) the same type of earbud, some three and a half years before the iPod's release.
At around the same time, there were models from Sennheiser, Aiwa, Panasonic, Philips, Sharp Stax, Etymotics, Koss, Kenwood and Radio Shack. Alternate Music Press refers to a 1997 study at the University of Texas, Southwestern Medical Center in Dallas Texas in which hearing loss is cited.
Yet Apple gets the blame.
Note: the Alternate Music Press site appears to be no longer on-line.
---

The University Games were held this year at Salaya where I work. With a hundred or more others, I took photographs of the participants (note, this site is sometimes flaky). The images were resized and a watermark added. It made me think about such a utility for my own images -- I hate it when they appear unacknowledged on another website. I found iWatermark, a $20 program for OS X and Windows that can be used for 30 days before a nag screen comes up.

Rather than change the original, output is to any file name or on-disk location designated by the user. The range of output options is wide, and includes image formats other than jpg, as well as ways to adjust the metadata carried by the file.

Setting up the process gives a user a wide range of options in terms of watermark types (transparent, shadowed, etc.) and makes use of all the fonts that I have installed on my computers, including Thai.

Output quality can be selected by the user and this caused me a slight problem as my copy was set to 0% by default. When processing an image, my output was a grey screen and a few white pixels. Once I found the slider, all was well.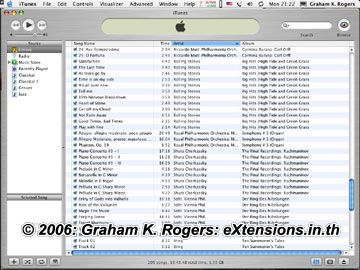 Before registration, as well as the user's own watermark, the company's own watermark is also included. Script Software make several other examples of OS X software, including the award-winning Copy and Paste Y-type. Some of these offerings are also for Windows.
---

For further information, e-mail to Graham K. Rogers.
Back to eXtensions
To eXtensions: 2004-05
To eXtensions: Year Two
To eXtensions: Year One
To eXtensions: Book Reviews
Back to homepage