eXtensions
Digging Beneath the Interface of OS X
By Graham K. Rogers
Lester, Andy, Chris Stone, Chuck Toporek, Jason McIntosh. Mac OS X Tiger in a Nutshell: a Desktop Quick Reference. O'Reilly; Sebastopol, CA. US$39.95. ISBN 0-596-00943-7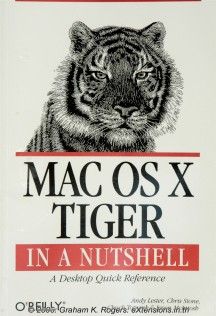 A feature of Macs has been the graphic user interface (gui) that has protected users. Any maintenance or problems are tackled without the user ever having to look at that dirty stuff underneath.
For some of us, with Unix, OS X has returned the control that had been absent. Most users never miss this. Those responsible for high-level maintenance and other tasks find the new accessibility valuable.
A helpful series of books is the O'Reilly "In a Nutshell" series. I have been finding the Mac OS X Tiger Nutshell book informative. It is not aimed at regular users. The first section, for example, is on Commands and shells, including a 250 page alphabetical reference to Unix commands. Part 2 is on text editing but not a GUI in sight: we are looking at vi, emacs and related commands. Part 3, Managing OS X is a detailed examination of the file system, directory services, networking and the Unix interface of the X Window.
The book is high on detail and there are few illustrations; but it is not for anyone wanting an easy read or a gentle stroll through a user-friendly OS X: the Missing Manuals would be better if that is what was needed. For those in teaching or who need access to a resource providing a detailed look at the operating system, this is a recommended buy.

Subrosasoft makes one of those missing pieces of software on OS X, VolumeWorks, for on-the-fly resizing of disk partitions, as well as a several other backup and recovery applications. The company is developing a utility called MacForensicsLab. It has a collection of tools that enable a total analysis of a disk and its files and even the ability to recover deleted files. While using the software, a log of actions is saved for later examination. It is aimed at law enforcement professionals.

The download is 5MB. As installed, it is a utility of just under 13MB. The first version I downloaded was 1.0b8 and the latest that I have is 1.0b14: there were updates every couple of days.
The detail that can be displayed would be of little value to a home user but it might provide the answers to anyone required to analyse a system. The recovery facility, which SubRosaSoft also provide with FileSalvage, would most certainly assist those who need to track down files which are "smoking guns" and which computer owners thought they had trashed.
I include this as information for those who would like the ability to look beneath the interface and examine the file structuring.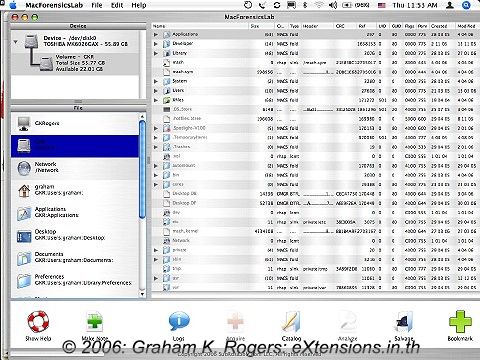 Another feature that is not part of the OS X system (unlike Windows) is the ability to roll back the system when problems occur and return to a clean environment. This week, an update to OS X was released (10.4.6). Within hours, discussion forums were full of users wailing that Apple had ruined their systems.
I installed the update on four computers with no problem, and I know several others who, like me, have been doing the same for the last few years with similar disaster-free experiences. An update may well upset a system that already has faults and appear to be the cause of instability: it is merely a catalyst.
Faronics, who provide a number of such roll-back solutions for the Windows platform, have a similar utility for OS X: Deep Freeze. The download includes versions for PowerPCs and Intel Macs. I installed it on my eMac, which is now my backup machine. A restart is needed.
A user creates a DeepFreeze account and it is also recommended that Open Firmware Password be used. When the system is "Frozen" a restart restores the settings totally. When "Thawed" changes can be made. The initial setting for my installation was frozen. The application cannot be uninstalled unless thawed.
I deliberately left DeepFreeze for two days (4 - 6 April). When I did restart, I returned to the settings before installation. This included email and browser history. The date on the computer was correct at 6 April.
DeepFreeze could be a solution for those who are worried about system changes or malware and could provide a useful way to turn back the pages. As this works with Apple Remote Desktop, it would be valuable in a schoool setting.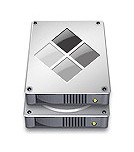 A recent contest produced a hack that enabled Windows XP to run on Intel Macs. Apple has now released beta software it calls Boot Camp that does the same but provides all the necessary settings Windows needs (e.g. drivers) for installation.
Apple claims it has made this available by popular request and it will be included in the next year's OS X Leopard (10.5). Users must have a copy of the Windows disks as Apple will not be providing these.
Note: when I wrote the last item above, Boot Camp had been announced only a day or so before. Since that time, the press coverage, postive comments and shrill criticism from the usual quarters has been widespread. Boot Camp is beta software and is not meant for use with critical data. I have taken an image of an iMac running locally with Windows at the new Mac retail shop in Paragon Centre.
---

For further information, e-mail to Graham K. Rogers.
Back to eXtensions
To eXtensions: 2004-05
To eXtensions: Year Two
To eXtensions: Year One
To eXtensions: Book Reviews
Back to homepage