eXtensions
Fallout from the MacWorld Conference
By Graham K. Rogers
Just after the MacWorld conference in San Francisco at the beginning of January, I wrote some comments concentrating mainly on the new hardware and iLife 06. Within the next few days much information was disseminated: some good, some misinformed, some hazy. Several sources claimed that Steve's Keynote speech had been shortened as at least one product was not ready. If we examine the Mac line-up, this would make sense: iBooks are in need of rejuvenation, and who knows what else may be round the corner? With only the 15.4" Pro laptop, there are several gaps in the lineup.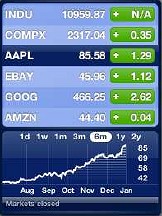 Wall Street is backing Apple right now. The share price leapt, then see-sawed between $80 and $86 for a couple of days, with one analyst predicting $103 and a stock split. Apple's value passed that of Dell and a graph showed Dell falling at the same rate that Apple has been rising.
Michael Dell suggested a couple of years back that Apple should be sold off and the money given back to shareholders. I am sure that he will not be falling metaphorically on his sword and following his own advice: nor should he.
Many commented on the new laptop name, MacBook Pro, and hated it. I quote Shakespeare: "A rose by any other name would smell as sweet". The San Francisco Chronicle comments, Who cares what is inside? I cannot wait to get my hands on one.
I am interested to see if the Intel-equipped Macs will run Windows, despite what PC World claims is a firmware incompatibility issue that prevents it from running on the Intel-based Macs.
There is a vagueness about it all: some say Yes, some say Maybe. Phil Shiller of Apple says Apple will neither help nor hinder. To muddy the waters, Microsoft is working on a new Virtual PC: written from the ground up as it is so dependent on the OS.
If it is possible, the machines would be able to run four operating systems: OS X (of course), BSD Unix on which OS X is built, Linux (this has been possible for a while), and something from Redmond. This is good for Microsoft too as people must still buy the OS (or, for those in Thailand, should buy it).
Microsoft giveth and Microsoft taketh away
While working hard on the above development, Redmond has promised that the Office suite will still be produced for Macs for at least the next five years. They are also working on a Mac keyboard and mouse, although, with trademark difficulties, the Apple icon will not appear.

Microsoft also announced that it no longer supports Windows Media Player for OS X but did offer the QuickTime plug-in, Flip4Mac. I use the excellent French utility, VLC.

One update that did fall off the radar was iWork. Pages is improved and includes new templates plus a much-needed table facility with calculations. Image editing is better with an Adjust panel like that in iPhoto. Keynote 3 has new transitions up to "cinema quality" which we saw here a few months ago when Aperture was presented. A look at examples on the Apple site shows what can be done: with the same tables as Pages 2, and more import and export formats.
There are downsides. The updates to 10.4.4, iTunes and QuickTime were problem free for me but not all. QuickTime 7.0.4 was released to fix vulnerabilities on OS X and Windows. Some experienced a loss of QT Pro features. News.Com tells us that an uninstall fix on the Apple site took users back to 7.0.1. A new 7.0.4 update was posted later. I would expect 7.0.5 soon.
iTunes played a different game. After the recent fiasco which caused Sony to eat humble pie, one would think Apple would be circumspect. A new feature, the Mini Store, sends information on what is being played in iTunes back to the Mothership. A panel then displays suggestions for purchases: totally useless here of course. Apple clams that the information is not being kept, but not everyone is convinced. To turn off the Mini Store, click the icon on the bottom right side of the iTunes panel.



Unluckiest man at the show is Dan Wood of Karelia. Once, he developed Watson, then Apple released the similar Sherlock. He now has Sandvox -- web publishing tools -- only to find that Apple has iWeb. Karelia rush-released a beta so that they could officially be first.
I am looking at it now.
---

A note to disclaim: A few hours after I sent this off to the Database, I found that Insanely Great Mac was carrying the headline, "A rose by any other name." I am careful about giving sources where I can, but this is a case of great minds think alike.
---

For further information, e-mail to Graham K. Rogers.
Back to eXtensions
To eXtensions: 2004-05
To eXtensions: Year Two
To eXtensions: Year One
To eXtensions: Book Reviews
Back to homepage