eXtensions
Metropolitan Hotel, Bangkok, 26 January 2006: New Apple Products
By Graham K. Rogers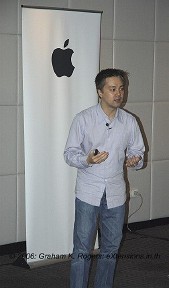 The Metropolitan Hotel, Bangkok, was the scene of an Apple press briefing. I expected the Intel Core Duo powered MacBook Pro and the iMac, but all new products were being shown: iLife 06, iWork06 and iPod accessories.
Apple's two presenters were Tony Li, Director for Product Marketing, South Asia and Danny Lam, Product Marketing Manager (Desktops and Servers) Asia Pacific. Suvapal Promprakan translated.

Tony Li outlined what switching to Intel means to Apple. These releases are ahead of schedule by some six months. It would appear that many software developers are still playing catch-up.
New iPod accessories are the iPod nano in-ear lanyard headphones (2,600 baht); the iPod Radio Remote, an FM radio that plugs into the latest iPods, giving a new screen and the ability to receive radio (2,600 baht); and the iPod AV connection kit (5,200 baht).

Danny Lam introduced the Intel-loaded computers. Both have iSight -- the camera -- in the screen housing. They also have Front Row to control multi-media displays, and much bundled software.
Apple claims up to twice the speed compared with the G5 iMacs. Four times faster for the MacBook Pro. PowerPC applications using the Rosetta translator may be slower. Word and Photoshop, however, used to demonstrate Rosetta, were quite up to par. Native applications, such as iPhoto and iMovie, are blindingly fast. Applications written for both PowerPCs and Intel machines are known as Universal Binary applications.
There are two iMac versions: 17", 1.83GHz, 160G disk, with Airport Extreme and Bluetooth for 58,400 baht; and a 20" 2GHz, 250G hard disk version for 75,500 baht
Danny Lam ready to pull the cord while Tony Li holds his breath

The Mac Book Pro has a 15.4" screen and weighs 2.54 Kg. For those who have ever tripped on power cords there is the "Mag Safe" connector. Like plugs on some domestic water heaters, it detaches easily.
The two models are a 1.67GHz machine with 80G disk and 512MB of RAM at 90,200 baht; and a 1.83GHz version with 100G disk and 1G of RAM priced at 112,100 baht.
Tony Li showed iLife 06 and iWork 06. iLife contains iTunes, iPhoto, iMovie, iDVD, Garageband and the new iWeb: all part of the convergence and digital assets management Apple is bringing to personal computers.
iPhoto 6 supports up to 250,000 images from 25,000. Several features are borrowed from Aperture, including full-screen editing and side by side comparisons of shots.
iMovieHD 6 has several Apple designed movie themes, and realtime core video effects. There are new audio tools. It is possible to open multiple projects together.
Tony gave a rapid and effective demonstration. In my notes, I wrote "Gasp!" The clips may have been professionally filmed but effects available are phenomenal. The results would make anyone proud. Tony's demo showed just how simple to use Apple has made it.
In iDVD, creation of a movie is just a couple of clicks. New themes claimed to be of "Holywood quality" have been added. There is enhanced map-view editing and better support for third-party DVD burners. Tony again demonstrated how rapidly a DVD could be assembled with movie clips, photos and audio.
Garageband 3 has been beefed up. The interface has been altered and extra functions added, aimed at podcasting. One interesting feature is that of male and female voices: the timbre is altered automatically. You could create an interview with yourself.
New in iLife 06 is iWeb. It uses templates with holding images and text. The end result is exactly what was hoped for with the html export feature of the original Pages. iWeb integrates perfectly with each part of iLife. The brief demo was a rapid click and drag and drop into the templates. Adding a URL was also just drag and drop. iLife is bundled with the new Macs.
Tony switched to iWork 06: Pages 2 and Keynote 3. Pages is the word processor and page-layout application, Keynote the presentation software. Along with new templates in both and 3D charts that can be updated there is advanced image editing and the really useful feature of tables: these applications have been crying out for this.
Costs in the US and elsewhere are always different, but with the baht currently around 39 to the dollar these prices should reduce. The main hardware and software products show clear performance improvements and will be well-accepted in the consumer market. I cannot wait to get my hands on them.
And still to come? A 14" iBook, perhaps with a single-core Intel chip is rumoured; and Apple recently filed a patent for a portable device based on an accelerometer: a tablet PC?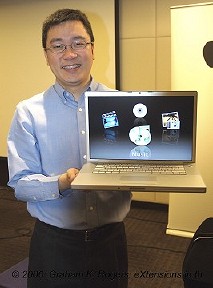 ---

For further information, e-mail to Graham K. Rogers.
Back to eXtensions
To eXtensions: 2004-05
To eXtensions: Year Two
To eXtensions: Year One
To eXtensions: Book Reviews
Back to homepage