eXtensions
Some Simple Software from VersionTracker
By Graham K. Rogers
Digital World has come and gone. I have put online a couple of reports and several images. This year's show was at the Arnoma Hotel and the nature of the exhibition areas is such that it gives the impression of being spread out. At other venues, events are centred in one hall and this focuses the mass of visitors. There were several seminars throughout the weekend and these need to appear more accessible.
---

Apart from attending the show, I have been looking at software, particularly in the area of newsfeeds. I prefer to use Safari; others with OSX do not. I come across people who are quite happy with Firefox, Camino, Opera or Mozilla. These do not handle RSS newsfeeds with the ease of Safari.
I encourage people to use feeds: not just because they can read news from multiple sources, but because having the ability to receive feeds allows us to keep up to date in other ways as well, such as with company information or teacher-student communications.

In addition to browsers, there are readers that allow access to feeds without a dedicated browser. One that came my way recently is Vienna, which reminds me of an 80s song (Ultravox). Version 2 is a download of 1.1 MB and this opens as a disk image. The file is dragged into the Applications folder like most OSX installs.
The URL of the feed is typed into the "New Subscription" menu. I also found that a feed was added automatically, when I highlighted the URL in a browser and opened the same menu. Feeds are updated when the user is online and are displayed as a one-line title. There is a panel that displays the full item, although this is one-by-one instead of Safari's full page of items. The panel can be displayed to the right or beneath the feed titles.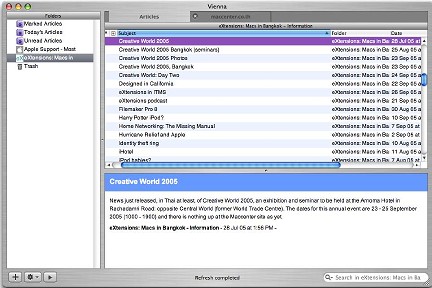 In a browser, clicking the title or "read more" will open a web page. With Vienna, the page is accessed and is saved in a tab. (The page can then be used like a browser web-page and other pages may be opened.) For local users, pages displayed on my computer did show Thai when this was used.
Vienna is written for OSX. I did check Versiontracker's Windows areas and found (as of late September) some 18 similar programs that were marked as freeware.
---

Podcast technology, which also uses RSS feeds, is not limited to sound files. One of my favourite sites is MacTV.com that sends out daily Mac-flavoured videos, usually of advertisements or presentations: colourful, and sometimes loud. I use iTunes for these: the best I drag to the desktop for a better view.
The idea of online video content is one of those promises that the large TV and movie companies have been making for a long time, and (like sound podcasts) the independents have beaten them to it.
An appplication which is flawed, but does point the way, is one I found (again on Versiontracker) called DTV: a feed for videos. It is an Open Source application and the writers -- the Participatory Culture Foundation -- admit freely that it is work in progress. It comes with several links already subscribed, including MacTV. The larger display makes far better use of the download and the quality is not particularly compromised.
I did find that one of the most promising of the links -- Media Rights -- which had documentaries to download, was painfully slow on all attempts. Others, particularly MacTV were swift enough.
This application is certainly usable and should improve with a little more attention. Once you find your own links, you can add these. Videos can be downloaded by selecting them one at a time, or automatically: leave it on while you sleep.
---

My biggest complaint about students coming into my classes is the paucity of vocabulary. I take pains to encourage the students to learn new words. One little application I found may be useful for local users - particuarly teachers or students.
ProVoc is a free, Swiss-written application, from Arizona Software. The default language is French and there are also choices for English, German and Spanish. Other languages may be added, and as ProVoc is OSX native, Unicode languages, including Thai, can be used.
The spaces available for source and target languages allow not just single words but phrases to be used, although a problem I found was that the text was case-sensitive. Write a capital letter in the wrong place and the student has an error. It is best to use all upper or all lower case.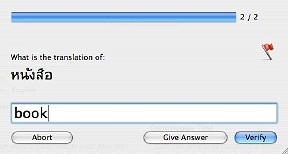 In a teaching unit or as self-access this might be a way to encourage some. Come to think of it, it might help me learn Thai.
Note: Wouldn't you just know it. The day before this went in the Database, ProVoc was updated to Version 2.5 which has some refinements in the methods of testing and introduces more randomness.
---

For further information, e-mail to Graham K. Rogers.
Back to eXtensions
To eXtensions: 2004-05
To eXtensions: Year Two
To eXtensions: Year One
To eXtensions: Book Reviews
Back to homepage