eXtensions
Home WiFi Networking with the Mac
By Graham K. Rogers
A local Mac user wanted a WiFi system of three Macs with OSX and a printer. This should be plug and play, but I was not the first to play. While not claiming expertise (I hate the word), I was confident that the technician who had abused the system first had little idea of OSX. I made some basic checks and fixes. I also made sure that new passwords were used.
The WiFi router supplied was one commonly used by ADSL providers. It allows an Ethernet link instead of USB. I have heard little good of this with OSX as it appears to have been developed for WIndows computers and does not function well with Macs. It was connected with manually-entered IP numbers. Attempts to change those or passwords failed. I finally suggested another router and the owner agreed.
My own experiences with Windows-based systems at my office where, in typical engineering fashion, we have a mish-mash of devices and connections, lead me to believe that, if the right equipment is used, problems are minimised with OSX.

I started with the PCi modem/router I have used since ADSL arrived at my home: "Better the devil you know". Messages to the company, Optimus, are dealt with swiftly. Another local user, running the same router, expressed great satisfaction with the way the company dealt with a problem some weeks ago; and I have always found that "Woody" (who has excellent English too) gets to the essence of things.
He wrote that the BRM-04 had been superseded and there was some rebranding. The replacement was the Tactio, Altera-04. There was also an integrated WiFi solution, including 4 Ethernet ports, the Altera-04G. It was the latter I bought for the man.
Before setting up the device I read the on-disk html file which covers the connection, but not the WiFi. There is an online FAQ, but this is in Thai. An English version is being prepared. The CDROM included also has a Thai PDF with local information and settings.
I contacted CSLoxinfo for advice too. Their technical staff answer promptly, providing clear information. They do not go into a tailspin when Macs are mentioned. By coincidence, I had a problem that day with my home ADSL connection and phoned True. While the service came back on its own within three hours, three days have passed since I was promised a return phone call: and still I wait (that has now extended to a couple of weeks, of course).

The first time I tried to set up the modem/router, I was unsuccesful: perhaps it was the ADSL connection, or I had not entered settings correctly. I contacted Optimus and was given reams of suggestions. The next time, I checked the link, entered the settings according to the PDF and was online in seconds.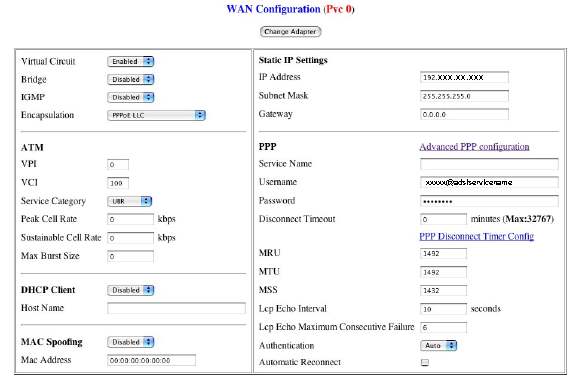 The user's settings are unique; VCI and VPI settings need to be entered; and the modem needs to be set for PPoE LLC; the other settings are left as defaults.
Once the ADSL connection was established, I needed to look at the WiFi settings, and here I was skating on thin ice. When I turned on my Airport (Apple's name for WiFi) several connections were shown, including the Altera's. Some of those connections I could see were open. This is a risk as someone can (at best) hitch a free ride on your network; or attempt to break into your computer. This week, in Westchester County, NY, there is a proposal to make this type of unsecured network illegal. At our office we recently added a password to an open network as students had been probing.
Rightly, the owner wanted a WEP password added to the system. I tried this a couple of times but, with my limited knowledge, I was forced to use Plan B. I phoned Woody. This was pre-arranged. He talked me through the password creation. The simple things are often the culprits: I had forgotten to reboot the modem to make the changes take effect.
Normally, using WiFi from the Macs, a panel appears and the WEP password is entered. Each time I tried, there was a failure. We had to switch to "WEP 128" before the password was accepted. Some WiFi devices use HEX format and some ASCII.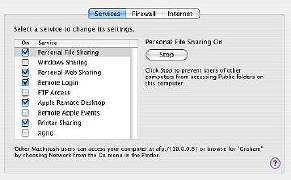 To complete the requirements, we connected the USB printer to his iMac. In Sharing Prefrences, I turned on Printer Sharing and OSX recognised the device. Also in Sharing, I allowed Personal File Sharing.
The Finder's "Go" menu allows connection to another computer. With a Mac we enter afp:// plus the IP number of the device. With a Windows machine it is smb:// plus the number. Username and password details for the target computer are then entered.
---
Note: When setting up the ADSL modem/router, apart from the account username and password, other settings that are essential are shown here (I copied the information from the Thai pdf file that comes with the Optimus installation disk):
<! ======================================= extra table begins here ==========================================>
Service
VP1
VCI
Encapsulation
TRUE
0
100
PPPoA VC MUX /
PPoE LLC
UCOM
0
100
PPoE LLC
Samart
0
35
PPoE LLC
QNET
0
40
PPoE LLC
TT & T
0
33
PPoE LLC
TT & T
0
66
PPoE LLC
ADC
0
35
PPoE LLC
TOT
1
32
PPPoA VC Mux /
PPoE LLC
<! ======================================= extra table ends here ==========================================>
---

For further information, e-mail to Graham K. Rogers.
Back to eXtensions
To eXtensions: 2004-05
To eXtensions: Year Two
To eXtensions: Year One
To eXtensions: Book Reviews
Back to homepage