eXtensions

Making the Switch (or even Switching the Make)
By Graham K. Rogers
Even long-time Mac users have expressed some doubts about moving over to OS X.. In some ways this is not surprising. It looks, different, behaves differently, and the earliest versions of 10.0 left much to be desired. 10.1 and its updates (the most recent I have is 10.1.4) are well-behaved.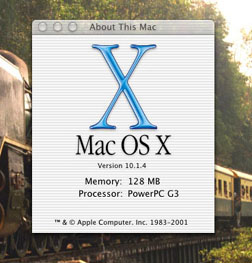 Migrating to OS X from System 9, or even from another operating system, is not just about using programs in different ways or converting data. The major concerns are look and feel, and the way the computer manages its operations. It is also about the way the user manages the computer.
If you have a quick look at OS X, by selecting it as the start-up disk from the System 9 Control Panels, and decide you do not like it, the process is not irreversible. Click on the blue Apple symbol, choose System Preferences and select Start-up Disk. Two should appear in the panel window. Click on the System 9 disk and then restart. With 10.1 there is a restart button in the preference panel; with 10.0.x you need to select Restart from the Apple Menu.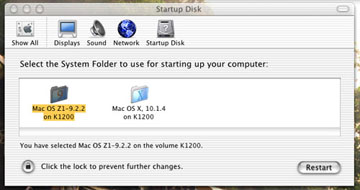 I think, however, as software and hardware are developed, OS X will become inevitable and the sooner we make the switch, the better. Gone are the serial and SCSI ports and in their place are USB and Firewire. Macs currently being sold in Thailand probably have both System 9 and OS X installed. However, at the beginning of 2002, Steve Jobs announced that Apple would move entirely to OS X with immediate effect.

Making the Switch


If you are running System 9 and OS X is already onboard, the change is easy. Change the start-up disk and restart. Before you do, however, pause. Apple has used the strength of Unix that underlies this new operating system -- recognising the multiple environments that these computers might be used in -- to build in much security. Before you can use OS X you have to get past the Setup Assistant.

You are asked to provide information as to location, language, keyboard layout, and to fill in an optional registration screen. This is not a bad idea, although as you need Internet access to complete this process (it is done the next time you connect) I think it is just as easy to use a browser and register online. you can then look around the Apple pages. As I had already registered when using System 9, I skipped this (but I know Apple knows I use OS X).

What happens next needs a health warning: be ready with names and passwords. If you can guarantee that you will be the sole user of your computer, you can do almost all without passwords: you will need to create an Administrator account (which can be done without a password), but this will come back to haunt you whenever you update software.

Not many of us have the luxury of being hermits. Friends or relatives (especially young ones) may visit. There may be other people in your workplace. In my case, at work, there is perhaps the greatest risk of all: computer engineering students, who cannot leave any computer untouched.

Following this administrivia, the Setup Assistant needs information about your method of Internet connection: you should indicate you have your own service, thank you very much. You are then asked for the method of connection (such as internal modem or LAN) and the account details. You do not need these right now and can just click the Continue button; but if you do have all the information, this is as good a time as any. Changes are easily made via System Preferences.

Part of the set up procedure also allows creation of an i-Tools account. These are online services including e-mail and disk space. This can also be left for another time and the account can be created using a browser online (make sure cookies are activated).

I find the whole registration procedure to be pressuring. It is possible to go back and change all the settings (except the short-name for the Administrators account). All online registrations can be made via the Internet when you have had the time to think about it.

The last item is to set the date and the time-zone. Under earlier systems, bangkok, Thailand, was on the list; but now the zone is set by clicking the approximate location of the Big Mango on a World map: we are all lumped in with Jakarta, Indonesia.

Once all in the set up procedure seems settled, click on the Apple menu and select About this Mac. On the panel, check the OS version number. If it shows, 10.0.x, then I would suggest an immediate update. If you computer is running 10.1.x you could take a few days before trying to update the software and operating system.

Many users may not have OS X installed at all. If you have an older Mac, check on the Apple site first or using the utility, called Mactracker. Your machine may be compatible. I have four older machines that are not. One is used as an e-mail machine at work but I am tempted to install a version of Linux (Yes, Linux for the Mac) as they still have life in them.

If your Mac is compatible, and you have plenty of memory, you need to find an installation disk for version 10.1. either locally or via the Internet (the current price is hovering around 5,000 baht but there are offers, including one giving OS X away free, legitimate too). Updates to 10.1 are free. In the few months I have moved to OS X, there have been two updates and there is a complete update code named Jaguar on the way. This is expected to be finalised in about June of this year.
---
For further information, e-mail to Graham K. Rogers.