eXtensions
The Changing Face of the Camera: Book reviews
By Graham K. Rogers
Milburn, Ken. Digital Photography: Expert Techniques. O'Reilly; Sabastopol, CA. US$44.95. ISBN 0-596-00547-4
Story, Derrick. Digital Photography Hacks: 100 Industrial Strength Tips and Tools. O'Reilly; Sabastopol, CA. US$29.95. ISBN 0-596-00666-7
I was in New York in 1986 when I met another Englishman at a Thanks-Giving party. Knowing I had several hours before my train up to Pouhgkeepsie the next day, he invited me to wander round the city the next day and take photographs.
In a couple of hours, I learned more about taking pictures than I had ever learned before, or since. More than anything, he taught me the skill of being able to look rather than just see. The man was Tony Harvey and he had already scored as an Oscar-winner with "A Lion in Winter."
I took a couple of fair shots that day. I later had additional help with Michael Langford's 35mm Handbook (Knopf, NY; 1993). With an SLR camera an amateur might eventually come up with a good picture.
Digital technology changed that. The average "prosumer" camera may take some fair images with luck, but the resolution leaves us amateurs far behind. Despite what one might see claimed in television advertisements, low-priced digital cameras will not produce high quality pictures.
The images may look fine on a website at 72 dpi, but try scaling them up and see the digital artefacts (like blockiness) appear. A look at the photographs on the pages of the Bangkok Post's, "The Magazine", demonstrates the high quality that a glossy publication demands. To get that, these days, needs a camera with a resolution of over 6 million pixels (or better): a digital SLR.
The two books reviewed here look at both sides of the coin and provide some help with this newer slant on the technology. Ken Milburn's work unashamedly takes the high end and provides much excellent advice, albeit at a price; while Derrick Story picks up the valued O'Reilly "Hacks" baton.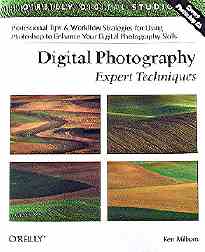 Milburn is not being elitist by aiming at the sophisticated amateur or the professional. It was a deliberate editorial decision: by limiting scope, the subject matter stays within the author's control. He writes in-depth explanations and tutorials of how the various examples of software can be used. He does not limit his text to one application (obviously Adobe's Photoshop is featured), or even to one operating system.
An early clue to the level that he is aiming at is in Chapter 2, "Getting Started". He has a 27-item checklist for on location accessories (including laptop computer, portable hard drive and 2-way radios).
Although this concerns digital photography, Milburn takes pains to examime the processes involved in getting the images out of the computer and into viewable (printed) formats. A photographer switching from SLR analogue to digital would find a valuable reference work here. It is too heavy to carry about at about 2Kgs so reading up before taking the plunge into a technique -- either with the camera or at the computer -- is wise.
The price of $44.95 may mean it is not on everone's short-list. At just over 450 glossy pages, it is a beautifully finished book, with clear text, and with pictures on almost every page; it also includes a comprehensive index.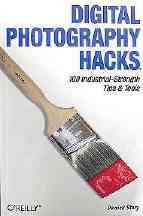 Digital Photography Hacks follows others in the Hacks series with its good balance of text and graphics; but the paper quality is far higher and, as it should be in such a work, the images are all in good quality colour.
Derrick Story and his writers, aim pretty much at the other end of the market from Ken Milburn, although there are some tricks even those working at the high end might find useful. Some of the early tips I found a little too obvious but maybe others would not. The hacks are intended to make things work as alternatives to great expense: pantyhose for a filter; sunglasses as a polariser; making the printers we already own more effective.
Story is fairly up to date and, as well as the digital SLR, looks at the lower end of the digital market, including digicams, mobile phones with cameras and the use of Palm and Bluetooth to transfer pictures. The quality of some of the images shows just what you can do even with such basic equipment.
I was pleased to see that this book also takes a look at the flexible iPod: with the Belkin voice recorder for adding voice-overs to slide shows; and the Belkin media reader to download the images to the iPod. I am a fan of all of the books in O'Reilly's "Hacks" series and find that, if I am interested in one of the areas covered, just having the book close at hand so that I can dip into it is of great value. I have always learned something useful.
---

For further information, e-mail to Graham K. Rogers.
Back to eXtensions
To eXtensions: Book Reviews
To eXtensions: Year One
To eXtensions: Year Two
Back to homepage