eXtensions
Book Review: The Beauty is in the Details
By Graham K. Rogers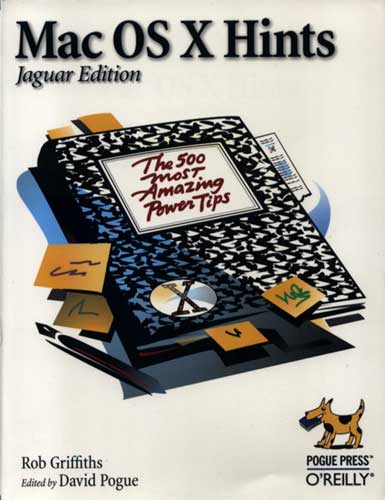 Griffiths, Rob. Mac OS X Hints: Jaguar Edition. Pogue Press/O'Reilly. Sebastopol CA: 2003. US$24.95
About a year ago there were precious few works to provide the ordinary user with the sort of guidance on fine-tuning OSX that Windows users have grown used to. Books from the Pogue "Missing Manual" stable went quite a way to getting us on up and running, but it was not until earlier this year that some of the newer books started looking under the hood. A couple of months ago, we looked at OSX hacks, a work full of good "recipes" for making things work. Any computer user, however, understands that it is not always the biggger ideas that make the computing environment more enjoyable (or efficient) but the smallest details.
A website that sprung up in November of 2000 was macosxhints and I regularly mine its pages for tips on how to fix, change, upgrade or simply try something unusual. The last time I checked the site, there were more than 3,891 hints served.
Rob Griffiths, who runs macosxhints has produced a book with over 500 of the best of these and it is a wonderful source of information for those of us who are not power users.
The book is published by O'Reilly and Pogue Press; and David Pogue has edited the work. The fonts used are clear. Images are easy to see and, with over nnn of them, add greatly to understanding. Not that there is a problem with the text explanations but with any unusual or new process, reading about a tip and seeing what it should look like onscreen are not the same. In some cases the tip itself is contained in the figure and its rubric. Take this (on long file names) for example:
"If you press the Option key while mousing over a list of file names . . . you force the Finder to show a pop-up balloon that reveals the full text. . . ."
How long does this action take: half a second? But if you do not know this little tip, it may mean opening a wrong file or widening the file listing to get at the information. This is mighty useful when hunting throough the Preferences folder where almost all the files have long names.
"OSX Hints" is organised into 16 chapters, for example, the Finder, system Preferences, Web Browsers, and two chapters on Unix. These last two are 100 pages with some 112 hints. Some of these are quite simple and others require a certain amount of concentration and dedication. Even though I have used some of the effects here, I found many of the hints thoughout the book really exciting, with one or two nice surprises. iTunes and iPhoto have dedicated chapters, while programs like iMovie and iDVD are lumped in with the other iApplications. The chapters are listed in two columns over eight pages. As well as the chapter listing, the back of the book has a comprehensive index.
As I am writing this, I am hunting for new ideas and just came across something I have asked a number of experts about: a full list of Unix commands:
At the Terminal, press Control X and then Control D.
Perhaps there could be a stronger warning from the author: a little knowledge can be dangerous. Before running any of those listed, use the "man" command to find out what you can do.
Obviously, not all of the hints can make it into one book; but what there is here is plenty for the average user with more than a passing interest in making the computer work as your own: rather than the shop that you bought it from. The book is not over-priced and if, like me, you are constantly referring to the detail of the operating system, then this will complement other works like OSX in a Nutshell, OSX Hacks, and the Missing Manual series.
Note: See also the later reviews of Panther (10.3.x) books here
---
If you check the italics at the end of the columns, you will see my e-mail address and the URL for the website. The site at Inet that I have been using for a fair time is too cramped and I have now acquired considerably more space (along with the extensions.in.th domain name). We are now flexing our Mac and motorcycle muscles at http://www.extensions.in.th/.
Just as I started writing this article, it was announced that Appple is to provide Lockheed Martin with over 250 Xserve computers, on which Yellow Dog Linux will be installed. These are destined for US Navy submarines.
---

For further information, e-mail to Graham K. Rogers.
Back to eXtensions
To eXtensions: year One
Back to homepage