eXtensions
Apple Press Launch of G5, New Cinema Displays, and Video Software
By Graham K. Rogers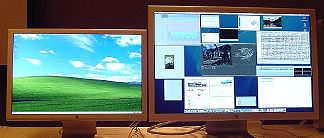 Thursday 19 August saw a small gathering at the Willow Room of the Conrad Hotel for the Thai introduction of the latest G5 computers, Apple displays, and the video suite Apple are calling Production Suite.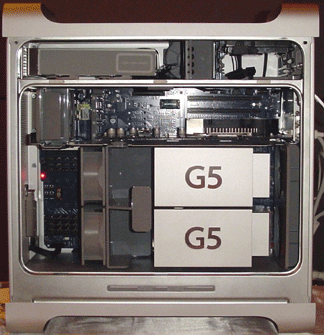 The room was set up with two G5 PowerPCs: one with an older-style Cinema Display; the other with two of the new anodised aluminium displays: a 30" monitor and the small looking 20". There is also a 23" display available.
Danny Lam, Asia-Pacific Product Marketing Manager for desktops and servers, introduced the newest G5 hardware. The range includes 1.8GHz, 2.0GHz and 2.5GHz dual processor, 64-bit PowerPCs. The speed is assisted by a larger bus; and the largest has 8 DIMM memory slots, with a maximum configuration of 8 Gigabytes.
With the USB and Firewire (400 and 800) slots, there are ports for gigabyte Ethernet connectors, a modem connection and optical audio input and output ports.
The 2.5GHz G5 had not been brought and several people expressed disappointment as the concept of water-coooling had them interested. Mr. Lam fudged the reason for the choice of this technology: quieter, more efficient was not the whole answer. These chips run hot; which is also why there are so many fans and 21 heat sensors. However, with the complete system running properly, you would never guess that heat output was significant.
Official prices of these desirable machines are 93,600 baht, 114,800 baht and 138,300 baht respectively. Full information can be found on the Apple website.
The new Cinema Displays with aluminium casing and support make the former design look dated. On the older displays, there were USB ports; this latest iteration also has Firewire connectors. The three displays in the range cost 60,600 (20"), 91,200 (23") and 150,100 baht (30").
The onscreen display looks superb. With that much real estate, it is possible to open several pages at a time. Rather than continue with the ADC adapter, Apple has now made these displays with the DVI adapter -- a digital connector rather than the standard analogue VGA -- and these also connect to a PC, which explained the XP desktop picture on the 20" monitor. Although the G5 was on top of the display table, the PC had been hidden beneath.
An effective point is that this monitor can be tilted from 5 degrees forwards to 25 degrees back. Put a couple together and they form a video barricade; remove the support foot and they can also be wall-mounted. The design of the support also makes it easier to secure the display if security is a concern.
Note, Bangkok prices are already coming down (as expected) from these official figures.
---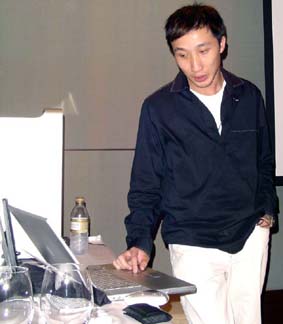 Darren Sng, Software Product Marketing Manager for South Asia, demonstrated Apple's new Production Suite, and particularly the most recent software release, Motion.
Apple follows a process it has used for other types of software and, with Production Suite, puts related applications in one box. In this case, the professional video- and movie-related programs are Final Cut Pro, DVD Studio, Compressor (1.2), Soundtrack, LiveType (1.2) and Motion. The price of the suite is 65,300 baht, although registered users of Final Cut Pro can update for 35,500 baht.
Motion is an animation package that enables the application of text and graphics to video. With its scalable interface it is usable by both "beginners" such as corporate training video makers, or top end professionals, with templates for first-time users. A noteworthy feature is the inclusion of natural simulations (such as gravity): in other software, each part of an object's movement would need to be plotted.
Mr Sng demonstrated the ability to make real-time adjustments to video -- there is no need for time-consuming rendering. This feature brought forth many appreciative murmurs from the audience.
On its own, Motion is priced at 15,700 baht an will run on a G4 PowerBook 1.33, A G4 PowerPC (867MHz), with as much RAM as can be made available, or a 1.6GHz G5. The installation would need 2GB of hard disk space.
Note (2): To go with this item, I have put up a page of official Apple handout pictures.
---

For further information, e-mail to Graham K. Rogers.
Back to eXtensions
To eXtensions: Book Reviews
To eXtensions: Year One
Back to homepage