eXtensions
Utilities for a Wet Holiday
By Graham K. Rogers
For some of us, Songkran, the Thai water festival, does not mean water wars. I shut the gates, batten down the hatches and prepare to repel all boarders. With cable-TV, 24-hour Internet (True ADSL), DVDs and music (collected and online) this is no hardship. The holiday gives me time, among other things, to have a look at some of the many OSX utilities available.


With my new PowerBook, I have created a totally Microsoft-free environment: not even IE or Media Player. Many people feel lost without the huge MS Office to write brief notes with and in recent months, I have looked at the alternatives. After the last item about this, I was pointed in the direction of NeoOffice/J 1.1 (beta). It was developed from OpenOffice, but does not need the X11 window.

This went on the PowerBook as the sole office suite (I have four on the eMac) as it is good enough for when I need such an application. Although I do most writing in TextEdit (bundled) or in BBEdit, NeoOffice/J includes the necessary spreadsheet, presentation and drawing software.

Like all such suites, it is ponderous on startup -- creating .doc files in TextEdit is far easier -- and each time checks for updates if you are online. I get round this minor slowness by not quitting the applications and never shutting down.

It handles Thai fonts with no problem. Like many downloads these days, it is donationware: far better a small fee to these guys than to the disk merchants in Phantip with their suspect wares.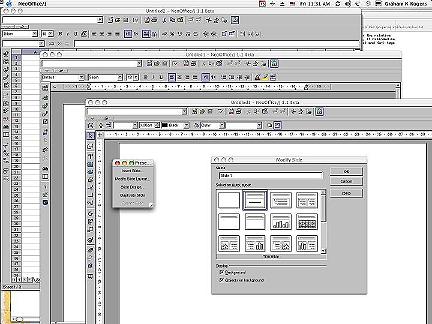 Some Mac users have been grumbling about the lack of a wysiwyg component to Safari. This is mis-directed. The purpose of Safari was to be a lighter browser in the face of IE and Netscape bloat.
Several users have lighted upon the Open Source N-Vu (pronounced N-view) which is now at version 0.90. When I downloaded it, I was pleased with the relative cleanness of the toolbar and composing area.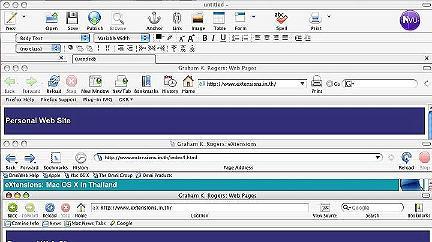 Toolbars: NVu, Firefox, Omniweb and Camino
Fairly easy to use, it reminded me of what such editors used to be. The coding had too many <&nbsp> and <br> tags for my liking and not one <p> in the text.
N-Vu was originally a Linux application -- these guys have some of the best software. It has now been ported to OSX and to Windows, and even to OS/2. Among the features, this application has a site manager, so I was able to add the entire directory structure of my site. I work on the eMac and then upload an identical construct. Although I can examine this on the Mac, this saves switching between an html editor and the Finder.
A page can be viewed as normal, html, source, and preview. N-Vu will handle all the languages you can throw at it, including Thai. I was only able to make it display correctly with the Thonburi font, however. This may justify some playing about to get this right. A menu item allows right-to-left and left-to-right composing for langauges that demand this. N-Vu is another valuable example of donationware.

As a teacher with graduating engineers, I am asked many times each year, "How can I prepare for an interview?" I cover interviews in class. By the time the students are nearing the job market, the skills are all but lost. Apart from actually sitting down with someone, or trusting one's own abilities, there is little more a candidate can do in the panic.
Alex White, was preparing for entry to medical school and wrote "Med School Interviewer", a tiny 20KB download that has a simple panel in which questions appear, and a timer. As questions are displayed, so the current Apple voice (set in System Preferences > Speech) reads out the question. The best voices for this are "Victoria" or "Bruce".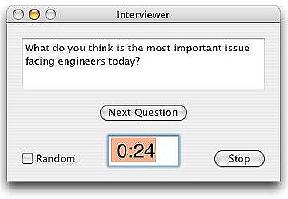 Simple enough: but then comes a nice little touch. The questions are in a text file which can be edited. I made a backup of the original and adapted it for my own "Graduating Thai Engineers" questions.
This could be used either for a candidate to practise alone, or for an interviewer's bank of questions. It is easy for an interviewer to become stale, thus devaluating the process. With several banks of questions, this could also be one further in-class activity to replace those dull as dishwater sound lab tapes that some still insist on.
I tried Thai, but this was not successful. The utility will not support Thai script, and OSX does not have the voices.
While looking for more detail, I found that Alex White has a .mac.com web site and that he has other utilities available: Poker Odds Calculator; and Arcade Typing Tutor; with Welltris on the way.
This attention to programming rather than med school reminds me of a dentist I know who used to spend all his time playing Backgammon.
---

For further information, e-mail to Graham K. Rogers.
Back to eXtensions
To eXtensions: Book Reviews
To eXtensions: Year One
To eXtensions: Year Two
Back to homepage