eXtensions
Images from MacWorld, San Francisco, Day 2: All this and Robin Williams too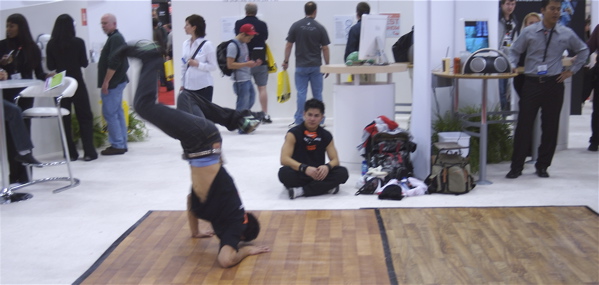 By Graham K. Rogers

The business part of the day began when we trooped back to the Moscone Center for a carefully-orchestrated 30 minutes with Apple high-ups: Greg Joswiak (World Wide VP, iPod product marketing) and David Moody (WWVP Mac product marketing). While waiting for our turn, I mentioned that, if David Pogue could get his hands on the iPhone in the presence of Steve Jobs and Phil Schiller, why couldn't we? Not that I was asking for Steve or Phil -- let's be realistic -- but the phone itself was another matter. In the end, we were given the OK and the media group I was with, did handle the delightful thing. But no photos, eh?

Of particular interest to the journalists from South-east Asia were the matters of availability and service provider. Like some other countries, the phones are now unlocked in Thailand, while the initial service in the USA is a tied deal with Cingular, the largest. We were told that Apple need to have some flexibility and they intend to find out which model is best on a market to market basis.

On a question concerning the screen and the problems with scratching that afflicted some iPods, Joswiak said that it is a "very hard coated screen" because users are going to touch it; fingerprints will wipe off easily. He asked that users not put it in a pocket with broken glass (a reference to one user-problem with an iPod). Apple, he told us, is still putting finishing touches on the product: Apple likes to bring things together -- hardware and software -- so that they can provide the whole solution for the customer.

It took a long time for the iPhone to come to me as the other journalists seemed reluctant to let go. It has a beautiful feel, the sort of experience that Apple products often give with the total design concept that runs through the entire product line. As an example, run your hand over (say) an iMac and then a PC. It was sightly more bulky than the iPod 30G that I tested recently but the screen is a far better size and the idea of being able to use the device in either portrait or landsape -- and having this change automatically -- is a bonus.

We also discussed the AppleTV and the new Airport Express that can handle 802.11n wifi, although IEEE is yet to approve the standard. Tony Li, of Apple's Asia-Pacificf office, who was also there, said that this device would not be shipped to Korea or Thailand at this time as the respective governments have not authorised the standard.

It was mentioned that users might be concerned with battery life (5 hours conversation/video, 16 hours music) and Greg Joswiak said, "I wouldn't be." He explained that these figures were for continuous use and that not many people will talk for such extended periods of time. I am not sure if he has experience of Thailand. He confirmed that "battery life" means non-stop use and suggested that, as far as phones go, the iPhone's battery life is phenomenal. He added that, like any iPod, the battery is service-replaceable and added that battery disposal gets done in an ecological way. He declined to be drawn on the attention that Greenpeace has given Apple recently.
---

I took another wander round the Moscone Center, South exhibition hall stopping off first for a closer look at the AppleTV and then taking in a few minutes of the Leopard presentation. One aspect that was demonstrated was the improved voice production: text to speech. A comparison was made with the robotic sound from Tiger and a smoother voice response that will be used in Leopard. Also demonstrated was a make-your-own-widget feature that will be available in Safari which will sport a Dashboard icon. It will be possible to make widgets on the fly to access specific websites and provide live web content.
A tour round the show hall gave me some useful content:
Product demonstrations
The Faronics booth
MacWorld booth, panel discussion
The Microsoft Blogger lounge with its array of iMacs
Dr. Seuss
Break-dancing
Some interesting faces
The iPhone
I finally took some decent in-focus images of the iPhone in its goldfish bowl keeping it from sticky fingers. If you look at the picture that shows Ben Stiller on-screen, the phone is in portrait mode but the image should be displayed in landscape. The display iPhones are loaded with a looped demonstration so it is not a working model.

Then just as I was leaving I spotted Robin Williams at the Dr. Bott's booth which tidied up that part of the day nicely.

I have put up a selection of images from the show that I took while wandering round this afternoon.
---

For further information, e-mail to
Back to eXtensions
To eXtensions: 2004-05
To eXtensions: Year Two
To eXtensions: Year One
To eXtensions: Book Reviews
Back to homepage