eXtensions
The iPhone exists: Keynote, San Francisco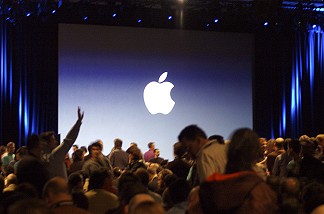 By Graham K. Rogers

In some ways Apple exceeded expectations with the entusiastically received keynote presentation from Steve Jobs. For those of us in Asia, and particularly in Thailand (with the slow pace these days of updating specifications), we are going to have to wait for what may be reduced versions.

The iPhone exists and it is a truly exceptional device, but there is more to Appple than that; and to an extent, a little less.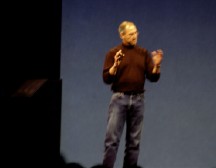 We were told that an early start was necessary as the doors were opening at 7am, so those of the world's press covering this main event in the Apple world, were beginning to be a little put out by the time the doors finally opened and we realised we could have spent another hour in bed. Once inside the center, there was another lengthy wait before the barriers were opened. I am now in full knowledge of what the term media scrum means. Inside the hall, several of the media personnel were directed to one set of seats, only to be moved again, and then once again. As I ended up in an outside aisle seat, disappointingly the quality of photographs suffered.
Jobs appeared to cheers and began outlining the company's situation. He gave a short introduction to the progress that had been made in incorporating the Intel processors into the Mac range and showed a new advertisement that clearly hit at Microsoft and Vista.
He then outlined other features of the company's line-up:
The iPod: which is the world's most popular music player
The ipod nano: the world's most popular MP3 player
The shuffle: the World's most wearable music player
iTunes now has had 2 billion songs downloaded from the shop, although this is small comfort to those not in the loop, and now (4th) beats Amazon (5th) in terms of sales. There were 50 million TV shows sold; 1.3 million movies in the first 4 months of the service; and, more significantly, a new partner in PARAMOUNT now means that there are 250 different movies available now with more expected.
Jobs, took a swipe at the new kid on the block, Zune, which in its introductory month of November, took 2% of the market. Apple has 62% and the rest have 32%. On the display screen the ZUNE letters went up in flames. This was followed by a couple off new, energetic iPod Advertisements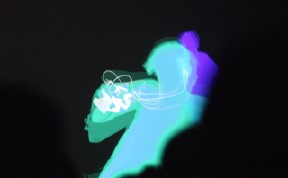 Steve moved to the former iTV which is now officially named the AppleTV. Thye offiical line is that we can enjoy media on your own TV: it is designed for use with HDTvs. Data can be transmitted from the computer to the TV via WiFi using the connectors at the rear.
720p high defenition video
40G hard disk
Intel processor
Uses video, music and photos
802.11b+g+n standards
As a note here, that faster standard will not, at the moment be accessible in either South Korea or in Thailand.
It can auto-sync from one computer and stream data from up to five computers. We were shown a demnonstration from Apple.com of the streaming capabilities. Phil Schiller then apeared on stage and helped with a demo of streaming data from a computer too the AppleTV. The device will be available in February for $299 (about 12,000 baht).
The iPhone
The secret Apple logo came onscreen and Steve announced that this is "A day I have been looking forward to for two and a half years", to a rumble from the audience. After a brief hisotry of Apple innovation, he announced three devices: the widescreen iPod with touch control, a revolutionary mobile phone and a breakthrough Internet communication device. There was considerable applause and cheering. As he went through the slides a couple of times, rotating the logos and saying the three features again, it became clear that what he had was not three but a single device that incorporated all.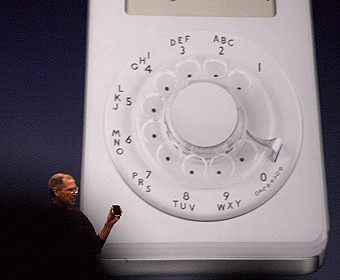 A spoof image came on in reply to all the supposed sightings of the phone over the last months.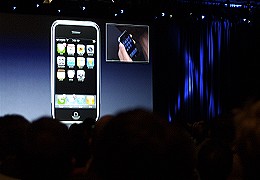 He claimed that the user interface had taken years of research and development, that there are problems with keyboards on modern telpehones, and that buttons and controls cannot change as the applications are developed and new ideas appear. A stylus appeared on the screen, but then that evaporated and Steve explained that the operations are controlled by "multi-touch" using input that we always carry with us: fingers. The screeen is super-smart and accepts multi-finger gestures: we tried them all, he joked.
Apple built on a device with advanced software and the iPhone runs on a full version of OS X using "desktop class" applications not the crippled mini-apps that run in WAP devices. It will synchronise with iTunes: not just the music but the data as well. Jobs introduced a quote (one of several): "Poeple who are really serious about software should make their own hardware".
Design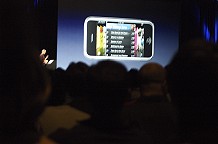 It has a 3.5" screen with 160 pixels per inch. It is 11.6mm thick. There is one button on the front: the Home button. Volume and sleep buttons ar eon the side. Speaker and microphone on the base adjacent to the connector. On the rear, as well as the Apple logo, there is a 2 megapixel camera. Three sensors are used: a proximity sensor, so (for example) if your ear comes close to the screen when you take a call, the display is turned off; an ambient light sensor that adjusts the display; and an accelerometer which senses any switch from portrait to landspace and turns the image onscreen immediately.

iPod features are accessed using "touch your music" scrolling which is carried out using finger movements. Jobs said that they wanted to reinvent the phone and the killer app is making calls, so the interface is designed to use contact lists to make connections more easily. It has visual voice so that a user can go directly to the message wanted rather than scrolling throug a list. It will work with Quadband GSM and EDGE. 3G and others are planned. There is also Bluetooth and WiF.

He phoned Jonathan (Jony) Ive and displayed the ease with which "hold" commands are used. Having lost several calls to the clumsy way this is carried out on my phone, I apppreciate this. When others call, it is easy to access them and -- much appreciated by the audience -- to merge calls and so easily create a confernce call. Editing the contact lists is so easy -- all with this finger touch accessibility. It is possble to calll up a keyboard and type in a number if needed.

The SMS facility orders the messages as a form of conversation as the messages and replies are produced or received. A touch QWERTY keyboard appears when needed.


The phone links with the iPhoto album and a clever feature allows zooming with a gesture in which two fingers open or close.

"We have reinvented the phone"



Internet Communications
There are a number of ways that the Internet use is far more advanced than the current generation of mobile phones:
Rich html email using IMAP or PPP (Yahooo! Mail will provide free push IMAP email to all iPhone users, putting this head to head with Blackberry) with the same interface as the OS X Mail application
Safari web browser is running on the iPhone which displays a full page, using the feature of "pinching" (two fingers) like in iPhoto, and this will open multiple pages
Google Maps which can zoom in quite closely and if needed switch to satellite images
Widgets
WiFi and EDGE networks
"The Internet in your pocket."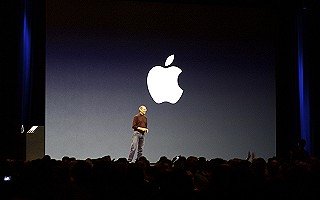 At this stage, Steve Jobs introduced Dr. Eric Schmidt of Google who spoke bgriefly about "Merging without merging" with each company doing what they do best and he highlighted the potential for suchh a device and the online services: all benefit.

This was followed by the appearance of Jery Yang of Yahoo! who also spoke for a couple of minutes highlighting the IMAP service and suggesting that there will be more services developed for the iPhone: "We want to be able to take form factors experience and translate them into web services."

When listening to music and a call comes in, the music automatically fades and the phone interface screen comes on. A user is able to access any and all of the other iPhone features, such as the photo album and email and use these without disconnecting. At the end of the call, the music resumes.

As one examines the features one by one the several rumours of the last few months gel and they were in the main true: but the surprise is in the fact that these are all one device. Apple filed over 2000 patents for this device.



Accessories
What would an iPod be without a new batch of accessories? Here we have headphones as usual but with the addition of a microphone and switch. There is also a Bluetooth headset.



Battery Life
Battery life is claimed to be 5 hours for talk and video, with 16 hours for audio.



Pricing and Availability
Steve Jobs pointed out that the iPod is $199 for the 4G nano and that a Blackberry is about $299, so argued that the combined price would be about right
4G iPhone for $499
8G iPhone for $599
It will be shipping in June in the United States and in the fourth quarter in Europe. Those of us in Asia are disapointingly going to have to wait until 2008. The partner in the US is Cingular and at this point, CEO of Cingular, Stan Sigman appeared on stage and spoke for a pedestrian 5 minutes.

To put things in perspective, Steve told us that there are 26m game consoles, 94 million digital cameras and 957 million mobile phones. Apple is aiming for a 1% market penetration in the first year. He will have to fix Asia if he really wants to fly.

As if to confirm that the company was aware of its movement away from its roots in computers, Jobs announced aname change from Apple Computer, Inc., to Apple Inc. to reflec the market more. He closed this part of the presentation with a quote from Wayne Gretsky, "I skate to where the puck is going to be, not where it is" as if to indicate to the markets that Apple is, again, climbing that bit further before the others can catch up.
And one more thing?. . .
Steve Jobs thanked the developers and asked them to take a bow, to justified applause. He thanked their families for their support, and then John Mayer performed a couple of numbers. I noted here that thus far we had had no real mention of computers or OS X Leopard -- especially a release date -- and wondered if Jobs were rechasrging his own batteries. But that was it: no "one more thing". The show was over.

It ends not with a bang, but a whimper.
I will be rushing round the show area to find some more (and better) product shots as soon as I can.
---

For further information, e-mail to
Back to eXtensions
To eXtensions: 2004-05
To eXtensions: Year Two
To eXtensions: Year One
To eXtensions: Book Reviews
Back to homepage