He sets the scene with a basic outline and immediately invites Tim Cook up to explain about the state of the Art with Macs.
The rise in numbers of Macs used has lead to a rise in developers to the platform which now stands at 600,000 with some 30,000 added each month. Cook expressed his pleasure that Autodesk had returned with its AutoCAD and also highlighted Microsoft's efforts with Office and praised Outlook. The customer experience includes the Apple 318 retail shops that keep adding customers and adding to revenue, especially the newest ones in China. The momentum, he said, had never been more.
He asked audience members to silence their phones. Quite right too: he should try a meeting in Thailand. Then the new products. After a brief outline he announced iLife 11 with the same apps (which was a slight surprise.
GarageBand
Jobs outlined the application and highlighted some of the new effects, like Flextime, Groove Matching, many more effects, as well as new lessons (again these will probably not be available in the Thai market due to copyright restrictions).

Enter Xander Soren

Exit Jobs


As GarageBand is used a lot by people recording their own music and, as the name of the program suggests, perhaps by kids in a garage, the new feature of "Groove Matching" takes one track as a control medium and analyses the other tracks, making them match the same rhythm, so cleaning up a major problem with many budding pop stars: "an automatic spell-checker for bad rhythm," he said.

Learn to Play has been expanded somewhat and a new feature is How did I Play which compares the music with the user's actual output, marking wrong notes in red and timing errors in yellow. A percentage score is also displayed. The software keeps a history so that the learner is able to keep track of how learning progresses.

Exit

Enter Jobs


With no mention of the remaining two parts of the suite (iWeb, iDVD), Jobs summarised iLife. He told us that an upgrade was $49: the family pack costs $79. These are 1790 baht and 2790 baht respectively in the online Apple Store for Thailand.



ACT III: FACETIME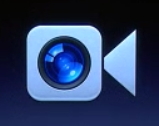 This is a feature of the iPhone 4 and the latest iPod touch. Facetime needs a phone signal for the iPhone 4, plus a wifi connection and, although Apple's early advertisements of this were clear and exact, when I have used it, the images are really quite good with sound synchronising well.
With 19 million such devices shipped, a major request from consumer was for Facetime between the devices and the Mac. And here it is working with a similar interface on the Mac to what I have in my iPhone 4. it works when we use wifi, and users may dial out to a suitable phone or use the phone to connect to a Facetime equipped computer; or from computer to computer. A beta of the feature shipped and I downloaded it right away. In good wifi areas it works as expected, although I had problems at work, but then I always have problems at work with the flaky setups there and that is no test for any technology. What I want to know is who pays for the call from a computer to a phone?
ACT IV: OS X LION
The philosophy behind this upgrade is by starting with OS X, and creating iOS, the technology for the iPhone and iPod touch, and later as the OS for the iPad there seems to be a closing of the circle: indeed, the slide showed this as a series of linked arrows. The innovations are now coming back to the Mac: the theme of the day's events. Mac OS X meets the iPad.
Some of the key features of Lion include Multi-touch gestures; an App Store for Macs; App Home Screens; Full home screens; Auto save; Apps resume when launched.
Steve explained the bad ergonomics of touch gestures on a vertical screen and led into the perfecting of the multi-touch trackpads, including the Magic Mouse and Magic Trackpad, although the patent for a horizontal screen iMac did come to mind as he spoke.
He commented on the success of the App Store for the iPhone and iPad: 7 Billion downloads. This success is to be built on with a Mac App Store as part of Lion. It will be similar to the iPhone App Store including the 70/30 split for developers. Also like the iPhone apps, they will automatically install and be updated. This sounds as if it wil remove much heartache, particularly for new users, if it works as mooted. A slight difference from the usual approach is that the apps will be licensed for all a user's Macs: I find that most attractive.
Features in OS X now that have been around for a while and add to productivity for users, include Exposé, Dashboard, Spaces, and Full Screen Apps. Apple intends to unify these four in something they call Mission Control. I worry about some of the names Apple gives to technologies or features.
Enter Craig Federighi
Exit Jobs

Federighi showed how the App Store could be accessed directly from the Dock and we saw a screen full of apps that were available in a store format, as expected similar to the current App store. Does this mean that part of the store is up and running already (or was this a localised mock-up); is this to be part of the huge new installation in North Carolina? He showed how an app (he used Pages) is bought and downloaded and he did confirm it was a real server, but not where.
Launchpad may work something like Dashboard in the way that those App Store downloads are organised, stored and activated. Like iOS, folders are available so organisation is easy.
Federighi also demonstrated the way that some of the apps work in full screen mode and how to flick between the screens. With multiple applications open, by using the new Mission Control, anything open on the Mac is viewed in a single display, slightly reminiscent of a 4-finger gesture on a trackpad.
Exit Craig Federighi
Enter Jobs

He gave a summary of Lion and some of its technologies. The plan is to release Lion in Summer 2011. He returned to the App Store and said that the App Sore will be open on Snow Leopard within 90 days. App submissions will be submitted starting in November. Jobs also looked as if he was summarizing the whole of the business, with sales, revenue, iLife, Facetime on Mac, and ended with Lion with its features.
These are the things we wanted to share with you today. We are really excited about it.
ACT V: ONE MORE THING
"But there is one more thing. . . ."
The One More Thing is a re-emphasis of Back to the Mac, the theme of this event; and the idea of the circle nature of development. The iPad inspiring the Mac: instant on, battery life, good standby time, solid state storage, thin and light.
What would happen if an iPad and a Mac hooked up? Laughter from the audience. The new MacBook Air. At its thickest point it is 0.68" and goes down to 0.11" Using the Unibody construction means the body is rigid and the computer has a full size keyboard.
13.3" LED backlit display (see below)
1440 x 900 pixels
Core 2 Duo Processor
NVIDIA GeForce 320m graphics processor
Multi-touch trackpad
FaceTime camera
2G RAM

The MacBook Air has no optical drive no hard drive. It relies totally on flash storage. This gives instant on, is much faster and more reliable as well as being smaller and lighter. It is also silent. As a note, Flash -- Adobe Flash -- was not included with this new computer. Battery life gives 7 hours using wireless web with a 30-day standby time.
A slide of the insides showed the four batteries although these were in a matte black finish and much tidier than the earlier shots that had circulated on the Internet: much more like Apple and Ives.
And there is more: a younger brother with an 11.6" screen. It has all the features of the larger unit (but 1366 x 768 pixels), with battery life of 5 hours and the same 30 days standby time.
Prices are $999 for the 11.6" version with 64G of flash; $1199 for the 11.6" with 128G; $1299 for the 13.3" with 128G; and $1599 for the 13.3" with 256G. Prices in Thailand are 34,900 baht 40,900 baht 44,900 baht and 55,900 baht respectively and they are on sale now in the Thai online store. The 11.6" machines have 1.4Ghz processors, while the 13'3" ones have 1.86GHz processors, which some thought was a little underpowered.


What was not announced was that the MacBook Air includes a USB drive with OS X so that users can run diagnostics and reinstall if necessary.
The end of the event approached with an advertisement as well as a video with Jony Ive, Phil Schiller and Bob Mansfield, which showed part of the process of making the device using water and laser cutters as well as some neat explanations by the presenters.
A closing comment was made after the videos and the stage was bare.
Exeunt

<! ----------------------------------------------------------------------->