---
<! ----------------------------------------------------------------------->

Beware if you have an iTunes account and a surprise bill turns up [or even those of you without an iTunes account - see below]. I saw a brief note earlier in the day on Macsimum News concerning bogus emails and have had one myself from the looks of things, but with a couple of oddities.

As luck (or bad code) would have it, the image did not load and whoever wrote the "alt" tag needs to attend my English classes. But then, none of the other receipts contain images of course as the main body. I began to roll the cursor over the links in the page and sure enough, instead of "phobos.apple.com" I was being asked to link to http://gmfachzh.info/ and I am not going there.

A closer look reveals a number of differences, in the header of the mail message: for example there is no Reply To line (even if the address Apple uses is do_not_reply@apple.com), while the message is from do_not_reply@itunes.com when Apple uses the same do_not_reply@apple.com for its outgoing receipt mails.

A screen shot of the main body of the mail is below, including the little blue question mark for a failed image load - "Click here if you not see image" indeed. . . .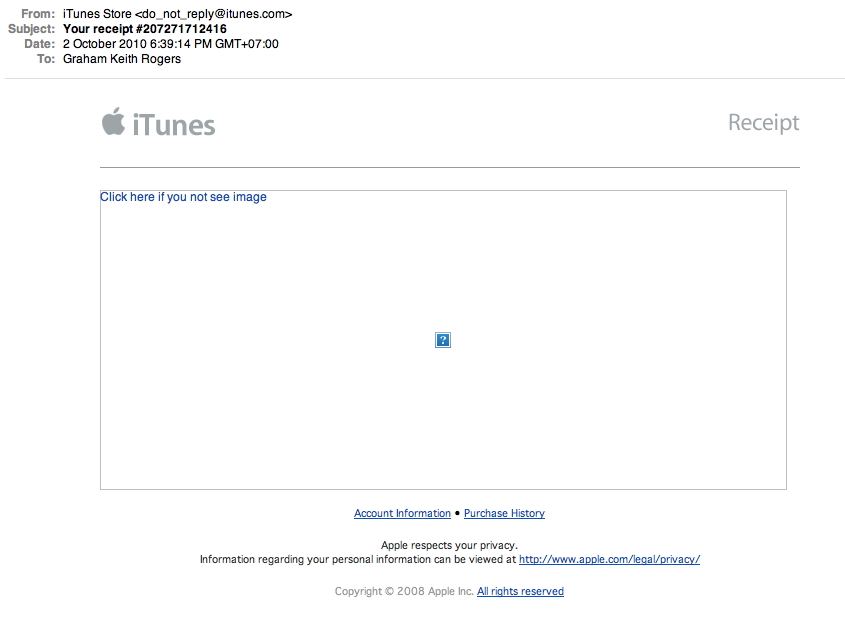 Additional Information
I have now had two more of these emails and the sender is the same in each case: "badger1402.apple.com" which is not the case in genuine mails with iTunes receipts. The source of the missing GIF file is "http://ax.phobos.apple.com.edgesuite.net/email/images_shared/header_invoicereceipt_l.gif" which is clearly not Apple and in the later emails that abbreviated URL is changed. Be on your guard.

Because of that email address, which is almost certainly false, I sent a note to Apple late Saturday.


On Sunday morning (Thai time) I also see from a MacNN article that the email is reportedly being sent out to users whether they have an iTunes account or not. Be on your guard.


<! ----------------------------------------------------------------------->