---
<! ----------------------------------------------------------------------->

While I was looking at the new CameraBag desktop application on Thursday, the new app from Chase Jarvis, Best Camera, came across my radar and it was in my collection as soon as I could click the Buy button. Part of the reason was the reported comments of Jarvis who has the same philosophy as the song, If you can't be with the one you love, Love the one you're with. No camera? Use the iPhone. I guess I am going to have an iPhone apps page totally dedicated to photo apps before the end of the month.

One of the reasons I download so many is the willingness to try them out in the absence of a Lomo camera, which is what I really want. Having switched from film to digital a few year back, I want to try film again. There is still at least one shop in Bangkok that still processes this: and not just 35mm, either. However, digital being what it is, the effects can be applied if we have the right software; and that goes for the iPhone too now, although a sepia filter (I have one that takes sepia images) on the iPhone seems to be missing from what I have amassed.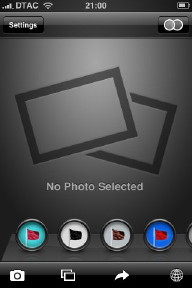 Best Camera [iTunes link], is an odd name, and it may not live up to it entirely, although for a cost of $2.99, I am not complaining. I put it on my own iPhone 3G and as I have a test iPhone 3Gs I took that out into Bangkok and Thonburi (west side of the Chao Phraya river) and took a few shots inside and out. Like a lot of similar camera apps, I was pleased to find that it also installed on my first generation iPod touch, although it only works with images already in the photo library. Why local companies are unable to make new apps that work on the generation 1 touch is beyond me: iPhone and Generation 2 touch is the norm for Thai developers.
The initial screen of Best Camera is fairly similar to other image apps, with a screen for an image with controls top and bottom. It is possible to set it so that the camera function opens as the app is started which is something a lot of the other apps need. I have tended to use the iPhone camera, then apply effects with the amount of fumbling that takes place. It is one of the reasons I don't use a zoom lens: a fixed focal length does away with one set of decisions.
There are two ways to bring an image into the workspace with Best Camera and these are accessed using one of the bottom icons: camera and folder. Pressing the first reveals the usual iPhone camera shutter which opens to allow shooting. With the iPhone 3Gs, however, the square for autofocus appears and will keep appearing for a moment or two as the iPhone is moved. The image is taken by pressing the camera button and identical to CamerBag is displayed as a Preview, the user has two options: Retake, or Use.
With "Use", a Dock-like panel appears at the bottom of the image, with a row of little filter icons. Each is coloured to give some idea of the function and several have flags to help identify the purpose (or aid memory). The iPhone being a touchscreen device, putting the finger on the filters allows them to be slid backwards and forwards. Although initially, I went through them one by one to see what each would do, this is time consuming and a user might have a specific idea of what filters they need to apply.
Tapping on one of these, applies the effect and another small panel is shown with the name of the filter and two buttons: Cancel, and Apply. With this is it easy to experiment with an image and if we do not like what has been done, go back. There is another wrinkle to this later.

Any of the filters can be applied more than once. Just keep pressing and accepting. At this stage however, all we can do is cancel. However, at the top right of the panel is a double filter icon that when pressed shows the number of filters applied: one for each filter; and if one filter has been applied (say) three times, three icons appear, each with its own cancel cross in a circle.
To the right of the folder icon, which is used (like other such apps) to access images in the photo library, is a "Send" arrow. In the case of Best Camera, this would better be described as an action arrow. Pressing this reveals a panel of actions that can be selected. The first three are for sending directly to online sharing sites (Best Camera, FaceBook, Twitter), the fourth is for attaching an image to email and the last is for saving the file to the "camera roll." Once selected, the actions remain so until deselected. The top of the panel has two icons, Send or Cancel.
In my case, with this try out, as I had not set up any of the external locations, I wanted to save all to the roll and send some via email, I kept the bottom item checked, and added the email selection as needed. This seems a fairly logical workflow-oriented way of working.


The Settings panel is in two main sections, Workflow and Sharing, with two extra controls at the bottom, Reset Blocked Feed Photos, and Clear Current Photo. the Workflow has three selections, On Launch, Applied FX and Working Size.
The first, On Launch is something that other such apps could do with as different users want to do different things with their apps. As above, I changed this to Open Camera, because that seems the most efficient for me, but there are also Edit Photo and Select Photo.
With the Applied FX, there are also three choices: Ask before clearing, Clear after loading and Keep After Loading. Again this is a question of personal choice and the developers, Übermind (who also make the Maperture plugin for Aperture), along with Chase Jarvis, have had the user in mind when creating these selections, the last of which, Working Size, as the name suggests allows an image size to be set. There are four sizes from 480 x 480 to 1600 x 1600 (plus Original Size). When I tried to select the largest size on the iPhone 3G I was warned that this was not a good idea owing to memory constraints. Another reason to upgrade.

As part of the idea behind this app is Shoot, Edit, Share, the Sharing section for setting up access to a number of sharing sites has a fair importance. As in the Action section, Best Camera, FaceBook and Twitter are specified, but there is also a Sharing Setup item for other sites. However, this only specified Best Camera when there was already a Best Camera item just below. hard luck for anyone who wants to use Flickr or Mobile Me Gallery it seems; but with the iPhone there is more than one way to skin a cat and it would be easy enough to use the same images via another app.
The proof of the pudding, they say (at least where I come from) is in the eating, so below (and at the top) are a number of originals and edited samples all taken today (24 Sep) using the iPhone 3Gs:
Siam Center, Bangkok
Plants Outside Siam Center, Bangkok
Bang Khun Non - Thonburi Side

See Also: Thursday 24 September 2009 - CameraBag Desktop Application for the Mac

<! ----------------------------------------------------------------------->