---
<! ----------------------------------------------------------------------->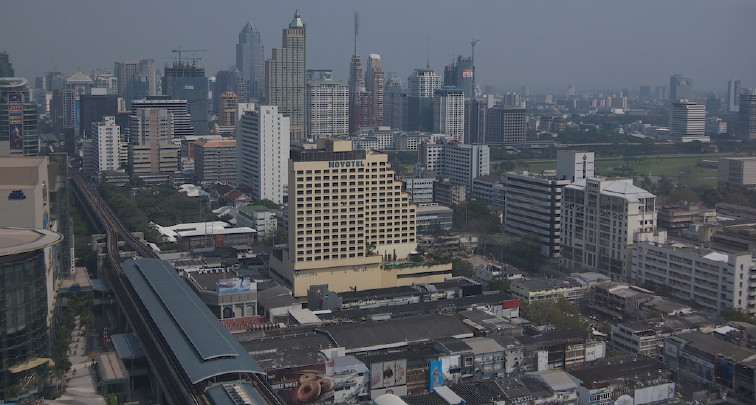 On Thursday 18 October, just a few days after Apple announced its new iPods and the new version of iTunes, there was a press briefing for some Thai media personnel at the offices of Apple in Siam Tower, next to the Discovery Centre, way above the Bangkok streets on Floor 25.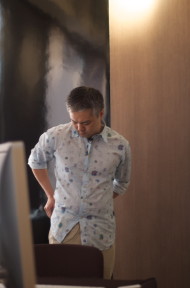 Tony Li, Apple's Director of Product Marketing for the Asia Pacific region, a regular visitor to the Land of Smiles, gave a presentation which mirrored much of what we had already seen online, but with one or two additions for Thailand. And one or two omissions.
After a general introduction focussing on the music business and the iTunes Music Store, with its 160,000,000 tunes sold so far, Tony got down to business, although he did mention that sales were pretty good worldwide and Apple was "doing well in Thailand as well." While Apple never gives a break down of its sales figures, that in itself was encouraging to hear.
I was slightly surprised that he began with iTunes 8 which he described as having a goal to help us users "rediscover your music". I must admit, the last week or so with Genius which was the major change to iTunes, has dug up several tunes I had forgotten about. Tony's main focus was on Genius, enhanced browsing and the new visualiser.
He dealt with the idea of the playlist and the introduction of the Smart Playlist a couple of years back which identified the music played the most, then explained how Genius was designed to take this one step further and create a playlist of songs that go great together.
He took some time to show how the new views could display music in several ways. We are familiar with the list form and now Coverflow, but in what Apple calls Grid View, the album artwork is displayed in panels (which can be enlarged) either by album, artist, genre, or composer.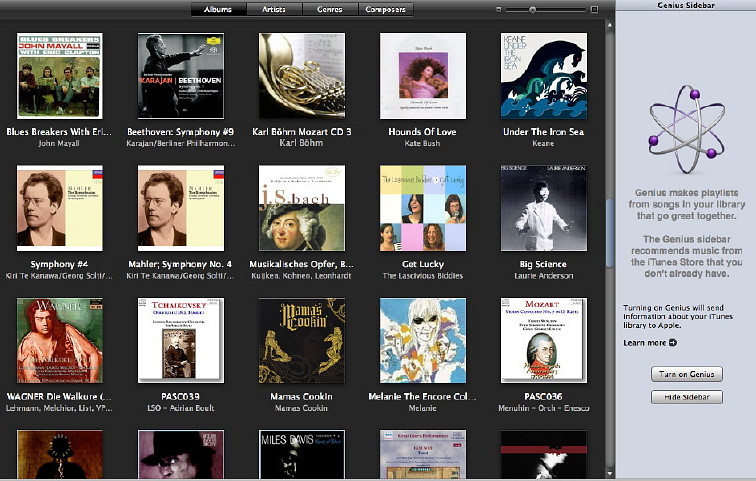 He then had a longer look at Genius. How does it work? He asked and then joked, "I can't tell you" but did explain some of the process of data being sent to Apple and this, combined with other user selections, plus information in our own lists such as play-counts and ratings were all used by an algorithm -- that was the secret -- to come up with the lists.
While he mentioned that an account with Apple was needed and said that there are 22 countries with stores, "at this time". Thailand has one of the 62 App Stores so that will suffice. He did mention that there are not many Thai songs in the main iTunes stores -- these have mainly US, European and Japanese tunes -- so it might take a while for Genius lists of Thai artists to be created. Just keep sending the data.
In a demo, he showed how clicking on the Genius button would create a list of 25 songs, and that this could be changed to 50, 75 or 100. He then had a brief demo of the visualiser's new effect using a Thai song by the popular Thongchai McIntyre.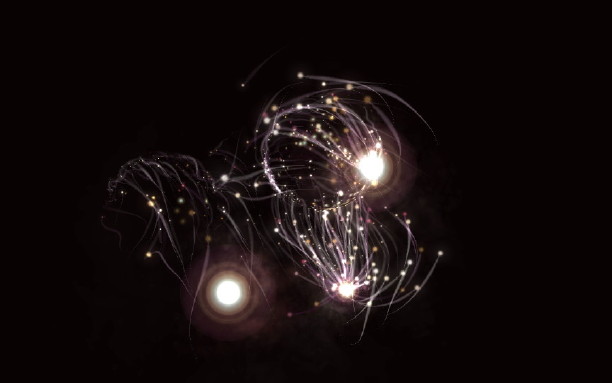 While not asked, he was at pains to emphasise that while our music data is sent and used by Apple, no other user data is and that this is kept totally separate.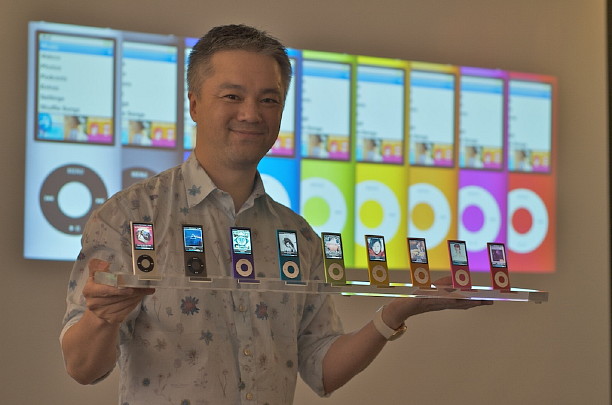 He moved on to the iPods and began with the iPod shuffle which is unchanged. He repeated an Apple slogan that this was "the world's most wearable digital music player" and confirmed the size at 1.6" long and a weight of 15.6 grams. He admitted that he had left one or two in his jeans: very clean afterwards but did not confirm if they still worked.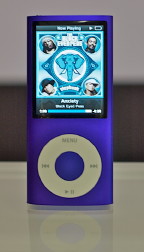 There are new colours for the shuffle and these now include blue, green and pink. The two shuffles available are 1GB and 2G, holding 240 and 500 songs respectively. These are priced at 2,290 baht and 3190 baht.
He then looked at the iPod nano which is now in its 4th generation and returns to the slim profile that it had earlier. Apple claim this is the most popular of the iPods and it is now available in what is called, "nanochromatic" which is a marketing-speak for many colours.
It appears to be similar to the 2nd generation nano but this is not so and the whole body has been completely redesigned with an oval cross section which gives the body and the screen a curved shape. The 2" screen is now in portrait format and its curved glass has been carefully manufactured so that there is no distortion from that curvature. The resolution has not been sacrificed and Tony claimed it was Apple's highest density display with a resoltion of 204 pixels per inch. The design makes the nano much slimmer and it fits in the hand beautifully. The nano is now lighter and is some 38.6 grams when the previous version was 49 grams.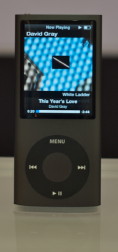 There are nine colours: however the red is not available here. This colour is reserved for "Product Red" devices and part of the income from these goes to AIDS research. They can only be bought online and there is no online shop in Thailand.
Apple has borrowed some technology from the iPod touch by way of the accelerometer: not only does the screen display switch from portrait to landscape when turned, but there is a new feature called Shake to Shuffle. Tony showed this and said that spurious input, for example when using this at the gym, should not affect the iPod. There is a Hold buton on top just in case and it is also possible to turn off this feature in settings.
I had not been sure about this from information on the web, but the Genius feature is included so, once a user has registered and synchronised, this may be used on the nano as well. To bring this up, we hold the center button of the click wheel and a menu appears: Genius is at the top.
As well as this, Tony claimed that the lists of music contain more information. I had already seen this on the iPod touch I use and as well as the title of a menu item or tune there is some data beneath in smaller lettering.
A new addition to the nano is software for creating voice menus. This takes advantage of a microphone when it is attached, for example the new Apple ear buds when they arrive. What he did not tell the attendees at this time was that the nano now has a feature that can be turned on in the settings so that the menus can be read out: this would be particularly useful for someone with seeing difficuties. This is part of a push Apple has begun recently concerning accessibility, including new web pages.
While the standard Apple voices are in English, there may be software from third party developers that could accomplish this in other languages. We note here that for a considerable while, Thai menus, which are now available on iPods as part of the Apple original installation, could be added.
There is a new game, Maze, included with the other two games that are already on the nano and the battery life has been increased to 24 hours for music or 4 hours for video. The two models available here are 8 and 16 GB (2,000 and 4,000 songs) at 6,290 and 8,290 baht respectively.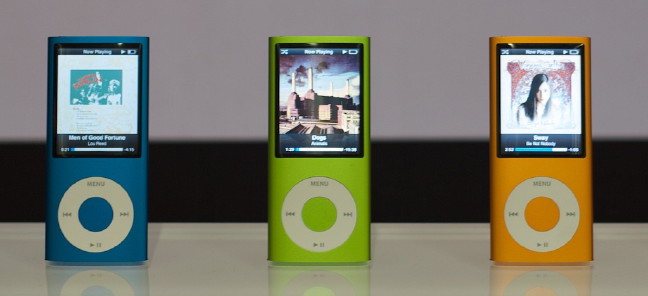 Tony segued into accessories for the iPod by way of the Nike + system. There is a new armband to go with the new shape (I hope to try my older armband when a test iPod arrives) and he spent a few minutes outlining how Nike + works. The accessories business is important for Apple and there are currently some 5,000 for the iPod from that armband to car and home stereo systems. He mentioned that several airlines, for example Singapore Airlines, now have iPod ports in the cabins so users can charge the device and listen to music or view their videos on the screen.
From the accessories he moved to the two new headphones. The more expensive of these will come to some 2,900 baht when it is available next month here and has a twin woofer and tweeter speaker system which should give enhanced sound quality. It has three sizes of ear buds so we should have a comfortable fit. The controls for these headphones are on the cable and, as well as volume, we can select forward, back and stop. One the back of the controls is the microphone. These headphones will work with the nano, the new Classic and the iPod touch. The other headphons, also coming in October, also have a microphone but the earpiece is the familiar one-speaker system.

The iPod Classic is the original iPod which, when first released carried 1,000 songs. Previously, there were two sizes: 80 and 160GB. Many wanted the 80GB version because, Tony claimed, of its thinness. And it could carry most of the data that people wanted. The 160GB version has now gone and the 80GB one has increased to 120GB for the same price, which in Thailand is 9,990 baht. It carries some 30,000 songs. It is available in two colours: silver and black. Battery life now allows music playing for 36 hours or video for 6 hours.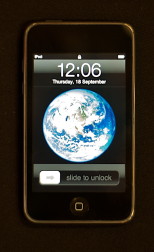 The iPod touch was updated last week to version 2 and Apple calls it "the funnest iPod ever." Tony said that we should not bother looking in a dictionary for this comparative adjective of fun as it does not exist: Apple made it up to convey the idea of the device which has evolved from the original music player concept. The new design has a slightly curved, polished steel back, which like the nano, should make it fit much better into the hand.
As a result of customer input (those feedback pages are there for a purpose) Apple added a sliding volume control to the outside. They have done a fairly good job of integrating this into the smooth exterior, although as a touch user I question he need for this: a double click on the home button would bring up controls even if it were locked.
Also added -- and this is a good idea -- is an external speaker, although it was emphasised that this is for "casual listening." Presumably that infers that the speaker is there, but it is not for high quality output.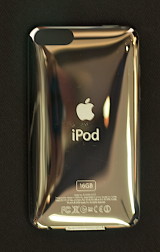 The touch is good for video and games as well as its original music playing purpose and, like other iPods now includes Genius (once it is turned on via iTunes). Tony mentioned that there are some 3,000 apps available and coupled this with the fact that the beta SDK (software developer kit) was only available in April, while the "gold master" only came out in June. The App Store has turned the touch, he said, from a music device to an entertainment device.
Changes to the new version, some of which are included in the recent 2.1 software update, include the addition of Microsoft Exchange push email, as well as to Google Maps, iCal and Address Book (particularly with the synchronisation with Mobile Me). Tony emphasised that the touch now supports Thai, although when I asked later confirmed that there is no Thai keyboard and, in Apple style, refused to be drawn on when, or if this would be included.
The new touch also has the Nike + function built in. It is off by default but this does not need the extra receiver that the iPod nano uses. Battery life is some 36 hours for music or 6 hours for video.
There are three versions here: 8G, 16G and 32G at 8,890, 11,490 and 15,290 baht respectively. Approval for the devices has just been granted here (as they use wifi, they need certification) and they will be in the shops within 7 days. They are already being advertised.

I asked Tony a couple of questions, starting with the Bluetooth on the iPod touch, which he denied existed. When I pointed out that breakdown images of the touch had revealed this, there was a twitch of the lips, and I finished the sentence for him: Apple does not comment on future product developments.
I then asked about the 4GB nano which has become available in Europe and he said that this availability depends on each country and there were no plans at this time to have this in Thailand. This is a shame as with the Xmas/New Year season approaching, these would make great gifts here.
While a reporter was chatting with Tony I was nearby taking some photographs. Tony was asked when he would be coming again and he called me over to answer. I said, "Current rumours suggest that Apple may release some notebooks on October 14. . ." and Tony sent me away again, laughing.
I heard other media personnel asking about the iPhone. I had not bothered as I know what the response would be: Apple does not comment. . . I have talked about the iPhone with a number of Apple personnel before and that is about the best I ever get. Tony did however add (and I confirmed this with him and Apple Singapore marketing personnel there) that there was a continuing phased worlwide rollout and any release depended on negotiations with carriers.
We must clutch at straws.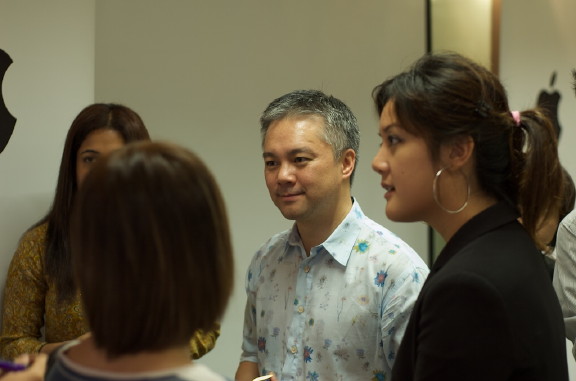 <! ----------------------------------------------------------------------->