By Graham K. Rogers
---
<! ----------------------------------------------------------------------->
The road to Hell is paved with good intentions, they say and I started out this weekend by trying to run around some shops on Friday while I was out paying bills. That didn't work as well as I had hoped, so I tried again on Saturday and was delayed (enjoyably I might add -- coffee and lots of good information), so did not manage to visit all I had intended.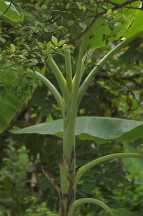 Just before lunch on Friday, I made a flying visit to the Siam Paragon iStudio and dashed round collecting the latest price list. I did note that the 2.16GHz white MacBook was now shown at the previous price of 51,500 baht.
I called in at the Siam Discovery iStudio not long after eating, just as they were setting up for one of the Leopard Demo Days, which is a series of sessions on Leopard. The demos are in Thai and there will be five sessions a day over the three days of each weekend ending on 7 - 9 December.
I spoke to someone from the Apple office there and asked about the font difficulties some people had reported to me. The switch to Thonburi from Lucida Grande was decided on a while back as some local developers had asked for this -- Lucida Grande is not beautiful enough, they say.
Toim Gewecke of Your Multllingual Mac had already mentioned this. Tom had provided also a folder for download,. He renamed a set of the fonts called Garuda to Thonburi and replaced Apple's with his. It seems to work, he says. The folder (named garudathonburi) is available on his idisk.
In the chat, which followed the usual Apple, "Ask me no secrets rules", it was acknowekdged that, as with any new OS there were expected to be problems and (although there were no specifics discussed) that these were being attended to. While Apple was aware of problems with Thai fonts, there were priorities. I think that was pragmatic and I had gathered that myself.
One thing that did get a scoff and a chuckle was when I mentioned that some users were suggesting online that Apple had not tested Leopard with Thai fonts. As my conversation partner had been involved in this development for a long time, that was dismissed with a degree of scorn. As he had been at the Developers' Conference pushing Thai (I heard later), I am not surprised.
It was suggested that, as was the problem with some of the system faults, that some of the faults were down to third party developers.
We drifted on to netowrking as I am interested in the Airport Extreme unit (now that my day job bonus has come) and some advice was proferred re setting it up with my current ADSL modem router: don't have both allocating IP numbers as there will be a conflict.
I also mentioned my own CDMA modem problems and that got a grin, particularly when I said that the Network Preferences had changed. That was confirmed. Much changed. By coincidence I had the answer sent to me by Hutch a short while before and I fixed it myself later Friday evening.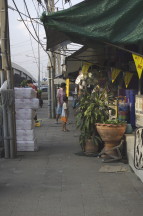 A couple of hours later I was back on the Thonburi side of the river, on my way home and called in at the Central Pinklao mall where the iStudio is run by Com7. They were the first company to try the waters here and it looks as if they are going to try a whole lot more. Over the weekend I heard that they will have some 17 iStudio outlets by the time they have finished expanding. This is excpetionally good news, not just for the retail image and exposure, but for those in the provinces who never think about Macs as they never see them.
As one of the branches due to open is in Ubon Rachathani, it is not beyond possibility that a few visitors from across the Mekong will have a look too. Ubon has a high number of tertiary level education establishments as well.
I heard that with current shops in Bangkok and nearby, they are opening in Hua Hin, Khon Kaen (which is a major leap considering the size of this city), Phuket (open now), Korat (already open). Others are planned.
An odd note here, however, is that while other iStudio outlets order stock through the established distributors (Value Systems and Ingram), Com7 are rumoured to be buying directly from Singapore.
The prices and stock on the Com7 price sheets are different. They not only list, but also have a price for the new 2.2GHz MacBooks which other iStudios do not. This is shown at 54,900 baht, but they also show the 2.16GHz version at the same price as do the iStudio in Siam Discovery. When I queried this in Siam, I was told (and then saw a sign in Thai) that this price includes the "free" Apple wireless mouse. I was also told that buyers can decline this and the price will be reduced.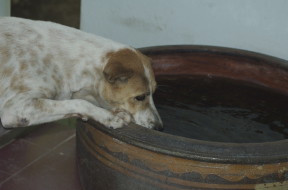 Saturday again found me short of time. I had meant to visit a couple of shops that are new to me, including a Mac Café, but the bus was full, so I changed my route in and at Siam swtiched to the SkyTrain (BTS) and headed for the rarefied atmosphere of Thonglor.
There are positive signs and good sales in this area, as well as a lot of customers who already have iPhones. Considering the high population of expat business people here, I am not over-surprised.
I was surprised, in a way, to hear that sales of AppleTV were going well. The shop had been asked to provide some 88 units for a hotel in Cha-Am and this had helped no end.
While at the Thonglior iStudio, I was talking fonts (again) with someone I know there and I was shown a CD-RoM with the name "Freelock". While there is still no Thai localisation for the operating system, there have been attempts in the past to put Thai operability into such software as the Adobe suites. One solution available a couple of years ago used a hardware dongle and was not too popular because of this and also its higher price (around 3,500 baht).
I am told that Freelock avoids the dongle and provides a pure software solution to Thai in Adobe InDesign CS3 and Illustrator CS3 for 990 baht.
A check of the prices here showed a basic similarity with the other shops, apart from the MacBook (above) and the 24" 2.8GHz iMac. Thonglor has this at 91,900 baht while this is shown as 93,900 at Siam Discovery. The price is not quoted by Com7.
I also note that the Cinema Displays are cheaper in Thonglor and Siam Paragon at 23,500 and 35,900 baht for the 20" and 23" respectively. The other shops have these at 25,000 and 37,500 baht.
Prices of iPods are all the same although the iStudio in SIam Discovery has the 8G iPod (Product) Red listed for some 11,900 baht. Previously this was totally unavailable here as (like QuickTime Pro) this can only be found on the online shop, and Thailand doesn't have one. About time this was sorted.

Current prices then:
iMac, 20", 2.0GHz
47,900 baht

iMac, 20", 2.4GHz
59,990 baht
iMac, 24", 2.4GHz
72,990 baht

MacBookPro 15", 2.2GHz
75,900 baht

MacBookPro 15", 2.4GHz
94,900 baht

MacBookPro 17", 2.4GHz
105,900 baht

MacBook, White, 2.0GHz
45,900 baht

MacBook, White, 2.16GHz
54,900/51,500 baht

MacBook, Black, 2.16Hz
62,500 baht

Mac mini, 1.83GHz Core 2 Duo, Combo
23,590 baht

Mac mini, 2.0GHz Core 2 Duo, Superdrive
31,590 baht

Cinema Display, 20"
25,000/23,500 baht

Cinema Display, 23"
37,500/35,900 baht

Cinema Display, 30"
75,000 baht

iPod touch, 8G
12,590 baht

iPod touch, 16G
16,790 baht

iPod Classic, 80G
10,390 baht

iPod Classic, 160G
14,590 baht

iPod shuffle, 1G
3,890 baht

iPod nano, 4G
6,390 baht

iPod nano, 8G
8,590 baht

Airport Extreme Base Station
6,850 baht

<! ----------------------------------------------------------------------->