Graham K. Rogers
---
<! ----------------------------------------------------------------------->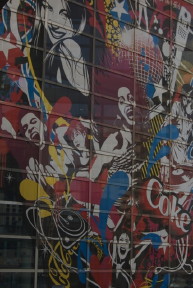 The last week or so has seen me really busy with a set of deadlines coming last weekend for the Bangkok Post column . I had to submit the texts for 19 and 26 December and for 2 January, which saw me writing all last weekend. Come Monday morning, when Ithought it was all over, I had an email asking if I had forgotten the item for 12 December. . . .
I had, so I rush-wrote one more in the series I am doing on System Preferences. If you want to read some outline information on Networking preferences, that is now the item for 2 January 2008.
With the podcast coming in the couple of days after that, I put myself on a short sabbatical (I do have a life) although come Friday (7 Dec), I did have a look at some software for site statistics, but that failed to live up to what I was hoping, so I cancelled that.
On Saturday morning I had a quick look in the iStudio in Central World, mainly as I was looking for a new computer bag -- something that would take an SLR camera as well. There was nothing that really appealed to me in there, apart from another backpack, so i grabbed some price lists and wandered to Siam Discovery. I did confirm that the MacBooks now have the 2.2GHz processor and that Leopard is now standard, so these have arrived in all the shops.
Although prices are prety much unchanged, I see now that as well as the 2.66GHz Quad-core MacPro (103,500 baht), the 3GHz 8-core MacPro is listed for some 165,900 baht. This one also has the Radeon X1900 video card.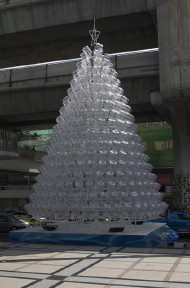 At Siam Discovery I did buy a leather computer bag in the iStudio there, partly as it almost did the task, and also as they let me have it at a pretty good discount price. As there was no barcode, I expect it was a demo item.
This weekend was the last of the Apple Demo Days and I could see one of the staff with a group of interested Thais round a few machines. One of the things I did notice this weekend was how busy all the shops were. It is a holiday weekend here (5 Dec was the Kings Birthday and 10 Dec is Constitution Day), but this is as busy as I would expect in the run-up to Christmas week (even if Thais don't celebrate it). I walked past the Siam Discovery shop on Sunday afternoon as well and the Demo was on again and there were plenty of customers in; and not just for this.
My main reason for being in town on Sunday was to see if I could find a telephoto lens for my camera (I had also run out of tea). I had had my eye on a Sigma 170 - 500 lens for months and noticed that it had disappeared from one of the camera shops on Saturday, so was in a hurry to make sure it had not disappeared totally.
Sadly, it had. There was no expectation of this lens arriving any time soon, and the replacement offered was above my budget. Plan B: Airport Extreme. With a certain amount of flexibility in my funds now, I could think about the overdue purchase of this WiFi device now.
While in the Mahboonkrong Centre, I noted that there were a considerable number of stalls there in the telephones and devices areas that were openly advertising the iPhone, including one establishment with a massive white apple on black claiming "100% unlocked". While I know a number of folks who have brought these in from the US, or had friends send them over, I know a couple of people who have Mahboonkrong specials: a few weeks ago the price was 24,000 baht; and two weeks back it was 20,000 baht.
Also there were a number of places that are selling what I presume are legitimate iPods, although where they initially came from may not be clear. A lot of things come directly from Singapore here and that may not always be helpful.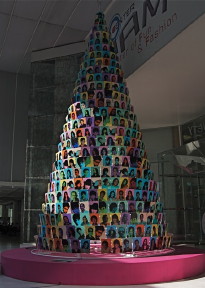 I had been in San Francisco when the Airport Extreme was announced, but the release was not to be for a further two months and I was back in the Land of Smiles then; but Thailand was (with Korea) one of the countries which would not handle this owing to the rigidity of the telecomms laws here.

When reviewing what had passed at MacWorld, I suggested then that there should be a temporary exemption, but since the IEEE panel responsible accepted the draft standard, the device started arriving here.

After collecting a document from a friend who was on his way to a wedding (not his) I came back to Siam by BTS, jumped on a bus and had an overdue haircut before heading for the Central Pinklao mall.


In Central I had one last check to see if I could find that lens in the PowerBuy section there, but we were out of luck, so I went directly to the iStudio. It was packed out. Most people seemed to be looking at iPods, but there was some interest in the MacBooks, and they had a MacPro behind the counter that was in for some maintenance.

I thought I had missed again when I saw that the Airport Extreme Base Station was missing from the display, but there was one left, high up on a shelf and the girl had to fetch some steps to bring it down.

It did not really make any difference where I bought this device as the price is the same all over town, but I thought it a good idea to spread my shopping. As much as I like dealing with the Copperwired iStudio shops, I want to remain fairly unbiased: that does not mean I will shop in all of them: indeed some I will avoid like the plague.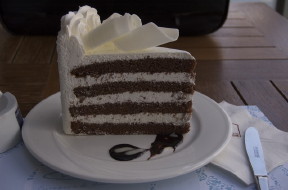 I did a comparison of the Airport Extreme last week and looked at the price in the US. (In checking again I see that the Internet speeds are atrocious again out of the country.) There it is $179 while here it is 6850 baht. That $179 is 5442 baht, which makes it look expensive, but that does not include any taxes in the US, which (for example) are in the region of 6 - 8% for state.
If we use 7% then the price is a little closer at 5822 baht, but that does not include any city taxes in the US, nor does it include any import duties that are levied when goods of this nature are imported. The device is more expensive here, but not by as much as would appear when making initial comparisons.
While looking for the lens, I saw that here too there was a good selection of legitimate iPods on sale in the PowerBuy section, and that people are really interested. Prices here were the same as in the iStudio outlets.
In iStudio, I handed over my credit card and the girl also asked for some identification (I had my passport with me all ready) and then she went off to the cash register. I could see her working away, but (as she later apologised) they were so busy that there was a line for the check-out. Good to see in this shop that has been open only a matter of a few weeks now.
The prices (I note that some iStudio branches will have 0% financing arranged through certain credit cards here:
iMac, 20", 2.0GHz
47,900 baht

iMac, 20", 2.4GHz
59,990 baht
iMac, 24", 2.4GHz
72,990 baht

MacBookPro 15", 2.2GHz
75,900 baht

MacBookPro 15", 2.4GHz
94,900 baht

MacBookPro 17", 2.4GHz
105,900 baht

MacBook, White, 2.0GHz
45,900 baht

MacBook, White, 2.16GHz
54,900/51,500 baht

MacBook, Black, 2.16Hz
62,900 baht

Mac mini, 1.83GHz Core 2 Duo, Combo
23,590 baht

Mac mini, 2.0GHz Core 2 Duo, Superdrive
31,590 baht

Cinema Display, 20"
25,000 baht

Cinema Display, 23"
37,500 baht

Cinema Display, 30"
75,000 baht

iPod touch, 8G
12,590 baht

iPod touch, 16G
16,790 baht

iPod Classic, 80G
10,390 baht

iPod Classic, 160G
14,590 baht

iPod shuffle, 1G
3,890 baht

iPod nano, 4G
6,390 baht

iPod nano, 8G
8,590 baht

Airport Extreme Base Station
6,850 baht

<! ----------------------------------------------------------------------->