Graham K. Rogers
---
<! ----------------------------------------------------------------------->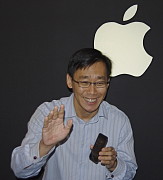 On Friday morning, Bangkok time that is, I found that the expected update to Leopard had arrived. It had taken three weeks from the date of the worldwide release (except Thailand -- it came a day late, while Jaguar had been a week late and Tiger was right on time). The update was designed to address some of the problems that will arrive with any major change to an operating system.
I have now made five of these leaps. Each has had its problems and it would be hard to select the best among them. Perhaps Panther, or Tiger? Leopard has changed considerably more, both visually and beneath the surface, and is also the first major release since the move to Intel processors. It should be remembered that the Tiger update was before the chip change and the grey install disks carried the only versions of Tiger that would work on the newer computers.
The Apple Knowledge Base Document (306907) that detailed the release carried much information and began (after introductory rubric) with warnings: on third-party system software; on power outages; on backing up; and on what to do if there were "issues", such as an unexpected quit.

That point about the third-party software is worth bringing out as a lot of people seem to have been brought to their knees by this: much wailing and sobbing and throwing of invective towards Apple. But this is nothing new: time and time again, those attractive little tricks that personalize our machines will spell doom when the system itself is changed.
When we went from Jaguar to Panther, all was fine except for Safari which wold not start. By a process of elimination it was found that a kiosk utility was the problem and I took it out: Safari returned. Since that time, I have seen reports of the same utility again causing problems after an udate. There is no room for such software on my computers.
Another utility that gave me some grief in the update to Tiger was Menumeters. This is in reality a delightfully useful tool that places quick view information in the menubar to indicate disk and network activity, as one can also find in Activity Monitor. I decided I could live without this; and I do know one local user with Leopard update problems who listed this in his email to me, as well as a huge bundle of other such system utilities.
Over the course of a year I try a lot of software, much of it deleted shortly after I have written a review. Some never makes it to review. While some I like so much, I buy my own copy. It is not in my interests to have a system that may be weak, so I often err on the side of ruthlessness when it comes to suspect applications.

My first download of 10.5.1 was interrupted. Who knows why: with 12,000 kms of cable and connections between me and Cupertino, it might simply have been the dog stretching on the floor and nudging the cable. As a precaution, I logged out of the user account I work in and opened the Admin account. Software update only showed an old download for Aperture, so I brought the file directly from the Apple site in only a few minutes.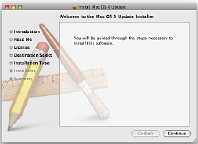 The update process was clean enough, although Apple's screens always indicate the wrong time remaining: I think that is a feature to keep me on my toes. We do have a significant change to this process now: the installer does some work and runs a script, then we press Restart. It is after this that a lot more work takes place, and we also get to view a new panel that has appeared with Leopard, telling us that caches are being updated.
The restart itself gave me a "What the. . . " moment.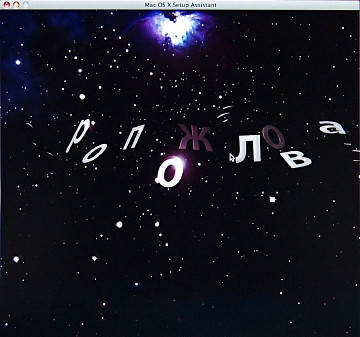 Instead of progress bars and a login screen, the Leopard movie started with purple skies, stars and flying alphabets ending with the registration screen once more. Not only did I not want to register (having already gone through this process), I saw that all my data was correctly entered; but when, like Alice, I approached the end, I was down a multi-click process to avoid joining the .Mac service.
I do hope that this was simply an oversight and that we are not going to be treated to a repeat of this video -- riveting as it is -- or the registration each time there is an upgrade: as surely there will be more upgrades to come?

Once past the login screen, the first thing I selected, as always, was the Disk Utility to repair permissions. Start this up and there is the surety as the hard disk is spun to check the SMART status (hopefully always "verified"). As I began to run the utility I saw that now the progress bar was back as Apple's KB document had promised; but at the end I still had a report that the SUID file had been changed and permisions had not been repaired on this. All well and good, but as MacFixit suggests, some users are worried by its appearance and Apple could clean this up.
Later, I was in Siam Centre for lunch and tried the wifi there. I had the True card, which was as well as the system did not enter the account username; although I think it had a stab at the password. Never mind, I typed it in and was instantly online.
The True welcome screen had changed slightly and no longer displays a logout link: not that this was much good as it would hang nine times out of ten and there was a chance you could be docked ten minutes from the purchased time while the system waited for that length of inactivity.
After some email and web work, I had to wrack my brains: not www.logout, not http/logout, but the simple .logout did the trick.
If you think about that for a second, that must be an invisible file on the server and I have no idea what purpose that would have.
Email worked fine with the True sysem: sending and receiving. Browser work to web pages was fine in Safari, but when it came to RSS feeds -- and I rely on these a lot -- each time I tried a feed, I was told that it was in a form the browser did not recognise. A second click brought it up: every time.
Later at home, I tried this again with the simple ADSL and Ethernet system I have. Not once did this occur, so one may guess it is either a wifi feature or something specific to the True settings. A query on the Apple Safari forum suggested that this was a known bug with Leopard, although I have been using wifi links since Leopard went on and had not seen this at all.
Also on the forums, I read that the widgets bug I had experienced last week was not fixed. I am not surprised here as this was only reported a week ago and 10.1.5 would have been well formed by then.
The system is as stable as it was before on my MacBookPro. There is still a slight delay on startup for files to appear in the Finder windows, but that is not an issue while the computer is in general use. There was nothing reported for iPhoto, but I had noticed some delays -- once or twice lengthy -- for example when attaching a camera, or when making a slideshow. Any images on the camera now appear almost instantly and the slideshow, too, is quick. I have yet to test this when the computer is attached to an external projector as there may be other issues here.
With three weeks under my belt now there are no major problems for me. I know others are not happy for various reasons, but I anticipate that in a final analysis, outside factors will be found the cause of such difficulties. On the whole, and knowing there are more updates and corrections to come, I would express myself fairly pleased by what I have experienced since the update.

Siam


<! ----------------------------------------------------------------------->