eXtensions - Monday 25 September 2023
Monday Notes: iPhone 15 Transfer and Setup not as Smooth as Before; Success Finally
By Graham K. Rogers
---
Anticipation makes it all worthwhile. I only knew that the new iPhone was coming when I had a phone call from DHL. The box was with me at lunchtime Friday: delivered as promised. Setup was not as smooth as before, with an update intervening, then a failure to activate the eSIM. Some messaging apps were recalcitrant. Lack of familiarity with some new features slowed the learning process, but we were up to speed in a day or so.

Usually when a product is ordered online from the Apple Store, the buyer is kept informed about delivery. With the iPhone 15 I ordered this was a little sparse. I was informed that it would be delivered on Friday 22 September (better than some were experiencing) and bit by bit the online display showed Processing, then Preparing for Shipping, but the shipping or normal tracking advice never appeared. It sort of all made sense later.
As well as the slow updates to the Apple Store delivery advice, there was a message from Apple on the iPhone about preparing for the new iPhone. As the Apple Store still showed the new device as Preparing for Shipping on Wednesday evening, this firmed an idea I had speculated on that, instead of coming individually from Singapore, the iPhones had been delivered in bulk to local storage and would be distributed from there. I would be able to confirm this when delivery information became available.
As Wednesday turned to Thursday then Friday, there had still been no update. I saw news reports that customers in Australia and New Zealand had had deliveries of their iPhone orders, but there was no information here. I began to doubt Apple's delivery advice. But then at 0920 I had a phone call: DHL would be with me around 12:30. True to the delivery man's promise he arrived about 5 minutes after that, but anyone who has experienced traffic in the Bangkok Metropolitan Area would recognize that as good.
iPhone 15: Box; unboxed with USB-C cable; and rear view


Although I took the new iPhone out of the box almost immediately, I was not able to set it up until late afternoon. Initially this went smoothly, although I had to pause when an update (iOS 17.0.2) appeared. The set up and data transfer restarted after this. One thing I noted was that the eSIM activation was not automatic and I was warned that this would need more direct attention in Settings after the main transfers were complete. Be warned.
The face-recognition initially went smoothly but when I was asked if I wanted to set this up for mask-wearing, a process began that did not seem to end. I placed my face in the panel as asked then waited. I ensured that the phone was 10-20" away, then saw an instruction to Move the phone down. This was not clear: down vertically, or down to make my head higher in the frame. I tried this 2 or 3 times before giving up, but the initial process had worked, up to a point. I did have Face Recognition, but not if I am wearing a mask (for now).
When the new phone was almost ready, I was asked to make the old device ready, which included wiping the data. S T O P. I followed this instruction, but when it came time to transfer eSIM data, there was no eSIM to transfer data from. Trying to do this via Settings and accessing the service provider online was not helpful, so I ended up with a phone-less iPhone for a few hours. I could cover most of this with apps and internet use: the breakthrough Internet communications that was one of Steve Jobs' 3 new devices in the 2007 iPhone announcement. But seriously, the phone is not so important as the internet access for me.

One app did slow me down: LINE. That demands phone access and could not (of course) find one. Fortunately, I had this installed on the Mac and was able to receive and send several files from (and to) students before a trip to the DTAC shop. My plan was to ask for the eSIM to be activated, but (anticipating language problems in the local office) would then ask for a normal SIM. Unlike American iPhones, the ones here and in many other countries, still have the SIM tray.
I was not really happy with the iPhone's Always On screen of the iPhone so turned that off. When the iPhone is not being used it now displays a black screen. I also tried a number of the apps and everything else seemed to be working, but I was not happy about the Face Recognition. I was clearly working when used with apps or Settings, but when I tapped the screen in what should have been a locked situation, I was given access immediately. It just seemed too fast. The iPad Pro (for example) takes a moment to display an unlocking padlock as had my previous iPhone. I did not see this initially. I turned that feature off and for a few hours entered the passcode when necessary. At least I was sure it was locked.
However, still not satisfied, I turned the Face Recognition unlock feature On again and locked the device. This time, I covered the camera with my thumb. When I tried to open the screen, the words Face Time appeared and then the number pad. I did this twice (same result) and when I uncovered the camera saw a padlock open in the dynamic island at the top of the screen. It is accompanied by a clicking sound from the Apple Watch. I am now happy with this. Apple appears to have streamlined the operation. It had appeared to be opening without recognizing the Face, but it is so quick that this was my error, it is that good.

The next day I headed for the DTAC shop to enquire about my eSIM activation. The assistant already had my number and the account details were available to her. Within a couple of minutes, the eSIM was activated although I noticed that the device only showed a 3G signal, while my helper who also has a DTAC SIM, had 4G. The assistant played about some more and 4G appeared. I was only satisfied when the assistant showed me her phone also had 4G. At home 5G was immediately available.
With the SIM now working, I verified LINE on the phone, but had to restart LINE on Mac. Initially, access to files through LINE on the iPhone was a problem but all appeared eventually. What's App also needed me to reenter my phone number to make sure I was the same person, but there was no Mac or iPad app (coming soon, we hear) to worry about so that was smoother than LINE. As the weekend progressed and I became more used to the different features of the iPhone and iOS 17, things began to work a little better and I am back up to speed.
Although I have not had a good chance to try out the camera, a few test shots did show how this has improved considerably over previous iPhones. A quick shot outside the condo on my way to DTAC produced a sharp image that can be enlarged significantly before losing too much definition.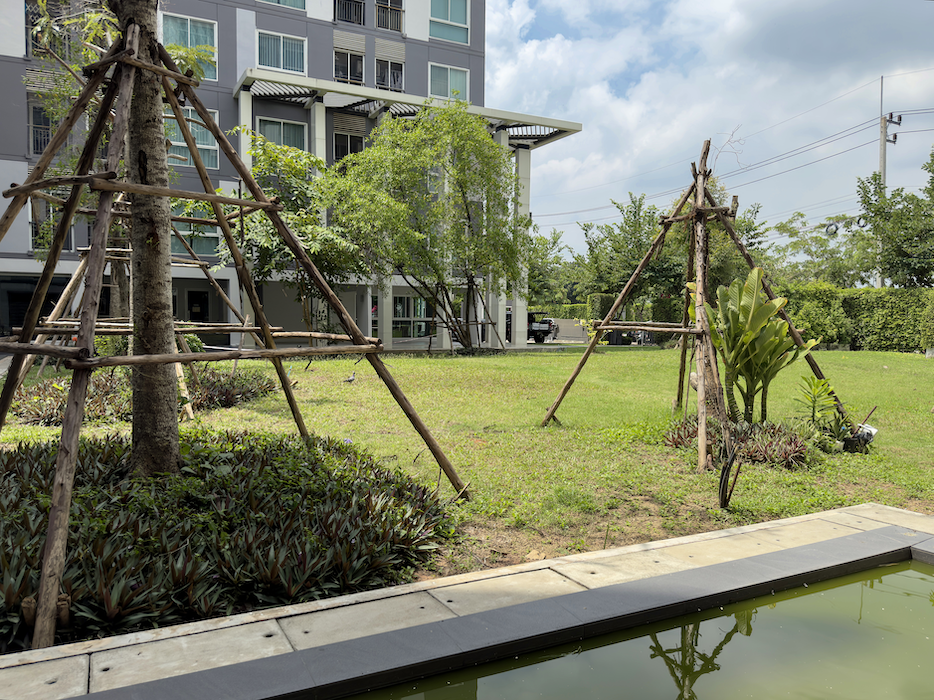 I also tried a macro shot of a cut piece of garlic that has fairly good definition, but as is normal with a macro, only some of the garlic is in proper focus. I hope soon to be able to take more time looking at the camera and taking more than quick shots: much more to come.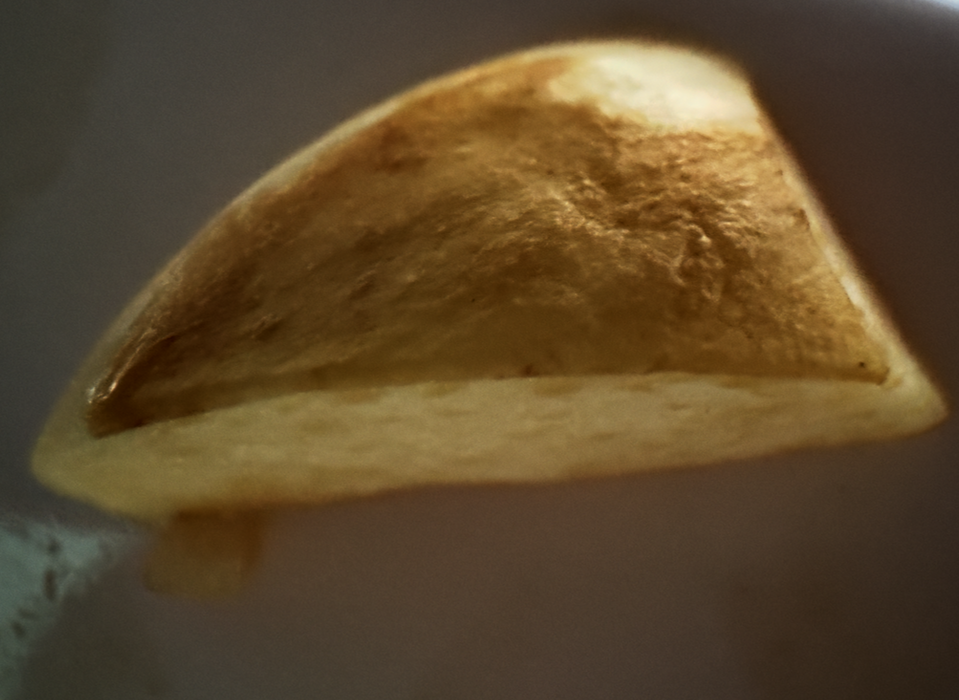 A reader of eXtensions wrote earlier in the week and commented that although my site was available on the Mac, both the updated iPhone (iOS 17) and iPad would not display the pages properly. He could see the titles of the postings but clicking on one only reloaded the page. On the iPhone the titles did not appear. I made several suggestions and we had an exchange of messages over the next few days. The 17.0.1 updates made no difference. I wondered about DNS, the service provider and other potential problems, although it did all seem to point to the update.
By the weekend he had found a solution. In Settings > Safari (close to the bottom of the page) there are options that include, Request Desktop Website. By turning that On, he now had access. It appears the handheld devices were looking for Mobile versions of the page which are not there.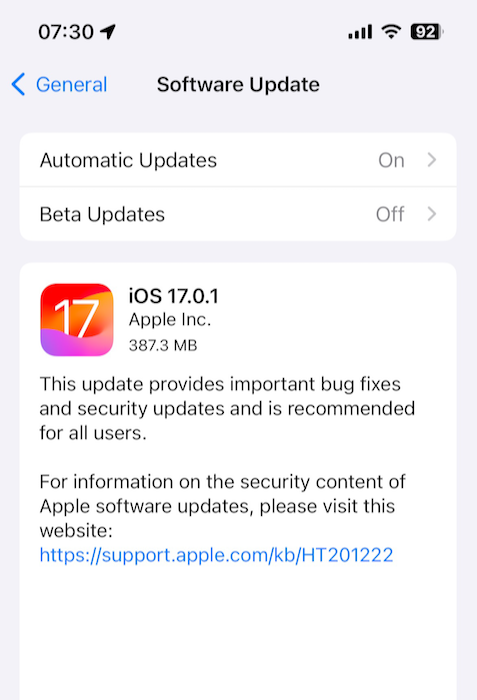 I found a second update to watchOS on Friday (22 September): 10.0.1, which includes bug fixes and security updates. Releasing this only a few days after the update to version 10.0 gives an indication that this is relatively important. There are also updates to iOS and iPadOS. Although Sonoma is due on Tuesday, Apple has just released version 13.9 of Ventura (and Monterey 12.7), which also has important bug fixes and security updates. These will probably be incorporated into the Sonoma release.
Juli Clover (MacRumors) writes "Apple's security support document confirms that the update addresses several security vulnerabilities that may have been actively exploited against versions of iOS before iOS 16.7." Michael Simon (MacWorld) also has information on the updates and their timing. Each of the updates to the handheld devices went smoothly.
I delayed the 13.9 macOS update slightly until I had done a backup. The download was quite quick as was the installation. I noted a couple of restarts. When I had the Mac back, I saw a small message panel that told me it was "Optimizing Your Mac" and warning of potential effects to performance and battery life.
Apple also released updates to iWork: Keynote, Numbers and Pages for macOS, iOS and iPadOS. As well as the normal bug fixes, there was the added feature that allowed users to include the use of 3D objects in the USDZ file format which is clearly pointing to the use of such animations with Vision Pro. Juli Clover (MacRumors) writes, "embedded animations within USDZ files can be played, or Magic Move can be used to animate 3D objects across slides." Along with a number of other new features, these applications can now be used to collaborate using FaceTime.
Graham K. Rogers teaches at the Faculty of Engineering, Mahidol University in Thailand. He wrote in the Bangkok Post, Database supplement on IT subjects. For the last seven years of Database he wrote a column on Apple and Macs. After 3 years writing a column in the Life supplement, he is now no longer associated with the Bangkok Post. He can be followed on Twitter (@extensions_th)
---

For further information, e-mail to
Back to eXtensions
Back to Home Page

All content copyright © G. K. Rogers 2023