eXtensions - Saturday 16 September 2023
Saturday Notes: Surprise - iPhone 15 Available for Order in Thailand on Day One; Other News and Comments
By Graham K. Rogers
---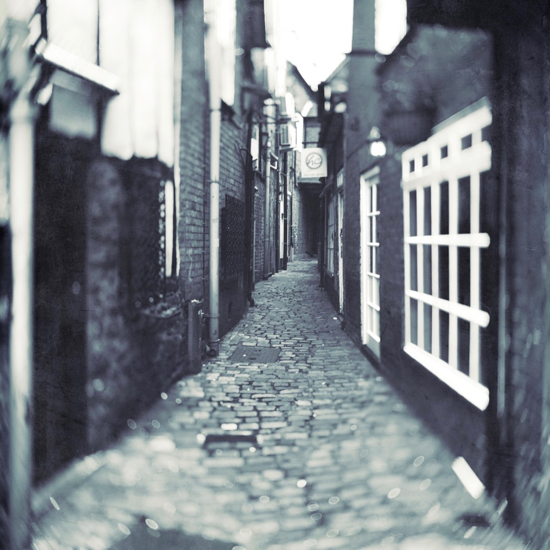 Apple announced the Watch Series 9, a new Watch Ultra and 4 iPhones this week. As a first, Thailand was included in the initial roll-out group of 50 countries. Ordering opened at 19:00 here but worldwide shipping began to slip: some orders will not be filled for over a month. So much for Wall Street's hand-wringing.

I held this posting back for 24 hours for reasons which should become clear in the content.
Like everyone, I was sure this week's Apple event would focus on the iPhone and the Apple Watch and that is what we had. The big surprise for me came afterwards when checking online. The surprise was not about the rumors, some of which were confirmed, while the late-stage scares were proved false, but was that the iPhones were to be on sale in Thailand at the same time as in the USA and the rest of Apple's favored nations. While I was putting the finishing touches to this content I was waiting for 7pm ICT (Bangkok and Vietnam time) to roll around so I could stake my claim to an iPhone 15 Pro.
Just after the doors opened I made the order and this is shown as arriving Friday (22 September). More on this below.

A coincidental release from the Chinese government - reported by MacDaily News - was that all the hoo-hah just before the Apple event about China banning the iPhone in government offices and workplaces, was false. It took a release from a Chinese government spokesman to confirm this. MDN comments, "This information comes after the price of Apple was manipulated and the company shed some $200 billion in value, of course." Now that the iPhone 15, Apple Watch and accessories have been announced, some are going to make a nice profit as the share price rises.

Before the new iPhones were announced, the Apple Watch was featured: new Watch and new Ultra 2. Apple took some time to explain and justify its move away from leather to its FineWoven ranges, emphasising the way this helps reduce its carbon footprint, although there were some negative comments about the use of "Carbon Neutral" and what it really means. Just before the event Hermès withdrew all of its bands, but fabric ones were shown during the announcements. Unfortunately, Hermès spoiled the effect after the show by announcing some new leather bands too. Stephen Warwick (iMore) begins the article with, "Did Hermès even watch the Apple event?" Those leather bands are only available direct from Hermès.
With the iPhone announcements it became clear that (as had been expected) there were no more leather cases from Apple - leather is banished. There are a number of third party accessory makers who will still be making suitable cases and I had my eyes on a nice pocket book wallet case for the iPhone Pro for a bit under $100. I confirmed the iPhone order before buying that.
For anyone not ordering the new devices, there will be updates to the operating systems. iOS 17 will be arriving next Monday, 18 September (Daryl Baxter, iMore). iPadOS, WatchOS, tvOS are also expected around the same time. The update to macOS, Sonoma, will be some days later on 26 September - the following Tuesday. Back up your data.

Apple first announced the iPhone 15 and iPhone 15 Plus in 6.1-inch and 6.7-inch display sizes which both use the A16 Bionic chip. There is a range of colors: pink, yellow, green, blue, and black. These phones have some new camera features, with the 48MP main camera and new zoom features. It was later reported by Oliver Haslam (Redmond Pie), et al that all of the new iPhones have larger batteries, although with the new chips and RAM, battery life remains the same. The Apple press release for the iPhone 15 includes, the comment that on release it will be available in "over 50 countries and regions, including Australia, Italy, Thailand, and more." For a good analysis of the event and the products as well opinions on Apple's direction, there is a highly readable article by John Gruber (Daring Fireball) which those interested in what took place should read.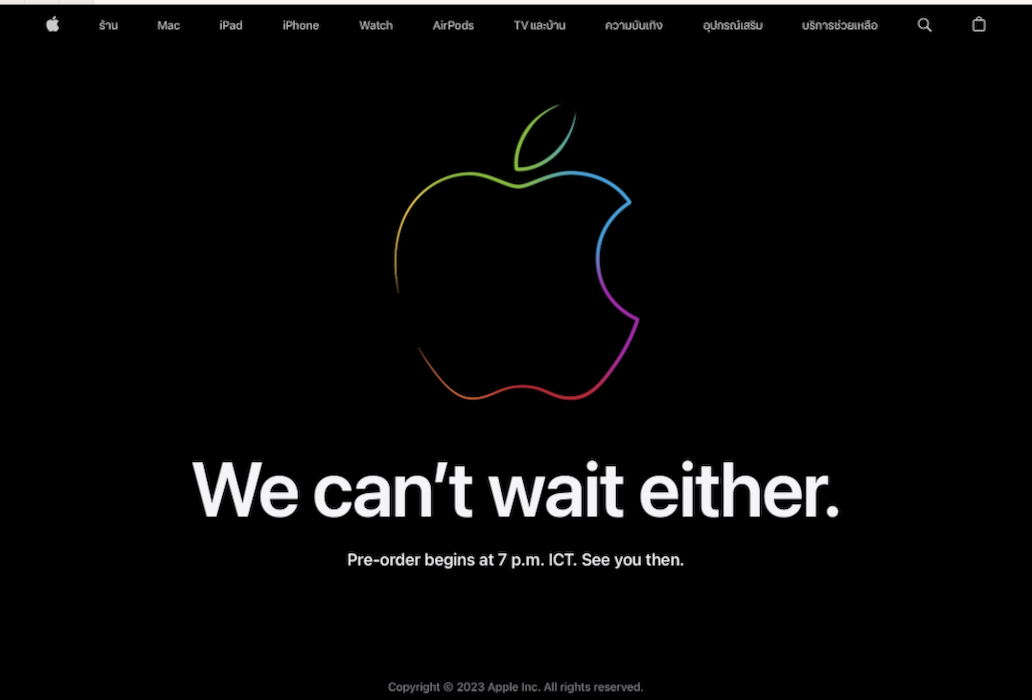 Apple Store arrival screen (Mac)

As the iPhones were to be available here on the first day, I checked my credit card and tried to sit patiently on Friday evening. A little before the ordering was scheduled to begin, I checked the site (Mac and iPadOS app) and saw the "We can't wait. . ." screen, which enhanced the anticipation. On the Mac I used a browser and the screen showed menu items allowing me to look at other products. Unfortunately the "Shop in English" pages that are available here only had information on the iPhone in Thai (the English versions are now available). The iOS apps also had the "We can't wait either" screen, with no menu access like the Mac, so even if I had wanted to buy a Mac or other device I was blocked.
Just before 7pm ICT I was ready and gave the Apple Store app a tentative try, with the same "We can't wait either" result. I tried a couple of times, starting at dead-on 7pm, and then once more, but saw the screen had changed to "Almost there", which was encouraging.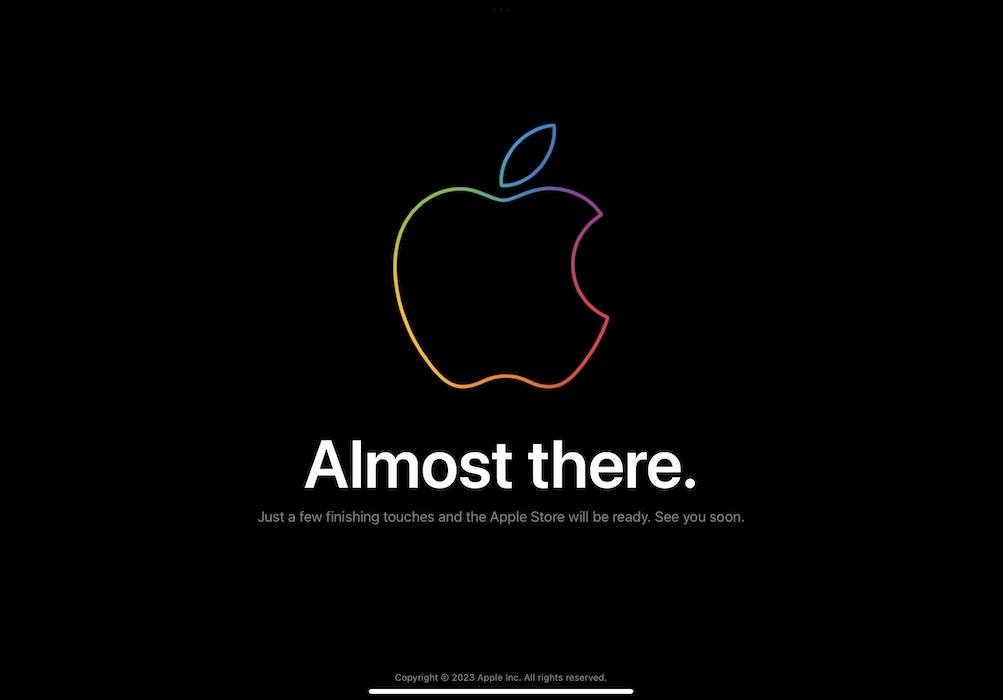 After a couple of deep breaths, I tried again and there was the ordering screen was there. Selection of model and color were quickly done, with all my details entered automatically. Delivery was shown as Friday 22 Sep, so I had caught the early wave. Reports the next morning show that some deliveries of the iPhones are now being shown as October or later. As I logged out, I noted the time as 19:04. Despite my smooth ordering exerience, it was reported by Stephen Warwick (iMore) that several users were "locked out" of Apple in pre-ordering chaos for up to 30 minutes (headline says 20). Some users are seeing that the orders are now marked for shipping, although mine is still showing, "Processing".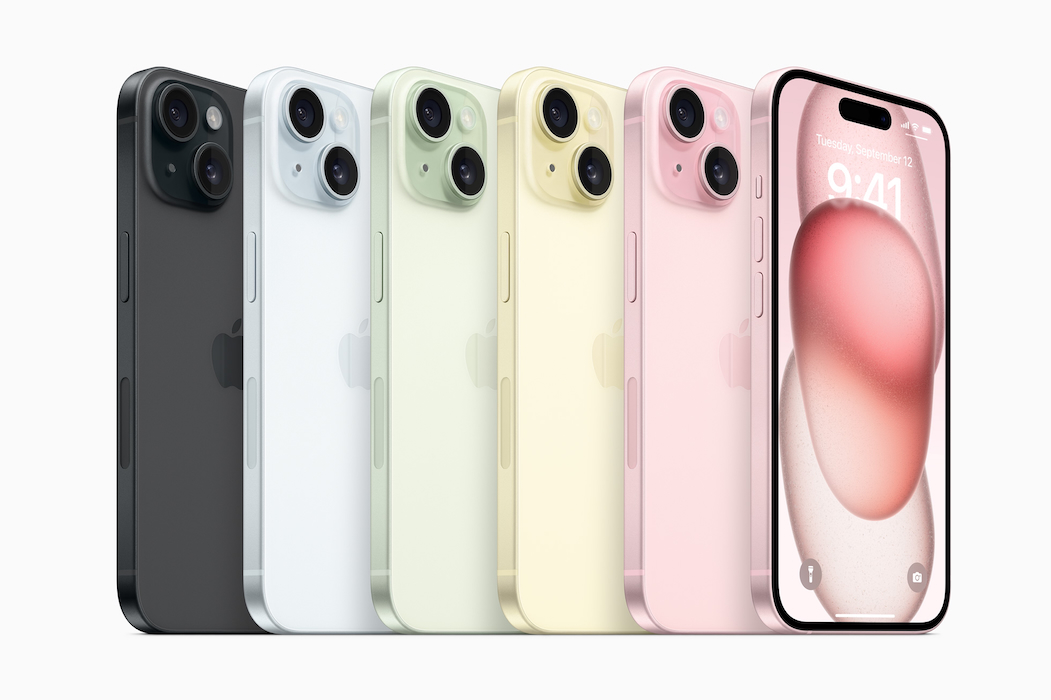 iPhone 15 and iPhone 15 Plus in black, blue, green, yellow, and pink - Image courtesy of Apple

Apple's pricing is the same despite inflation, but the iPhone 15 Pro weights slightly less because of changes in materials. Availability is normal (no missing iPhone Pro) and as expected the Lightning port is replaced by USB-C, although the cables are not color-matched. I think the move to USB-C is long overdue, but those fretting about Apple arbitrarily changing the cables might remember that this is because of EU legislation and not Tim Cook's desire to make more money for the company. Indeed, Apple objected strongly to the move, but has complied with the legislation, and there is no point having two iPhone types, so we all have USB-C now.
The USB-C announcement was slightly upstaged by Intel who, on the day of the Apple event, announced the new Thunderbolt 5 standard (Hartley Charlton, MacRumors). The iPhones run at USB 3 speeds (Ivan Mehta, Tech Crunch): but that speed will not be possible out of the box because of the USB 2 cable that ships with the iPhones. I will unwrap my last Thunderbolt 4 cable specifically for my new iPhone. Mehta notes that Apple is introducing a full range of USB-C accessories.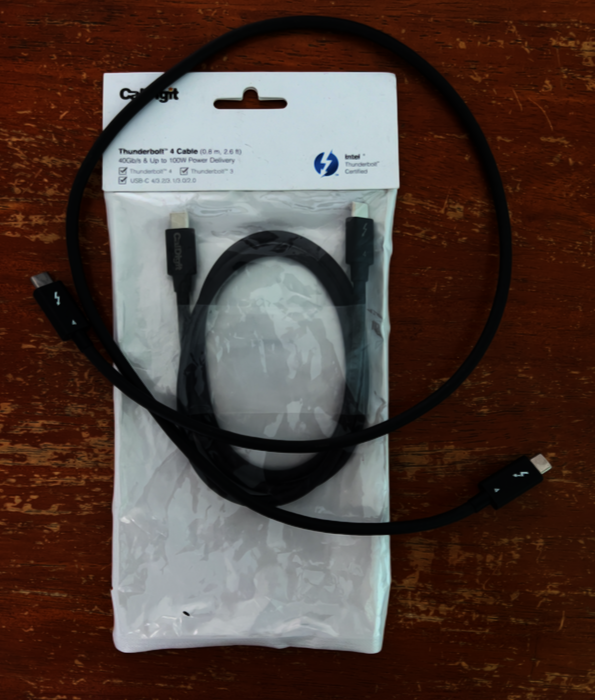 Thunderbolt 4 cables

One of the interesting advantages of the switch to USB-C is that (as long as you have power in the device) the iPhone can be used to charge other devices, such as the Apple Watch or AirPods, Christian Zibreg (iDownload Blog) reports. I could have done with this on Friday as I managed to run the Watch down to zero for the first time and it took some time to recover. Joe Rossignol (MacRumors) also notes that the output will allow 4G video from all these new phones.

The iPhone 15 Pro and Max models have increased RAM as Oliver Haslam (Redmond Pie) reports, with 8GB, although the iPhone 15 and iPhone 15 Plus have the same 6GB as before. That increase along with the A17 Pro chip made using the 3nm process should make some processes run more smoothly, especially for games users. I expect those of us who use the device for photography, particularly editing on the go, will also see improvements. Anthony Bouchard (iDownload Blog) has some details on the new chip.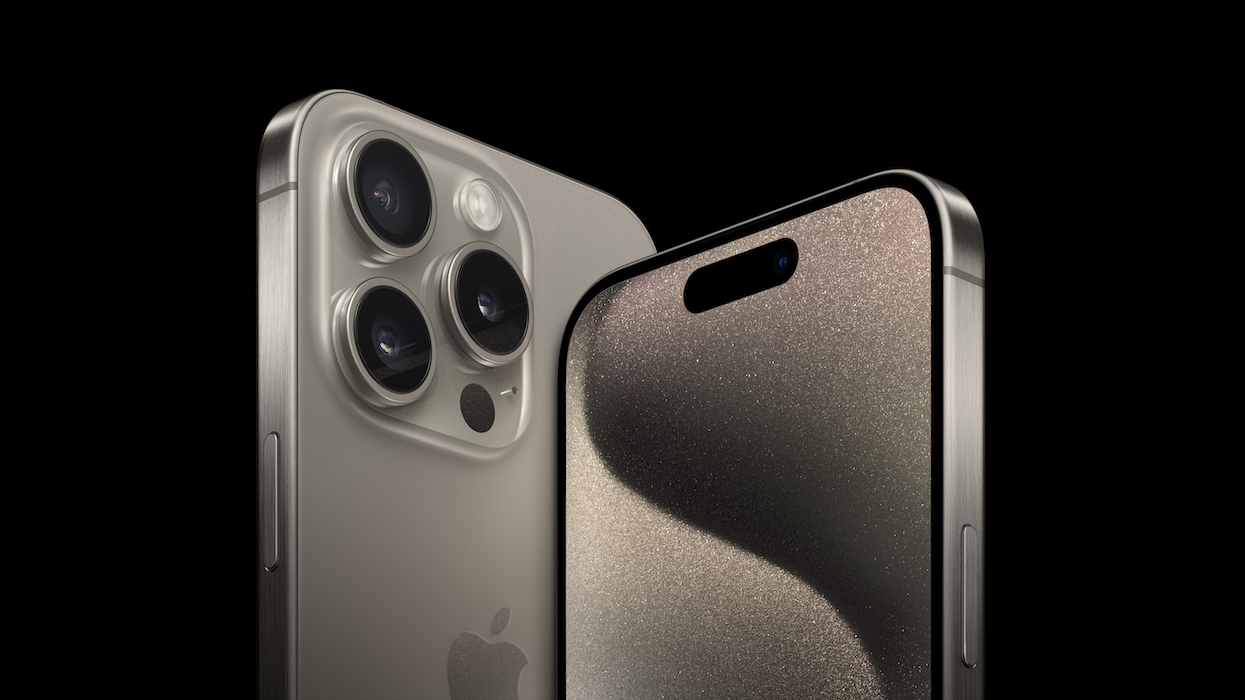 iPhone 15 Pro and iPhone 15 Pro Max - Image courtesy of Apple

Despite what some suggest (they still come up with this), this is not an "S" year for the iPhone 15 devices - that was pretty much a myth anyway. There are some early Geekbench scores that give some indication just how fast the new device is (Oliver Haslam, Redmond Pie). Just before the Apple event, it was announced that Apple had come to another agrement with Qualcomm who will supply Cupertino with 5G modems through to 2026 (Ryan Smith, AnandTech). Having bought in Intel's mobiles devices modem operation, Apple has not been able to come up with a suitable chip. Qualcomm is still the only show in town.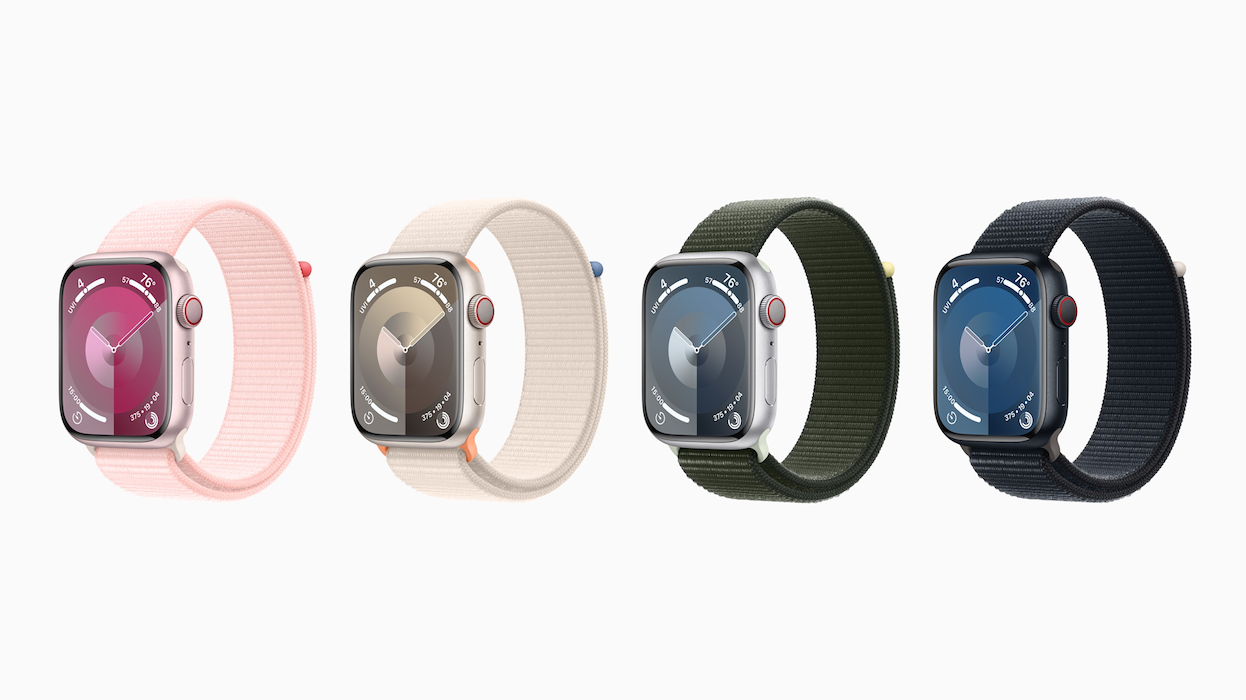 Apple Watch Series 9 - Imge courtesy of Apple

In the weird world of copyright, two excellent series which had been available on HBO here - itself only on cable/satellite services (True then AIS) - are now coming to Netflix in Thailand as from 15 September. I found these both enjoyable when I first watched, but am looking forward to viewing both again. I watched the first 2 episodes of Band of Brothers on Friday evening and found it as fresh, exciting and sad as when I watched it the first time. The use of hand-held cameras was particularly effective. Along with Breaking Bad, this must rank as one of the best TV series ever produced.
I thought For All Mankind on AppleTV was finished at the end of Season 3, it seemed a sensible ending to me, but I now find that there is to be a season 4 as Ed Hardy (Cult of Mac) reports. The article includes a trailer which looks more like a recruitment video, but that might be the future if Mars exploration and colonization were a reality.
This week was the final episode of Foundation series 2. While the penultimate episode was a blockbuster, this had a convincing fist fight between General Bel Riose and Day with a surprise twist at its end. As with the end of series 1, I can hardly wait for series 3. In the meantime, I am enjoying Invasion, while the 3rd season of The Morning Show began this week with the first 2 episodes.
Graham K. Rogers teaches at the Faculty of Engineering, Mahidol University in Thailand. He wrote in the Bangkok Post, Database supplement on IT subjects. For the last seven years of Database he wrote a column on Apple and Macs. After 3 years writing a column in the Life supplement, he is now no longer associated with the Bangkok Post. He can be followed on Twitter (@extensions_th)
---

For further information, e-mail to
Back to eXtensions
Back to Home Page

All content copyright © G. K. Rogers 2023