eXtensions - Friday 16 June 2023
Friday Notes: Updates and TV Output; Vision Pro Engineering, not Witchcraft; Comments and Opinions
By Graham K. Rogers
---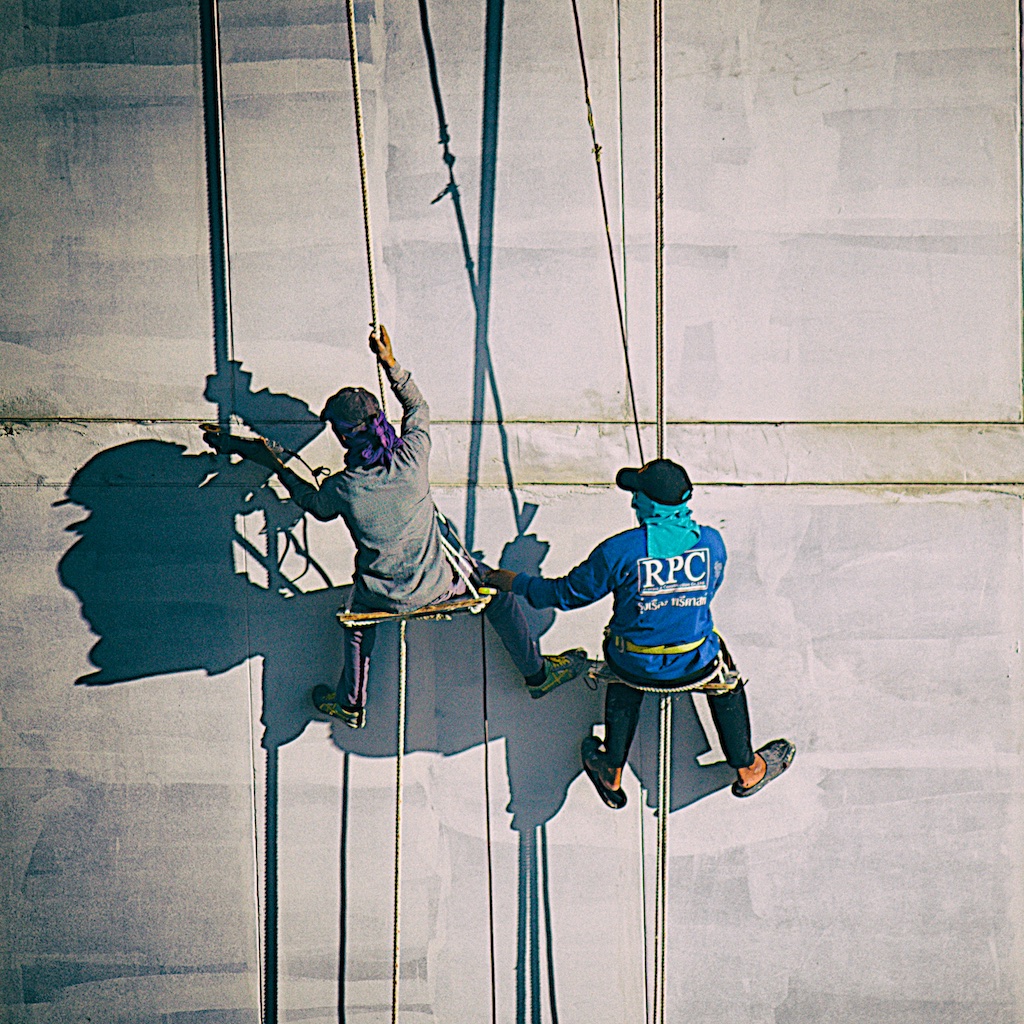 Apple is releasing betas for all operating systems including iOS 17: 16.5.1 should be with us soon. There is much in the news about announcements at WWDC. Some of the new Macs are already in new users' hands and M2 Ultra benchmarks are good. Comments on Vision Pro, particularly from those who have tried the device, are highly positive. Negative comments are mainly from those who have not had the pleasure, and from Wall Street. Did Craig Federighi really play that guitar?

Despite development having started on iOS 17, we must expect further updates to iOS 16 before the probable release date around September. There are not expected to be any major feature updates but there are still refinements and bug fixes. We have been told (Joe Rossignol, MacRumors) that iOS 16.5.1 can be expected soon. Perhaps next week.
Also expected soon is series 2 of Foundation. Apple just released a trailer for this, with the series itself being available on 14 July, which is Bastille Day. Surely a coincidence. Silo has been renewed for a second season, even before Season 1 has ended; and this Friday Extraction 2 appears on Netflix, although early reports are that this is a weaker recycling of the first movie. Episode 4 of The Crowded Room with Tom Holland playing a schizophrenic killer, based on The Minds of Billy Milligan is out now. He had dissociative identity disorder - he could be several people at the same time in his own mind.
There were updates this week to Keynote, Numbers and Pages. Dennis Sellers (MacWorld Today) has an outline of the changes in each of the iWork components. One new feature I really like in Pages is the ability to open a Notes document in Pages. I often use Notes as part of my writing workflow (after handwriting an initial draft) as it synchronizes to all my devices. Sometimes I need to export in a different form and that has meant Copy and Paste into Pages first for formatting and Export. Now I can do that in one step using the export panel (the square with an arrow pointing up).

A news snippet appeared in the news on Tuesday morning regarding the manufacture of the new Mac Pro, which is just being delivered to those who made the first orders. MacRumors (Joe Rossignol) noted that a small notice on the back of the device had "Product of Thailand" as well as Final Assembly in the USA and the usual, Designed by Apple in California. There have been several speculative comments on why this is so, but it is good news for Thailand where many companies base almost their manufacturing, like Nikon, Canon, or have extensive production facilities.


Benchmarks for the new M2 Ultra chip that is used in the Mac Studio and Mac Pro have begun to appear. It should be no surprise that they are good. Oliver Haslam (iMore) reports that the M2 Ultra Mac Pro achieved "a single-core score of 2,794 and a multi-core score of 21,453". In context that means it is more than twice as fast as the previous (Intel-equipped) Mac Pro.
Remember also that the Mac Studio has the same M2 Ultra chip and starts at $3999. This was also covered by Joe Rossignol (MacRumors). Apple has outlined some of the video output capabilities of the new computers that can "support up to eight 4K displays at 60Hz when configured with the M2 Ultra chip" (Joe Rossignol, MacRumors). Other configurations are given.
A later report on an SSD problem, which apparently unmounts on some devices when the Mac Pro wakes from sleep, is being attended to and there is already an Apple Support Document. This is to be fixed in a future update (Joe Rossignol, Mac Rumors).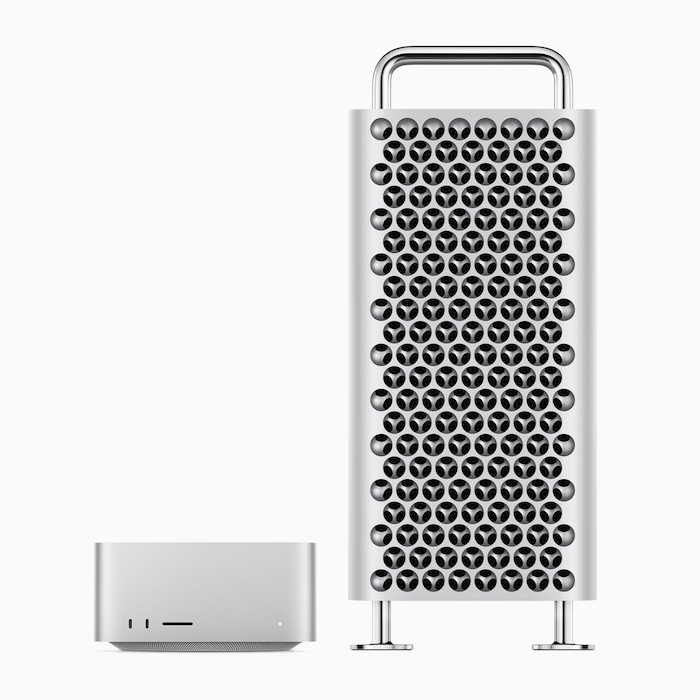 Mac Studio and Mac Pro - Image courtesy of Apple

As happens every year, John Gruber invites some interesting people to discuss WWDC. This year, the guests were John Ternus, AR/VR chief Mike Rockwell and Craig Federighi, with Marketing chief Greg Joswiak sitting in with each of the guests. It was about the same length as the WWDC Keynote, so I watched it in two sessions, taking some notes. When Gruber touched on the lack of expandable graphics on the new Mac Pro, John Ternus commented that the situation with Apple silicon is architecturally so different from earlier computers that it is now a different way of working; and they had no plans to go down that road: this "is not something that the company has pursued." The chip design also means that memory cannot be upgraded, but this has been a feature (problem?) with Apple computers for a few years now: add when ordering.
Ternus and Joswiak discussed the new Game Porting Toolkit, which was "melting the Internet". As Apple has done with other changes, this makes it relatively easy to take a Windows game and make it run on the Mac. This is already having results (Christina Warren, Inverse): some developers "have been busy showing off some truly remarkable results on machines that just days earlier, were utterly unable to play AAA titles" (original link, Daring Fireball). I have seen several more reports, that are positive on this move and the way it could affect sales of the Mac.
An even more interesting guest, mainly because of the context, was Mike Rockwell who is Apple's AR/VR chief and who had spent quite some time presenting at the keynote. Gruber had several questions for him about Vision Pro. He was asked about the lack of a Tech Specs tab on the Apple site, and when asked specifically about frame rates and NITS, Joswiak jumped in and said, "We have enough of each". Gruber kept trying to use the word, "Uncanny" to describe some of the processes he had experienced, but noted that Apple frowned on the use of this word. It's not witchcraft.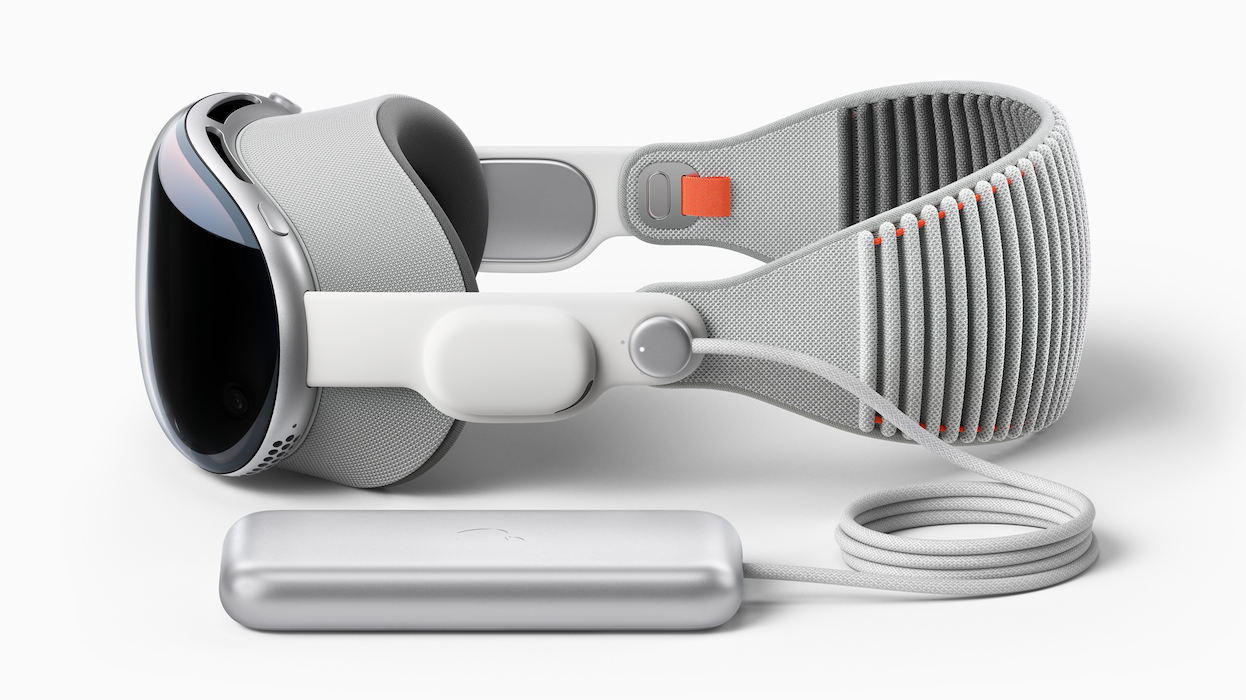 Vison Pro - Image courtesy of Apple

The explanation of how the device works from Rockwell as Gruber questioned him was absorbing. Like all Apple presenters, he knows the technology he works on, and therefore is aware of the avenues explored and the reasons behind decisions. He said that they agonized over the details. Of particular note (for me) was the explanation of how others in a room see the eyes of the Vision Pro user. Apple uses a "lenticular display" (lentil-shaped - a double-convex lens) and the eyes look different to anyone around looking at the display. This renders separate views of the eyes for every person looking at the user.
In his keynote presentation, Rockwell had introduced a slide on which was the word "foveated". I ignored it and "foveated rendering" at the time as the information was coming fast. It was a new word to me and I wondered if this was an Apple coining (the spell-checker underlines it in red, but offers the verb, foveate). It is not a new Apple word and comes from "fovea": The process that the fovea contrails controls is focusing the image that a user sees when the eyes look at a specific area. Patently Apple report that Apple has been granted a patent for this and describes the idea in more detail.
At the end of Craig Federighi's session, he was persuaded to repeat a guitar-playing display - leather jacket and all - that had appeared at WWDC. Many had been skeptical that this was him playing. I have watched it several times, but I am not entirely convinced that the on-stage repeat was really him. As Joz said, Once again, Marketing wins. However, before the guitar games, Federighi made some important points in response to questions. One that interested me was with regard to side-loading. That may well be a feature of the next version of iOS after the EU has put its foot down. Craig said that they were in discussions with the EU, which I took to mean that they are accepting the inevitable, but are making sure that the solution they offer will be safe for users and acceptable to the EU. I will not be downloading apps from any third party store.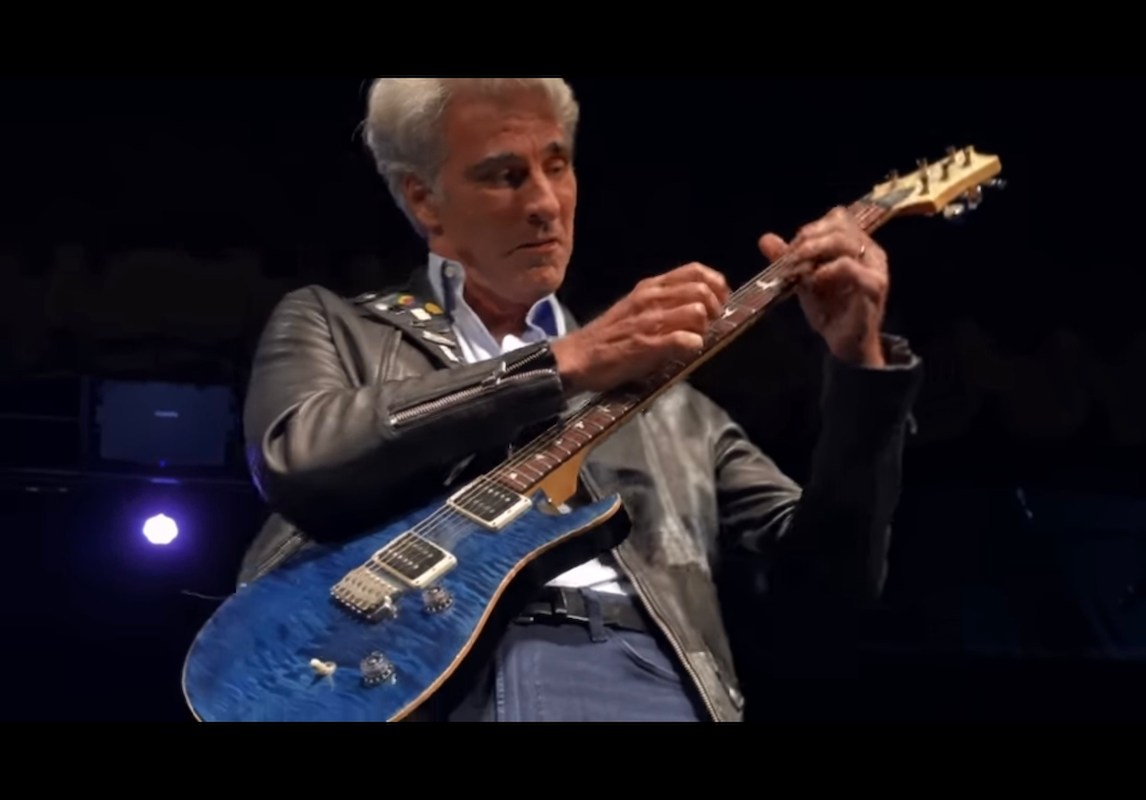 Craig Federighi on Guitar - YouTube screenshot

One of the criticisms aimed at Vision Pro is that this will not be available for purchase for at least 6 months. Some have short memories as this has happened before, most notably with the original iPhone, announced in January 2007, which was not put on sale until the end of June 2007. In the interim plenty of people, without any real evidence, took potshots at Apple and the device: the pricing, the keyboard, for example. Some never stopped.
We are already seeing the same with Vision Pro. Like the original iPhone, several journalists (and others) were allowed to have a hands-on experience. It is also clear that, like the switch to Apple silicon, when developers were able to buy Mac mini computers that were specially equipped with A-series chips, there are developer versions of Vision Pro. As with the Mac, this will allow apps to be developed that are specifically aimed at the device and its users. As Apple eventually recognized with the iPhone, the limited number of apps available at the beginning restricted the device. By 2010 when the iPad arrived, apps made a big difference.
I think that there has been some valid criticism of the way, in the videos of Vision Pro, people in social environments (family, friends) continue using the headset, even communicating directly with these other people while wearing it. I had a discussion several months ago with someone who left Thailand when Covid arrived and who saw the future of headsets as positive. I could not dismiss the idea of isolation, which I had experienced with a brief headset test at an exhibition. Apart from the social aspects (see below), the use of a headset made much more sense to me when I saw what Vision Pro should be able to do. If only this were possible with spectacles.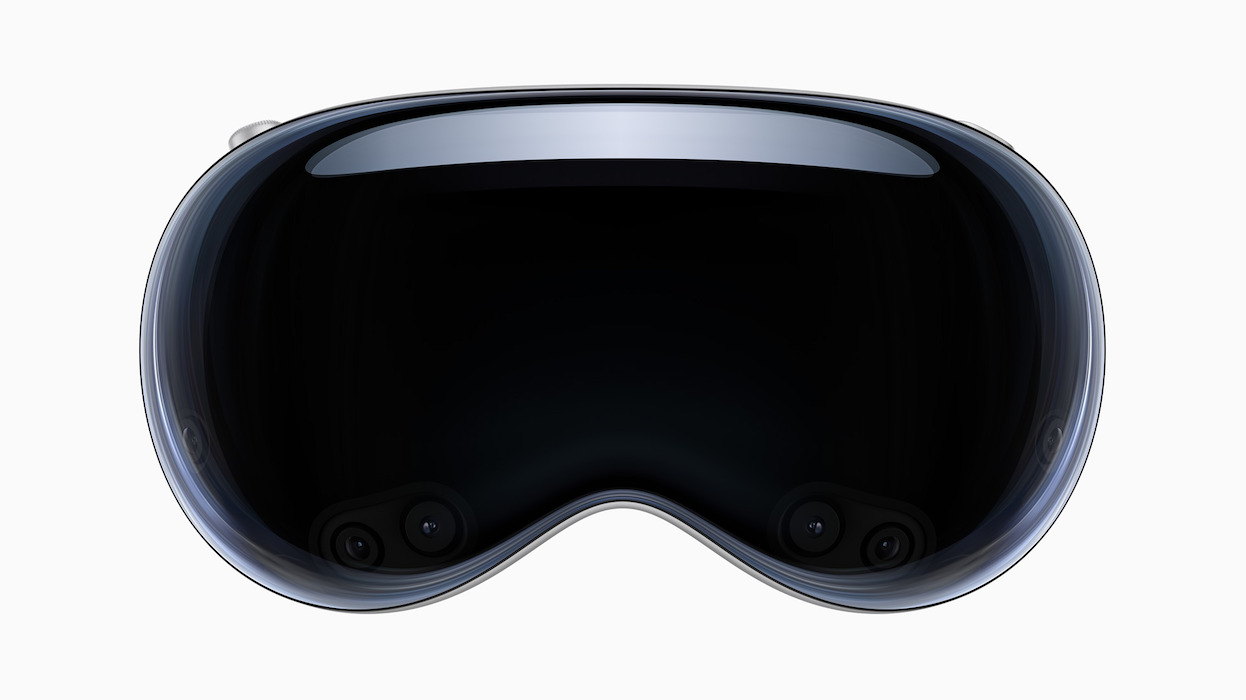 Vision Pro - Image courtesy of Apple

I live in a small condo, set up with a computer desk to one side and a wide screen TV facing the main seating area. I sometimes work with my Mac, iPads (or iPhone) on a writing table. I also have a large monitor on a desk. At most, then, there are 5 screens and I have to maneuver around the furniture to do other tasks. In the Apple videos users were shown manipulating several screens in the space in front of them, turning a small room into an infinite space.
This is where Vision Pro begins to make sense for me, but I cannot get round the barrier that this creates when others are present. In an office, this might be valuable, allowing work and being able to ignore others in the room. If I were with family, or if friends arrived, I would remove the headset and not communicate via the creepy virtual eyes out of sheer politeness (see below). The idea of talking to children (particularly one's own kids) while using the headset is anathema to me, although Federico Viticci (below) might disagree following his experiences with Vision Pro.
Looking at (and through) the device, Federico Viticci (MacStories), called it a "watershed moment". His opening paragraph is striking and reflects the comments of others who have experienced the device: "I'm going to be direct with this story. My 30-minute demo with Vision Pro last week was the most mind-blowing moment of my 14-year career covering Apple and technology. I left the demo speechless, and it took me a few days to articulate how it felt. How I felt." As he often does, Federico produces a lengthy comment, but it is worth reading all the way through.
I was interested by his comment on how he was working in a familiar space (not a virtual space): "I took Photos, made it smaller, and placed it in front of me; last, I grabbed Messages and placed it above Photos." The limits of a single or multiple screens are banished. In addition his comments on viewing 3D (no more plastic lenses) bring what Bob Iger said during the keynote speech into focus. Disney has seen and is convinced. It is also reported that film-maker Victoria Bousi sees the device as groundbreaking (Patently Apple).

An obvious problem with Vision Pro as many critics are keen to point out, is the price, although many expect that there will be a more affordable consumer model later. Serious reviewers - those who have actually tried the device - have praised the quality, particularly of the video output. Apple pointed out that the small screens use pixels that are so tiny, 25 would take up the same space as 1 pixel on the iPhone. Some clever engineering has come into play; but it is not just the (M2 and R1) chips; the glass is of an unusually high standard too. And this is a problem.
The manufacturers of these lenses, Sony, are not able simply to churn these out on some super production line. The OLEDos (OLED - organic light emitting diode - on silicon) and Patently Apple reports that they can only produce about 200,000 per quarter (that means 100,000 headsets), which will probably mean around 900,000 lenses or 450,000 sets. At $3,499 that is $1,574,550,000 a year, probably with more to come. And, Yes, that $1.5Billion makes it a niche product. The article adds that although Sony is sole supplier, both LG and Samsung [are expected] to be suppliers of OLEDoS displays for Apple's second generation headset.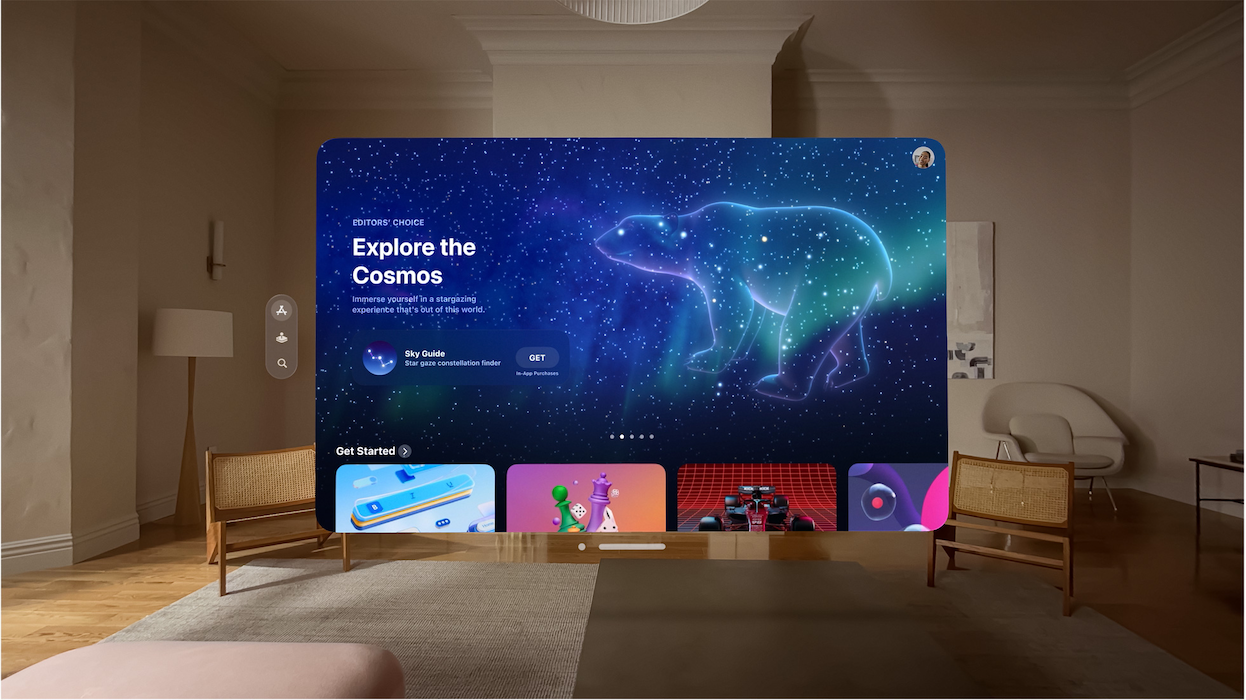 Vision Pro Display - Image courtesy of Apple

Also commenting is Adam Engst (TidBits) who has not tried Vision Pro. Like me and several other commentators he has had a good look at the range of comments and videos released since the keynote presentation. He has a somewhat pragmatic examination of the device and analyses scenarios. He sees problems, but is in favor of parts of this new development. He seems particularly concerned with user isolation which was something that I have mentioned: despite the ability to communicate with those in the room (colleagues, family, friends) my reaction would be to remove the headset and communicate directly. In the article, he lists some of the commentators who have hands-on reports.
Graham K. Rogers teaches at the Faculty of Engineering, Mahidol University in Thailand. He wrote in the Bangkok Post, Database supplement on IT subjects. For the last seven years of Database he wrote a column on Apple and Macs. After 3 years writing a column in the Life supplement, he is now no longer associated with the Bangkok Post. He can be followed on Twitter (@extensions_th)
---

For further information, e-mail to
Back to eXtensions
Back to Home Page

All content copyright © G. K. Rogers 2023