eXtensions - Saturday 10 June 2023
Saturday Review (1): WWDC - Macs, and OS News
By Graham K. Rogers
---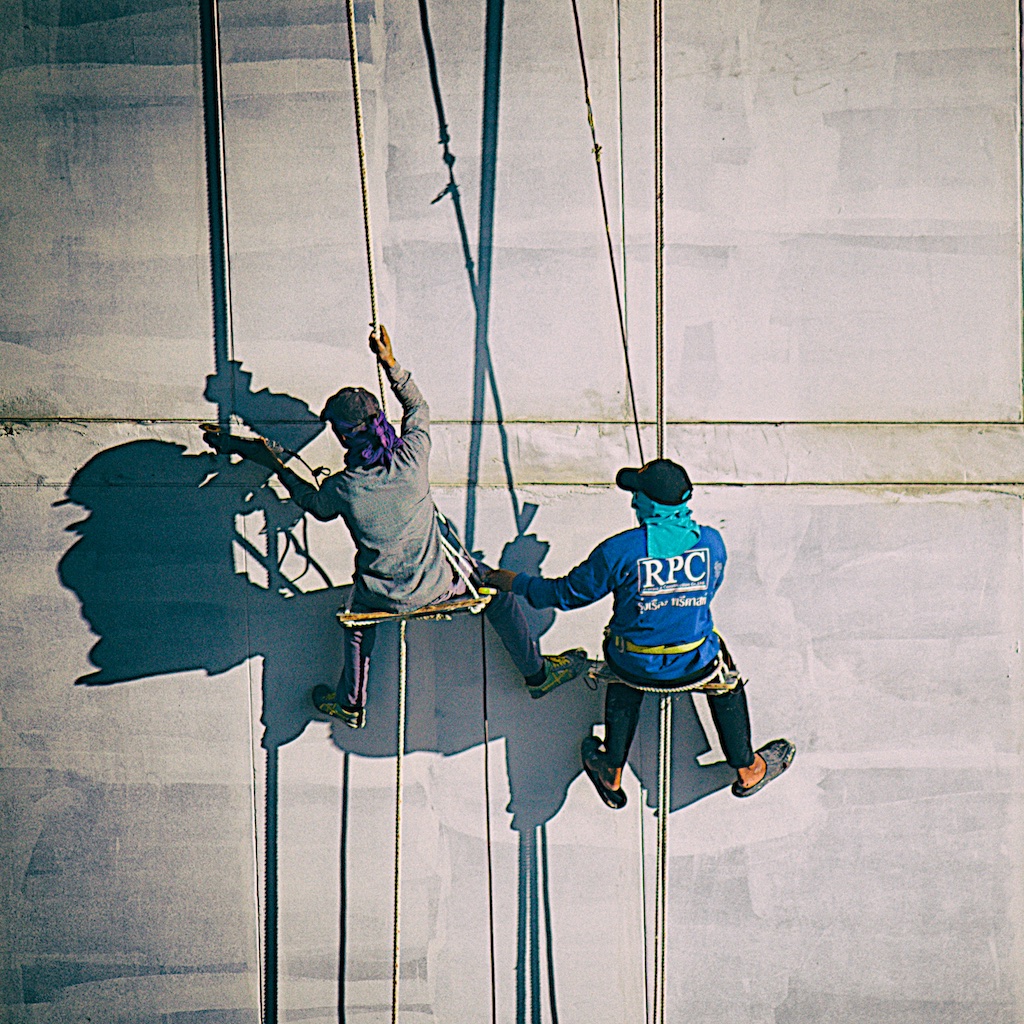 The keynote presentation for WWDC, which ran this week, was split into 3 parts: Hardware, Software, and One More Thing. With 3 new Macs, including the long-awaited Mac Pro, and 2 new M2 chips, Apple is done with Intel. Updates to the various OS versions were practical and add to the overall integration experience. This will be useful with what comes next.

WWDC this week had some announcements that were expected, already having been spoiled by the rumor merchants. They did miss one or two announcements, and some rumors were wrong. I just think it is more fun when Tim and team come out and tell us what they have been working on rather than hearing about possible devices or changes from online sources that are sometimes wrong. Some sources seem more concerned with pushing the share price up or down. This has been evident in post-announcement articles online this week.
Hardware 1
After Tim Cook's overview, the focus switched to John Ternus, which means Macs. He wasted no time rolling out the new 15" iPad Air with the M2 chip. There are now three 13" versions of the Mac Book Air (M1 at 34,900 baht; and M2, 39,900 and 49,900 baht), with two 15" versions (47,900 and 54,900 baht). The differences concern core numbers and storage, although there are purchasing options. All come with 8GB memory as standard. Although they can be ordered in the USA this week, they are not yet available here. That usually takes 2-3 weeks, partly due to the necessary authorisations for updated wireless technology.

The notebook announcement was followed by a three-part release of M2 Ultra, new Mac Studio computers with M2 Pro and M2 Ultra chips. And a Mac Pro. This retains the cheese-grater design, has the M2 Ultra chip and (like the Mac Studio) up to 192GB memory. The difference is in the performance with the equivalent of 7 Afterburner cards and 8 Thunderbolt ports, plus the availability of 6 expansion ports: for audio, video, networking or storage. This is not yet available here unsurprisingly, although pricing is shown. It is not cheap.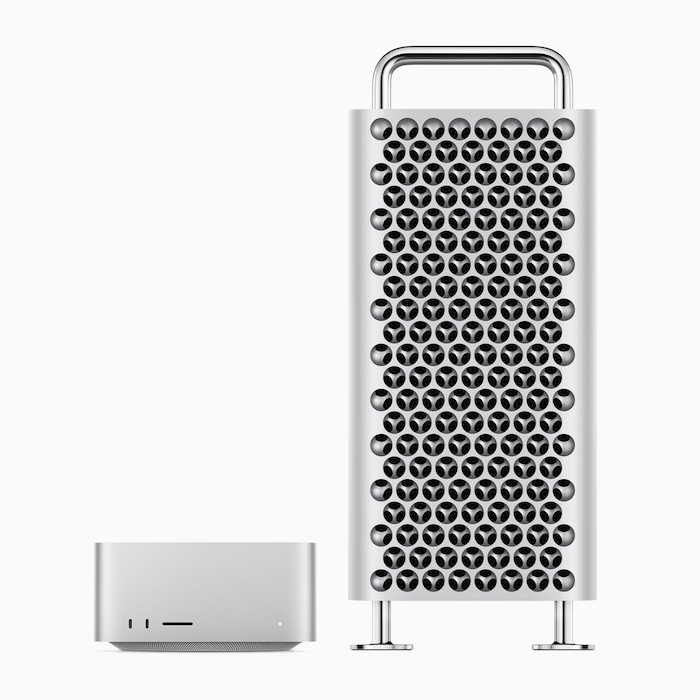 Mac Studio and Mac Pro - Image courtesy of Apple

The Mac Pro starts with 64GB memory and 1TB SSD is priced here at 249,900 baht ($6999). Currently the US figure converts to about 240,000 baht (depending on the bank). Adding on 7% for VAT gives me 256,800, so the device seems to be more than fairly priced. But then there are the options:
128GB memory, add 28,000 Baht
192GB memory, add 56,000 Baht
Upgrade to 76-core GPU (from 60-core), add 35,000 baht
2TB SSD + 14,000
4TB SSD + 35,000
8TB SSD + 77,000
Add wheels + 14,000
AppleCare + 17,900 baht.
Upgrading to the maximum specifications here would come to 448,900 baht by my calculations.
Software (1)
There were expected updates: iOS 17, iPadOS 17, macOS and watchOS. Although it is normally a sort of also-ran, tvOS was also included in the keynote presentations this time. Many of the features highlighted in all the OS updates are aimed at greater integration between all of Apple's devices

With iOS 17 some of the main features affect how the phone, FaceTime and messages will be improved, while there was also an interesting feature of visual identity posters. A highly useful feature is the live transcription of voicemail, for example from those infuriating cold callers. The text is displayed and a user can decide whether or not to answer. As some of my calls are from Thai speakers, this probably will not be available, but the pesky securities dealers usually call in English.

FaceTime will have the ability to leave a message; while Messages are to be improved with audio messages transcribed, automatic check-in for when a user arrives at a destination (or not), new stickers, and more stickers with photos. This will also be available in 3rd party apps. Airdrop, which is invaluable working with my students, now has NameDrop where a card can be added to another user's phone just by putting the device alongside. There are already reports (Ben Lovejoy, 9to5Mac) of discomfort aired by the Chinese authorities on Airdrop (it can't be monitored of course).

Autocorrect which can cause problems (I always tell my writing students to turn this off), is to be updated to make it more accurate - learning how the user writes - and attention will be paid to grammar problems and certain problem words that the phone always corrects even when not needed. Hey Siri? Just Siri on top-of-the-line devices.

Users of the iPad have different needs and iPadOS has a new Widgets feature (similar to that also now on macOS) as well as an option for different lock screens, as can be currently found on iPhones. This feature also includes the ability to adjust fonts and the font size. Live activities can be more easily monitored and it will be possible to keep track of multiple events.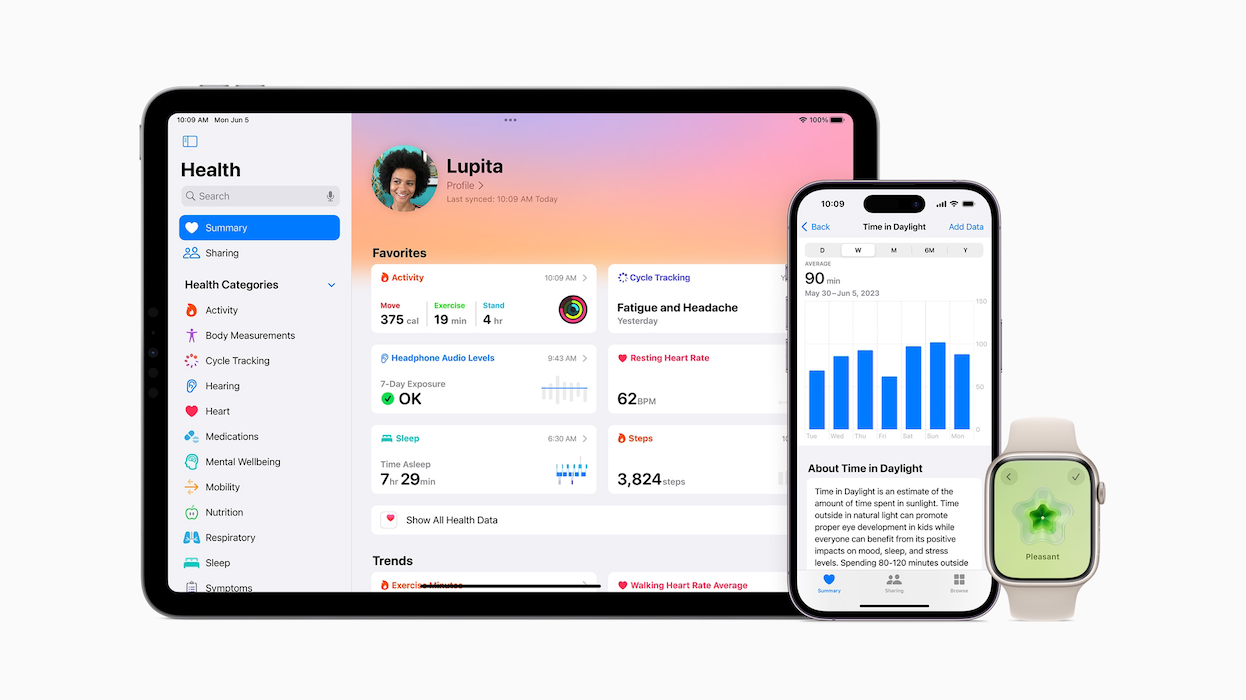 New health features in iOS 17, iPadOS 17, and watchOS 10 - Image courtesy of Apple

I gave a small cheer when Craig Federighi announced that the Health app is to be made available on the iPad. That is long overdue, particularly as some users may only have an iPad. Also of value to me were updates to the way the iPad handles PDF files. I use these often to markup writing content, but use the PDF in the Files folder. We were told that Autofill and signatures can be used with PDF files with better integrated in Notes, allowing collaboration. Annotation is also to be available along with markup.
I was slightly confused here as when I am editing student writing, I insist on PDF input as this is one of the best solutions for using the Apple Pencil and markup. I can also sign PDF files. The difference is that I open these in the Files application which allows me to synchronize through iCloud to all my devices. I tend not to use Notes for PDFs: just basic writing tasks.
There were a number of features that were not announced and Ivan Mehta (Tech Crunch) lists these. As a final comment on iPadOS, Stage Manager will allow more control of the workspace. At the time this did not seem significan - useful yes - but with the final announcement this may be more valuable than I initially grasped.
Software (2)
With the update of macOS to Sonoma, it is reported that not all features available on Intel Macs (Joe Rossignol, MacRumors). hoakley (Eclectic Light Orchestra) outlines the features that will be available for macs with Apple Silicon, Intel Macs with the T2 chip and the others. The same will apply to older devices that run iOS or iPadOS. Particularly with privacy and security, older devices may not have the capabilities to run these features. For the macOS update, Apple silicon is required for Presenter overlay, Game Mode, a new screen sharing mode, and even the move to "Siri" (instead of Hey, Siri).

There were some updates for those interested in gaming, but I was more impressed with the changes that Sonoma will bring to video conferencing and the presenter overlay which can be small or large, allowing effects with several online meeting apps, like Zoom, Teams and Webex. It was good to see these important developers on board this early in the process, but the real significance of this was clear later.

AppleTV and tvOS had its moment with some new integration features, including AirPods, adaptive audio, AirPlay along with the inclusion of Facetime. And again, Zoom and Webex will be on AppleTV by the end of the year.


Kevin Lynch introduced watchOS and there were several additions to the Watch, such as widgets on the watch-face, so this is now used on all Apple OS versions. Apps are being redesigned, including Watch and World Clock and (as ever) there are to be new watch faces, including Palette: the colors change depending on the time of day. There is also a Snoopy and Woodstock watch face although, despite the cute animations, I might just pass on this.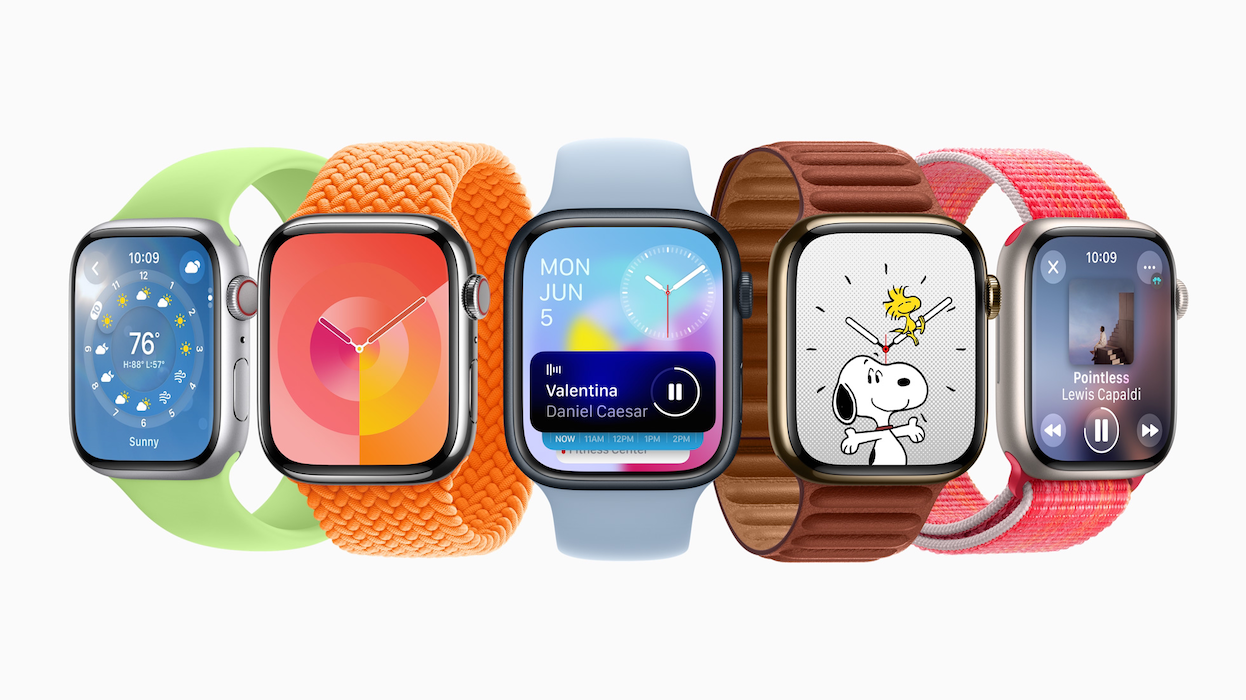 watch os 10 update - Image courtesy of Apple

Considerable work has been done to enhance the Cycling features on the Apple Watch, with the ability to use input and sensor data from the bike and give more complete displays of health/activity data. Hiking also receives attention with Compass, new (cellular) Waypoints allowing SOS with any carrier signal. Waypoints also has a 3D view. There is a new map view on the Watch using contours, so the Watch user can read the topography like I did using Ordnance Survey maps when I was younger. New Workout APIs help to analyse golf and tennis swings.
As the Watch is linked to the Health app, there is now an increased concern about mental health and users are able to log emotions. This can be done on the iPhone if the Watch is unavailable. This uses standardized assessments (Questionnaires) to help build awareness of problems. Other health-oriented additions are Vision Health, with reference to myopia. An ambient light sensor is used because of the considerable amount of time spent in daylight. The distance to the screen is also a factor and the OS can measure this. Kevin Lynch wrapped up by confirming that the health data is secure and cannot be shared without permission.
Craig Federighi summed up the changes coming to the various OS versions and mentioned that (as is usual) Developer betas were to be made available that day, with User betas to be released later in the month.

Tim Cook then appeared and announced that there was One more thing. . ."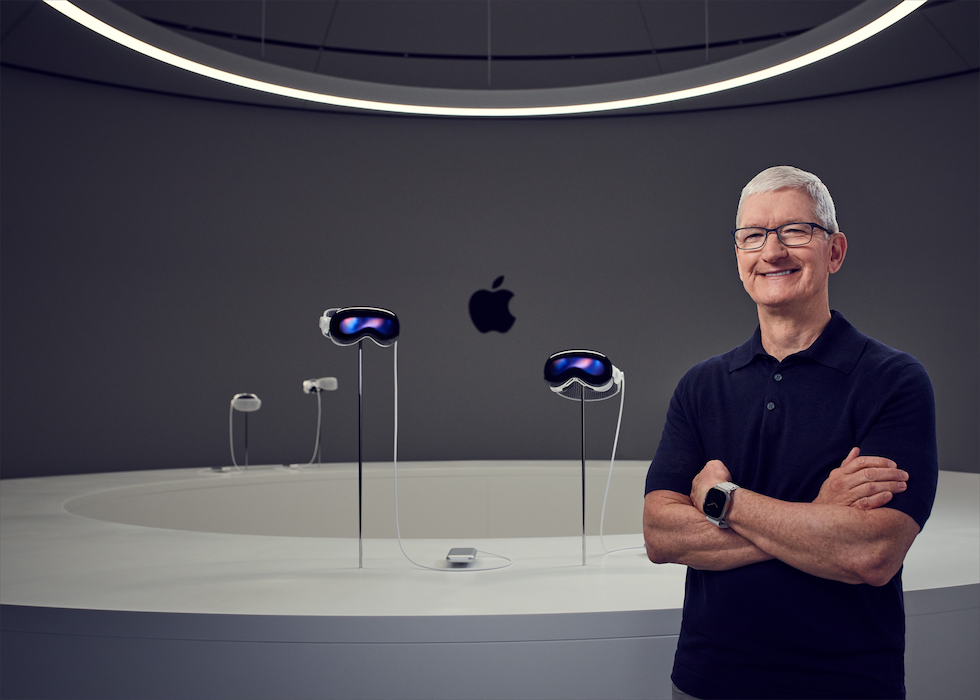 Tim Cook reveals Apple Vision Pro - Image courtesy of Apple
Graham K. Rogers teaches at the Faculty of Engineering, Mahidol University in Thailand. He wrote in the Bangkok Post, Database supplement on IT subjects. For the last seven years of Database he wrote a column on Apple and Macs. After 3 years writing a column in the Life supplement, he is now no longer associated with the Bangkok Post. He can be followed on Twitter (@extensions_th)
---

For further information, e-mail to
Back to eXtensions
Back to Home Page

All content copyright © G. K. Rogers 2023