eXtensions - Friday 2 June 2023
Friday Notes: WWDC - Macs, Headset and OS Updates; Mac User Tips
By Graham K. Rogers
---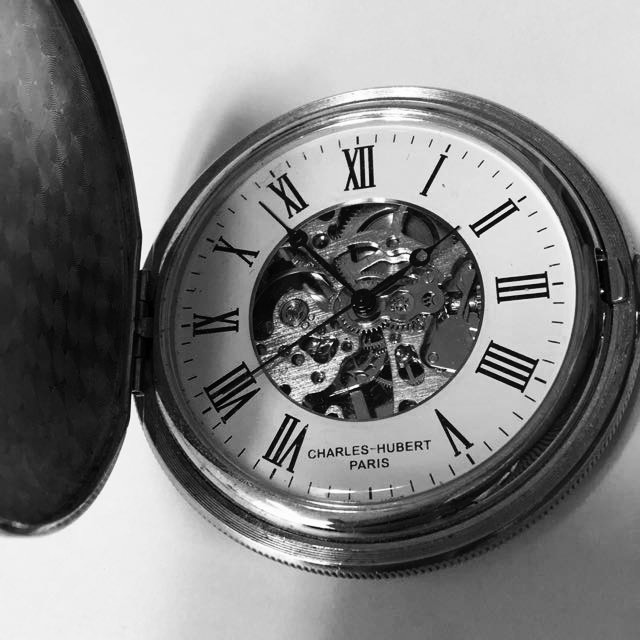 With WWDC the other side of the weekend, the rumors have stepped up, although some of the potential releases are backed up with data. Most sources are firm on the headset: with some impressive specifications. Macs and new M2 chips are expected, plus a possible M3 announcement. I also found some useful hints on connecting Macs, and on Finder windows, adding a suggestion of my own

This week Apple posted a surprise update to watchOS (9.5.1). This was an interim update and the release notes only mention improvements and bug fixes. That such an update was put out, with no other releases for Apple's other operating systems, suggests there was a specific problem that needed a fix.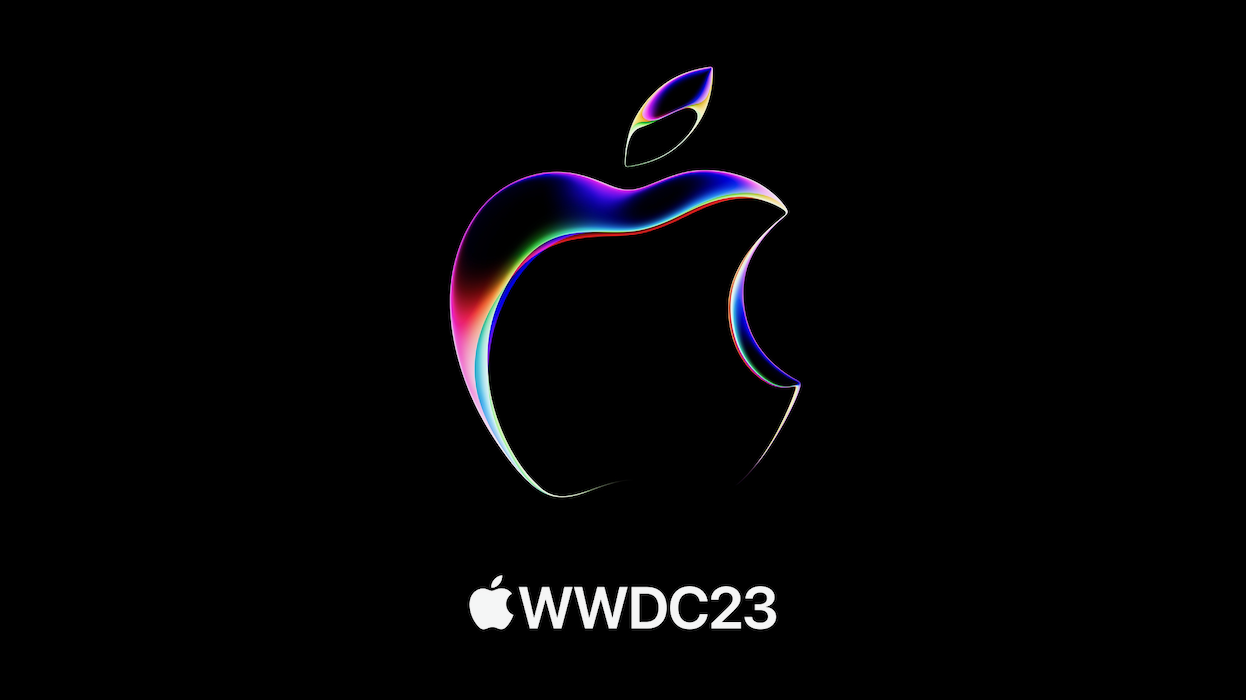 Code New Worlds - Image courtesy of Apple

With just a few days left before WWDC, Apple sent out a strong hint to developers with an image and the words, "Code new worlds": that sounds like a novel direction. There are several WWDC rumors being circulated. One was as a result of good research, although most are from the single source of Mark Gurman. This spoils all the fun. I hope he has been fed a shoal of red herrings and online sources will stop citing these as if this is a direct line from Apple. If it is a direct line from Apple, then shame on them, particularly with the way other leakers have been dealt with.
The rumors about the Apple headset have firmed up considerably with some information about specifications. If the rumors are true, it is no wonder there is expected to be a price tag of around $3000. Tammy Rogers (iMore) reports on a rumor from Ross Young. The main points are: a 1.41-inch Micro OLED screen (being goggles this [or they - if twin goggles] are positioned close to the eyes; brightness reported to be 5000 nits, which is unusually bright (the Mac Book Pro is normally 500 nits, with 1600 for HDR output); pixel density of 4000 pixels per inch (iPhone 14 Pro Max has 460ppi). Hartley Charlton (MacRumors) suggests that the complexity of the device will make it hard to manufacture. Among the unusual features is a curved motherboard within the construction and he outlines several other details gleaned from an online source.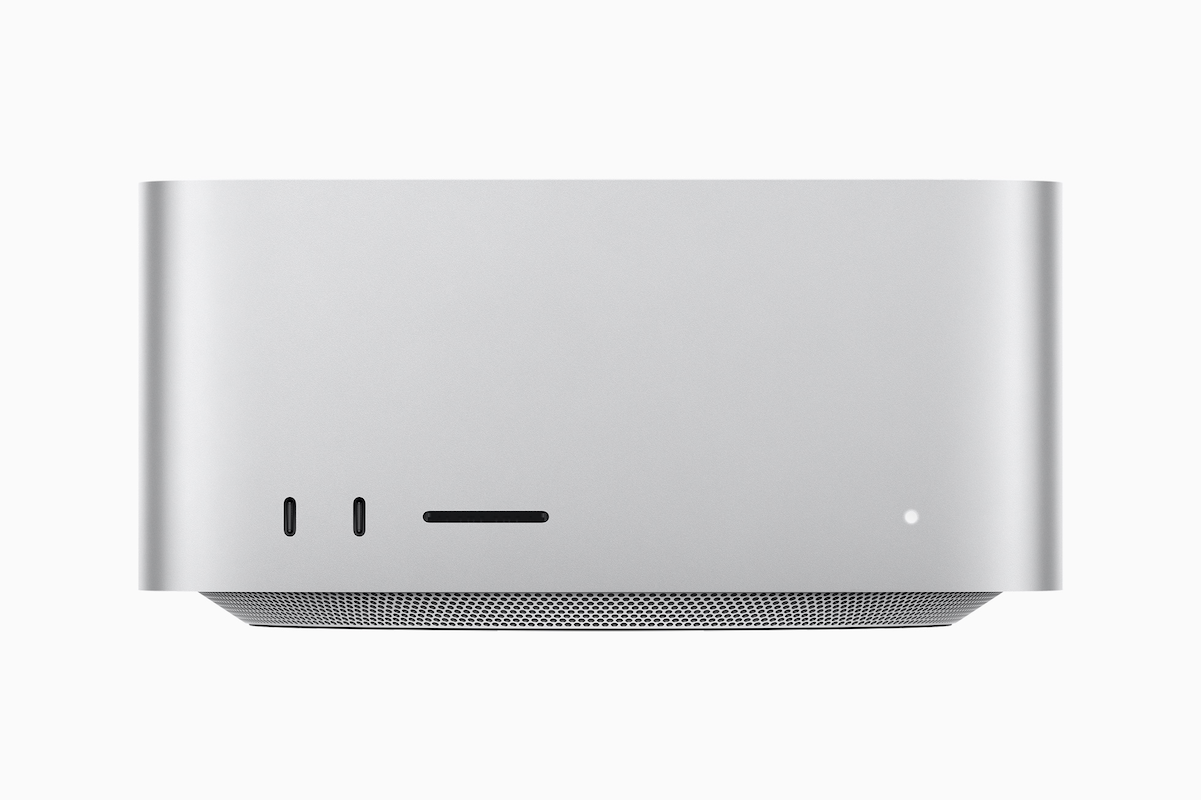 Mac Studio (what's next?) - Image courtesy of Apple

A rumor I rather like has come from the well-known (and highly-skilled) technical analyst, Steve Troughton-Smith. Joe Rossignol (MacRumors) reports that by sending in an app "crafted for the headset", the rejection appears to confirm that xrOS exists. The app did not mentioned xrOS at all, but the rejection did.
Reporting on the Gurman rumors about WWDC, Christian Zibreg (iDownloadBlog) writes about the potential for announcements of several new Macs at the event. These will probably have M2 chips, but the M3 might also be announced. New M2 chips have appeared within logs, so that heightens the probability. With the Macs, the headset, update announcements to operating systems (watchOS, macOS, iOS and iPadOS) including xrOS, the event is expected to run for a couple of hours.
Also picking up on this is Oliver Haslam at Redmond Pie with a little more detail on the anticipated releases according to Gurman. He does note that earlier rumors had suggested a 15" MacBook Pro, although I read also about a 16" version some while back. Further speculation with some reasonable analysis comes from Michael Simon (MacWorld), who looks at some of the Mac models that could be included in updates. He does comment on the update to iOS 14 which he expects to be comparatively small. WWDC all boils down to Macs, the headset and OS updates.
A link from John Gruber to Meta shows that - in what must be a total coincidence - they have announced a new virtual and mixed reality headset, which launches later this year. It's called, Meta Quest 3 and is apparently priced at $499. By Tuesday there is a good chance that this will be all but forgotten. Meta's announcement of the change of the company name (to Meta) was followed by massive losses. They seem now to have abandoned the idea of the virtual world that Zuckerberg outlined in a tacky video. As Gruber comments in the newsfeed, "Apple has the discipline and confidence to hold their fire until they are ready."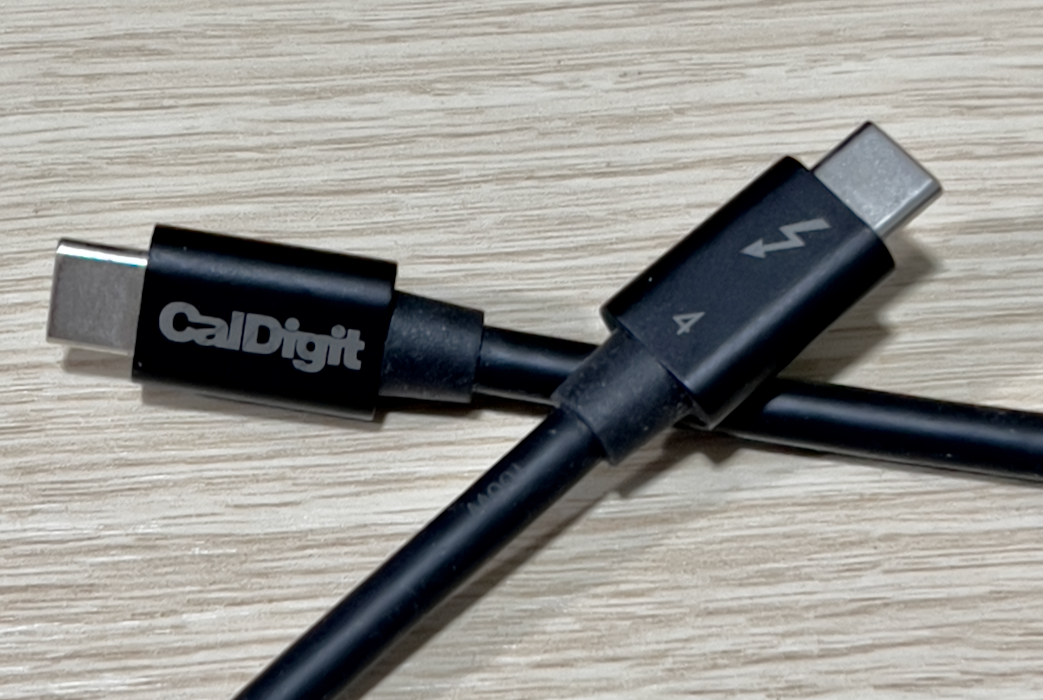 CalDigit Thunderbolt 4 cable

Sometimes it is useful to connect two Macs directly. I often used Target mode in the early days of OS X (it is still there on Macs with Apple silicon), but things have moved on since then. Glenn Fleischmann (MacWorld) has a run down of methods that are currently available to users. As well as SMB file sharing, Bonjour and Direct app support (when available), Glenn also outlines 4 more robust methods that use cables: Thunderbolt; 1Gps to 10Gps Ethernet; the Mac WiFi hotspot; and computer to computer network. As he mentions this was once called the ad hoc network.
Another useful article, this time on Finder windows comes from Ankur Thakur (iDownloadBlog). If you are like me, you might end up with several Finder windows open. My usual response is to delete them all and start again, with the window (or windows) I want. As the article explains, there are other, better ways. The one I liked most was Merging all open windows. There is a menu command for that in the Windows menu, but in the interests of efficiency, I added a key command, using Keyboard Shortcuts in System Settings > Keyboard.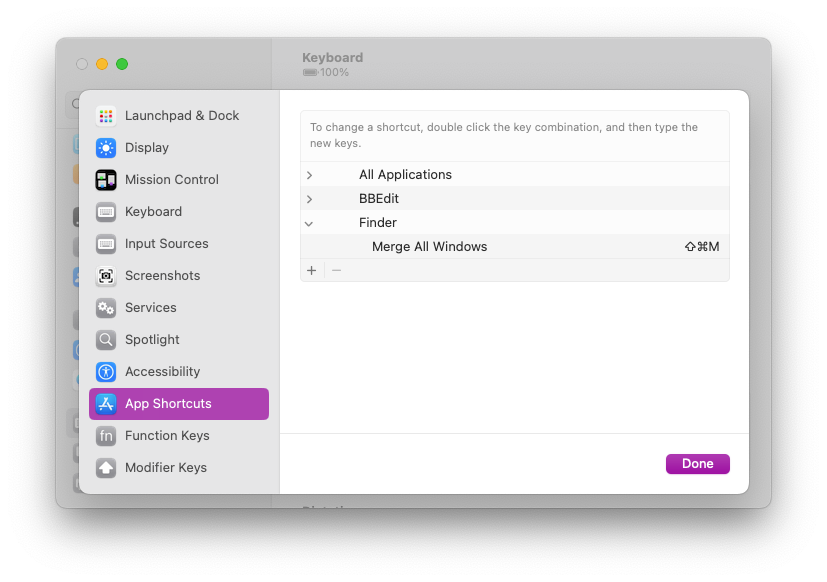 Graham K. Rogers teaches at the Faculty of Engineering, Mahidol University in Thailand. He wrote in the Bangkok Post, Database supplement on IT subjects. For the last seven years of Database he wrote a column on Apple and Macs. After 3 years writing a column in the Life supplement, he is now no longer associated with the Bangkok Post. He can be followed on Twitter (@extensions_th)
---

For further information, e-mail to
Back to eXtensions
Back to Home Page

All content copyright © G. K. Rogers 2023