eXtensions - Tuesday 7 November 2023
Tuesday Comment: Q4 2023 Report; Apple Event and Fallout; iPhone 15 Max Video and some Blackmagic
By Graham K. Rogers
---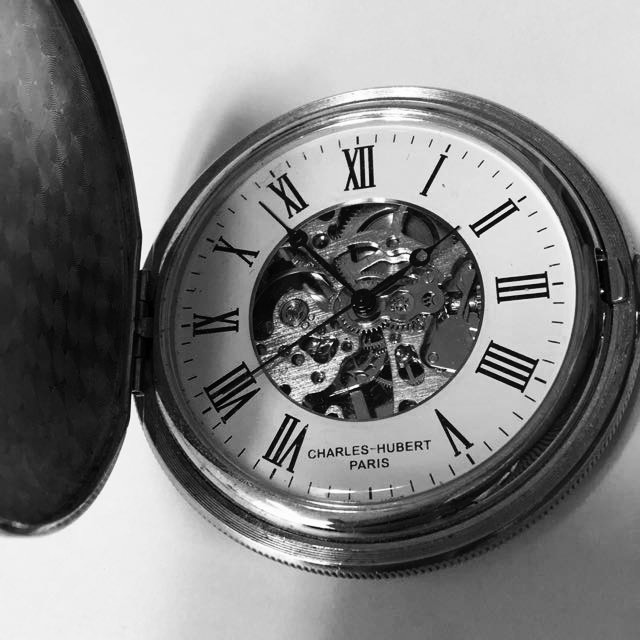 Apple had two events last week: its quarterly revenue report (Q4 2023), and a surprise product release: new Macs with M3 chips. Analysts were not happy with the figures, despite "beating the street", and beating the rumor-mongers with the product event. Most had said this would not happen this year. The event was filmed with the iPhone 15 Max. This admission by Apple created more comment than the releases until M3 benchmarks started appearing.

After a weekend almost-overwhelmed by student files as they reach the panic stage of the semester, I managed to type up this eXtensions note at work Monday. I upload the files to the site when I return home. The internet is better, and the FTP works properly there. The university does not permit FTP use. However, when I arrived home, the files did not appear on Mac or on any other devices. I guessed (rightly) that the connection to the outside was blocked at the office. When I checked Tuesday morning, instead of being connected to the internet, I was greeted by a network login panel. I signed in and the files were synchronized. Mea culpa.

Apple reported its Q4 2023 figures late last week. There was a fall in revenue for the period but the analysts had predicted more. iPhone sales grew. Despite predictions of lower sales this was a new record. Services also saw a record quarter. However, sales of wearables, iPads and Macs were lower. This is the main content of the press release:
Apple today announced financial results for its fiscal 2023 fourth quarter ended September 30, 2023. The Company posted quarterly revenue of $89.5 billion, down 1 percent year over year, and quarterly earnings per diluted share of $1.46, up 13 percent year over year.

"Today Apple is pleased to report a September quarter revenue record for iPhone and an all-time revenue record in Services," said Tim Cook, Apple's CEO. "We now have our strongest lineup of products ever heading into the holiday season, including the iPhone 15 lineup and our first carbon neutral Apple Watch models, a major milestone in our efforts to make all Apple products carbon neutral by 2030."

"Our active installed base of devices has again reached a new all-time high across all products and all geographic segments, thanks to the strength of our ecosystem and unparalleled customer loyalty," said Luca Maestri, Apple's CFO. "During the September quarter, our business performance drove double digit EPS growth and we returned nearly $25 billion to our shareholders, while continuing to invest in our long-term growth plans."

Apple's board of directors has declared a cash dividend of $0.24 per share of the Company's common stock. The dividend is payable on November 16, 2023 to shareholders of record as of the close of business on November 13, 2023.

Despite some positive signs, some of the early headlines I read on Seeking Alpha were not kind:
AAPL: Apple slips even as Q4 sales top estimates
AAPL: Apple Fiscal Q4: These Results Aren't Good Enough
AAPL: Nothing To Like About Apple's FQ4 2023 Headline Beat
However other headlines reported some of the positives, particularly in China and the rise in Services income. Ed Hardy (Cult of Mac) overviews the less than good points in an upbeat outline of what is to come, including the new Macs and the staying power of Apple Silicon.
There were several negative reports from analysts which began to push the shares down, but investors may not be convinced. The stocks showed a high just before the results then fell, following which the graph showed an upward trend. The price is now higher than before. Profit taking? The SET should not be a casino.
Services were reported as still showing growth, but a day or so after the event an email from Apple told me that the fee I pay for Apple TV will be rising to 249 baht, although I still pay the lower rate of 199 baht this month. This 50 baht increase was not expected but I am not wholly surprised and it will not hurt the purse too much.

For once Apple's highly-anticipated event earlier in the week was at a convenient time for me as I was able to watch the 30 minute video output over breakfast. Some US commentators grumbled about the time and want Apple to go back to 10am. I am sure many people in other countries appreciated the later hour. In the end, there was no real answer as to why the event had taken place in the evening, although the dark and misty views of Cupertino may have been Apple's nod to Halloween. The event began for me with the black Finder icon displayed full screen.
At 0700 my time the icon began to change and an introductory video with multiple characters all working at different - and different types - of tasks came on. The theme was hard work . . . but the Mac makes hard work easy. The anticipated M3 announcements that followed were to underline this. After Tim Cook's ringmaster appearance, we saw Jonny Sirouji who is the brains behind Apple silicon. He outlined the introduction of three new chips: M3, M3 Pro and M3 Max.
M3 Processors: M3, M3 Pro and M3 Max - Image courtesy of Apple

His presentation was not overly technical, but it had enough details about the performance of the new series of chips to show us that significant steps had been made. The way the chips have been designed makes this almost inevitable. Although other chip makers had begun to catch up, this is another major step forward for consumers and those with specialist needs, particularly in terms of graphics. As confirmation, Joe Rossignol (MacRumors) makes a comment on the first benchmarks that have appeared, showing that the M3 Max has around the same performance as the M2 Ultra. However, in a later posting, Joe Rossignol outlines another single benchmarking report that shows the M3 Pro with its different core structure only performs marginally better than the M2 Pro [My italics]. There is more to come. For a wider look at the M3 family, Andrew Cunningham (ArsTechnica) has a good overview of these newly released chips with some useful tables and images.
Although some early benchmarks began to appear online, a particularly useful look at the MacBook Pro with the M3 Pro chip came from Jaron Schneider (PetaPixel), who ran an extensive series of tests using software aimed towards understanding performance in a practical, photo-oriented way. The headline, ". . . It's crazy how we've come so far" is backed up by what was found in a comparison using 8 computers (5 with Apple silicon) one of which is the latest Mac with the M3 Max chip. It was beaten (just) on one test by the M2 Ultra.
MacBook Pro (M3 Pro and M3 Max) - Image courtesy of Apple

Several other reviews appeared and all commented on the performance: Okay, we get it, it's fast. Stephen Warwick (iMore) summarizes some of these in a review article: a beast; Max power for creators; Staggeringly fast; incredibly powerful; blistering performance; Ultra level speed; and, silly levels of performance.

Also at the event was an updated iMac. Still with the same exciting colors that were revealed with the mid-2021 update, but now with the M3 chip. Some noted that there was still a Lightning Cable in the box. This is for accessories like the Magic Mouse and there was some comment that Apple could have, should have updated these to USB-C as well. I agree. All my devices except the AirPods have USB-C ports, so I have to keep a Lightning adapter and cable just for that. As for the iMac, these still look desirable and with the faster speeds, they would be a useful tool.
24" M3 iMac - Image courtesy of Apple

I would like one for the office but the reliable Mac mini plus 1080 HDMI monitor works for me with the minimal use it has. Neither the M1 Mac mini, nor its venerable Intel predecessor have ever let me down, although the Sonoma update made it impossible to unlock with the Apple Watch as the Settings app does not show this. The MacBook Pro has this in Touch ID and Password. That Settings panel is not available on the Mac mini. However, a new panel appeared this week allowing me access to the Watch setup and I now have the unlocking feature back.

I note that in the new model lineup of the MacBook Pro, the Touch Bar is no longer available on the basic model, which some were gleeful about. I still have mine and will be sorry when the time comes to replace it. The Macs are shown in the Apple Online Store here, although are currently not yet available. I will not be buying one of these when it appears, although a future M3 iPad Pro is on my list.
I do far more work on my iPad Pro than the Mac these days, which I still need for a couple of tasks: FTP and website management, which I could do using apps on the iPad, or through browser access, but both are less effective than the straightforward use of Fetch, which I have been using since System 7; scanning negatives on a flatbed scanner with VueScan which is not possible on the iPad; the occasional use of tethering, which is possible, but only (so far) with the Hasselblad app and digital camera.
These missing features, as well as the atrocious handling of markup since the recent iPadOS update (reported) are why the provision of Pro features still needs some work from Apple; although these limitations will not deter me from buying the M3 version. It is such a workhorse.

Right at the end of the keynote video presentation I saw a couple of lines of text, only onscreen briefly, "Shot on iPhone" followed by "Edited on Mac". The implications were immense. What I had just watched had looked like one of Apple's usual seamless, cinema-quality productions. Actually, it was, but made on the same handheld device in my pocket. Later I saw a Tweet that had a video of the production, revealing some of the additional (and very expensive) equipment used. That video is available on YouTube and is worth viewing, particularly with some of the technical comments. There is also an article by Jeremy Gray on PetaPixel with some other background information.
It seems that this small part of the event gained more attention than the products released at the event itself. Although some pooh-poohed the idea because in the documentary Apple made about the filming they showed that professional gear had been used, as if no one uses gimbals or drones. John Gruber took the comments of these "nattering nabobs of negativism" (Agnew/Safire) apart in a piece where he also sarcastically questions whether they had realised such accessories are used when the film makers use a top-line Red Camera.
As Gruber points out, who knew, until Apple put it in the final credits (see my comments above)? As Lee Morris (FStoppers) comments on the event, "perhaps the most shocking part was that the entire thing was filmed on an iPhone, and nobody could tell". Mirroring Gruber, he adds, "Haters are going to point to the giant crews and expensive lights, but the truth is that cinema-quality video is now in the hands of everyone. You are capable of making almost anything these days with zero budget." And that was the point.
PetaPixel, an online publication that focuses on cameras and lenses (and on output) came out totally positive towards Apple's use of the iPhone 15 Max. As they point out (my comment above) no one would have known if Apple had not put a couple of lines of text at the end. Jeremy Gray (PetaPixel) calls out the Verge in particular over its criticism of Apple's use of professional equipment, noting that the camera was not a professional device.
Use of an iPhone for such high quality video output makes the tools available to far more people. I would love a Red camera, but as much as I would love to own a Porsche, that is never going to happen. I can buy an iPhone. I have. Gray also comments, "The more people who have access to the tools they need to create, the more art we get. Democratizing access to high-end filmmaking tools significantly diversifies the stories that can be told."
Blackmagic video app - Screenshot

Gray's article mentioned the free app that was used to make Apple's video of the event, Blackmagic. It is intended for the iPhone but will work on the iPad as well. A quick look (and it was really quick) showed the interface was similar to some photo apps I have used so this looks as if it will be relatively easy to learn. Settings offer a wide range of options. Some of these are familiar to me, but others, including the Blackmagic Cloud storage are different. I prefer my own storage (see below). By default my iPhone showed 4K and 34fps, which will not produce the same quality as the video for the Apple event: 60 frames per second (60fps), but that brings another problem which is not related to the Blackmagic app.
Blackmagic (left) and OWC Drive Speed apps - Note frame-dropping

Christian Zibreg (iDownloadBlog) reports that using the highest output settings for video on the iPhone means that on-device storage is not possible. With USB-C video can be recorded directly to external disks, but this brings with it another problem. Only some disks can handle the high rates of data that is being stored. Is the disk capable?
OWC Drive Speed display and results

Zibreg points us to the Drivespeed app by OWC (a company I have used before). I downloaded the app, which also works on the iPad and used it to check a couple of SSD drives that I have and a normal disk drive. I made sure I was using Thunderbolt 4 cables (the Mac only has Thunderbolt 3) so there would be no throttling. In short, No. I am out of luck. Both drives can handle 30fps, but only some of the newest drives can record video with 60 fps
Graham K. Rogers teaches at the Faculty of Engineering, Mahidol University in Thailand. He wrote in the Bangkok Post, Database supplement on IT subjects. For the last seven years of Database he wrote a column on Apple and Macs. After 3 years writing a column in the Life supplement, he is now no longer associated with the Bangkok Post. He can be followed on Twitter (@extensions_th)
---

For further information, e-mail to
Back to eXtensions
Back to Home Page

All content copyright © G. K. Rogers 2023