eXtensions - Saturday 7 October 2023
Saturday Comment: Heat-gate and a Nothing-burger; New Products from Apple; Online Shopping and Variety [updated with minor corrections]
By Graham K. Rogers
---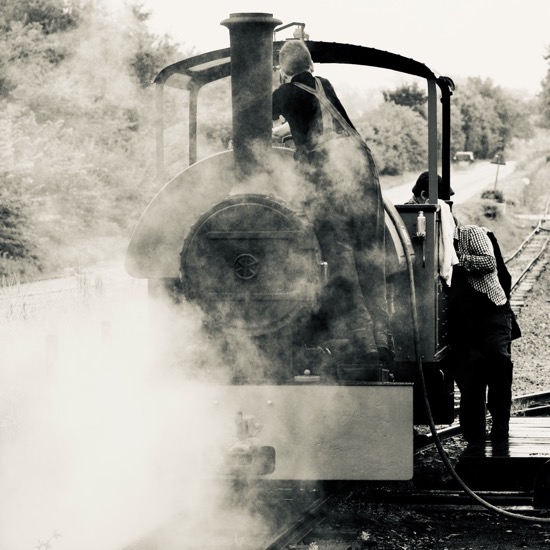 Apple Q4 2023 results coming 2 November. Apple released updates this week to deal with the overheating problems on some iPhones. Apple blamed certain apps, while a rumor blamed the use of titanium: that led to a scathing rebuke. Despite rumors that said Apple was done this year, new Macs and iPads are now expected. Online shopping for Apple devices, food and a leather iPhone case.

Apple will announce its Q4 2023 financial results on 2 November at the usual time: after the close of the New York markets. The latest iPhones were only released a couple of weeks ago so I would not expect this to have any major bearing on the figures. As usual, Wall Street will be guessing how well (or poorly - the bears) and will penalize Apple if the company fails to meet their expectations. We can look forward to a host of reports in the next week or so showing how many problems Apple has.
Just before the announcement, Tim Cook and other executives sold blocks of Apple shares which may have pushed the price up. These executives are awarded shares as a reward for doing the job. If the company reaches certain pre-decided targets, then the shares are issued. This is normal in big business for those at the top, although it does not extend to those lower down.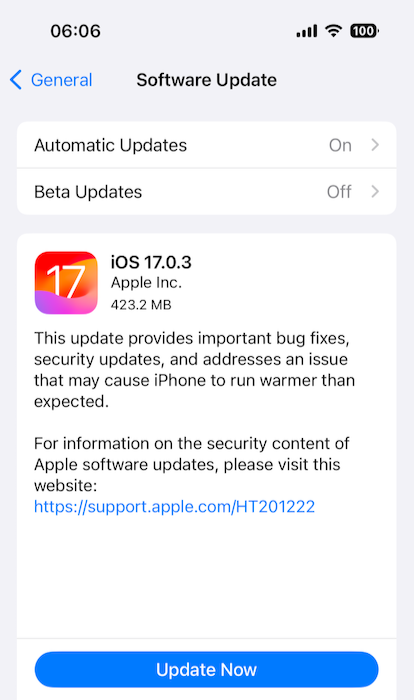 This week Apple released an update to iOS (17.0.3) which covered the overheating problems that some users had reported. After claims (see below) that the use of titanium was a cause, Apple Apple took the rare step of commenting publicly on this and claimed that certain apps were the cause and that they were working with the developers. The report named Instagram. Some users mentioned that other apps from Meta are also suspect.
The overheating did not affect me, despite the usual optimization after I had updated the iPhone to 17.0.2, unless I opened one specific app - not Instagram. I do have other problems with Instagram that I mentioned last time: just because I live in Thailand does not mean I want to see only Thai-flavored Reels. As well as the update to iOS this week, there was also an update to iPadOS. Roman Loyola, MacWorld, reports that tests by ZDNet show the update really does improve the overheating issues that some had reported.
The excess heat was due to the use of titanium, Ming-Chi Kuo claimed and this sent the share price down, although the price has now climbed back up to the high $170s. There is a way to go before it reaches the high of $196.45 at the end of July, but the analysts keep pushing down. I prefer to look at the last 10 years rather than the last 24 hours. The aerospace industry and makers of racing cars use titanium, in part for its light weight and strength but also other properties like heat dissipation.
There was a scathing comment from John Gruber (Daring Fireball) on the speculation which seemed to mirror a handout from TSMC who make the 3nm chips Apple is using, but taking that at face value and not doing fact checking, caused negative speculation in the stock market. This is not the first time he has done this, nor is it the first time he has been wrong. Gruber ends with "Blaming it on the new titanium frame was just wild speculation on Kuo's part, and by all evidence is completely wrong. . . . If Kuo has any respect for accuracy or truth, as I'm sure he does, he'll issue a full retraction." I have not yet seen any apology.
With the release of Sonoma, iOS/iPadOS and the new iPhone there are several new features available, although I tend just to keep to the basics, appreciating any performance increases. As the features are reviewed, I do try some of them out, but rarely change how I work. For example, I looked at the new Action Button on the iPhone and the options that Apple provides, but ended up sticking with the sound On/Off. Ankur Thakur on iDownloadBlog has a list of 14 new features that have come to the iPhone with iOS 17, some of which are also available on the iPads. I had already tried a couple, but I have saved the page and will look in more detail later.

Recent rumors have insisted that after the release of the iPhone 15 there were to be no more announcements about new products this year. This week a note by Hartley Charlton (MacRumors) implied that changes to the way trade-ins work suggests that there could be new Macs on the way. Earlier in the year it was suggested that Macs with the M3 chip could be released, but that all seemed to fizzle out when "analyst Ming-Chi Kuo said that it seemed Apple will not launch new MacBook models with M3 series chips before the end of this year", and all we heard was that there was a possibility of a new iPad mini. Will Ming-Chi Kuo owe Apple another apology?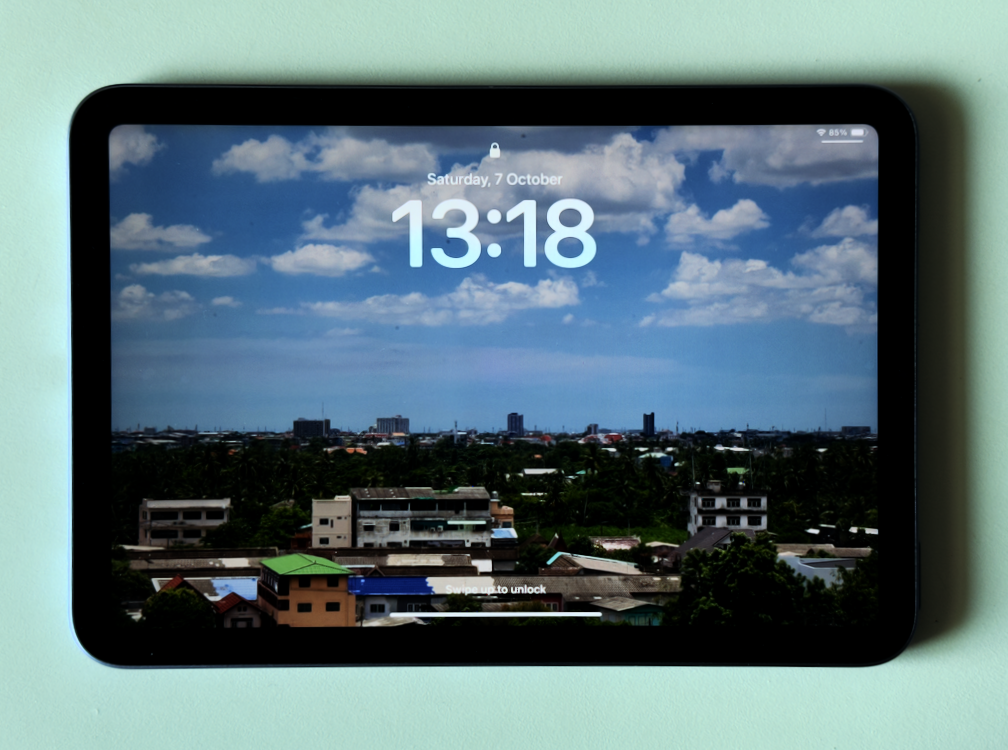 iPad mini - Generation 6

A couple of days after Charlton's report, Tim Hardwick (MacRumors) added some more information that had come from DigiTimes. We are now told that 14-inch and 16-inch MacBook Pro models with LCD displays will be coming soon. These are rumors still and not confirmed. However, Filipe Espósito (9to5Mac) suggests that the iPad mini 7 may be coming soon and there could also be a new entry-level iPad. Other devices, like the iPad Pro with M3 chip will be released soon, although the reports are not clear if these will be available this year or early next year.

I have now ordered the Apple Watch. That shows a delivery date of between 20 and 27 October. The current Apple Watch 6 is fine, apart from a slightly scratched screen, but what do you expect after 3 years hard use? You should see my cameras and the iPad case. The rumored metal case for the iPad Pro will be welcome in this house. Mind you, considering the bumps and scrapes on the current one, imagine the protection it has given the iPad Pro. Apart from the keyboard which has revolutionized my workflows, that cover has saved a lot of damage.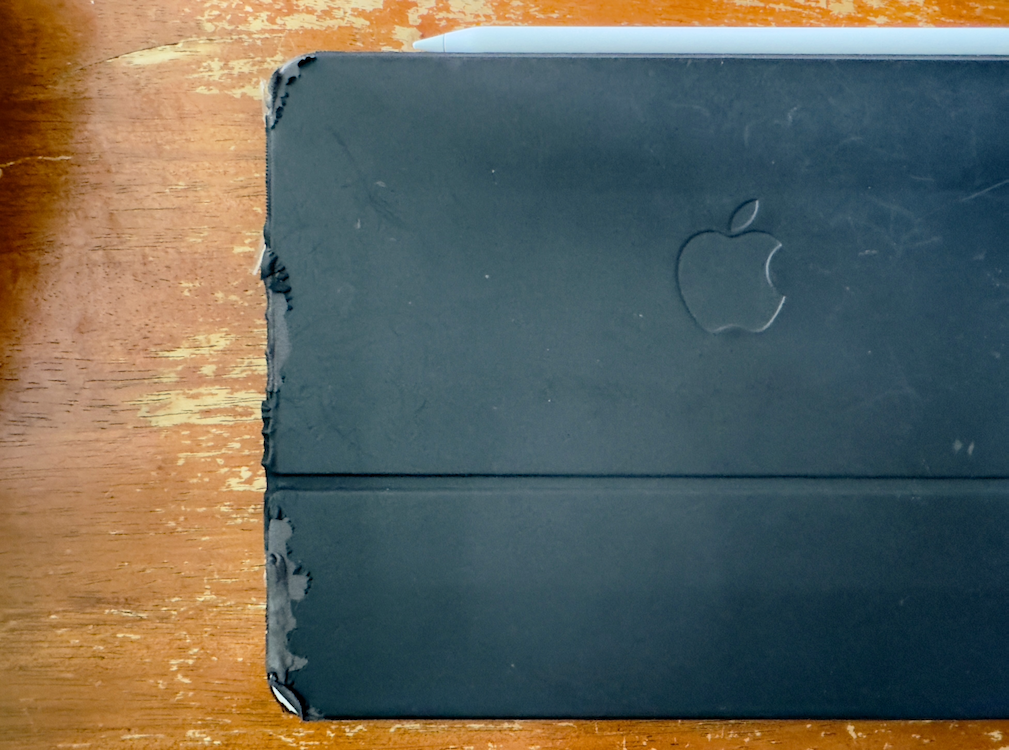 Hard working iPad Pro Smart Folio

Talking of deliveries, I use Siam Paragon often because there is a good selection of food that I like, especially cheeses and other non-Thai delights. There are some foods I am not able to find, although I came across a Pattaya-based site last year that had things like pork pies. The problem with that site was the online ordering. I gave up in the end. I also tried a bakery service, but the delivery arrangements were not effective.
Recently I saw a clear photo on Facebook of a new food delivery service based in Phuket: communication via LINE or What'sApp. I tried the latter and had a quick response. Questions I had in the absence of a website (under development) were answered right away and I ordered several cartons of frozen foods, plus pork pies, scotch eggs and sundry other pies that are not easily obtained here.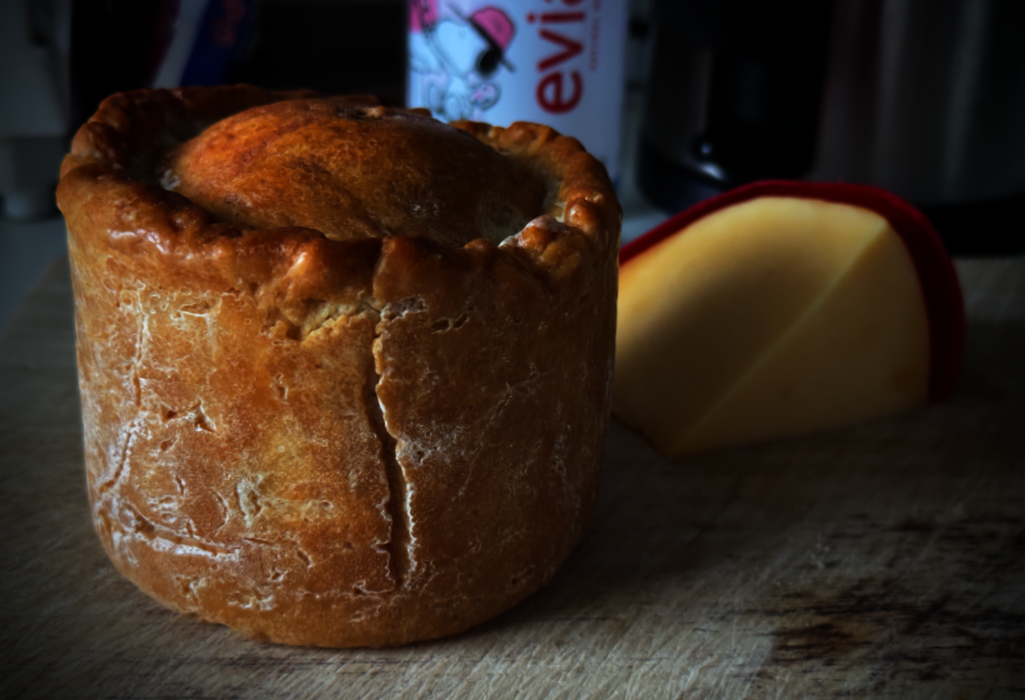 The frozen box was delivered Friday morning and apart from now needing a new fridge, I now have plenty of alternative foods that will go with my Thai favourites (like pad kapow) and the occasional junk food. The food is all vacuum wrapped and frozen. Within minutes of the package arriving I started work on a cottage pie. It needed more than the suggested time as my condo-provided microwave oven is not efficient (I found this when cooking whole potatoes). The result was more than acceptable. I also have liver, onions and bacon, sausages and onions, and chilli. These may be particularly British tastes.
I was also notified by Pad & Quill this weekend that the Pocket Book Wallet Case for the iPhone 15 Pro is on its way. I also had email from FedEx in Thai and English with similar information. I was disappointed when I bought the iPhone 13 Pro that the Folio case was no longer available from Apple. I liked that because it protected the screen and had space for credit cards and the cards I use for metro systems here. They do not work as well in the small wallet I use now. I bought a basic case for the iPhone 13 Pro, but this did not cover the screen (it seems to have survived).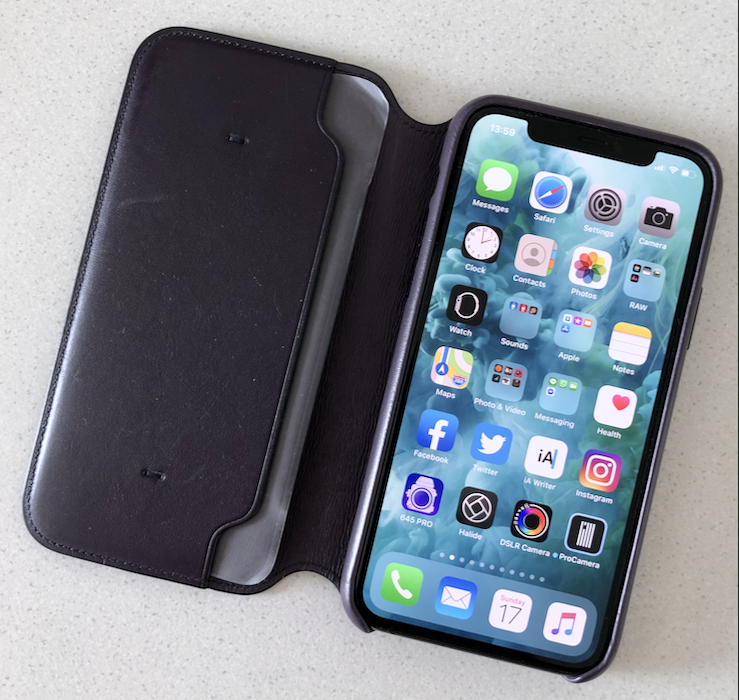 Older iPhone with Apple Folio case

Not only is Apple not offering a Folio case for the iPhone 15 Pro, but leather is out. The new FineWoven cases and Watch bands are in. Within a few hours of the announcements being made, Pad & Quill - from whom I had bought some Watch bands a couple of years back - sent me a regular posting and there was a new folio-style case. I waited until I had ordered the iPhone, then purchased the new case online. I understand the points about leather and pollution, but the skins keep coming as humans continue to eat beef. If not processed into leather, they would just end up in dumps, causing a different type of pollution. I could not imagine switching to plastic shoes, and there are other products that are better when made of leather. Plastic also causes pollution, as does the making of products from metals or other materials. The problem is humans.

Arriving on Netflix this week, the third (and final) series of the award-winning Lupin became available here. The series, in French with subtitles was a surprising hit when it first appeared. A couple of the French series have been worth watching, including Inhuman Resources with Eric Cantona - the former footballer who proved he could also act. The foreign language films and series that are available on Netflix here (German, Norwegian, Swedish, Danish, Belgian and more) have been hidden gems for me, although I wish more of the television from the UK was available, but copyright plays a part in that.
As well as the return of Slow Horses (1 December) in the new year, Apple TV will also see the arrival of "Masters of the Air", that follows the true story of an American bomber group in World War II from the team of Steven Spielberg, Tom Hanks and Gary Goetzman. They also produced "Band of Brothers" and "The Pacific". "Masters of the Air" is a drama that follows the true story of an American bomber group in World War II. It will be available January 26 with two episodes, with following episodes on Fridays through March 15, 2024 (David Snow, Cult of Mac). If it has anything like the approach of Band of Brothers, Pacific and Saving Private Ryan, this will look at the stories behind the story: something many of those fighting could never convey to those at home.
Graham K. Rogers teaches at the Faculty of Engineering, Mahidol University in Thailand. He wrote in the Bangkok Post, Database supplement on IT subjects. For the last seven years of Database he wrote a column on Apple and Macs. After 3 years writing a column in the Life supplement, he is now no longer associated with the Bangkok Post. He can be followed on Twitter (@extensions_th)
---

For further information, e-mail to
Back to eXtensions
Back to Home Page

All content copyright © G. K. Rogers 2023