Sunday Notes: Updates to Apple OS; New Versions of Affinity Applications; Excitement Outside the Apple-verse
By Graham K. Rogers
---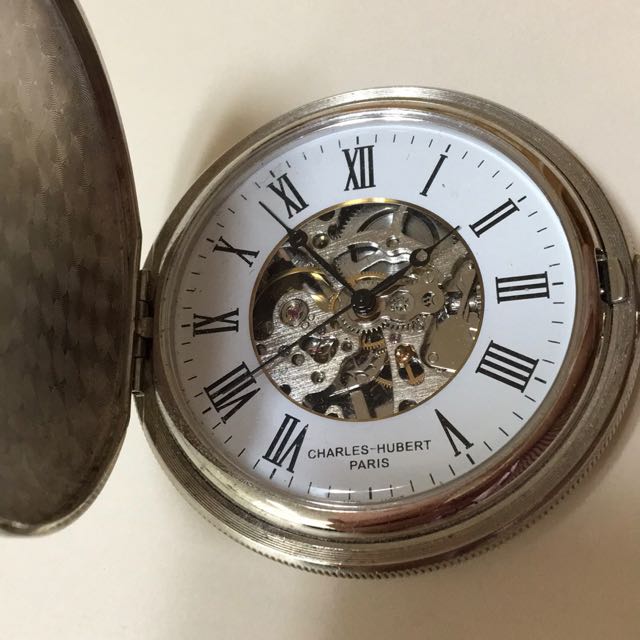 Apple put out updates to operating systems this week, mainly connected to security. Serif updated its Affinity applications with new features and reasonable, new pricing, but no subscription plans: a universal licence covers apps on Windows, Mac and iPad. I had some tech problems (soon overcome) when I erased my old Mac mini. The infallibility of tech leaders has been on display this week. Why do people think that rich folks are automatically bright; or right? Titanic, meet the iceberg.

This week has been far more exciting outside the Apple-verse, although there were the usual rumors about falling sales and other messages of doom. Sales of iPhones appear to be reduced because the factories in China are currently in lockdown (like the cities around them) so deliveries of components are restricted and output is less. To compensate, Foxconn plans to increase the production in India fourfold.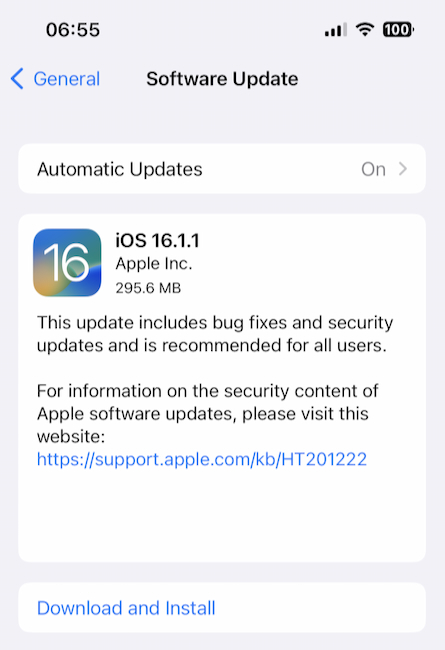 This is interesting for a number of reasons: Apple is beginning to wean itself off reliance on China, while other countries in Asia are now being added to the list of places where Apple products are being manufactured or assembled. These include Vietnam and some sources suggest Thailand, although this has long been a location where some electronics accessories have been produced. The increased Apple presence in the country in recent years will help.
Apple released a number of updates for its operating systems this week, notably the iPad and iPhone (v16.1.1) and the Mac (v13.0.1). Releases were mainly concerned with security and bug fixes, but those security updates were quite important.
As hoakley (Eclectic Light Company) writes, ""This addresses two vulnerabilities in libxml2, both of which are remotely executable" and adds more detailed information about the update including a firmware change for some Intel Macs. The next day, the same source also mentioned updates to XProtect and XProtect Remediator: "security software for Macs running Catalina or later".

As had been expected after last week's teaser, Serif Software put out updated versions of Affinity Photo, Affinity Designer and Affinity Publisher. Version 2 of these apps can all run on Windows, Mac and iPad. Mercifully they did not follow the recent moves to subscriptions, but instead put the software out at a reasonable price. Also offered was a surprise Universal Licence that allows the software (one or all, depending on user choice) to be used on all three platforms.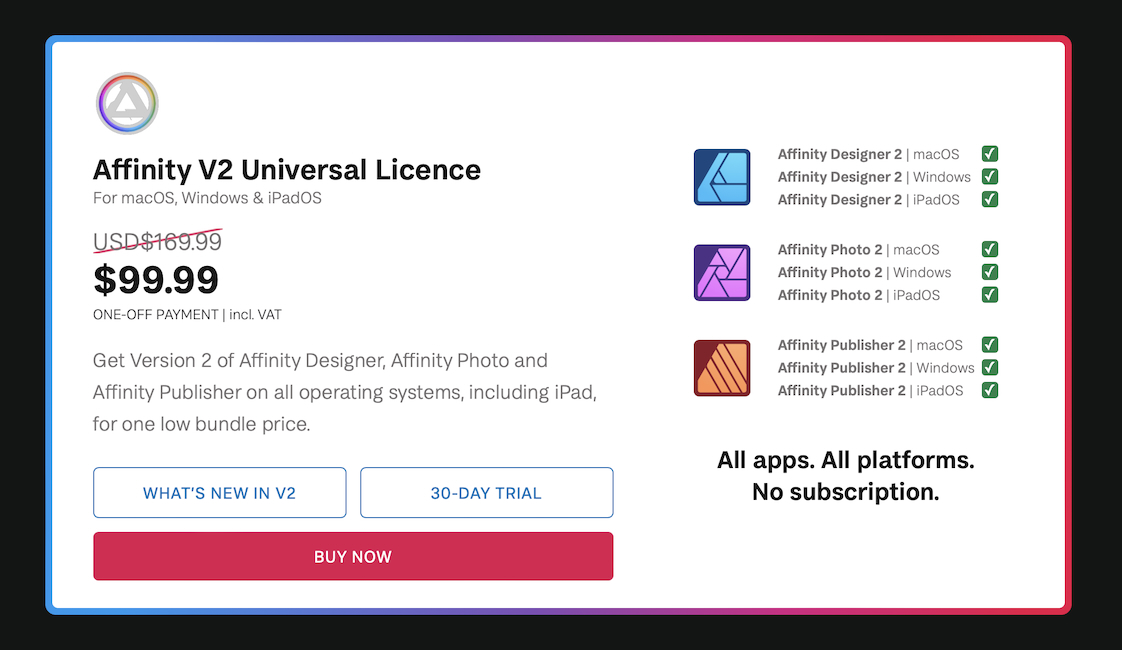 Affinity Universal Licence - screen shot

The full price of this is $169.99 (in app purchase) but is currently on offer at $99.99. I bought Affinity Photo 2 for the iPad ($69.99) at its offer price of $40.99, which was a reasonable 429 baht here. Early on I had a problem finding this on the iTunes Store here, but clicked through from the Serif/Affinity pages to download my 30-day trial, although I made the upgrade payment right away. Jaron Schneider on PetaPixel had a good early overview of the new Affinity Photo.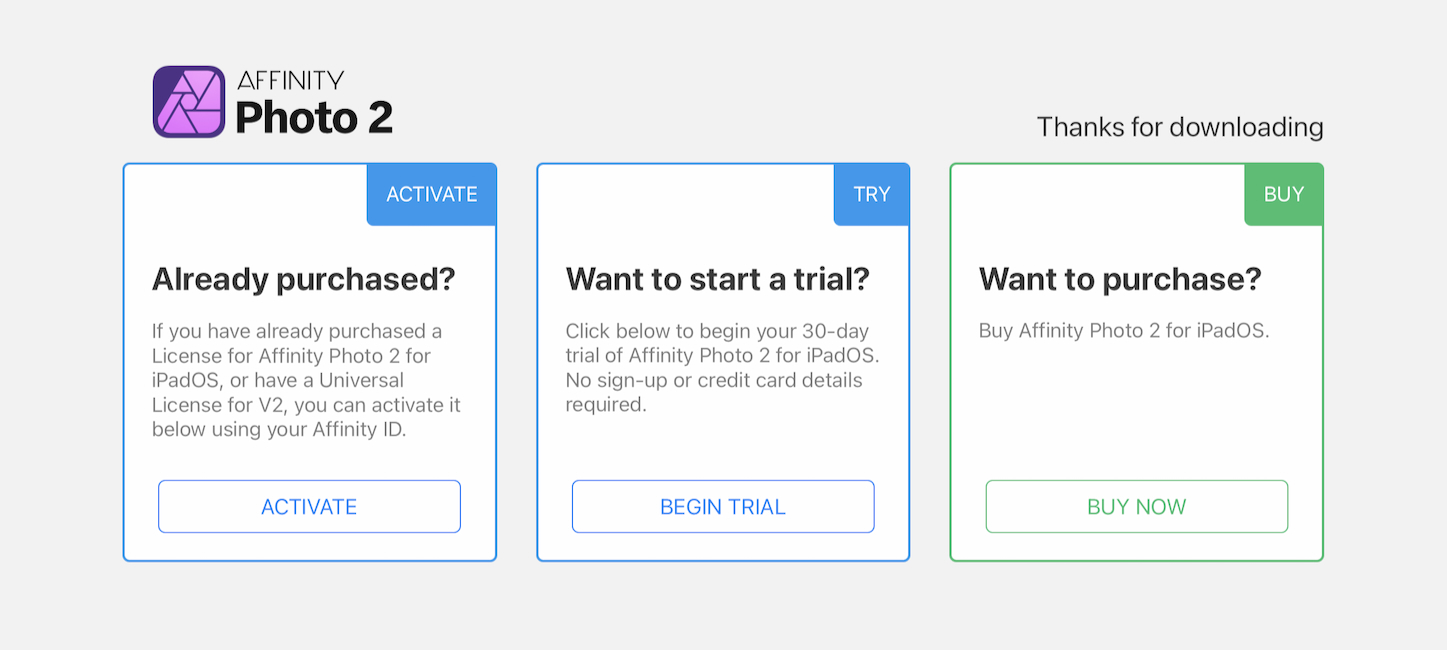 Affinity activation - screen shot

Once downloaded I started to take a look at this app that some think of as a useful Photoshop replacement, along with Pixelmator Pro. The range of tools available is wide: there are more than I need. There is an enthusiastic user base so plenty of assistance is available online. One of the things I like is access to Apple Photos direct from an image editing app. Pixelmator Photo allows this and so does the original Affinity Photo. With the redesigned interface, which one commentator was a little critical of (especially the Repair tool), there is some learning to do and some features have been moved about.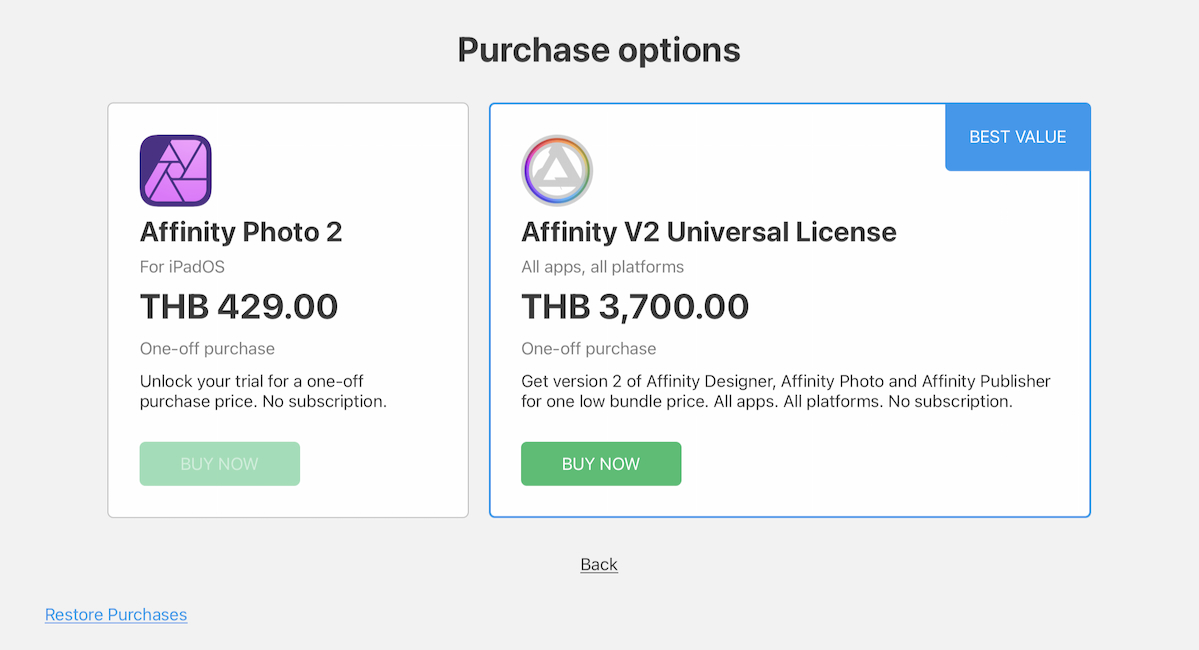 Affinity activation (local pricing) - screen shot

However, I was unable to find access to Photos in the Import menu, or in New, which offered a number of setup options. I hunted in the FAQs, I looked in Help files, I tried the Forums, but after an hour I was ready to give up and write an email. I took one last look in a Bug Reports forum and saw that I was not the only one having this problem. And there was the solution: a long press on the New option revealed a menu that had several ways to create a new file, including from Photos. That was well hidden.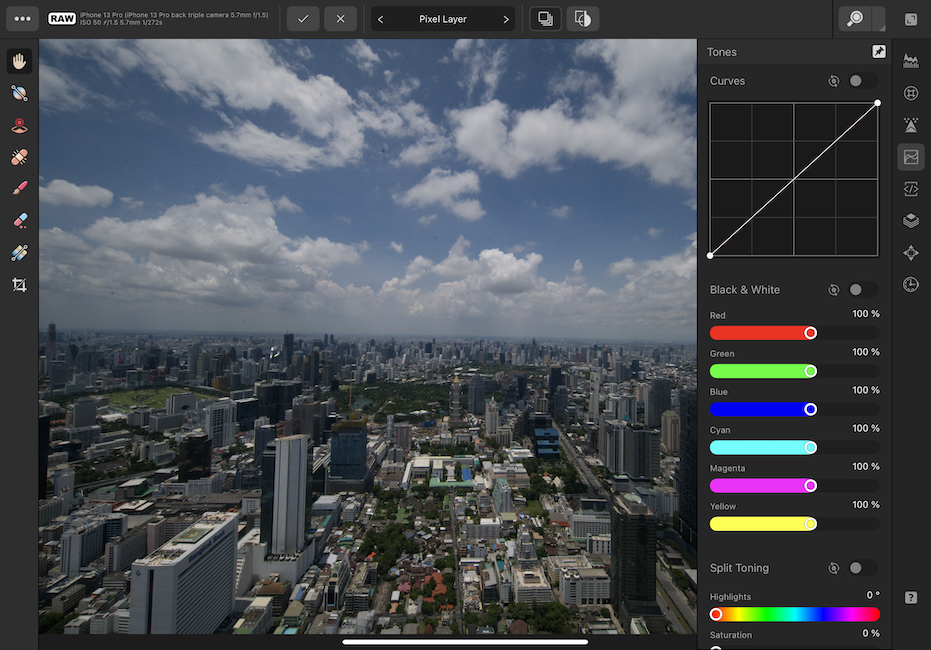 Affinity Photo 2 editing screen


I decided to wipe my old Mac mini preparatory to giving it away. Although I had followed instructions about removing it from Find My, it was still there and I was able to send a sound (making sure I had the right one) from the MacBook Pro. I set about erasing the disk but managed to shortcut that by an erase option when I restarted it: I must have checked something in Find My when I finally removed it from that list. That left me with an almost-dead Mac which was close to what I wanted, but I had to figure out how to install a version of macOS so that someone could start it up again. I needed an Internet connection but the ethernet cable was too short. I shut it all down and went to bed.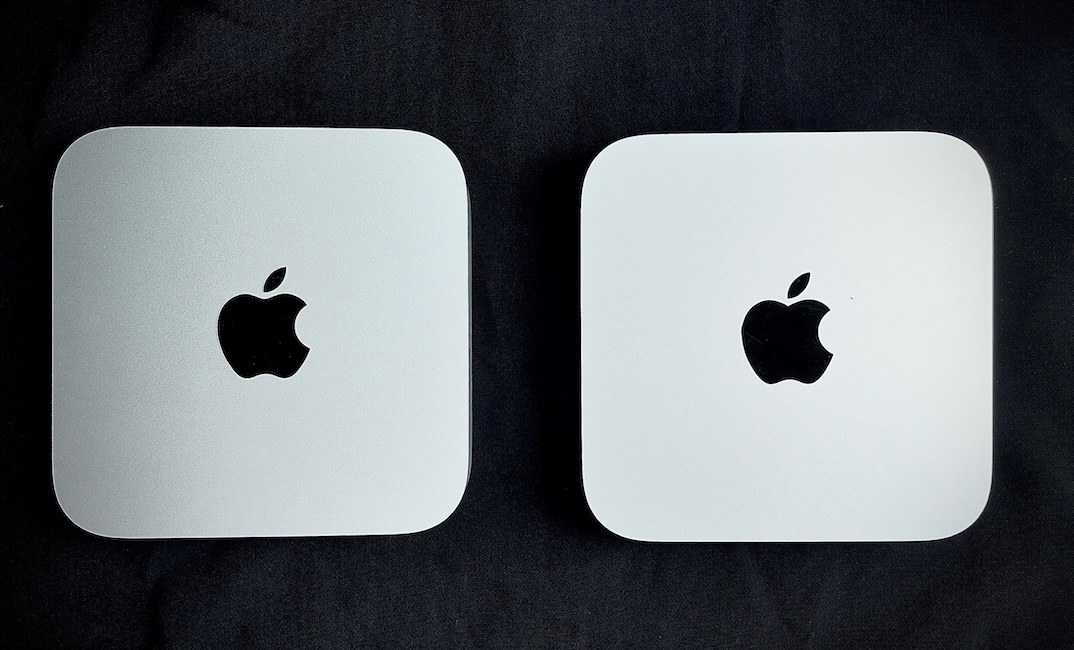 M1 Mac mini (right) and 2014 Intel Mini

The next morning I moved the screen, the Mac mini, keyboard and mouse onto a small table near the internet router and plugged it all in. It still showed the ? in a folder and a link to the relevant Apple source I needed. Scratch head, check YouTube. The trick was in the start up. I tried Option+Command+R first, but after entering the wifi password (I did not need the ethernet cable after all), I saw a globe on a black screen with no obvious sign that anything was happening.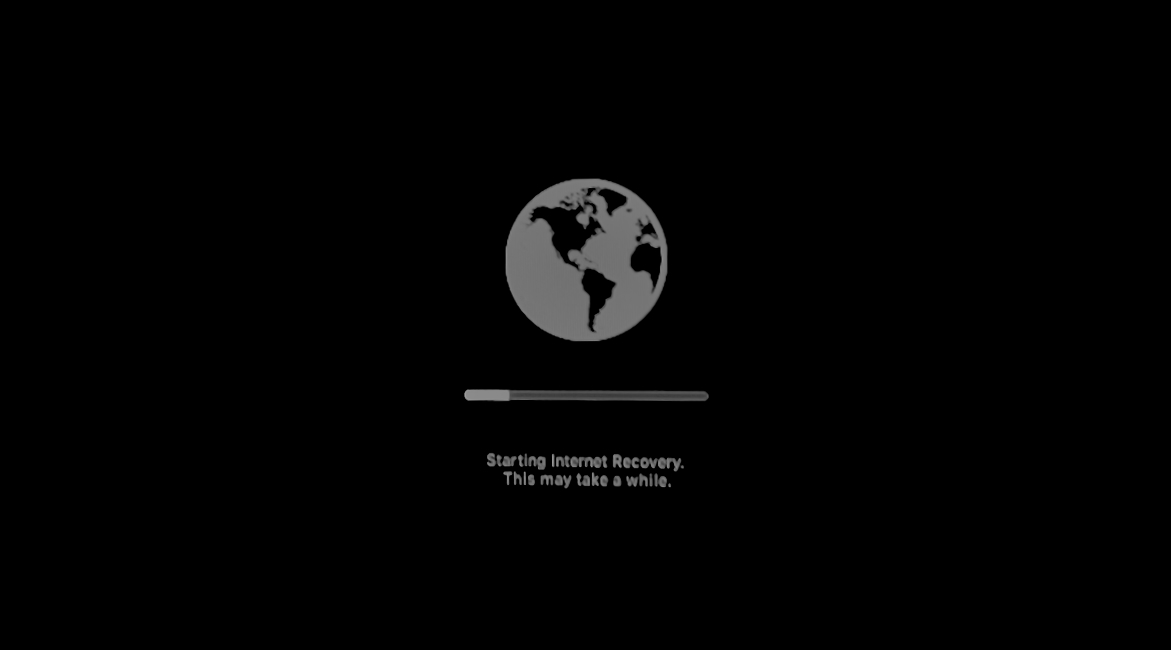 I tried again with Command+R and this time after entering the wifi password there was a download in the background. After a few minutes I had the Rescue menu. I selected Install a new version of macOS and was offered an older version: Yosemite; what it came with initially. That will need updating to a more recent version of macOS.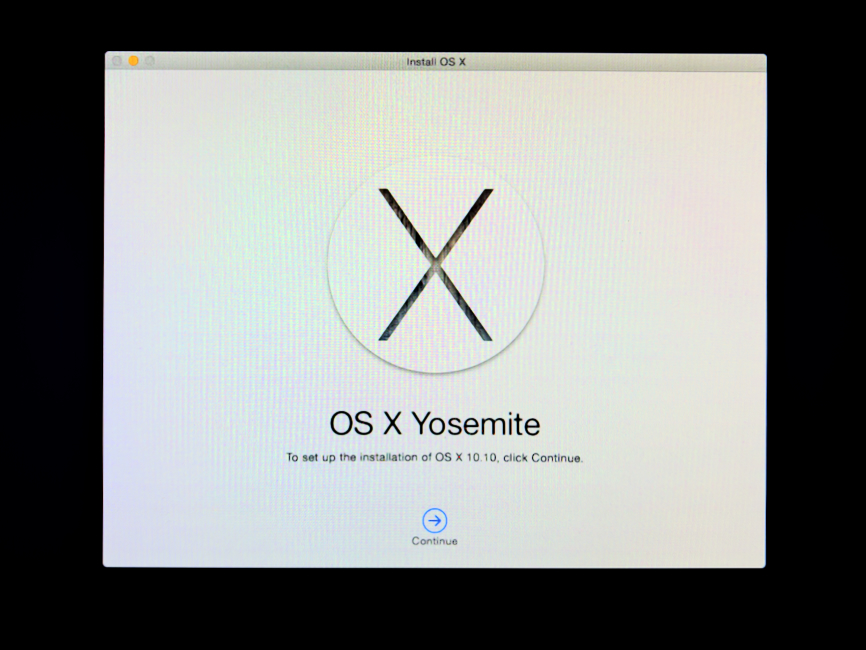 I agreed to the Terms & Conditions but there was no disk shown on which to install the OS. Back to the main menu and Disk Utility where I repartitioned and named the disk. This time the installer recognised it and the process begun. I ended up with a version of Yosemite and the App Store did feed me a couple of related updates. However, when I tried to update to Monterey (the last version of macOS that this Mac mini can support) I needed to sign in to iTunes. As this is intended to be a clean install with no reference to me or my other devices, I left that for whosever takes it off my hands.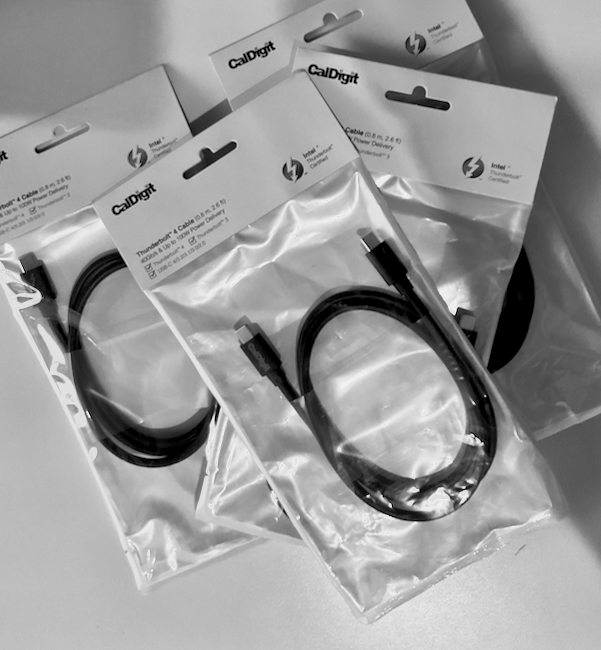 CalDigit Thunderbolt 4 cables

While I was working on the older Mac mini, a delivery of Thunderbolt 4 cables arrived from CalDigit. As I now have two Macs with USB-C ports as well as iPad Pro and iPad mini, I had found myself swapping cables from other devices from time to time. This should fix that for now.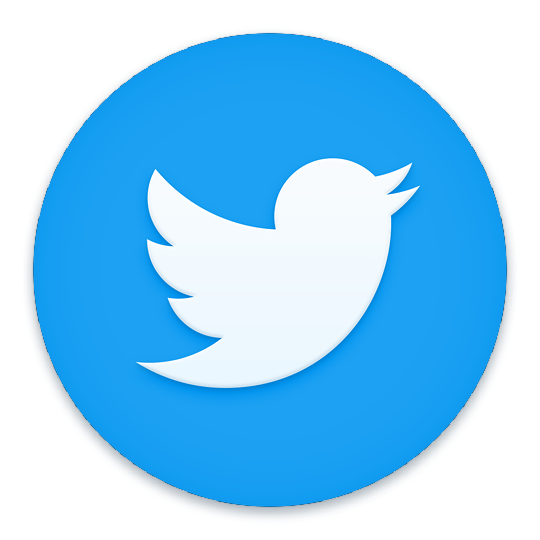 The real excitement of the week started with Elon Must and Twitter with the question about whether there were to be blue ticks or not, then subscriptions or not, while in the background, having sacked many members of Twitter staff, but asking some back when it was released they might be needed after all, it was noted at the weekend that some other members of staff are handing in resignation letters as fast as they can type them out. Musk also sold a large tranche of Tesla shares this week to staunch the bleeding at Twitter.
I have often wondered about rich people, particularly heads of companies, who are automatically presumed to be smart because of who they are. On TV and in online sources we are feed a diet of Ballmer, Bezos, Branson, Gates, Musk, Thiel, et al who sometimes make the most alarming pronouncements and may have some other problems as well. How many times did Gates visit Jeffrey Epstein, for example; and what will Thiel do if he gets his hands on the British NHS? Musk's erratic pronouncements are no surprise to those who live here who remember him from the Cave Rescue. The SET has also had some words about his behavior in the past with regards to Tesla.
A Bloomberg newsletter mentions this phenomenon about CEOs which is sometimes called the "cult of the founder" - they are given so much leeway they think they cannot go wrong. The newsletter also mentions Adam Neumann (WeWork), but Musk seems to be even further out on a limb. The whole thing is still ongoing with some even thinking his intent was to destroy Twitter. If so, he is well on the way. A late note from Thom Dunn (BoingBoing) points out the free speech irony of Twitter censoring an article that was critical of Musk

The other infallible leader in the headlines this week is Mark Zuckerberg who, in my opinion, has been heading for a fall for a number of years. They just never realized, while Zuckerberg convinced himself that all was well, despite a number of warning signs, even before Meta was announced. That announcement and the accompanying video was my signal to close my FB account. If no one has the balls to tell Zuckerberg how bad that was, there is little hope for the company. I had already been teaching students about the ethics of the company with the ways data was used (even when Facebook denied it) to change political directions and sway opinions. An inevitable consequence was the death under some pressure (not suicide) of that unfortunate schoolgirl in the UK. She died 5 years ago, but the inquest was this year (Dan Milmo, Guardian).
Zuckerberg however, was convinced - is still convinced - that the answer is the metaverse and has thrown everything into this, perhaps even the company. To recycle an old joke, "If the metaverse is the answer, it was a stupid question." While Musk shocked everyone by sacking (initially) some 7500 Twitter staff, Zuckerberg exceeded that by far with a surprise announcement this week that Meta was to "let go" some 11,000 workers owing to a revenue collapse. I cannot print my response when I first read of this 13% workforce reduction in iMore on Wednesday (Stephen Warwick).
Meta thought that the Covid uptick would be permanent. Don't they read history? Those affected, "will get 16 weeks severance plus two weeks for every year of service, six months of health insurance, career services, and immigration support." In the Guardian, Alex Hearn writes that Meta will "continue backing the company's controversial multibillion-dollar bet on virtual reality, saying the metaverse project was a "high-priority growth area"." Titanic, meet the iceberg.
That growth area has sucked in some $10 billion so far, but I am not Zuckerberg and do not see what he sees. Does anyone? This sounds like the emperor's new clothes; or King Lear; or any demagogue who only sees the alternative reality he (it is always, "he") wants to see. Despite the black hole of the developing metaverse, Zuckerberg still blames Apple for the reduced income. Facebook reached a peak a few years ago and attempts to spur growth have been wasted since. The metaverse may simply hasten the decline.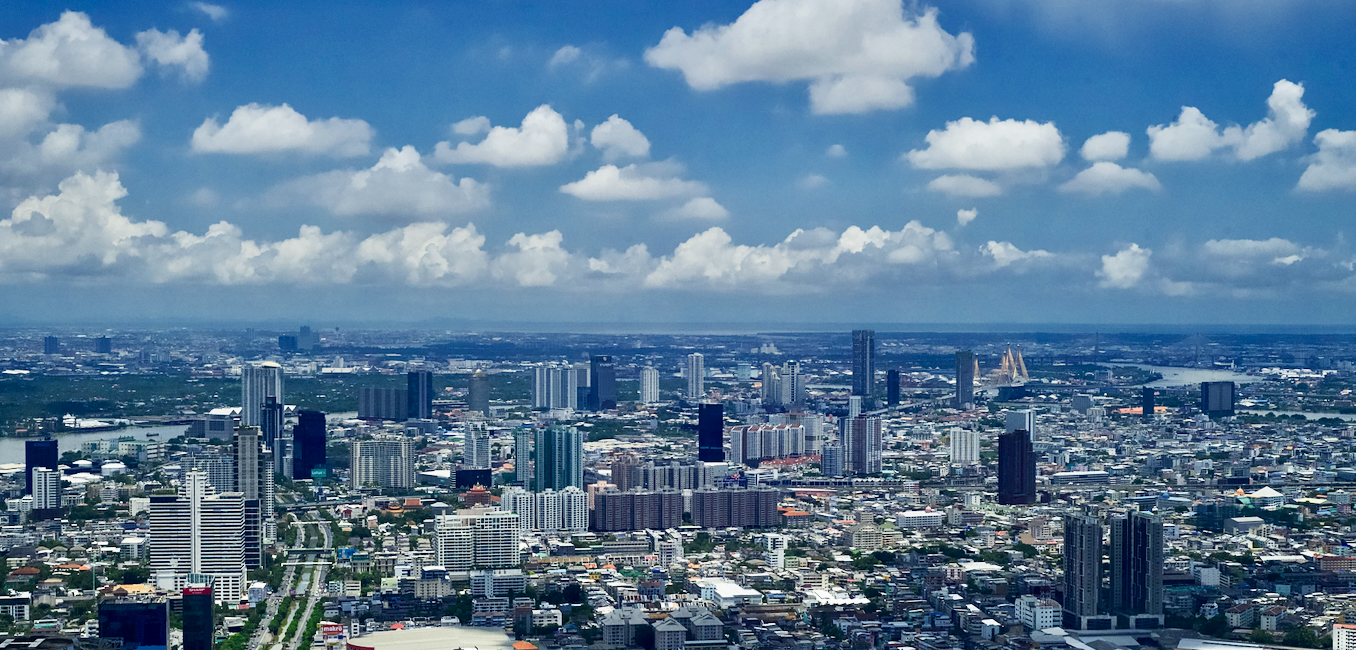 Graham K. Rogers teaches at the Faculty of Engineering, Mahidol University in Thailand. He wrote in the Bangkok Post, Database supplement on IT subjects. For the last seven years of Database he wrote a column on Apple and Macs. After 3 years writing a column in the Life supplement, he is now no longer associated with the Bangkok Post. He can be followed on Twitter (@extensions_th)