Notes on Cameras and Film; Clandestine Holocaust Photographers; Sensor Fingerprints (Amended)
By Graham K. Rogers
---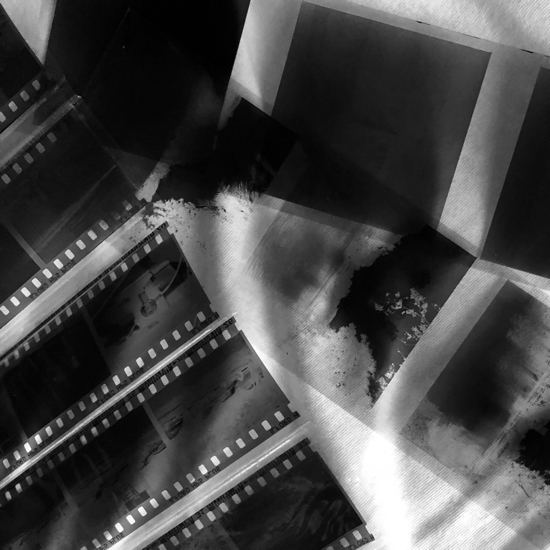 The world of cameras has changed since the advent of the smartphone. Like film, DSLR cameras are fading now that mirrorless cameras are firmly established. Companies are making some uncomfortable decisions. The DSLR is not quite dead yet; and nor os film with new films arriving, although there are precious few new film cameras: used examples are increasing in price. In Nazi death camps some brave souls took photographs secretly and these are now the subject of a documentary. Fingerprints are unique, striations on a bullet can identify a gun, but it may now be possible to show which camera took specific images through the noise created by the sensor.

Earlier this week there was a report about the future of Nikon, with the news that the company was to exit the DSLR market according to Nikkei Asia (Matt Growcoot, PetaPixel). There has obviously been some reduction in the sales of DSLR cameras and mirrorless cameras have seen considerable gains. Nikon has not had a good run in the last couple of years and the company had begun to react to the events: Covid (affecting everyone); smartphone ascendancy; a factory fire in Japan; moving production to Thailand; and failing to react quickly enough to the arrival of mirrorless cameras. With its other divisions, Nikon is relatively healthy, but the camera business has needed change for a while.
Nikon had admitted this in its own reports, however, this news about the end of its DSLR involvement was still a surprise although the end was not likely to be immediate. The report added that Nikon would continue the production and distribution of existing DSLR models, but mirrorless would be the future. Nikon also stated that the Nikkei article was speculation. There was additional confirmation the following day with a report from Haje Jan Kamps (TechCrunch) that had a statement from Nikon about the continuation of DSLR production and confirmation that the article that had begun the rumors was speculation. Nikkei has put out similar speculative articles about Apple in the past.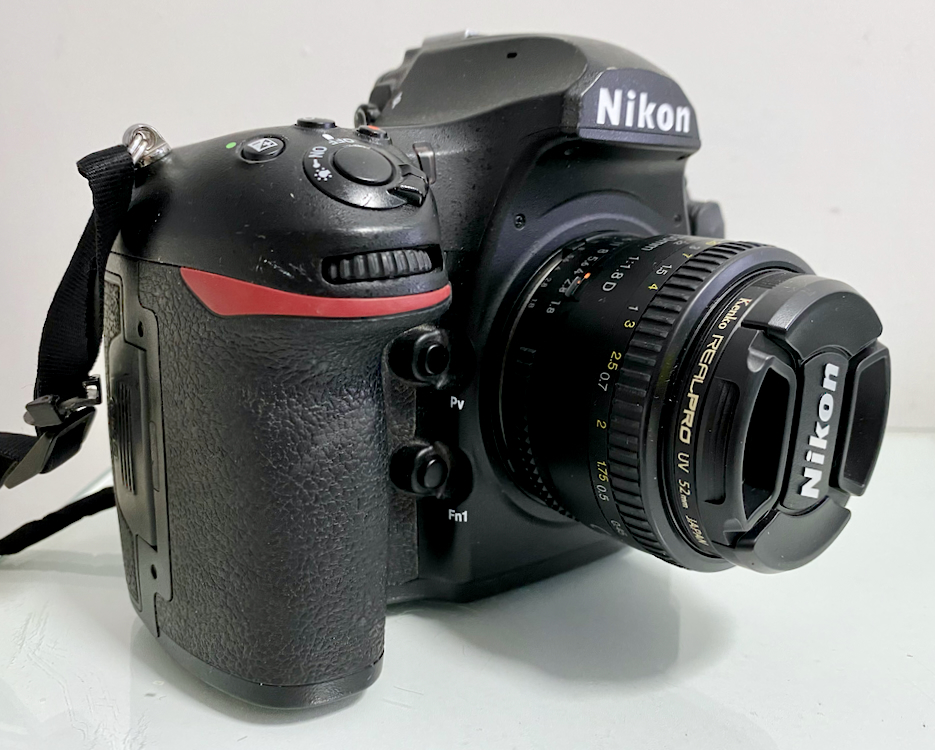 Nikon D850

Nikon has made many excellent cameras over the years and its F-mount devices (film and digital) are legendary. My main digital camera is the D850 which was voted the best camera ever in rankings and by several reviewers. I bought one soon after they became available here (before the USA - they are made just up the road) and, although I knew what I should expect from the output, was still impressed. With one of two exceptions, I can use most of the lenses on my F3 as well. I had the FM2 as well, but gave that to my sister.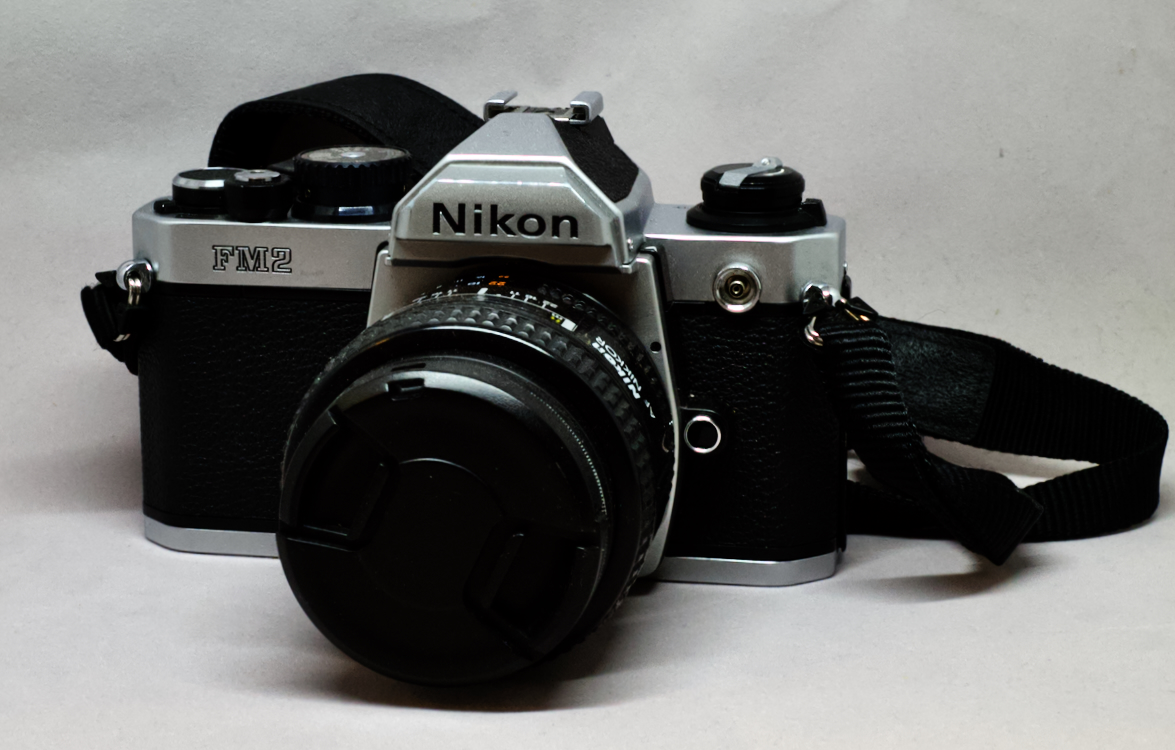 Nikon FM2

Not long after I bought the D850, two other cameras appeared that I would also have considered if the timing had been different: the Nikon Z7 with the same 45.7MP sensor (the 24.6MP Z6 was released at the same time); and the Hasselblad X1D - 50c, which has a slightly larger sensor with a maximum 8272 x 6200 (51.3MP). The Hasselblad also has a somewhat higher price. That and the Z7 would have meant me buying new lenses (or using an adapter). Now Nikon has released the Z9: a newly designed mirrorless camera, which has built on past experience, including user feedback.
The Z9 was released in December 2021 by Nikon and since then there have been several highly positive reviews. Rather than relying on existing technology, it has a newly developed stacked 45.7 megapixel CMOS sensor as well as a number of software changes that improve image handling. Jack Alexander (FStoppers) has had a long look at this new camera and with information from Nikon staff outlines how the camera was developed. The company regarded its DSLR D6 as the best camera it had made and the approach was to best this, but despite the limited time available, they were careful not to lose sight of the user's perspective. This is a fairly long article but worth reading through with the insights it provides.

That was an interesting point for me regarding Nikon's concern about the user as the decision on my first DSLR, the D70, was personal. I had narrowed the choice down (partly due to cost) to the D70 and the equivalent Canon. I was able to try both out at a camera store and the way the Nikon felt in the hand was the main deciding factor, even with the Canon's superior quietness. Nikon did later fix that although the Canon is still better in that respect. After a burglary I replaced the D70 with the D70S which only stopped working (circuits) a year or two back.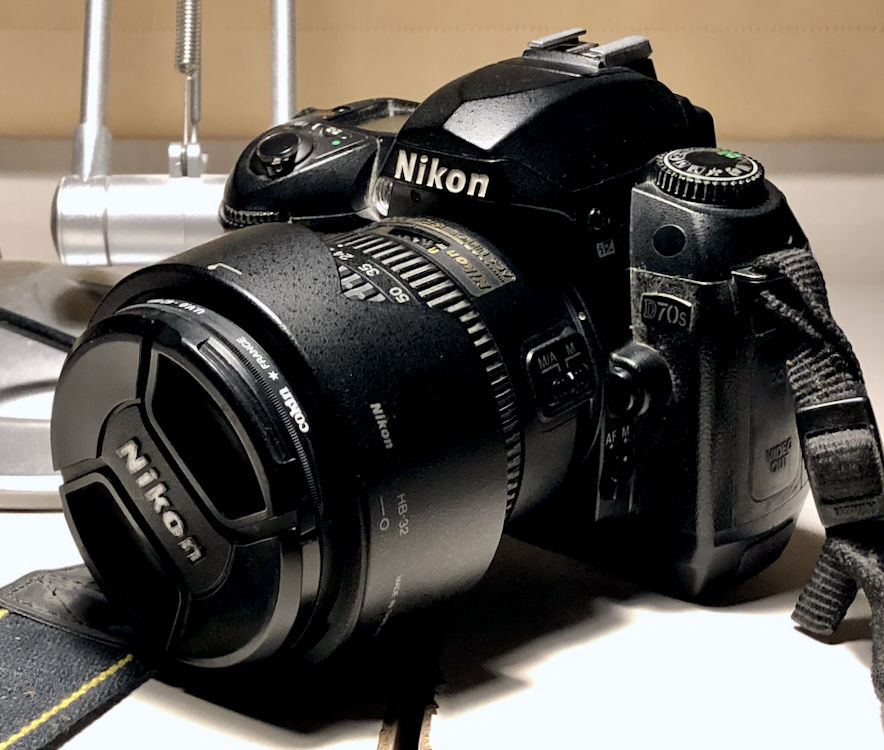 Nikon D70S

The FStoppers report also comments on the concern Nikon had with regard to the camera's video output. I am aware that many use such features although I have to admit it leaves me cold. I wish the camera makers would produce alternative versions without video. With my usage, this is mostly a wasted feature. While time lapse photography (Interval Timer Shooting) is a stills photography feature, it needs some editing afterwards. The Time-lapse movie is much easier, although for what I need, I might just as well use the iPhone. I have no other need for movie-making capabilities on my camera.
These days I take fewer photographs with the DSLR, despite its excellent capabilities. In the last 5 years or so, I have returned to film and have a few cameras. A couple are 35mm but most are medium format: Hasselblad, Rolleiflex, Pentacon and others. These produce square format (6x6) images, although I do have one 6x9 camera. With film I mostly use black and white film. I am able to imagine the shadows, contrasts and brightness when taking pictures. When I need color, for example with the bright green rice fields in my area, the Nikon is excellent. Although I used film as a child and in my early teens (there was nothing else) going back to this medium has slowed me down: in a good way. Consider the scene before taking the shot. With DSLR I could just press the button and take a burst at no extra cost, except in terms of time when it came to selecting the better shot from such a series.
That measured approach to film photography has trickled down to the DSLR use. I do not know if it has made me a better photographer. I take pictures for myself, with no commercial considerations apart from the occasional product shot for my website. I am more content with the output from the D850 and have certainly improved my film output, at least as far as my subjective view is concerned.

With Nikon (and reportedly Canon too) soon to cease development of DSLR camera, there will be a limited number of companies still in that market. Mike Smith (PetaPixel) reports that this could be good news for Pentax as this company is firmly committed to the DSLR. It did have mirrorless models and was one of the first camera makes to develop such devices under previous ownership. Now it sells only DSLR and with a limited market may have it all to itself soon.
That may not be such a bad thing when we consider there are other specialist makers like Hasselblad (also with a high end mirrorless camera - see above) and Phase One who are both selling top range (and high priced) devices to photographers who know exactly what they want. With their excellent lenses, Pentax may have a limited success story on their hands.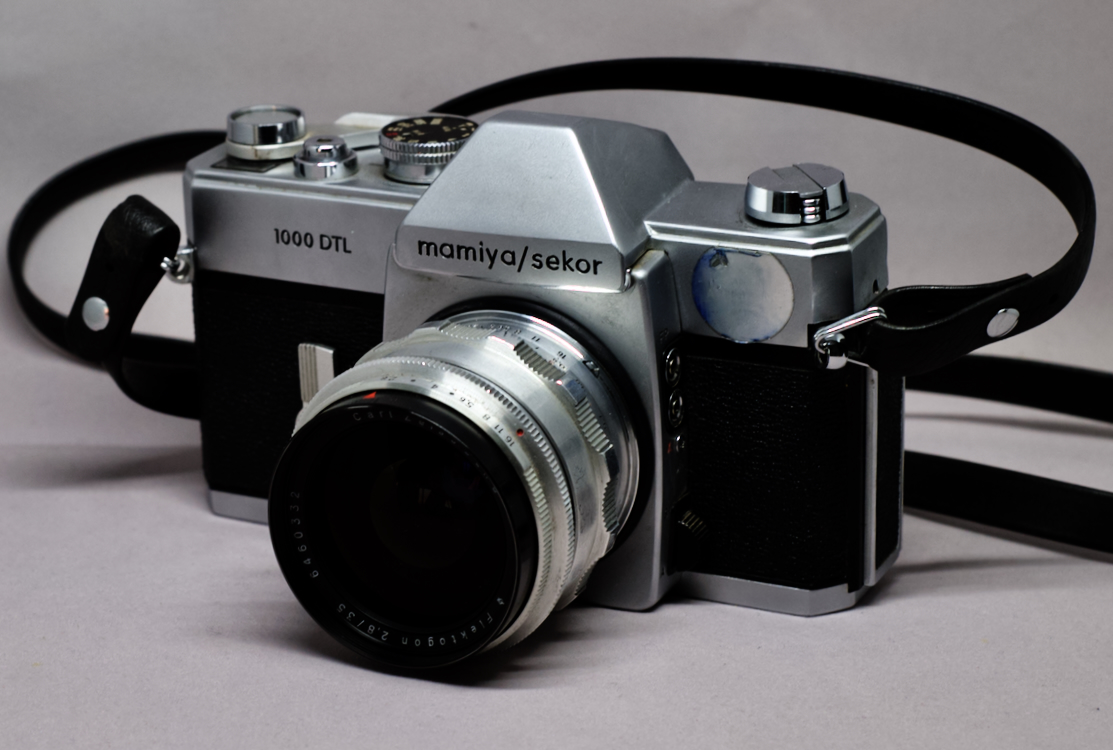 Mamiya/Sekor 1000 DTL

New film cameras are few and far between these days. These are mainly made by specialist manufacturers and likely to be expensive. Oddly, Nikon stopped selling its last film camera only a few months ago. The F6 was a bit bulky for me (and rather expensive), especially when compared with Nikon's iconic F2 and F3 models. While the number and type of films has increased significantly in recent years, the number of cameras has reduced, putting a premium on used models. Prices on eBay have risen considerably, particularly in the last 2 years. Failing to react properly to the arrival of digital technology - although the company held many of the early patents - Kodak is now a shadow of what it once was. Through some financial reorganisation, the film side still exists although some of the most famous films are no longer available.
My own favourite is Ilford and, despite some problems, including Covid, the company still continues at what it does best: producing a good range of black and white films, even adding a new film recently: Ortho 80. I tried this and was pleased with the results, but with the ISO there are limits. I used Ilford films when I was a kid and still do. While I have a range of Ilford products I use, such as FP4 (125), HP5 (400) and PanF Plus (50), I tend to use SFX200 when it is available.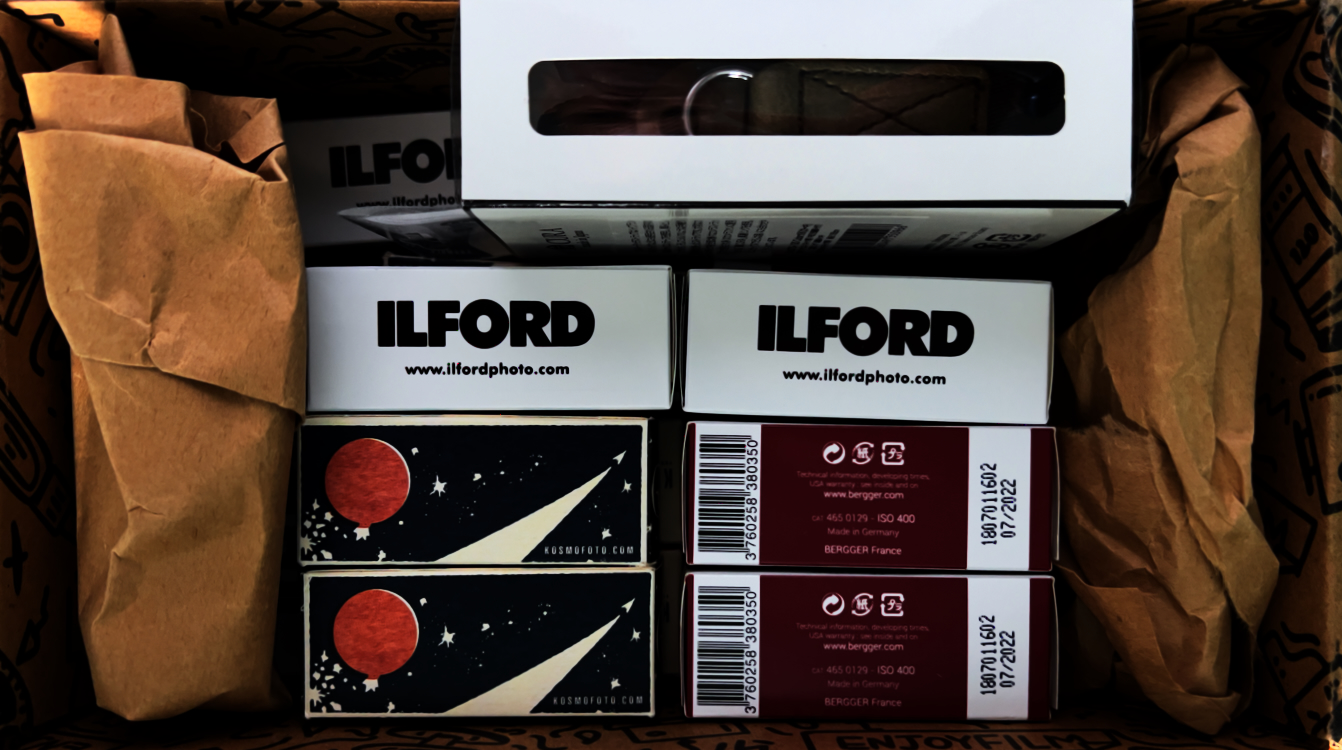 Delivery of films: Ilford, KosmoFoto Mono 100 and Bergger Pancro 400

The Ortho Plus and PanF Plus are not the lowest ISO numbers I have used. When I saw that Lomography, whose films are popular among young people, had released Fantôme Kino ISO 8 - a ridiculously low ISO for general work, but guaranteed to have high contrast. Although this was only available as 35mm (not for the 120 - medium format), I had to try my cameras to see which would be suitable. The Nikon F3 had a lowest setting of 12, but with +2 stops (according to EM of the Emulsive site) that would be the right setting. The results were mixed but gave me a certain Bangkok noir output that was not as ridiculous as I had expected. I wrote a longer comment on this for Emulsive: 5 Frames... Of Fantôme Kino ISO 8 with a Nikon F3 (35mm Format / EI 8 / Nikkor 50mm f/1.4 AI-S). I still have 3 rolls in the fridge.

Despite the lack of new cameras, some recognise that there is a market for a retro look. Jon Stapley at Digital World recently looked at 10 retro style cameras, including the Hasselblad digital back that would fit on my Hasselblads if it were not so expensive. First in the list was the Nikon Z fc - part of the mirrorless Z series, with the Z mount and a 20.9MP APS-C sensor. Although Stapley marks this up as a beginner to intermediate camera, you have to start somewhere and there is no point buying a Leica if you don't enjoy taking photographs.
Christopher Malcolm (FStoppers) commented positively on the Z fc this week explaining how the camera had brought a new joy into his photo workflow. Despite a lot of professional camera gear he explains the practical advantages. As Leica owners know, a discreet camera has advantages. Try creeping up on a street scene with a Hasselblad: a Rolleiflex is much better. Malcolm explains that "the Z fc just seems like something I put on the same way I would a necklace or a really cool watch."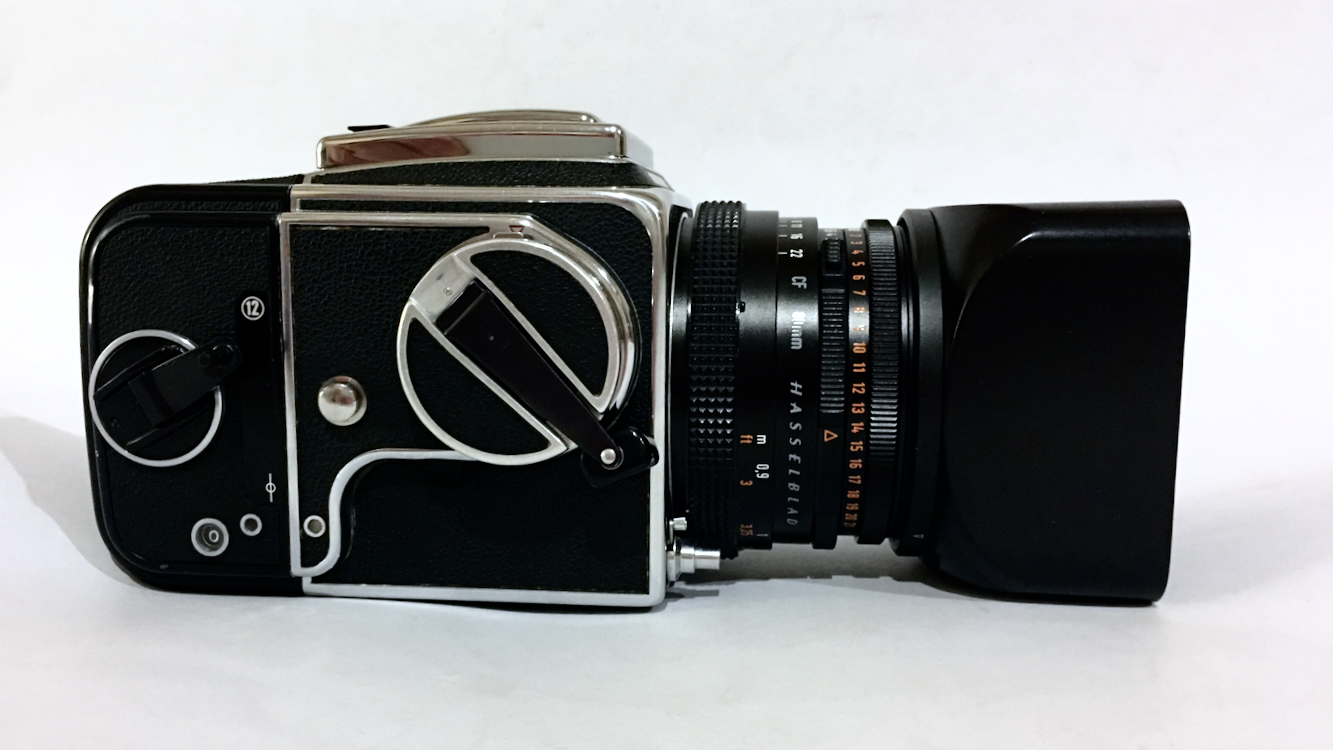 Haselblad 500c/m

Being able to take photographs without being detected is a clear advantage for those seeking candid shots; but when your life depends on it, it may be necessary to take this to unusual lengths. I went to Dachau in 1977 and what I experienced there made me think differently. I was stunned, for example, by the width of the oven doors: only one by one - not shovelling in several bodies at a time - was possible. Matt Growcoot (PetaPixel) reports on a soon-to-arrive documentary behind secret and unauthorized photographs of the Holocaust that concentration camp inmates clandestinely took during WW2.
The cameras were wrapped in newspapers so the photographer would not be able to set up a specific shot, just point the camera in the right direction. Even the trailer for From Where They Stood shows some important images. Growcoot writes that "The film is in theaters now and will come to digital in mid-September" although this is not listed for Netflix here (as yet).

While we are on cameras, we know that it is possible to track smartphone users in various ways, but Matt Growcoot (PetaPixel) now reports that sensor imperfections can allow tracking (or identification) of cameras. The noise created by the sensor - the part that records the digital image - is unique, according to research carried out at the University of Groningen. While being called a "fingerprint" to make the concept easier to understand, research has found a way to extract and classify the noise from an image or a video that can identify a specific camera. The technology was investigated as a way to track down the creators of child pornography. However, as with any such discovery, it can be used and perhaps abused, as was alleged when Apple outlined its plans for CSAM image identification. This discovery can also be used to help photographers when there are copyright questions.
A better analogy than the fingerprint is the idea of the grooves on a bullet: the gun creates striations on the bullet material as it is fired. It is these imperfections from the gun that can be used to identify the gun a bullet was fired from. No two sensors are the same as, despite the efforts of the manufacturers, there are minor imperfections on the silicon. These are so small that they are not visible to the eye, but the noise in the image can be linked back to a specific sensor. A researcher said that this noise "can be unique to a brand of cameras, to a specific type, and to individual cameras".
With film cameras, the mechanical parts on older devices, light leaks, or defects in the lenses can also be used to identify the camera (and hence the user) that took a picture.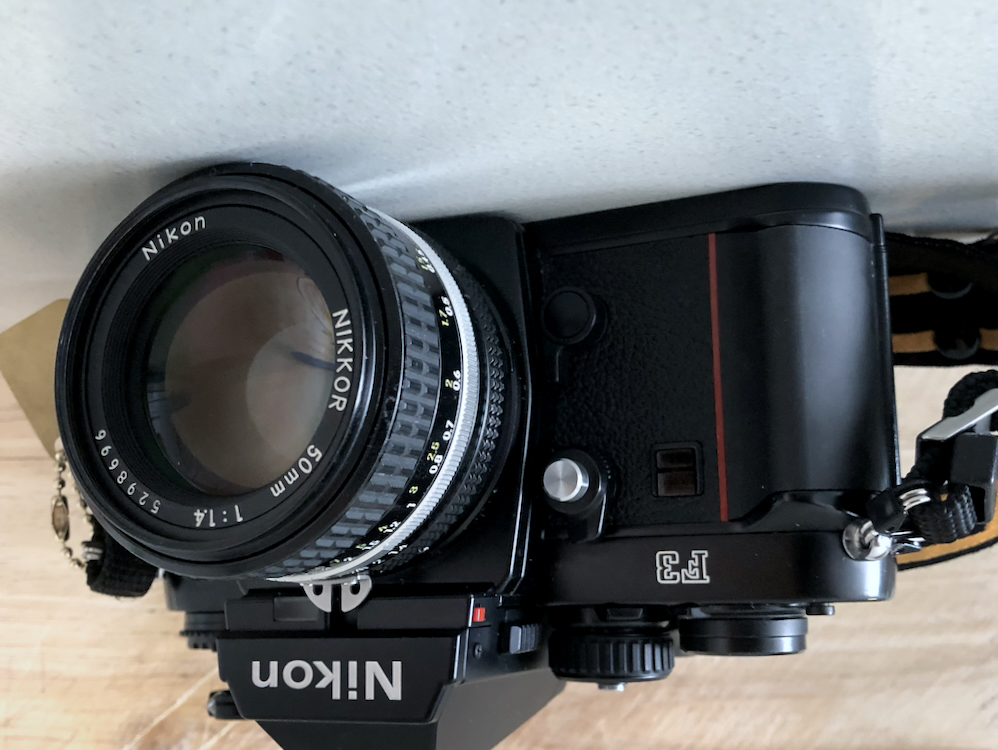 Nikon F3
Graham K. Rogers teaches at the Faculty of Engineering, Mahidol University in Thailand. He wrote in the Bangkok Post, Database supplement on IT subjects. For the last seven years of Database he wrote a column on Apple and Macs. After 3 years writing a column in the Life supplement, he is now no longer associated with the Bangkok Post. He can be followed on Twitter (@extensions_th)