Weekend Review: 13" M2 MacBook Pro - Underwhelming for Some; 5G Modem Chip Delayed, not Failed; Waitography - Better Restaurant Photos
By Graham K. Rogers
---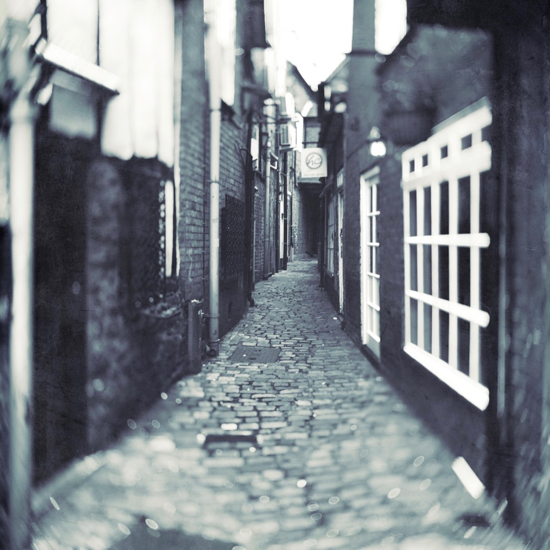 While the EU told everyone it would mandate USB-C connectors, others are writing "me too" legislation. The UK praises Brexit as they think they are unaffected by this. The M2 MacBook Pro has appeared. It has increased power but is criticised as it looks the same as the M1 device. A well-known rumor source claimed an Apple disaster with the 5G modem, but development is continuing and Apple is currently constrained by court decisions. The rumor, as so many are, is worthless.

With the EU almost certainly about to mandate the use of USB-C for mobile device chargers and connectors, some US politicians decided to produce their own law on this, while Jacob Rees-Mogg announced that he was glad that the UK did not have to follow the EU in such regulation drafting, as if Apple and others might produce UK-specific iPhones. Now Brazil is drafting its own legislation (Sami Fathi, MacRumors) to force the use of USB-C instead of Lightning, but "devices that charge entirely wirelessly will not need to follow through with adopting USB-C" which may be a way round all of this legislation for Apple. After all, the idea is to reduce waste, so if there are no cables or chargers, that would do the job perfectly.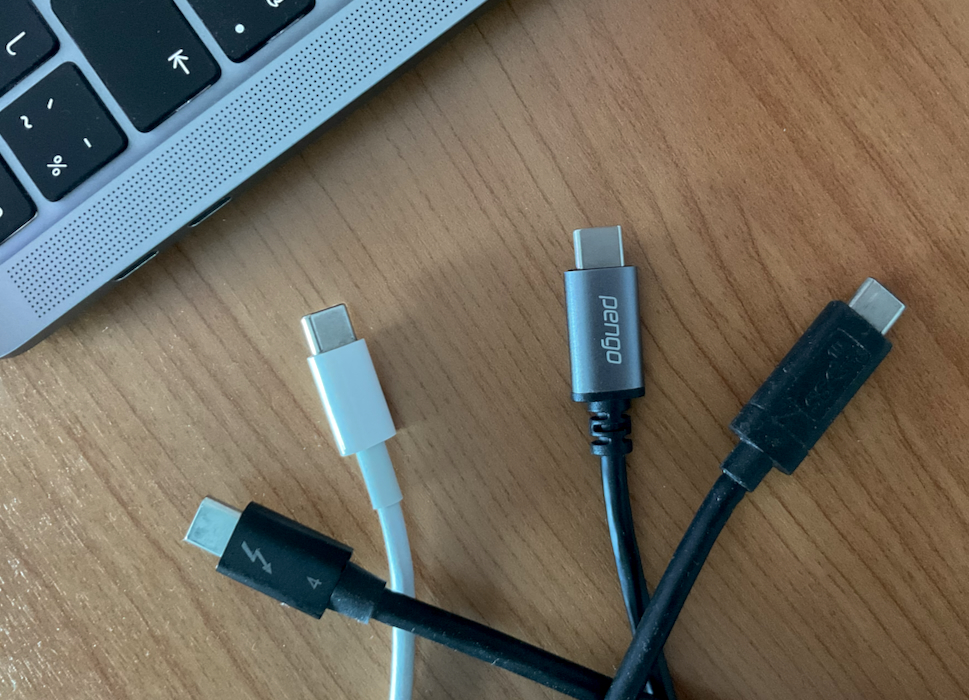 Also on MacRumors (and several other sites), Juli Clover tells us that Apple is to announce its Q2 2022 financial results on Thursday, July 28. This covers the period from March to June, which is likely to be lower than Q1: the holiday period, when sales are highest. However, the report notes that in these months, Apple "introduced the Mac Studio, Studio Display, iPad Air, and iPhone SE 3, and in June, followed it up with the 13-inch M2 MacBook Pro".
Sales in China that some gave dire warnings about earlier appear to have recovered; although there may have been nothing wrong apart from analysts' concerns. Juli also adds that "In the year-ago quarter, Apple reported $21.7 billion in profit on $81.4 billion revenue, which was a June quarter record" and Apple has been doing rather well of late. We can expect that coincidentally there will be a number of negative rumors in the coming days, like reduced orders for the next iPhone, rising prices of Apple devices in Japan (true - currency fluctuations) and others.
M2 MacBook Pro - Underwhelming for Some
There have been a number of reports covering Apple's announcement and subsequent release of the 13" MacBook Pro with the M2 chip. Many have been disappointed that this appeared to be an unchanged device with the M2 replacing the M1, even retaining the Touch Bar (a feature that I love and will be sorry to see go). With the M2-equipped MacBook Air, this is just Apple drawing a line in the sand. There is more to come, as Jonny Srouji says: "M2 starts the second generation of M-series chips and goes beyond the remarkable features of M1" (Joe Wituschek, iMore). We are reminded of the releases following the M1: Pro, Max, Ultra, each one bettering its predecessor: November 2020, October 2021 and March 2022. We saw updates to several Macs and a new professional model: the Mac Studio.

At this time, there has been no analysis of the M2 chip, but critics have commented on the modest benchmarking improvements, with 18% CPU increase, 35% GPU and 40% faster neural engine. It seems only 100% would have satisfied many. Again, "M2 starts the second generation. . . ." As with any new model or device, I like to wait for the iFixit tear down (see below), and the analysis from AnandTech before I fully understand Apple's intent. However, despite some comments related to this, it is not simply a question of swapping out the M1 and putting in the M2 chip (Roman Loyola, MacWorld): kudos to Loyola for falling on his sword there, but he was not alone.

In the middle of writing this, iFixit completed its YouTube teardown of the M2 MacBook Pro and (supporting Loyola's initial comments) this is the M1 MacBook Pro with the M2 chip, although certain hardware locks mean that it is not as simple as swapping the chips. They tried too. While some may be disappointed at this, it is just Apple providing the latest chip technology in a stable format, to those (unlike me) who did not update when the M1 was released. A year and a half down the line, this is a respectable evolution and should please many looking to upgrade, although I would suggest the 512GB SSD (and not only for reasons of speed) and an upgrade to memory: both good investments.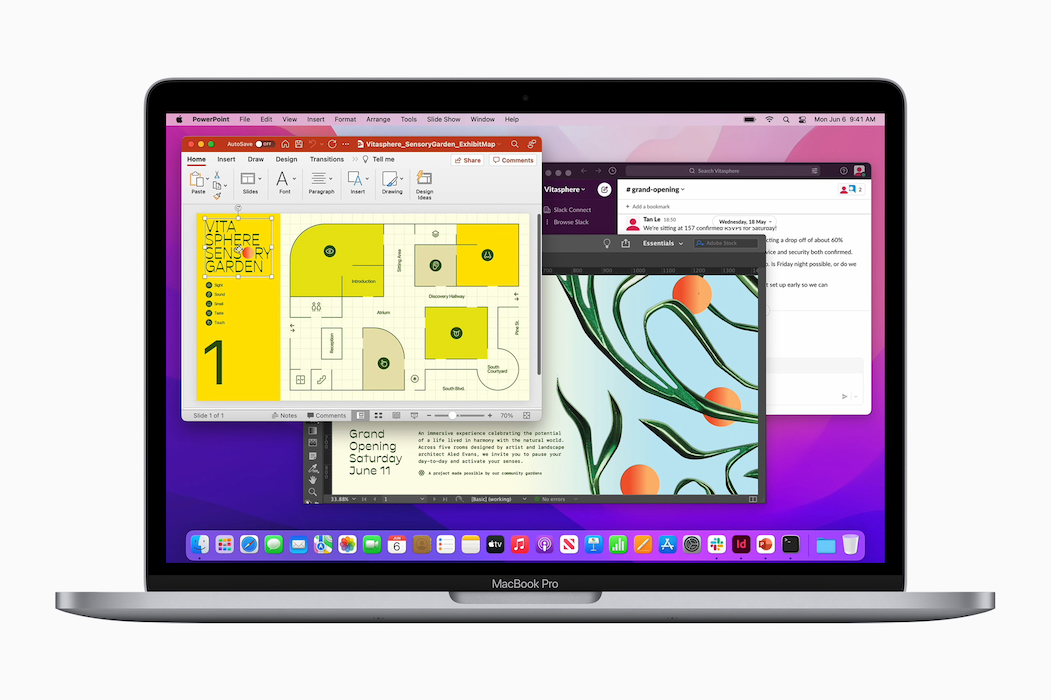 M2 MacBook Pro - Image courtesy of Apple

Several have been critical of the point that the 13" MacBook Pro has not seen any other specification changes. The basic model still has 256GB storage and 8GB memory, although both can be updated (at some cost) to 512 GB, 1, or 2 TB as before (7,000, 14,000 and 28,000 baht locally). Memory with the previous version was 8GB with an update to 16GB - something that I have chosen with all my Macs over the last 10 years or more. The latest model has options for 16GB and 24GB (7,000 and 14,000 baht). I have seen no comments on that new 24GB capability: the M1 was restricted to 16GB. However, the basic 256GB SSD is an underperformer and produces slower read-write times than larger solid state drives offered as options. It is not entirely Apple's fault - although they are responsible - as Christian Zibreg, iDownloadBlog, explains: "The 512GB version uses two 256GB chips whereas the baseline 256GB configuration has a single 256GB chip" and the dual configuration reads and writes in parallel.
In what I thought was a sort of "yeah, so" moment, Oliver Haslam (iMore), commenting on the first M2 chips points out that, Yes, the new M2 is fast, but the M1 Ultra is actually still faster (for now). The Geekbench benchmarks show that while the basic M1 reports 7708 and the M2, 8908, the 64-core M1 Ultra shows 23369. Whatever will the M2 Ultra (if that appears) report? Part of the answer may be in another iMore article, this time from Stephen Warwick, in which speculation on M2 and M3 processes, including 3nm chips, is discussed. It seems, however, that Samsung has beaten TSMC to the punch (Kate Park, TechCrunch), as Samsung so often try to do. Let's see if their 3nm chips work better (or at all) before passing judgement. And, Yes, there is an element of snarkiness there. No point being first if it doesn't work properly - remember the folding phone?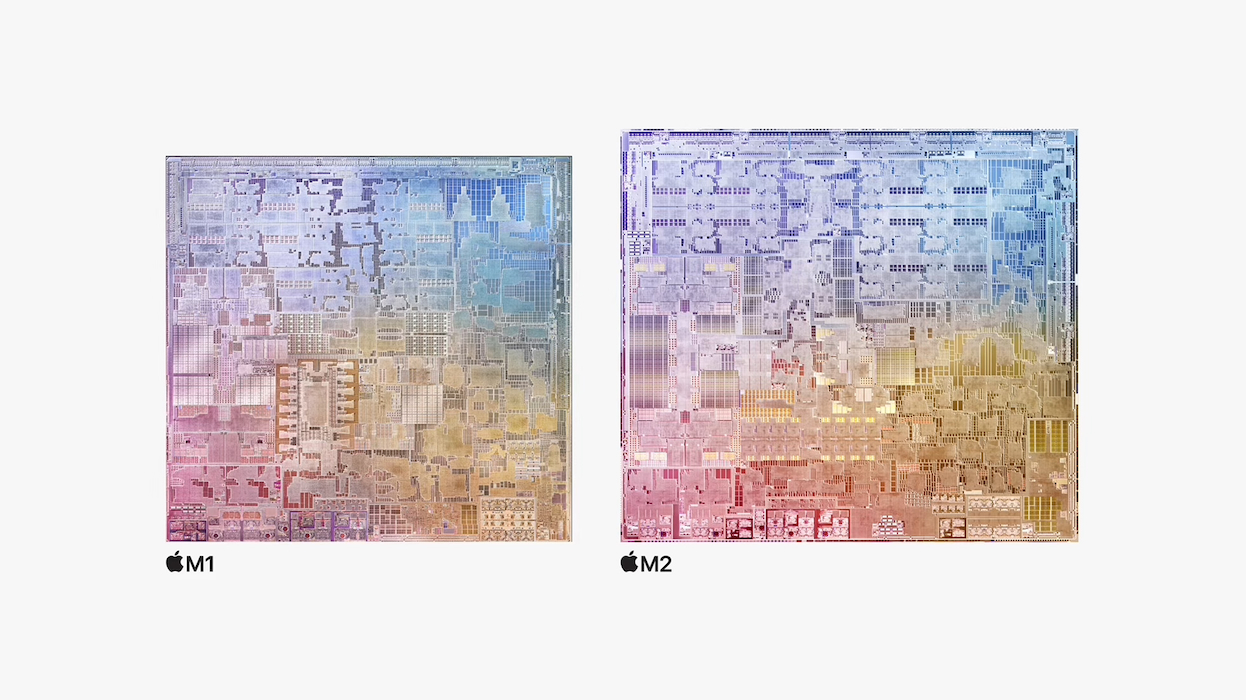 M1 and M2 chips - Image courtesy of Apple

Heat problems have been reported. The reason I bought the MacBook Pro as opposed to the MacBook Air when the M1 chips arrived was the throttling that occurred with the latter which did not have a fan. I have never heard the fan on the M1 MacBook Pro, while with my previous Intel version both fans would sometimes sound like a 747 taking off when I was editing lots of RAW photos: both screaming at 7200 rpm. Same task, no fan noise now. I had to check to see that it was working.
However, a report this week from Stephen Warwick (iMore) and since picked up by others, outlined the 108 degree heat (Celsius, not Fahrenheit) and "severe throttling" of the M2 chip while it was being used for some heavy duty work - the sort of thing that should be a breeze for the MacBook Pro - a test of exporting 8K Canon RAW footage. With the heat generated, the single fan was running at its maximum 7200 rpm and the Mac could do no more apart from throttle down the M2 chip. The report admits that the test was "extreme" and unlikely to be repeated (under normal circumstances), but the MacBook Pro needs more fans and anyone contemplating heavy work like this is advised to wait for one of the later releases, such as the 14" MacBook Pro.
My M1 MacBook Pro was a step up from the Intel version I had before and I was pleased with the performance and output. The iPad Pro with the M1 chip has also pleased me and could do a lot more than the earlier iPad Pro I had. The M2 is also a step up although benchmarking suggests this is relatively modest - far from doubling power - and I see it as a small advance, to keep the pot boiling and bring in those users who may have delayed an update last year. Perhaps many commentators have been expecting too much. As Oliver Haslam (iMore) notes, this is the best Mac available currently, but because it is little more than the M1 MacBook Pro with the M2 chip, "the rest of the build is disappointing for all kinds of reasons".
Rumors and Other Background Noise
I tend to treat the pronouncements of rumor-mongers with circumspection: I try not to touch them with a barge pole unless there is other support. Much of what is written about Apple is timed to deflect from positive news. Within a couple of days of record results for example, there may be a warning that production problems are looming: shares up, shares down.

A while back Apple bought Intel's smartphone modem chip-making operation. This was not charity: helping friends out. Its legal problems with Qualcomm were one good reason, but Apple also saw an opportunity to reduce its reliance on outsourcing and bring another operation in-house. With an investment of $1 billion, this would be a long term project.

A rumor from Ming-Chi Kuo claimed that Apple was having problems with its development of a 5G modem for the iPhone. When I saw this I dismissed the report as another unsupported rumor. Comments later in the week confirm that my first thoughts were right. Jonny Evans (AppleMust) notes that this rumor source (Evans adds, "who else"), thought the comments were confusing as the report includes "failed" and "will continue to develop its own chips". This was contradictory. Evans notes that TSMC will produce the new chips in 2023, adding that this will be in Thailand, which was new to me.

I had missed a report from last year, in which he tells us, "Key iPhone component maker Murata Manufacturing, plans to invest around $2 billion in a range of initiatives, including 5G radios and new plant in Thailand." In another article late this week, Evans also notes that there are some 11 factories turning out Apple products in Vietnam. The background here is worth reading. With changes in China in the past year or two, South-east Asia is looking more attractive.

Evans provides some sound reasons behind the delays and what is coming, but Patently Apple dismisses the claims of Ming-Chi Kuo by pointing out that this is not a development problem, but fallout from the Qualcomm patent dispute adding that this irresponsible report "is a false assertion."


Anyone who has visited a Thai restaurant in recent times will be aware of how willing the serving staff are to help the customers with taking photographs. Usually, this is done with the smartphone and most staff seem fairly familiar with the devices. As Matt Growcoot (PetaPixel) notes, however, not all may have the skills to take a good photograph although most people here do not seem to worry too much about that: recording the event is the thing. However, the Hilton hotel is aware of how the quality may effect the memory of the event and have introduced a course on "Waitography" to train their staff in the skill.

The Hilton brought in professional photographer, Roger Moukarzel, and one of the videos with Matt's article shows the class which starts out in a relatively formal settings, but soon breaks into an enjoyable interactive event. As the article notes, if the person taking the photo is not skilled (its not their job after all), "There's an awkward exchange as we do it again and again. Often not getting the picture to do the memory justice." Hilton seem to have hit on a little extra that may help bring customers back.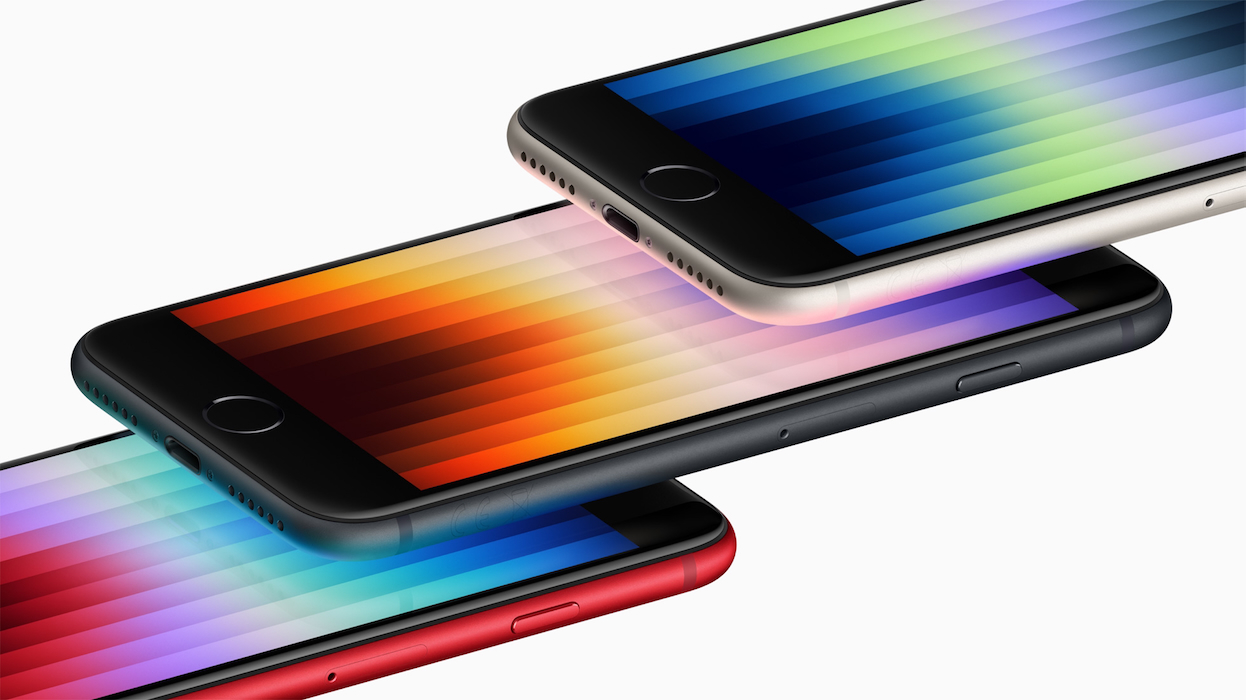 Apple's iPhone: the iPhoneSE - Image courtesy of Apple

This week we were regaled with reports about the iPhone going on sale 15 years ago, in June 2007. I had seen the introduction that Steve Jobs gave in January and the next day the group I was with were able to check the first iPhones out in a room hidden in the bowels of the Moscone Center. There was some preparation and we all had to leave our cameras in another meeting room. No one had smartphones with cameras back then of course. It was a bit odd handling the device as no one really knew what to do with it and our options were limited, but we were allowed to look at a scrolling. This caused one member of the group, a journalist from Pakistan to squeal with delight. An Apple manager said, "Yeah, we get a lot of that."
Graham K. Rogers teaches at the Faculty of Engineering, Mahidol University in Thailand. He wrote in the Bangkok Post, Database supplement on IT subjects. For the last seven years of Database he wrote a column on Apple and Macs. After 3 years writing a column in the Life supplement, he is now no longer associated with the Bangkok Post. He can be followed on Twitter (@extensions_th)