Sunday Comment: A Mildly Slanted Look at WWDC
By Graham K. Rogers
---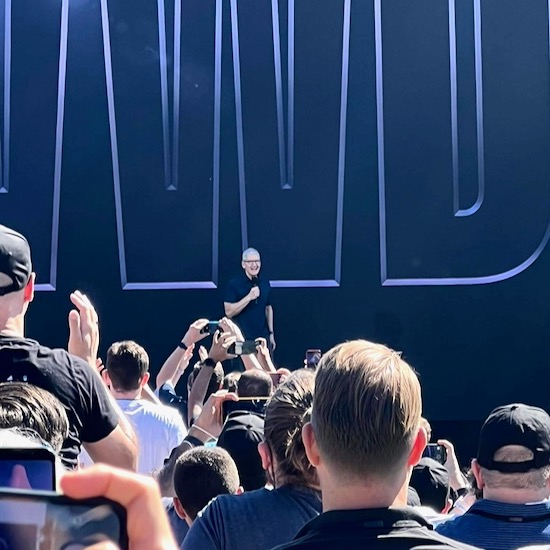 WWDC has come and gone for another year. A number of expectations concerning the operating systems were met, but during the presentations and since, as users examine the beta releases, much information has been gleaned. iPadOS has been a particularly swings and roundabouts release for me: good news and "why'd they do that?" New Macs with M2 chips scratched one itch, but what more is to come from Apple this year: iPhones, iPads and Macs?

Earlier in the week, I put up some images that I was sent overnight by a local developer who had been invited to attend the WWDC live sessions. I was quite pleased that most of these were of the inside of the new Developer unit. He told me that although there were 5 developers from Thailand, Asian representation was quite low. He was a student of mine a few years back and has sent me a gift from WWDC. Another student will drop that off this week I expect.
Over the last few days I have been almost overwhelmed by the amount of comment that has become available online about what happened (or did not) at Apple's WWDC. I would just be repeating what others have written if I went through all that again, although I do have a few observations. There was no headset although some had put doubt on that anyway. And no Mac Pro or tower computer as some had predicted. One Wall Street source I saw suggested that the headset might not appear until January, but that is too vague to set any store by. The more I read these rumor mongers, the more I roll my eyes.
Instead what we did have were the expected updates to Apple's various operating systems, with some shared features and some divergence, particularly with iOS and iPadOS, although this has long been expected. Apple silicon just makes this all the more obvious. iOS 16 is coming along with iPadOS16, along with macOS 13, which will be called Ventura. Several Macs will not run this and on those that do, some features will only be available to those Macs running Apple silicon (M1 and now M2). It is a similar story with iPadOS: some of those new features will be for Apple silicon only. That was why I made the jump early with my MacBook Pro and iPad Pro.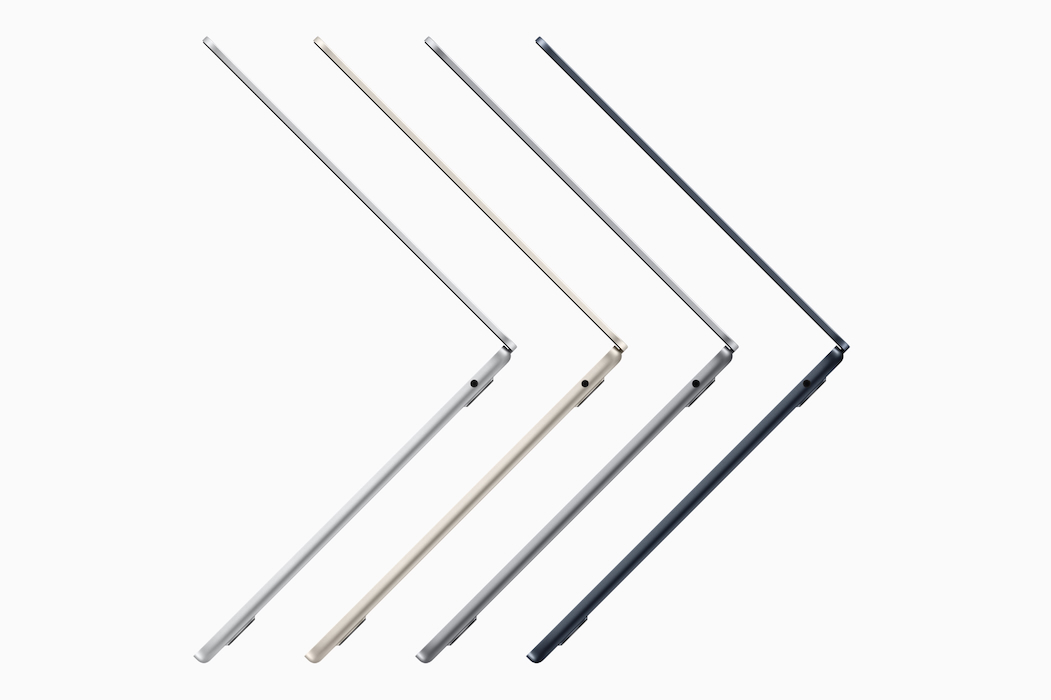 M2 MacBook Air in 4 colors - Image courtesy of Apple

While I was watching the introduction to iOS 16 I was intrigued by the new lock screens that I had seen mentioned. As I saw the demo, the penny dropped: this is what I am already doing with Apple Watch faces. I have several downloaded, each with a different set of complications, or colors, depending on practical use or going out on the town (rare these days). I can change these within seconds. If you want a new lock screen on an iPhone now, that takes a while to do. With iOS 16 it will be easy to create these and have different sets. That was an OS integration from a different direction, but there were several that appeared at WWDC this year. That feature is not available on iPadOS16, although there is a kludge using the PosterBoard app and its Developer menu (Oliver Haslam, Redmond Pie).
Later Sami Fathi (MacRumors) reported on a panel discussion between Craig Federighi and Greg Joswiak (Apple's Senior Vice President of Marketing) and Daring Fireball's John Gruber. The lock screen was mentioned at length as well as the redesigned System Settings. Some are criticizing the loss of the Trackpad videos, but Federighi says these will be coming back. He also makes the surprising assertion that the change to System Settings was not to match iOS adding that the team's main goal was consistency for users, which sounds like matching to me.
Another feature that will become unavailable on iPads has irked me somewhat as I currently use this frequently: Home Hub Support (Tim Hardwick, MacRumors, et al). Depending where I am, or where the iPhone and iPads are, I just use the nearest device when I want to make an alteration, including turning lights on or off. That this is expected to be available on the Mac and on AppleTV is no compensation. AppleTV is only on when I am watching something, and the Mac is often sleeping (lid shut) in the evening as I prefer to work on the iPads. It may be because Apple is to use the Matter standard and this will not be available for the iPad (but will for the iPhone).
I note that there are some changes to Photos, although not the ones I wanted, as far as I have seen so far. Jaron Schneider (Petapixel) writes about the way the update will enhance the camera intelligence, with Live text and Visual Lookup, while the former is useful already and any improvement is to be welcomed, Visual Lookup is not available here, so I am unmoved by this. The descriptions I have read show that it shortcuts some processes: users like me have to make an additional step and use a browser. Also leaving me unmoved is the enhanced family sharing options. This is a good selling point, however, and many people want photos taken by other family members, so that will fill in some gaps.
I guess I will keep waiting for improved editing capabilities in Photos on iOS and (particularly) iPadOS, along with the ability to use a flatbed scanner with the iPad Pro and camera tethering - these are after all, professional needs and I am trying to work on the iPad Pro.

One useful feature that I had always used in Aperture - and eventually when it appeared in Photos on the Mac - is the ability in iOS 16 to copy and paste adjustments. Last week, for example, I had several photos from an interior location that all needed similar changes to brightness, contrast, and other properties. Having done one image, I simply copied the adjustments (not crop or straighten - these don't work) and pasted them into the other photographs. That saves a lot of time and that it is coming to iOS (and presumably iPadOS) is a positive. Apple is listening.
A feature that I might benefit from and certainly a lot of my students will, is a new straightening feature for handwriting in Notes and other applications. Oliver Haslam (Redmond Pie) explains that this was not announced at WWDC and only appeared in the first beta release, so when he writes, "or another app. . ." it is not clear what other apps (or all of them) may be able to use this feature. There is an example of straightened text on an iPad with the article so that will give an idea of how it works. It is also not known which languages other than English it might work with. While I am working on this, I am viewing the webpages on an iPad and writing on the Mac. I either copy and paste the URL from the iPad to the Mac, or use the new iOS15 feature of Universal Control, move the cursor to the iPad and and drag the URL to the Mac. I love this stuff.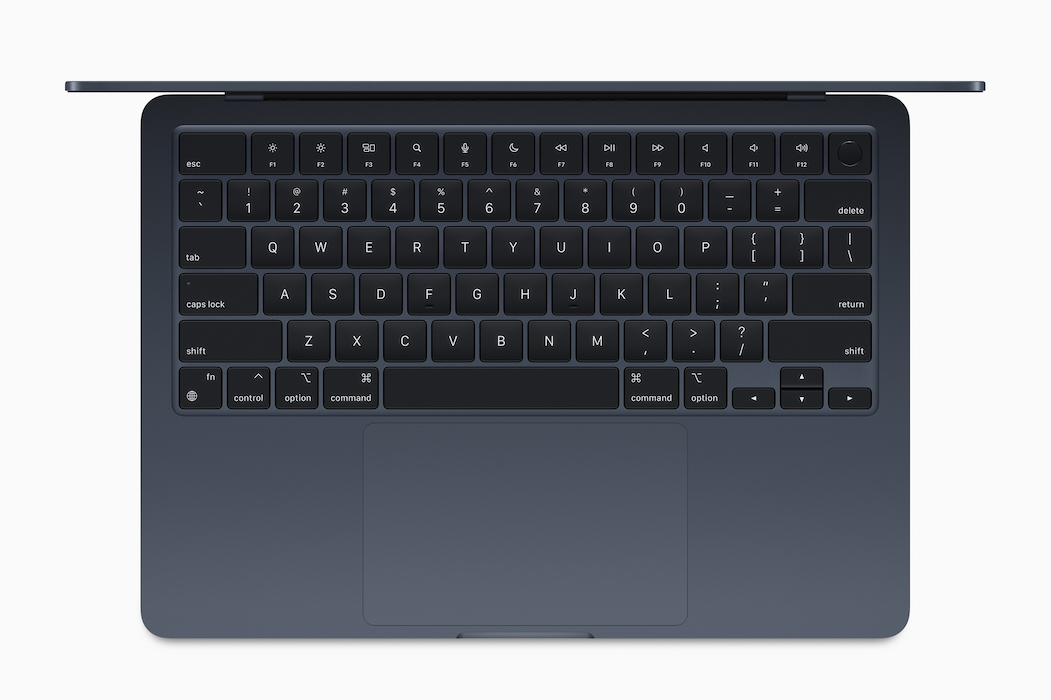 M2 MacBook Air in Midnight showing keyboard - Image courtesy of Apple

There were new Macs and these will be coming next month. As had been anticipated, these have the M2 chip. The iPad Air has a redesigned body adding a headphone jack and MagSafe power connector. It still has two Thunderbolt ports. There is an additional color, called Midnight, which looks dark blue in some light conditions, but one tester at WWDC noted that this may show fingerprints fairly easily. The pricing for Thailand has been announced and the basic 8-Core CPU, 8-Core GPU model, with 256GB SSD is 43900 baht. Bringing that up to a 512GB SSD and adding memory to the base 8GB for 16GB add 14,000 baht to that.
The 8-Core CPU, 10-Core GPU model, with 512GB SSD is 54900 baht, but I would still want to spend another 7000 baht for the 16GB memory configuration taking it to 61,900 baht (compared to 57900 for the base model with the higher configuration I would want). I must admit I almost pressed the Buy button, but these are not available anywhere right now, and should be available later next month - perhaps a couple of weeks more here for FCC approval. I gave this some serious thought, but when I did I convinced myself that the M1 MacBook Pro really is sufficient for my needs at the moment.
The 13" 8-Core CPU, 10-Core GPU MacBook Pro models with M2 chips are unchanged on the outside, with the 256SSD model starting at 46,900 and the 512GB SSD model at 53,900 baht. They still have the Touch Bar too so I would prefer that. I must be one of the few who actually see this as a valuable productivity tool and use it most particularly in writing and editing. Not enough 3rd party developers came up with ways to work with this, but even with those that do, a user has to recognize them and bring them into the workflow. The 14" and 16" MacBook Pro models are still available but with M1 chips. That will change. There are still a couple of other models in the Mac range that have yet to be updated, most notably the MacPro.
There are plenty of short reviews on the Internet right now - mainly positive - but the two I always set most store by are the teardown by iFixit (at least 2 or 3 weeks away) and a deep analysis by AnandTech. That is always a lengthy read, but is worth taking time over.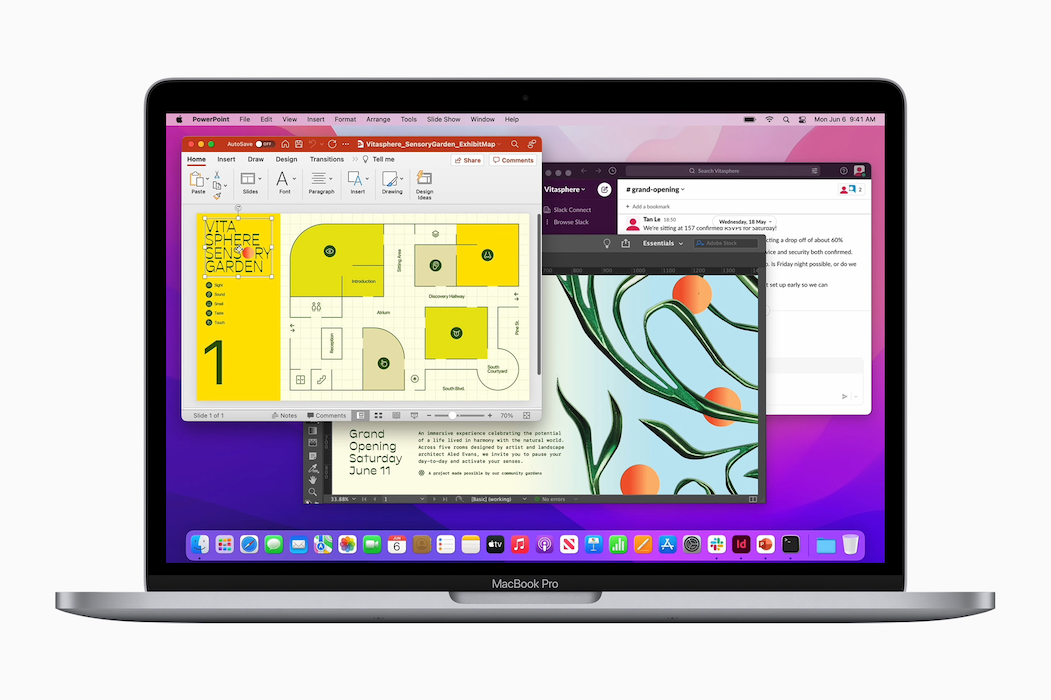 Multitasking on 13-inch M2 MacBook Pro - Image courtesy of Apple

There have been rumors since WWDC about new iPad Pro models, with one suggestion being a 14" version. If anyone remembers the 17" PowerBook, that was quite something when it was lugged about in a backpack. I am quite happy with the 10.5" version of the iPad Pro and with iPadOS 16 it will be possible to connect this to an external monitor and have content that is not mirrored. This comes through the M1-only Stage Manager that was also introduced in macOS Ventura. Craig Federighi showed how the screens on the two devices (iPad and monitor) could display different groups of Stage Manager apps. Joe Rossignol (MacRumors) has a statement that was sent to Rene Ritchie about this. The way this works apparently "requires large internal memory, incredibly fast storage, and flexible external display I/O, all of which are delivered by iPads with the M1 chip."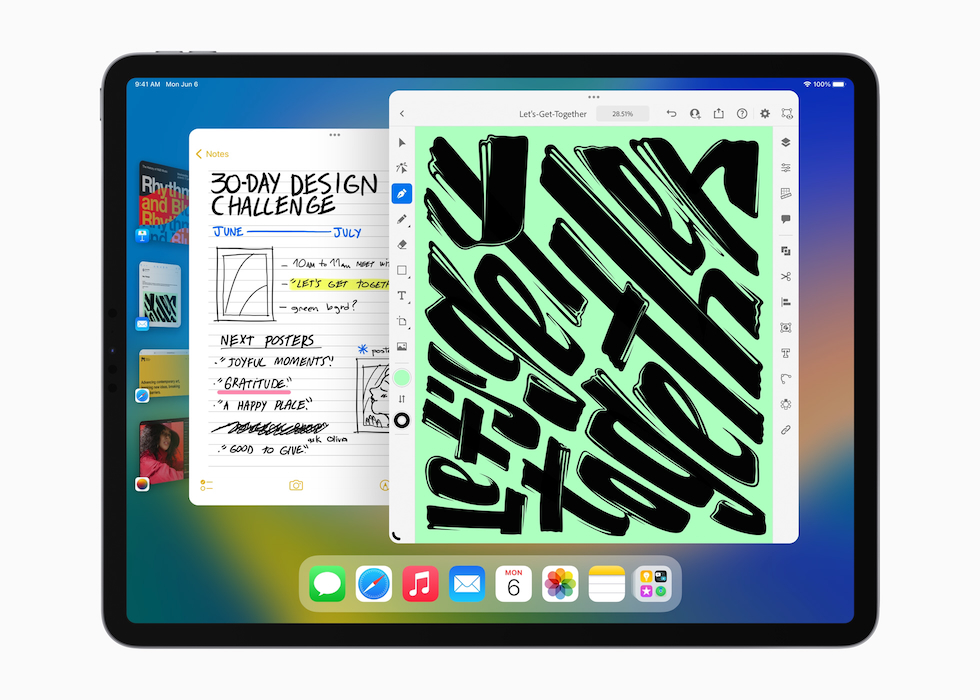 Stage Manager in iPadOS 16 - Image courtesy of Apple

This is not the only way the devices are able to work with one another due to unique features or properties within the devices. With the Mac, Apple has provided the ability to use the iPhone as a web cam: Continuity Camera. On the face of it, this is not only overdue, but something that should have been easy to set up right away. There are a couple of twists:
Once attached the software automatically detects the iPhone;
Center Stage is available when this is used, something that my family love when I phone home using the iPad;
Portrait mode can blur the background, and the demo was far better than the blurring I have experienced with Webex;
Studio Light brightens the face and darkens the background, like using a ring light, useful when there is a bright source of light behind the speaker; and
Desk view.
This last feature splits the display and allows the presenter to be visible while at the same time the table in front of the Mac is shown, as if there was another camera looking down vertically. This uses the single ultra-wide camera on the iPhone. I cannot do that with my Logitech webcam. As well as FaceTime, Federighi said that this feature will work with Zoom Teams, Webex and more. Later this year, Belkin will have suitable adapters to hold the iPhone and attach it to the screen of the Mac, something which some camera systems fail at miserably, some causing scratching to the screen surround.

One long-needed feature that is coming with Ventura is Accessory Security. This requires user approval of all new USB and Thunderbolt peripherals before they can connect. Power adaptors, standalone displays and approved hubs do not need this approval. It can be configured in System Settings (replacement for System Preferences) allowing all devices if wanted. Once approved, any devices are remembered. This is to prevent a potential security problem when external devices are attached. For example, the Stuxnet virus developed by Israel and the US was delivered using a thumb drive (flash drive) and hard disks can be just as dangerous. That is how Iran is believed to have returned the gift to the US power system. With Apple including a version of iOS in its new monitor, such a device must also be considered as an attack vector.
Another little touch in iOS16 is Personalized Spatial Audio. Some may remember the comments when Jonny Ive made a video of how Apple had mapped thousands of ears to make sure the sound reproduction was right. This takes the idea a little further and uses software to track a user's ears precisely leading to better audio reproduction (José Adorno, 9to5Mac). Oddly, this uses the True Depth camera to create a personal profile. I am not at all sure how this works, although last week did see inside my ears at a local hospital that has a neat camera system. I must be honest, I am not keen to repeat the performance, but Apple is probably on the right track.

While WWDC was going on, the EU has released its outline of the law that will mean all mobile devices will have to use USB-C for charging purposes. The UK has declined to follow this and weakly will just follow on the EU coat-tails: if the EU says it is so, then so be it. There was a spoof Twitter image from Davey Six-Toes showing what purported to be the UK alternative to USB-C. I have borrowed this and provided the link. Enjoy.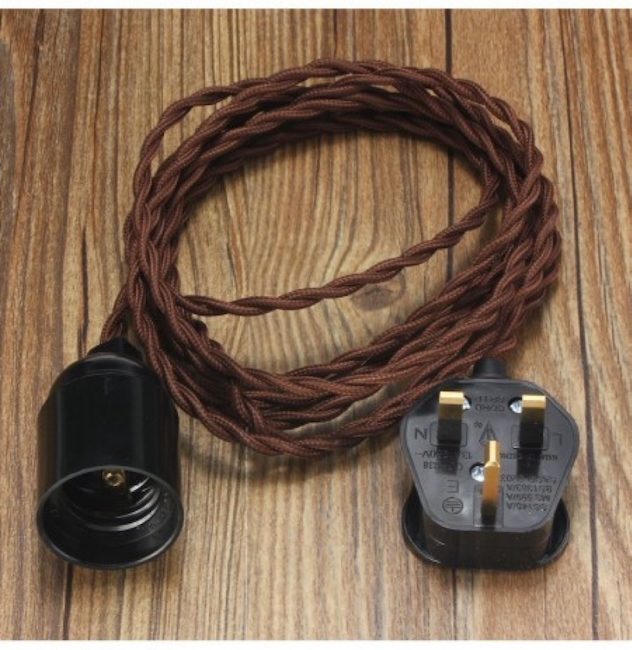 Graham K. Rogers teaches at the Faculty of Engineering, Mahidol University in Thailand. He wrote in the Bangkok Post, Database supplement on IT subjects. For the last seven years of Database he wrote a column on Apple and Macs. After 3 years writing a column in the Life supplement, he is now no longer associated with the Bangkok Post. He can be followed on Twitter (@extensions_th)