Weekend Comment: TV Notes; Updates in Relation to WWDC; Essential Backups; Apple Headset; Working from Home; Apple Expanding in SE Asia; AirTag Legislation and an Arrest
By Graham K. Rogers
---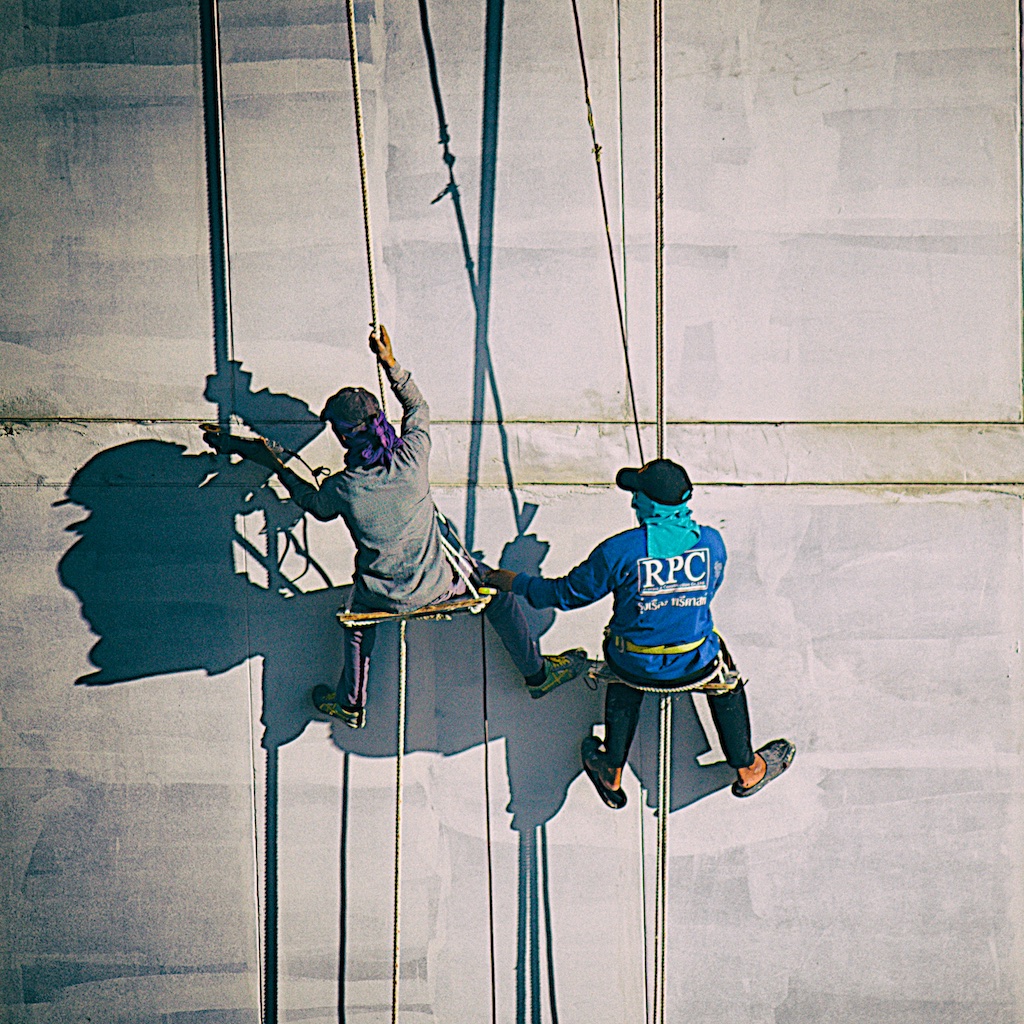 Apple OS and beta releases are preparing us for WWDC and beyond. Backing up is unfortunately still an option for many users: that way madness lies. Apple headset and the Hololens. Covid and working from home. Stock market falls and rises: it always does. Ohio prepares AirTag legislation, while Portland police using AirTag input are able to arrest a robber.

This week saw the 14th anniversary of the initial release of Breaking Bad, some of the finest television I have ever seen, with its sustained performance over all 5 seasons. This week I finished my second run through of Breaking Bad and it was just as good as the first time: perhaps better as I noticed several key things I had missed before. Bryan Cranston was a tour de force throughout with the way his character developed from the weak (but smart) high school teacher to a major criminal, committing several murders on the way: from a moral and ethical person to unethical and amoral.
Cranston was supported by a great cast, although I was annoyed by two characters in particular: the brother-in-law, Hank; and his wife, Skyler's sister, Marie. Both of these had a penchant for interfering. Hank had some excuse because of his job, although even then he tried to take control of situations, for example in White's home, where he had no business poking his nose in. Marie was even worse, and when it suited her reinvented reality to control others. This was good acting by both Dean Norris and Betsy Brandt of course, but there were so many sterling performances it is hard to pull anyone out in particular.
I also watched the 3rd episode of The Essex Serpent on AppleTV+ and particularly like this because I lived in that part of the country in my mid-teens. I was familiar with the marshes a little further north than where this series is set, but often visited Maldon, Tiptree and the Blackwater estuary. Even driving down the lanes late at night when there was a mist was creepy. Back on Netflix, a surprise hit worldwide this month has been Hearstopper which is interesting in the way it deals with teenage sexuality problems and personal identification. In one of the many interviews with some of the cast it was revealed that Series 2 is in the works.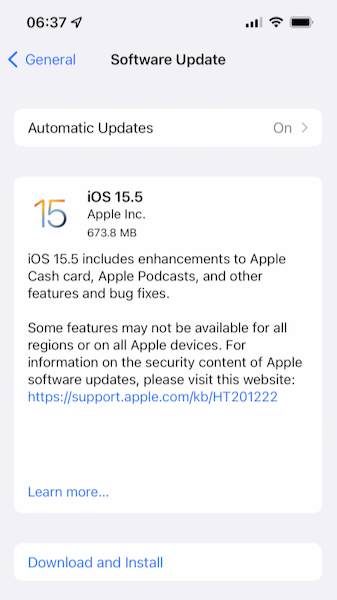 Last week's beta updates led to an expected release of updates to Apple's various OS versions and on Tuesday morning here there was a range of releases, including iOS 15.5, iPadOS 15.5, watchOS 8.6 and Monterrey 12.4. The updates for the mobile devices appeared immediately on my devices, but it took two attempts before the macOS update appeared in the System Preferences panel. I thought it might be a rollout delay to stagger downloads but after a couple of tries it appeared.
A number of sites outlined the details behind the Monterey update. There was a lot going on both with feature changes and behind the scenes, with firmware update and 54 security fixes (Eclectic Light Company). Among others commenting on the Monterey update, Michael Simon (MacWorld) mentions that some of those security fixes, "are high risk and could allow an attacker to execute arbitrary code and take over your machine."
Several sites were excited by the next round of betas that were released a few days later, potentially the last before the next versions of macOS, iOS, iPadOS and others are announced at WWDC.

Before starting the update process on the Mac, I backed up using Time Machine. Although I had backed up the previous day a couple of times, it is a good idea to make that one, final backup just in case. I am a bit of a fanatic about updating. You only have to lose data once to realize there is no second chance. Despite writing about this several times over the years with the zeal of the convert, I still find many users fail to cover themselves with this fairly simple process. I am even more disturbed by some of my students who, with critical project work on their computers, still do not backup the data. I went round a class of computer engineers recently and only 2 made any attempt at backing up. I am gobsmacked every time I ask this question. What does it take?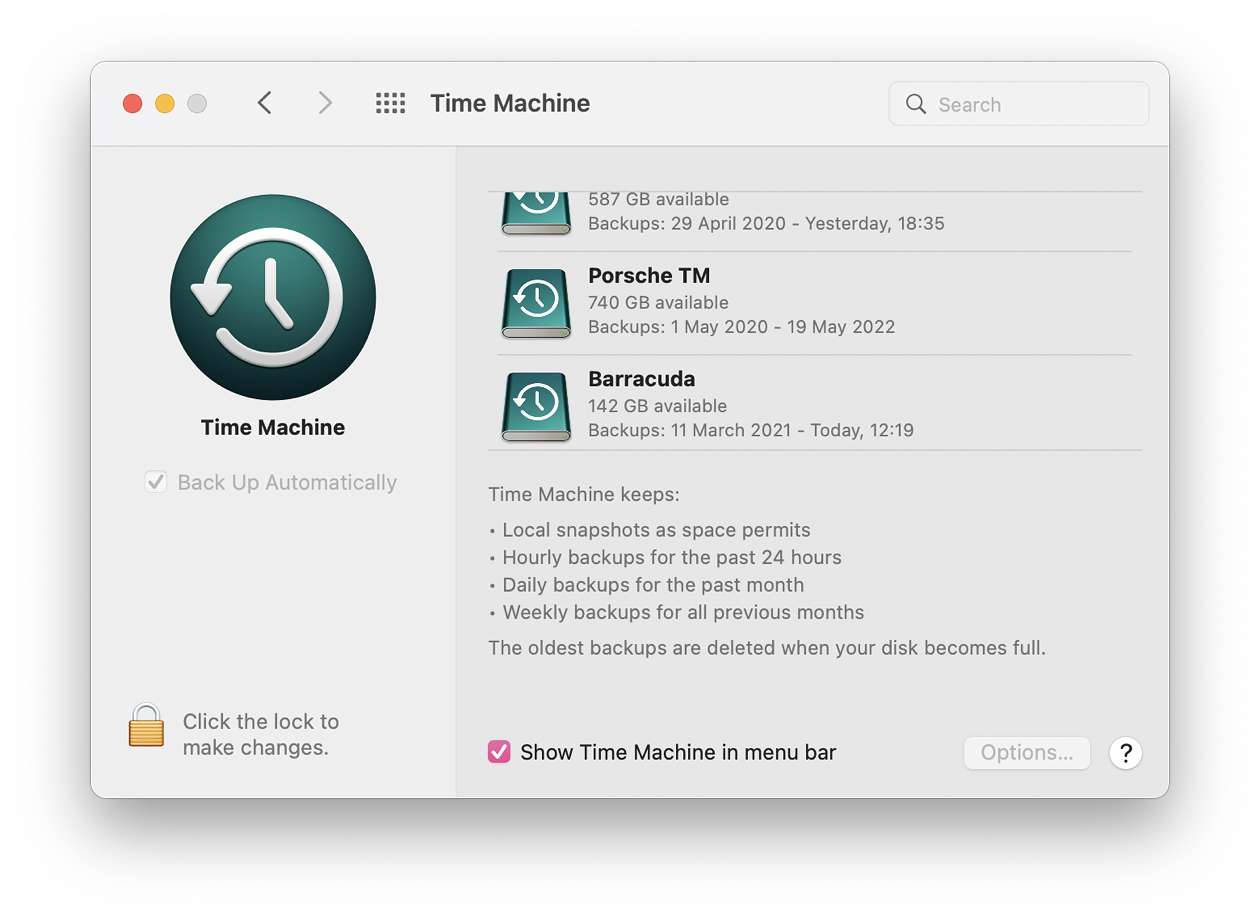 What showed me the folly of my ways was the theft of my Power Book 12" in a burglary. That had some 1700 photographs on it. This was before the days of iCloud. Now I have just over 21,000 images and backup at least twice a day to a Time Machine disk, while the data is also stored on iCloud. With iCloud I am also able to backup the desktop on the MacBook Pro. This has the added advantage that I have access to the same files with all my devices. At least 2 disks should be used as disks do fail: no point having a backup you need on a dead disk. As I have mentioned before, I also bring a disk from my office and run a couple of Time Machine backups to that before returning it to work. There is no point backing up data if the house burns down, so I have that redundant disk safely locked in a drawer just in case.
I am not the only one thinking of backups as Brian M. Wolfe (iMore) looks at a number of solutions for this essential task. As well as Time Machine and iCloud, he also outlines other cloud solutions, plus a couple of disk-based solutions, like the well-known Carbon Copy Cloner and SuperDuper. I am pleased to see that he also discusses the offsite (redundant) disk solution that I favor although adds the wrinkle of rotating the disks used. He ends with, "Even though backups always feel like tomorrow's problem, losing your data can profoundly screw up your today. And odds are it will happen at some point. . ." Which I can certainly relate to.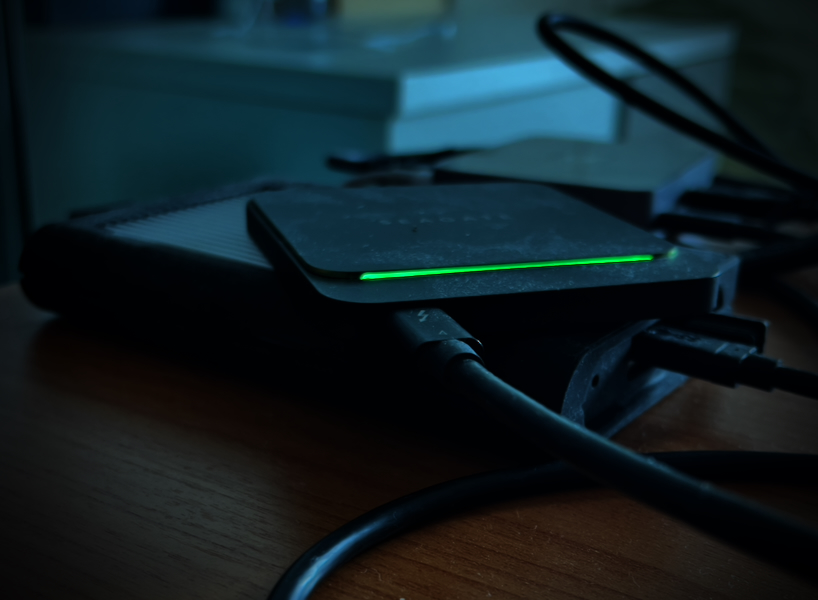 Backing up: External Disk and SSD

A number of sources reported late this week that the long-awaited headset from Apple may be closer to production. It is rumored to have been shown to Apple's board of directors. That suggests this is a little more than just a mockup. As we saw with the history of the iPhone, what was demonstrated in 2006, was less than the still unfinished version made public in January 2007. It took 6 more months before this first iteration was released to the public. It still needed improvements then and has been continually developed since although not all features have been well-accepted. Patently Apple among several other sources report that there are certainly some shortcomings of this new device related to heat and perhaps to weight.
The timing of the headset news is interesting with only a couple of weeks before WWDC remaining. Might we expect to see at least an announcement in the Keynote? After all, if there is to be a new doorway into the metaverse, the developers at WWDC will have some of the keys. When I saw the Microsoft Hololens headset a few years back at at the HIMSS AsiaPac16 medical conference, it was disappointing in terms of visibility and what I could do. I am sure Microsoft will have done much work since that early device. I am just as sure Apple will have done much work before showing this rumored device to the Board. I know several users are looking forward to this.
Hololens demonstration at AsiaPac16 (2016)


Although Covid infection numbers have begun to fall here, other countries have not been so fortunate. North Korea has finally reported infections, while China is just coming out of another lockdown. Much of Europe and America has begun to return to a more open approach, although some wiser minds are still wearing masks. My family go shopping in a small town in the UK and report that they see most people not wearing masks. As they are in high risk groups, they keep wearing theirs.
I went to a local store this week on my way home from work at school turn-out time. The 7/11 was full of high school students, while outside another dozen or so were lined up buying street food. All wore masks, except two who were busy eating. They had their masks temporarily draped round their necks. All of these young people were chatting, laughing, ordering with no thought for the masks they were wearing: taking it all in their stride as young people do (unless prompted by others).
While the mask mandates have gone in the USA and UK, except in certain circumstances, Apple has been forced to return to a policy of staff (not customers) wearing masks in some 100 US stores because of a rise in numbers of cases (Juli Clover, MacRumors). That article and others also mentioned that corporate Apple employees in common areas will need to wear masks, while the plan of returning to a 3-day week that had seen considerable opposition within the company, has been put on hold. A number of other sources also reported on these points.
I am still working 3 days a week in the office although see that with the current trends it may be possible to return to near-full working and hopefully classroom teaching next semester. Some schools here have already opened and (as I saw this week) the students are out and about. I feel sad for young people right now as they have had to spend the last couple of years under some serious restrictions. Zoom, WebEx et al are no substitute for face to face interactions and scraping your knees playing soccer.
I am quite happy to work from home as much of the work I do these days is related to writing: mine and others. Coming in to an office not only puts me at some risk, but I am often disturbed by office interactions, it wastes time traveling and I have to wear more formal clothes. My brain works just as well if I am wearing shorts and a t-shirt.
An Apple executive made some headlines not so long ago when he resigned from the company because of the company's planned return to 3-day working (now on hold). Ian Goodfellow, director of machine learning, believed that more flexibility would have been the best policy for his team and made the point by his resignation. Now, however, he has been picked up by Google subsidiary, DeepMind, where it is expected he will work on machine learning research (Juli Clover, MacRumors). There is more on this from Joe Wituschek on iMore.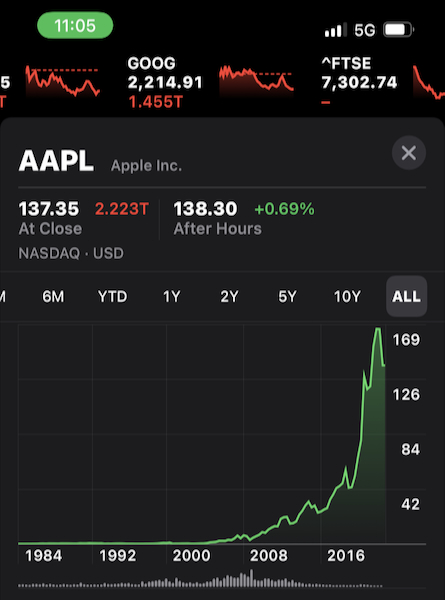 With the stock market taking a hit for a number of external reasons, including the conflict in Ukraine and worldwide chip shortages, many tech stocks have taken a beating in the last couple of weeks. As usual, there are plenty of headlines about Apple. As well as a couple of doom-flavored articles, a number of Wall Street analysts are seeing a buying opportunity, although as Warren Buffet had already picked up a nice block of Apple shares, this does not take much analytical skill. All the stocks and exchanges in my list are down except for the Hang Seng Index and the Nikkei 225. Oddly, Starbucks is also riding high. I expect all the frantic analysts worldwide are drinking more coffee.
Apple has been dropping for the last few months following a peak at the beginning of January, but in the last week has seen a drop of about $10-15. It is now showing a similar price to last April. The smart guys do not expect this to continue. I previously liked referring to the 10 year trends, but now the Stocks app provides an "All" graph which is even more revealing.
Despite the fears, there was some good news on the iPhone front as some analysts' estimates expect that sales figures have remained positive. Other reports have Apple with 51% of the North American market in Q1: the iPhone 13 helped somewhat. As someone noted after 9/11 when there was a massive hit to stock prices, They are down now, but they will rise even higher. By the end of the week, Apple and some other stocks had begun to pick up. They always do.

This week, Apple CEO Tim Cook met with the Prime Minister of Vietnam at Apple's headquarters. Stephen Warwick (iMore) reports that there were talks about expansion in the South-East Asian country of both the supply chain and Apple products. The PM noted that Vietnam "has 31 companies and 160,000 workers helping supply parts and equipment for Apple."
This was followed a couple of days later by the news that, with the ongoing chip shortage problems worldwide, TSMC, one of Apple's more important suppliers, is looking to build a factory in Singapore, where Apple has long had its own facilities. Hartley Charlton (MacRumors) writes that "plans to build a new multi-billion dollar factory in Singapore are still under consideration" and that "the government of Singapore may help to fund construction of the plant." The article notes that as well as its factories in Taiwan, TSMC is also developing plant in Arizona for 5nm chip production and in Japan.
Delta Electronics in Thailand has been a supplier of electronic equipment (such as chargers) for Apple's for a number of years. Although the current relationship status is unknown, the company that has factories in Samut Prakan and Chonburi has a healthy balance sheet. Nikon also has factories here, to the north of Bangkok, where most of its manufacturing is now carried out. Several other companies are well-established here.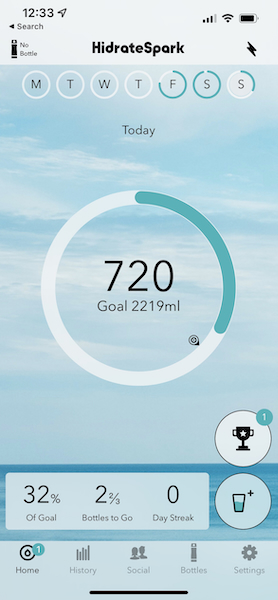 I had been interested in the HidrateSpark water bottle that synchronizes with the Health App but for the last week or so it had not been available on the Apple online store for Thailand, while it was available in other stores round the world.
When I checked late this week it was shown with an Add To Bag button. So I did. I also added the Apple cleaning cloth that had been in my list of items for a while. Both items are shown as to be delivered in the middle of next week so I will have a closer look at both when they arrive. I have since been told that the cleaning cloth is on its way, and both are listed for delivery on Wednesday.
To prepare for the water bottle arrival I downloaded the Hidrate app: it syncs with the Health App. The difficulties of trying to record liquid intakes during the day are one of the reasons that such a device - that can be linked to the Health app - makes more sense for me. How does anyone know how many ml a mouthful of water is? Using the bottle will enter the actual amounts automatically. I am currently using the presets (240ml, 355ml and 500ml), but entering smaller amounts is made possible by sliding the Add Water input interface.

I have looked at problems related to the use of Apple AirTags for illicit tracking of people a number of times. Mostly those responsible were disgruntled spouses or partners and many attempts were discovered by the use of the iPhone which lets an owner know if they are being followed by such a device if it is not registered to that phone. Apple was criticized because there was no such equivalent for Android users, although that may not be the responsibility of Apple. Stephen Warwick reports on the inevitable appearance of legislation to criminalize such secret tracking.
An Ohio law being framed currently will state that "no person shall knowingly install a tracking device or tracking application on another person's property without the other person's consent." This is designed to amend existing stalker laws and I am all in favor of that having seen domestic violence and the obsessive nature of those who think they own other people. When I was in the police we were all aware of a couple of locations where panic buttons were installed. One night I stopped a guy who was the subject of such protection for speeding and it was not the nicest 15 minutes I had ever spent with a person. The poor lady and her kids who had the protection must have lived in constant fear.
On the other hand, Stephen Warwick also reports on an incident in Portland, in which a guest at a hotel had his bag snatched by an armed robber who had just failed to rob a store nearby. The bag had an AirTag attached and the owner let the police know. He was arrested after an on-foot chase later that day in North Portland.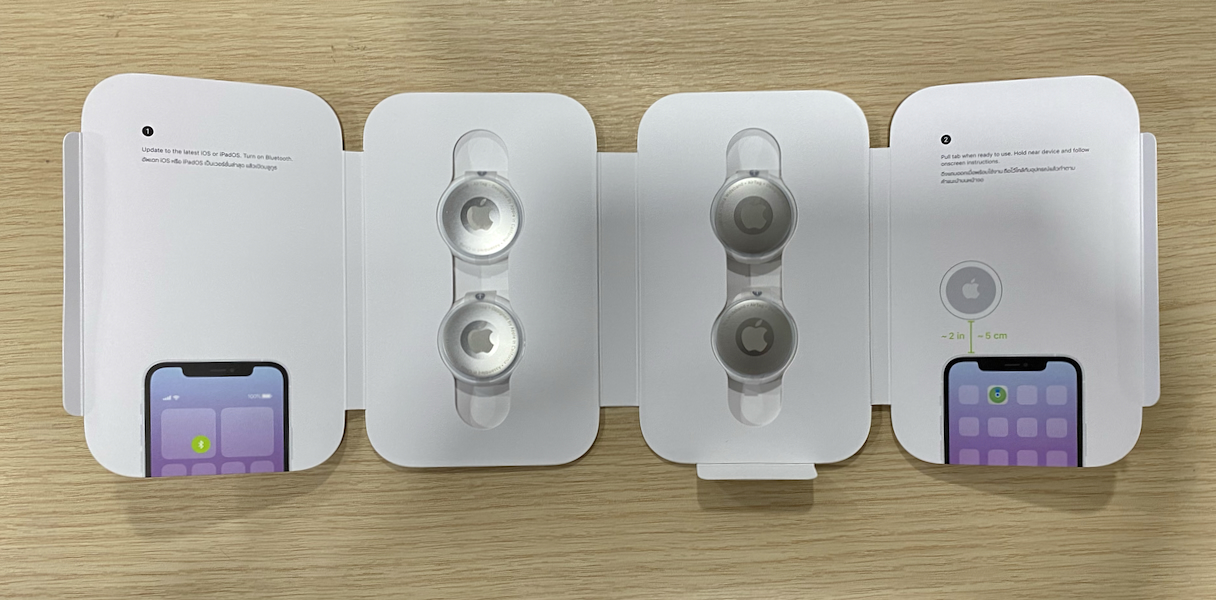 Apple AirTags
Graham K. Rogers teaches at the Faculty of Engineering, Mahidol University in Thailand. He wrote in the Bangkok Post, Database supplement on IT subjects. For the last seven years of Database he wrote a column on Apple and Macs. After 3 years writing a column in the Life supplement, he is now no longer associated with the Bangkok Post. He can be followed on Twitter (@extensions_th)