Saturday Comment: The Real Figures from Apple and the Predictions; Hardware-Software Nexus
By Graham K. Rogers
---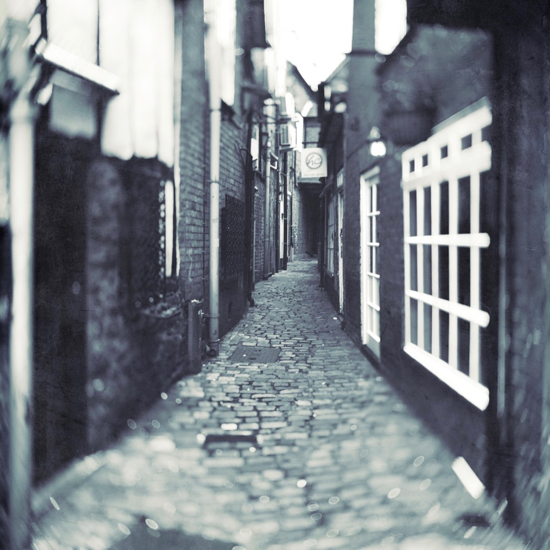 Ellon Musk bought Twitter. There will be tears. Apple reported its Q2 2022 figures this week. First however we had to sit through predictions many of which were off; and then after Apple put out the real figures, we had the usual post report hand-wringing. To fend off some criticism over right to repair, Apple includes two tool boxes for US customers taking advantage of this. Local repair shops should note: a blunt screwdriver may not be enough.

Ellon Musk bought Twitter this week for $44 billion. There will be tears. Already Tesla has lost billions in market value because the boss is off playing around again; while several Twitter members are not sticking around to see what a mess Musk makes of this. He has already sold off some of his Tesla stock: 4 million shares in 2 days. I am going to wait and see, but as I already left Facebook, I will be reluctant to leave Twitter as well: at least how it works currently.

I watched the final episode of Slow Horses this week. I am always delighted by the writing which has so many layers. Will Smith (no, not that Will Smith) has done an excellent job here and this is most evident in the performance by Gary Oldman. Some of the other characters, especially MI5 high-ups are straightjacketed by accents and terminology they use, although Kristin Scott Thomas (Taverner) is often able to relax into more powerful output, particularly when expressing frustration. The part of Lamb fits Gary Oldman like a comfortable old jacket. It is not just the writing or direction as Oldman brings so much to the part even when he appears to be asleep.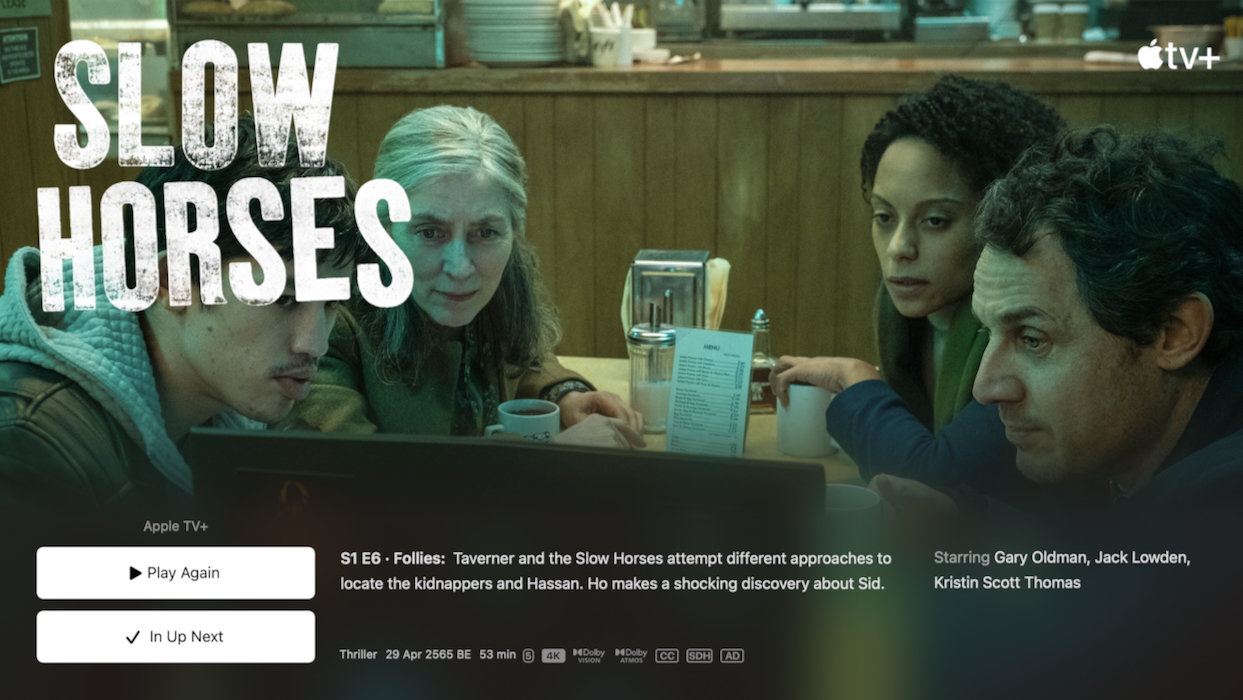 Screenshot of Slow Horses final episode from AppleTV app

At the end of the final episode there was a trailer for Series 2, suggesting that this is almost fully formed and well into production. Some of the unanswered questions may be answered (or not - keep 'em guessing) in the next series, such as the missing Sidonie Baker, whoever she is; and the part played by David Cartwright (Jonathan Pryce) that leads up to current events. Pryce starred in one of my favourite movies, Brazil, by Terry Gilliam: a dystopian take on 1984. And Oldman? From Syd and Nancy on, he has been an actor always worth watching. Some more information on Season 2 from Oliver Haslam on iMore, tells us that Peakey Blinders star, Aimee-Ffion Edwards and Kadiff Kirwan from This is Going to Hurt will join the Series. Haslam has no further information on when Season 2 will arrive.

There are always several articles before Apple releases its quarterly results, with so many experts weighing in about what Apple should do and how bad (sometimes good) it is doing. There are also predictions about what Apple will report. In previous years Apple has given guidance about what it expects, but the experts always know better and come up with their own numbers. Since the Covid-19 pandemic, when there is unpredictability, Apple has declined to give guidance, leaving The Street to make its own guesses. How do these people get paid?
I like to link to the tables that Philip Elmer-DeWitt produces showing how close to (or how far from) the figure Apple reports the experts are. There are some wide misses this time. Year by year I wonder, if these are experts, how are they still in business? Yahoo! reports that the The Zacks Consensus Estimate was $94.79 billion for the quarter. As we now know, Apple reported $97.28 billion revenue for the quarter: growth of 5.28%. As I mentioned last time, growth is one of the areas that worries Wall Street.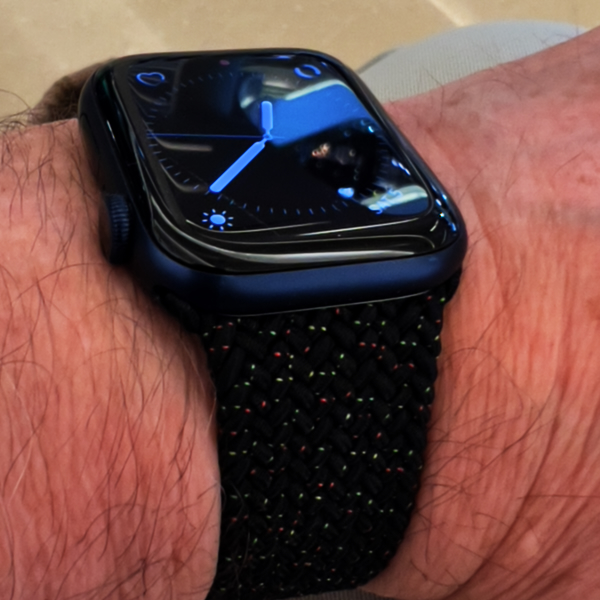 I was expecting negative reports from Wall Street and analysts this week with Apple's quarterly results due on Thursday, but I was not specifically expecting Trip Chowdry: a gift that keeps on giving. If you do not remember this analyst, he is famous for a prediction that in essence said Apple was doomed if it did not produce an iWatch (sic) in 6 months.
He is back again - just days before the next results were announced - complaining (among other things) that there is no innovation at Apple and investors are relying on income from services. Jonny Evans at Apple Must has the details, but this innovation idea follows just a couple of days from my comments on an article in Seeking Alpha in which an analyst could discern no real difference in performance - granted they look almost the same - between the 2017 and current MacBook Pro with its M1 chip.
Not 5 minutes earlier I had looked at a well-researched article on just this from Bashar Issa on Seeking Alpha who had examined the balance between Apple's borrowing: its investment fund and interest rates. Again, while I may not agree with all the conclusions, this analysis seemed sound and fair. I had been first drawn to the article by the headline which suggested that Apple would not face the same problems as Netflix if there was a reduction in iPhone users. The headline was a red herring and Issa provided no real answer to this specific question, apart from his wider comments on the resilience of Apple.

In the run up to Apple's Conference Call a couple of items of news from Patently Apple provided some positives although Wall Street had been hand-wringing particularly about the expected iPhone figures from China. While the trend for smartphone sales decreased 14% Apple had increased its market share by 3.2% even though the quarter was expected to be low: sales of all other smartphone makers fell. Not only that, but with the success of the M1 - no innovation, remember - Apple was the only PC vendor to show growth in the quarter: reported to be 8% year over year. Working from home may still be a factor in the sales, but there is also some throttling as suppliers are affected by lockdowns in China.
Another factor is the excitement that such a new solution has generated. This was my motivation for buying the first of the M1 Macs - a MacBook Pro - as there were features in macOS that were specifically developed for Apple silicon. This hardware-software nexus has been more obvious with iOS devices in recent years as Apple plodded on with the Intel Macs; but the new chips picked up many features from the A-series (iPhone and iPad) which, as was obvious from the A7 onwards, would only be available to Apple users: clear advantages in security, privacy and working. With iOS the software integrates closely with the hardware: for example with the camera and security features, especially fingerprint ID and FaceID. This ability to include features solely for Mac users is exciting. We can look forward to more of this as the M2 (and now there are rumors of a 2nm M3) is released.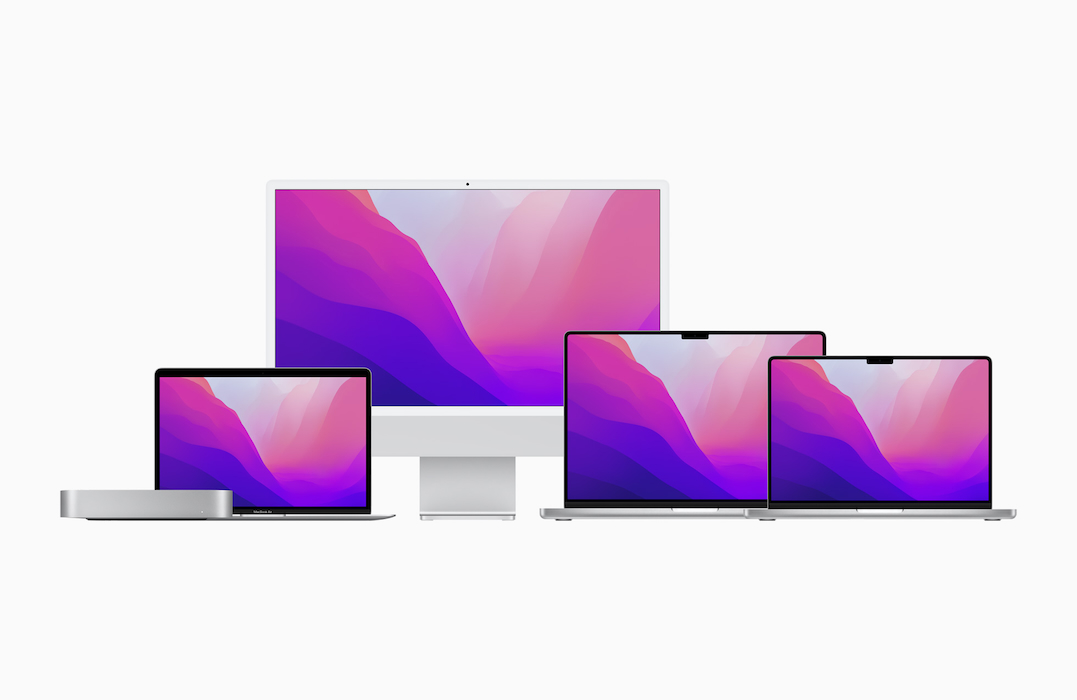 Apple M1 computers - Image courtesy of Apple

Here is what Apple reported:
Apple today announced financial results for its fiscal 2022 second quarter ended March 26, 2022. The Company posted a March quarter revenue record of $97.3 billion, up 9 percent year over year, and quarterly earnings per diluted share of $1.52.

"This quarter's record results are a testament to Apple's relentless focus on innovation and our ability to create the best products and services in the world," said Tim Cook, Apple's CEO. "We are delighted to see the strong customer response to our new products, as well as the progress we're making to become carbon neutral across our supply chain and our products by 2030. We are committed, as ever, to being a force for good in the world - both in what we create and what we leave behind."

"We are very pleased with our record business results for the March quarter, as we set an all-time revenue record for Services and March quarter revenue records for iPhone, Mac, and Wearables, Home and Accessories. Continued strong customer demand for our products helped us achieve an all-time high for our installed base of active devices," said Luca Maestri, Apple's CFO. "Our strong operating performance generated over $28 billion in operating cash flow, and allowed us to return nearly $27 billion to our shareholders during the quarter."

Apple's board of directors has declared a cash dividend of $0.23 per share of the Company's common stock, an increase of 5 percent. The dividend is payable on May 12, 2022 to shareholders of record as of the close of business on May 9, 2022. The board of directors has also authorized an increase of $90 billion to the existing share repurchase program.

There are several good comments on the figures and I include some of them. The first I looked at closely was from John Voorhees (MacStories). As well as a good outline, there were a series of graphs and charts that help put the figures in some perspective. Jason Snell (SixColors), a long time and trusted observer of Apple had shorter written comment but there is a 38 minute video of some discussion along with a fair selection of charts. Evan Selleck (iDownloadBlog) had a short overview of the figures, while Jordan Golson (MacRumors) - Best March Quarter Ever - included a useful timeline of the events.
There are some useful insights here. The timelines included questions from analysts, although they are not named. Nor are the respondents, so it is difficult to know with this report if Tim Cook or Luca Maestri is answering although there are a couple of clues, like the use of "granular" (Cook). MacDaily News was more helpful in this respect as it is clear who is answering but not who had posed the question. The timeline is in reverse chronological order. A reader has to start at the end, like the excellent Guardian reports on Formula One races.
Despite the good results some analysts prefer to take the chicken in the barrel approach: any trying to reach the top are dragged down by the others. DM Martins warns in "AppleQ2 Earnings: Great Enough: But there is a Catch" that there are likely to be headwinds in Q3. Apple had already reported this potential drag on revenues so that is hardly analytical skills. See above: the market also warned about falling smartphone sales in China and Apple weathered that one.
As the revenue drags are focused on China, it would be no surprise to me to find that Apple is shifting production to other countries, like Taiwan, Vietnam and India. Also on Seeking Alpha Bill Maurer (usually positive on Apple), in "Apple: Solid Q2 Not Good Enough" also looks at the potential for Q3 reductions following Apple's own comments. However, it is the title that does more damage: the content has a fairly solid analysis.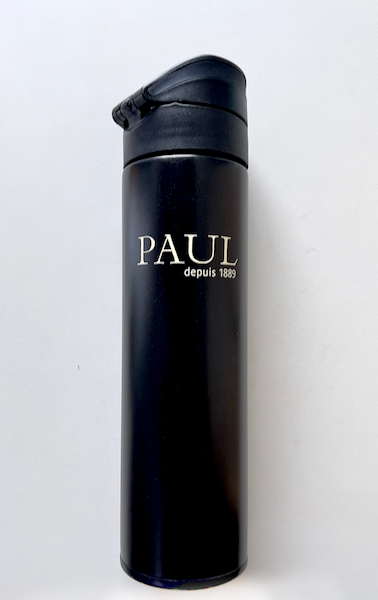 I saw a note on the MacRumors site by Eric Slivka about the HidrateSpark STEEL flask that Apple is selling in the online store. A closer look showed me that this links to the Health App and helps users monitor water intake. It was also shown in the local online store (Thailand) but is not currently available. I added that to my Saved Items along with the polishing cloth. I later found that it is also shown as being available in the local retailer, DotLife. There is a branch in Siam Paragon so I may look in there at the weekend.
However I note that colors are different: the MacRumors article shows silver and black; the Apple Store for Thailand shows black only (pre-availability); while DotLife also shows blue, pink (fruit punch) and green. Apple and DotLive refer to it as a 21oz flask, while MacRumors shows 32oz for a PRO version, mentioning other (older) versions, including the 21oz flask at the end.
My locally bought flask, from a high end baker in central Bangkok (shown on the right), that I bought for 1200 baht has lasted well and keeps coffee hot for hours. As I use this exclusively for coffee it would probably affect the taste of water. It seems like a good idea to supplement this with a water flask, particularly one that works with the Apple Health app and can monitor consumption.
Drinking water from a plastic bottle is OK, but I end the day with bottles in different rooms and at my office that are partially consumed, so it is difficult to monitor accurately. Besides, the effort of entering details manually in the Health app is tedious and I avoid it when I can. About the only information I do enter myself is the occasional blood pressure reading if I go for any health check. That used to be done automatically with a blood pressure monitor I had, but which broke after a few years use.

After much pressure aimed at protecting consumers from shoddy repairs, Apple has relented and will now allow customers in the USA (for now) to repair their phones at home (Sami Fathi, MacRumors). However, this is in the area of "be careful what you wish for" as to carry out the repairs there is a rental kit ($49) that comes in two cases (16.3 and 19.5KG). The cases have wheels. A repair manual is also available.
As the first comment mentions, "the random dude down the local shop" invariably does not have the tools to do the job as many in this region may confirm, following shoddy repair jobs. In at least two cases (one of them here) components have not been replaced correctly causing overheating and fire. Apple was of course blamed for this until an independent lab examined the devices. Now that Apple has a full presence here, rather than acting completely through agents, I would rather make the effort (and pay the price if out of warranty) to have a repair done properly.
Graham K. Rogers teaches at the Faculty of Engineering, Mahidol University in Thailand. He wrote in the Bangkok Post, Database supplement on IT subjects. For the last seven years of Database he wrote a column on Apple and Macs. After 3 years writing a column in the Life supplement, he is now no longer associated with the Bangkok Post. He can be followed on Twitter (@extensions_th)