Thursday Comment: Apple Event Potential Releases; Historical Apple Snapshots; Notes and Writing; Whose iPad is it Anyway?
By Graham K. Rogers
---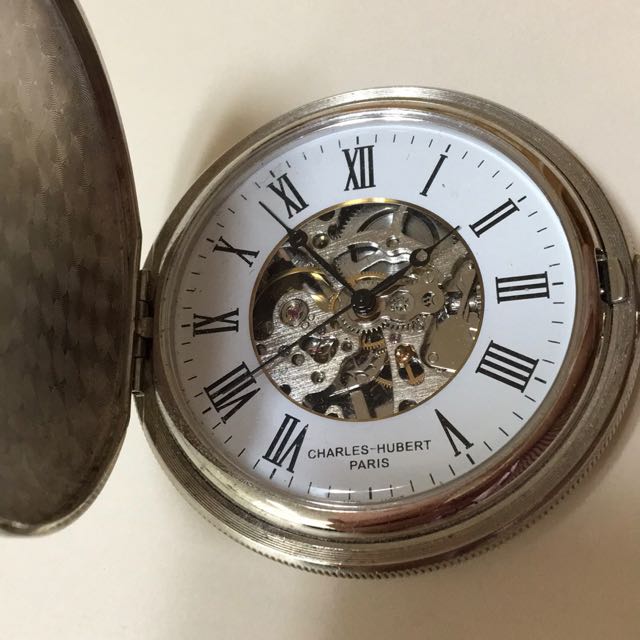 Foreshadowed by rumor, Apple announced a long-expected keynote event for next week: Peek Performance. There are several potential candidates: Macs, iPhone and iPads; or a surprise. This is Apple after all. Unwanted side effects from Monterey: accessories still not working. Historical tales of early Macs; and which OS the iPhone should have. Comments on Apple Notes and writing. It is impolite, at best, for someone to borrow a device like an iPhone or iPad and change the settings without asking the user.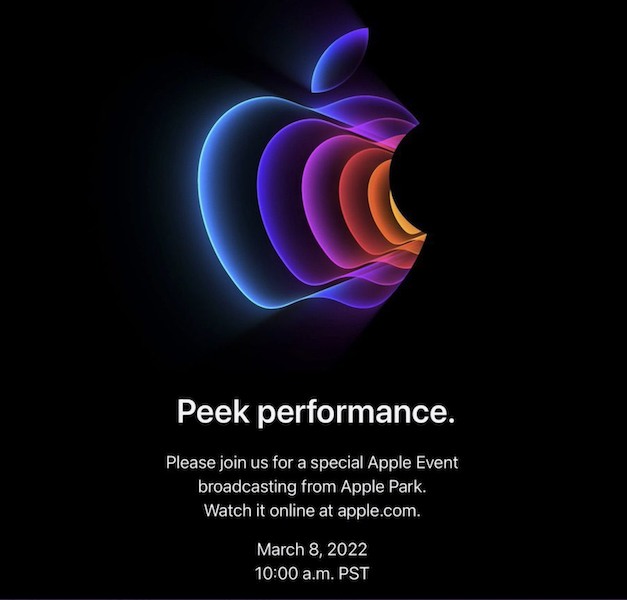 As had been anticipated, Apple has announced an event for 8 March: 5 days from now. It is expected that the iPhone SE and a new iPad Air are to be announced, although there could be new Macs as well. There are several potential Mac releases. Stephen Warwick (iMore) and several other sources have reports on this which as before will be an online event.
Warwick points out that Apple is calling this event Peek Performance: parse that if you dare. Some are suggesting Apple's rumored AR headset will be there. Jason Snell (Six Colors) has a brave stab at this. "Peek" may be a distraction and he asks, "What if the performance Apple is teasing is something even bigger than we're expecting?"
The favorites for the event, apart from a new iPhone SE, include the iMac (perhaps a Pro version too), a top of the line Mac mini, and others including the Mac Pro. I think however that the Mac Pro will be held back for the WWDC, which is normally held in June, as this machine will need a range of processors and a number of options for expansion. Despite the M-series SoC credentials, I wonder if it is possible that Apple would offer graphics card options.
As well as technical options, we should also think of color: that is supported by the logo on the invitation. The iMacs were well-received last year (as were the original CRT iMacs) with their color options, and it would be nice to see more of this.

When Apple silicon was first announced, Apple told us that its whole line of Macs would use its SoC within two years and we are approaching the deadline. Bear in mind, though, that if a product is not ready, Apple will not release it, although there have been some lemons (Cube, keyboards, et al).
Last week, Apple was granted a patent for a keyboard that contained all the elements of a computer (Patently Apple). With recent SoC developments the circuitry for a computer has become smaller, even though the numbers of transistors have been increasing. The M1 Max had 57 billion transistors compared with the 16 billion on the basic M1 processor. I wonder how many transistors and cores (and what other features) the next M-series chips will have. The first series of Macs updated with Apple silicon had few external changes from the Intel devices they superseded. Both the MacBook Pro that I now have and the Mac mini were almost identical. When looking for the photograph I used below I was surprised to see that I have had the M1 Mac for over a year (Dec 2020): time flies when you are having fun.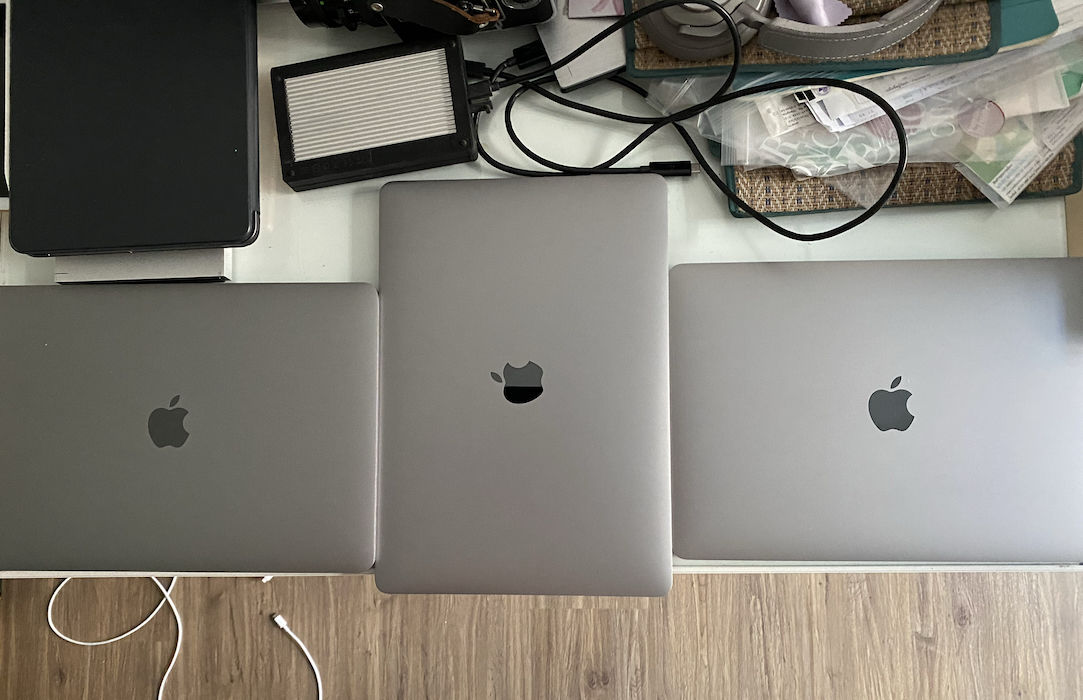 MAcBook Pro (Intel and M1) along with Intel-equipped MacBook Air

The top of the line Mac mini was not updated at that time and it is anticipated that this will be one of the devices replaced this year. Although there have been no rumors concerning a redesign of the body, Hartley Charlton (MacRumors) reports on a user who has created a downsized version, adding MagSafe too. It looks like an incomplete project but shows the potential for making such devices smaller. One problem had been the need to deal with heat and the article notes that much of the size of the Mac mini was due to empty space. The M-series uses far less power than equivalent Intel chips and that reduces heat output too. I have not heard the fans on my MacBook Pro since I bought it, while the previous (Intel) device often sounded like a 747 at takeoff.

There have been more releases of beta versions (5th) of Apple's operating systems this week and this suggests that the time for release of the user versions is coming closer. One of the features in iOS 15.4 and Monterey 12.3 is Handoff. If I am displaying my iPad Pro on the screen when teaching online, I use a USB-C to USB-C cable and QuickTime. It is a bit awkward and Handoff might be the solution I want, as long as it works with WebEx. Some camera display solutions have not been available for this. CISCO seems to plough its own furrow.
With the arrival of Monterey the M1 Mac had a version of macOS that was designed for it. However, there were a couple of side-effects that were not expected. My shiny new Bluetooth speaker from Bang & Olufsen connected but failed to produce anything but system sounds; and the Logitech webcam I had bought a couple of months before stopped working. With both there are redundant systems I can fall back on: the B&O speaker works perfectly with iOS devices and the iPads; the Mac still has its built-in camera, so online meetings are unaffected. Oddly, an older set of B&O headphones works perfectly with the Mac.
I contacted B&O for help and they responded quickly. Unfortunately I was told that while they fully support mobile devices, computers are a different matter because of the wide range of Bluetooth chips used. Online discussions about the webcams are even more negative. Some suggested restarting the computer, which I had already tried. The camera may work for a while but then returns to either a state of zero input or, even worse, a half and half situation, where it is shown in the menus (e. g. Of WebEx or FaceTime) and tries to connect, but this causes flashing input from the Mac's own camera.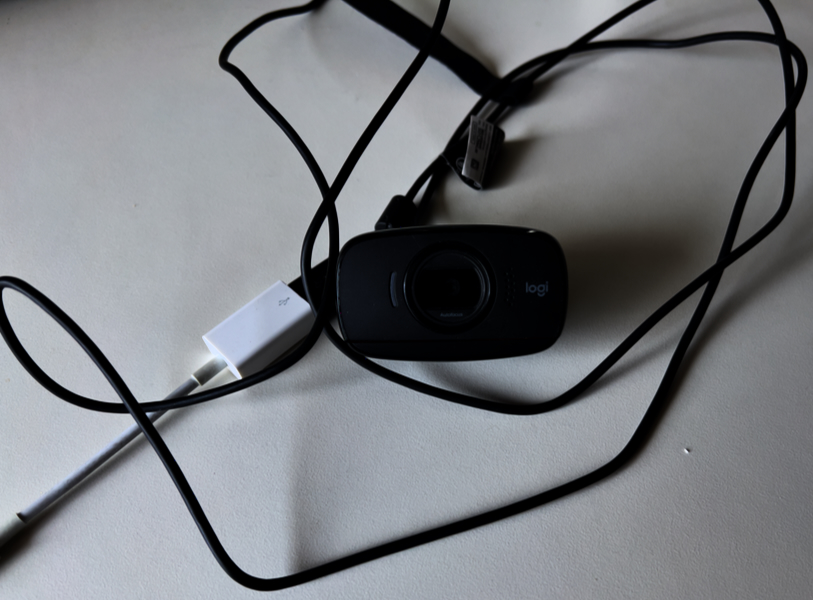 As an attempt to override the problem, I looked for another camera. I first had a look at a number of articles that outlined suitable cameras, but this time decided to limit my choice to one with a USB-C connector, which will avoid one link in the chain. There aren't many. I ordered the Logitech StreamCam Plus which was offered for around half the original price. Although the price is just over $100 with shipping, Amazon requires a $50+ deposit for customs fees. I usually have some of that returned. The total in real money was a little over 5300 baht. The next morning the camera was shown as "shipped" with an arrival date of 17 March.
The idea of having to restart to make an accessory work is untenable. As the camera uses USB A, I have three ways to connect: using an adapter, either directly connected to one of the USB-C ports of the Mac or through a powered OWC hub; or using the USB A port in the hub. None of these is successful, although the camera is recognized in the System Report and can be used with Photo Booth. I cannot remember the last time I used that. In short it just does not work for what I bought it for and the fault is more with macOS than Logitech or the MacBook Pro.
Last week I wrote about the new interface for Webex and how I had difficulty starting a meeting I had set up: no one-click button appeared. I had to copy and paste the meeting number into another panel. I discussed this with a colleague who runs meetings, albeit from a Windows device. He had experienced the new interface on that platform too, but commented on a green button that allowed him one-click access. This week, I started the Webex app and, again, there was no such button, so I prepared the copy and paste solution.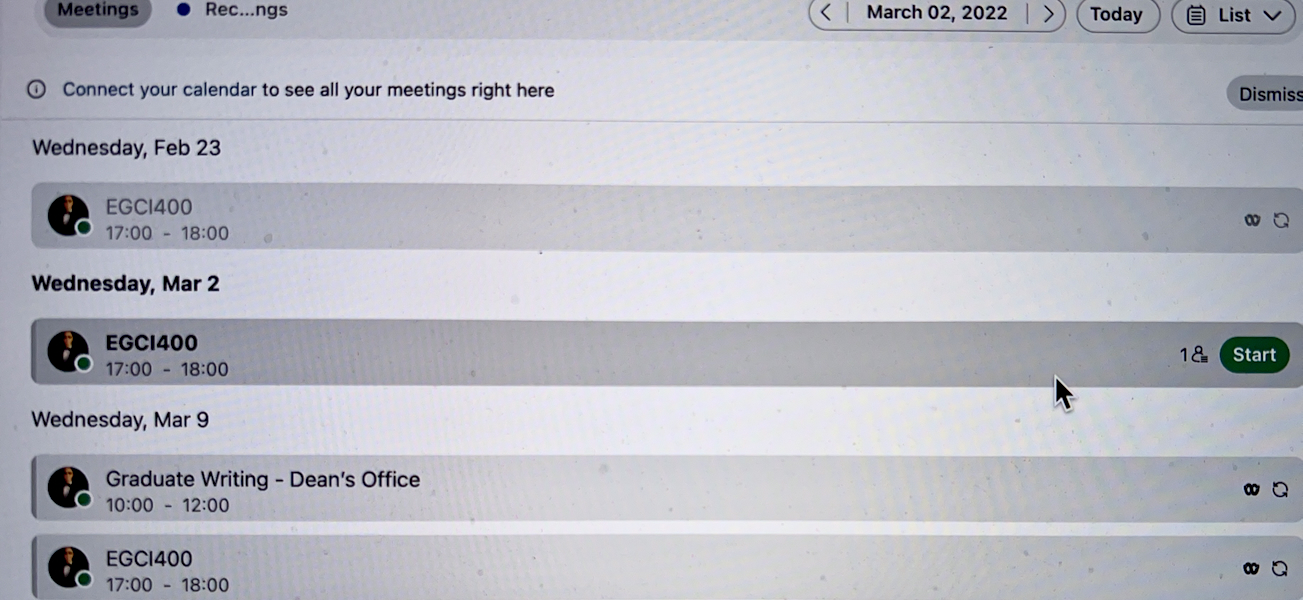 However, at 15 minutes before the scheduled start of the meeting the magic button appeared and I was able to start as normal. I do not like surprises like this. I like to start my end of the meeting early so I am sure of the setup (camera, sound) before throwning it open to students. That button needs to be displayed as soon as I start, not when CISCO thinks I should be ready.

In a comment I put out a few days ago I mentioned a developer in Germany who had cloned the Apple AirTags, but although they appeared in FindMy, did not warn a volunteer user that they were being followed. Apple was blamed for a misbehaving air tag that was not an Apple AirTag because not all tracking devices are seen by the iPhone: Tile Pro, Tile Mate, Samsung's Smart Tag et al. The developer thinks it is Apple's job to track everyone's tags. I was thinking of this a couple of days later when I saw a historical piece on early Apple computers. The Apple II computer had been copied by Franklin Computer, right down to the printed manuals and Steve Jobs was not too happy. Apple sued and won. Of course, if one company had done this, perhaps another would try. Some did. A link from Jim Dalrymple, who has just announced his retirement, took me to this early story about the Mac.
Writing on Folklore in 1983, Andy Herzfeld, who was a member of the original Macintosh team, outlines how Jobs wanted the words, Stolen from Apple, to appear if secret code was typed in, should another company copy the ROM. The team came up with an interesting solution that carefully hid the icon, which would appear only if a complex code were typed in. No one ever did copy the ROM, but this was apparently included in the Mac and the team teased a few sleuths about its existence.
Also appearing this week is a historical rundown by John Gruber of the development of the original iPhone: hardware and software, including two potential versions of an operating system. Much of the content concerns insights into personalities, rivalries and friction between the various players behind the development of the devices. There are some interesting anecdotes about how Steve Jobs behaved towards some of these, including high level executives of Apple. There is not much on the technical side, but it does color in some of the outlines already in the public domain.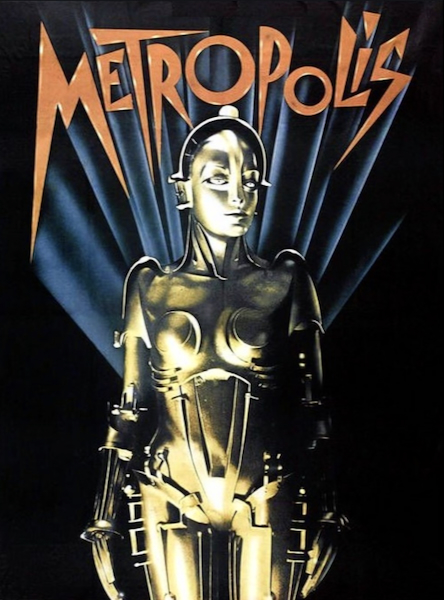 While we are still waiting for CODA to appear here (I am not holding my breath), it goes on winning awards, making me want to see it even more. As I am a science fiction fan, I loved Foundation and cannot wait for the next series. I also enjoyed Invasion and look forward to a second series from Apple. There was news this week that Apple is to produce a new version of one of the all time science-fiction (if not movie) greats: Metropolis (Oliver Haslam, iMore).
The Fritz Lang directed silent movie set standards that many have followed. I look forward to a new version that has CGI and speaking characters. Although Apple minimised the use of CGI on Foundation, building mega-sets, I expect it will have a larger use in the planned Metropolis series. There is a book (on Amazon Kindle - from where I took the screenshot), but like Do Androids Dream of Electric Sheep and Blade Runner, the movie was better. This new version will be a series rather than a movie, so there is considerable room for the scope to be expanded.
Apple has just released a trailer for Slow Horses, a new spy series that is appearing 1 April (Stephen Warwick, iMore). It stars Gary Oldman and Kristin Scott Thomas as well as a solid cast of British actors. As has become normal practise, the first two episodes will drop on that day with new ones on subsequent Fridays. Apple is beginning to build its service and has come up with some solid series and movies. Some are not to everyone's tastes. I loved Macbeth but comments from some suggested they did not understand it. I did not, however, understand Mr Corman, which mercifully was dropped after one series. I tend to watch about 50% of the content so far.

Although I use and recommend paper for writing, when I am collecting information, for example when writing these comments, I tend to work with Notes. I had tried iAWriter, and Notability, both of which synchronize across my devices, but each had minor drawbacks with the way I work. Once I have most of what I want, I switch to BBEdit and mark up the content for the web. That includes finding and adding links to images. One thing I have noted, and I teach this to my students (not that they seem to absorb the importance), is that when changing the medium, my eyes have a fresh look at the text and I can edit more effectively.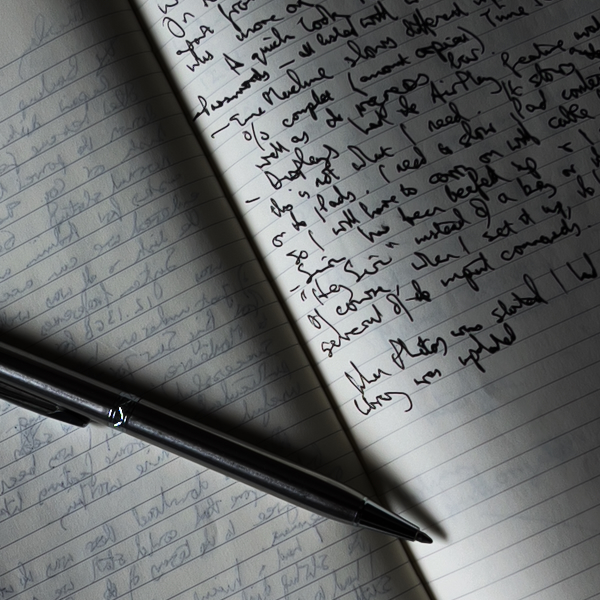 In my case this was originally from paper to BBEdit, to markup (or Word processor). In each transition, particularly the first, I was able to recognize where changes were needed and hopefully improve the content: spelling, word choice, sentence structure; and the balance of ideas - too much or not enough. I was pleased to find support for this mixed media approach last year, when I found an article by Clive Thompson, on the appropriately-named Medium site (paywall). AS I have said to students for years, if writers start the process using a word processor, they do not benefit from being able to look at what they have written and help it evolve: they are starting with the finished product.
With Apple's Notes, what appeals to me on top of the ability to synchronize content, is the flexibility of what appears to be a basic app. I can type or write with the Apple Pencil when I am using an iPad. I came also sketch or, more useful when teaching engineering students, rough-draw flow charts. Mine are usually horizontal rather than vertical as I explain how some ideas work, but vertical works too. I am aware that images can be inserted as well, but I rarely use that feature. It appears there is a whole lot more I am not using, according to Christine Chan on iMore.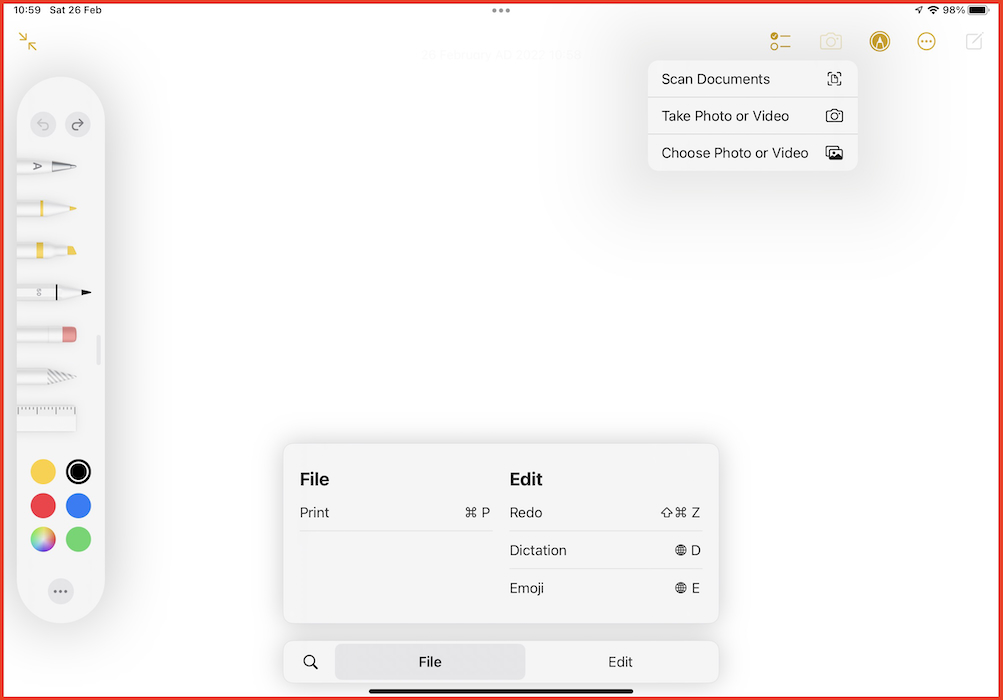 Her "Ultimate Guide" to Notes did have a couple of surprises, such as the ability to lock notes, which should have been obvious to me and when I looked at the panel (revealed by the icon with three dots), I had seen this option, along with Scan, Pin and Delete as well as a number of text features. She mentions the various media that are available and just touching the camera icon reveals several ways to work. When I took a screen shot, deliberately holding the keys too long, key commands available were also revealed. For good measure I also had the Apple Pencil controls onscreen.

I have a regular Sunday evening phone call with my family in the UK. This week I was particularly looking forward to it. My nephew's wife is Ukrainian and she has been worried about her parents. They are OK up to a point, but sheltering from shelling in a cellar each night. The call did not come. For years I had phoned home, using software to their telephone and my mother refused to have WiFi. My nephew gave them a used iPad Air last year and the gates were opened. After years of resistance, they are actually finding being online quite useful: smartphone, iPhone and television are all now connected.
The smartphone was a late arrival. Once the WiFi was connected, a more modern phone seemed sensible, although my mother sticks to plastic keys because of arthritis. That is what she claims. The iPad and smartphone are in the hands of dad who found himself, in his 80s - more than ten years after the iPad was announced - in a totally new world. The first time he did anything really was the first time, but bit by bit, with help from me and a friend, along with interference from a couple of others, he has learned some basics. Twice however the new infrastructure has been turned on its head.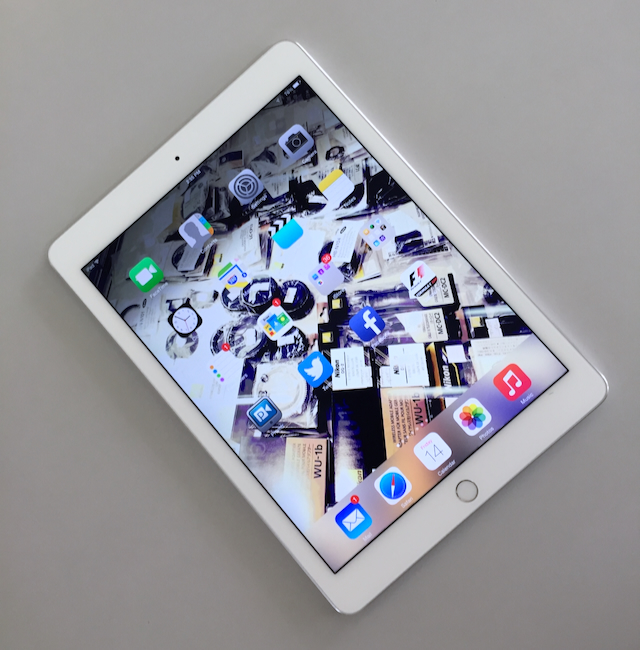 When some Covid restrictions were relaxed, the hairdresser was able to visit. While there, he asked to watch football on the iPad. After entering account details and watching some parts of a match, the iPad was left with an unwanted app and information panels popping up concerning payment and other news. Over a phone call I helped end that.
This week, their call was late and when it came was on the iPhone, not the usual Mac, because it was using Facebook messenger. Although I have shut down my Facebook use, I still keep Messenger running so that friends still have access. Most use Line, What'sApp or Messages, which was the normal way we made the weekends call. I called back using the video feature in Messages which automatically switches to FaceTime and he explained what had happened. The video icon was not available so he switched to Messenger. The hairdresser had been during the week, spotted the iPad screen and made a beeline for it, saying that the apps should be reorganised into groups. He made changes to the screen without asking.
As the Home Screen had been set up bit by bit as they learned how to use it, the apps were exactly where they could be found. Now, most were reorganized into folders and this was found to be utterly confusing. It is not clear what settings may have been changed. I spent several minutes showing the screens of iPhone and iPad mini - working in a mirror situation is not that easy - and demonstrated how to move an app, how to delete an app, and how to restart the iPad. These appear simple tasks, but not if you are in your 80s and have never done it before. I suggested a restart first, then the moving of apps out of the unwanted folders, along with deletion of apps he had downloaded but did not really want. I also suggested that it might be a good idea to restart the iPad one more time.
Like a personal computer, a tablet device is often for personal use and when an outsider starts changing settings or reorganizing, that is impolite at best. We each have our own ways of working. Asking for help or advice is another matter. I will find out during the next call if the situation has improved.
Graham K. Rogers teaches at the Faculty of Engineering, Mahidol University in Thailand. He wrote in the Bangkok Post, Database supplement on IT subjects. For the last seven years of Database he wrote a column on Apple and Macs. After 3 years writing a column in the Life supplement, he is now no longer associated with the Bangkok Post. He can be followed on Twitter (@extensions_th)