LAOWA 14mm f/4 Lens for Nikon F-mount: Order and Arrival
By Graham K. Rogers
---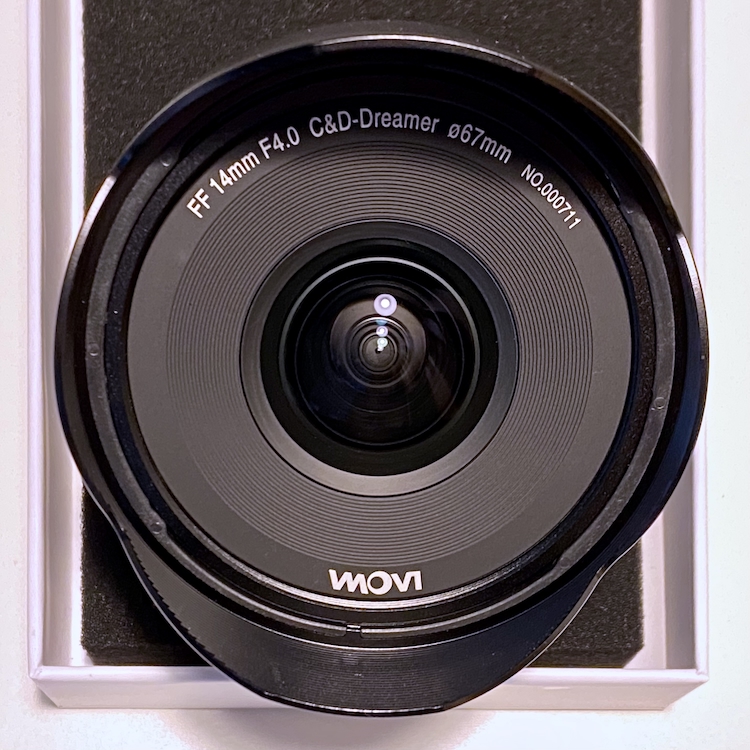 I recently ordered the Laowa 14mm lens for Nikon F-mount cameras. The lens has manual focus only and minimal metadata is produced by the camera. The sharp, wide shots it produces are outside my normal experience (in a good way) and I look forward to trying this with my Nikon F3 film camera.

With a succession of DSLR cameras that I had bought from about 2000 onwards, I also acquired a series of prime lenses: Nikkor 24mm, 50mm and 85mm; then an excellent Tamron 35mm lens, plus a couple of cheap (and breakable) telephoto lenses, eventually replaced by the Sigma 100-400 lens. I also have several film cameras, with a range of lenses as well as a selection of mounts used to connect these manual lenses to the cameras: Hasselblad, M42, Bronica, and most recently a Pentacon camera with its P6 bayonet mount. Some former students honored me by buying a Nikon F3, for which they found a manual focus F-mount 50mm lens. If I wanted, I could use that with my current Nikon D850.
There has been much discussion about the relative strengths of mirrorless and DSLR cameras, but for now, I expect to stick with DSLR. It appears that more lenses are being produced for mirrorless and it may be that eventually DSLR cameras and lenses will be fewer or too expensive for ethusuastic amateurs like myself. However, lenses are being developed for the time being and a few months ago I was intrigued to see a 14mm lens from LAOWA with mounts for Canon and Nikon announced. The initial information ticked a few boxes for me and I marked this as "potential".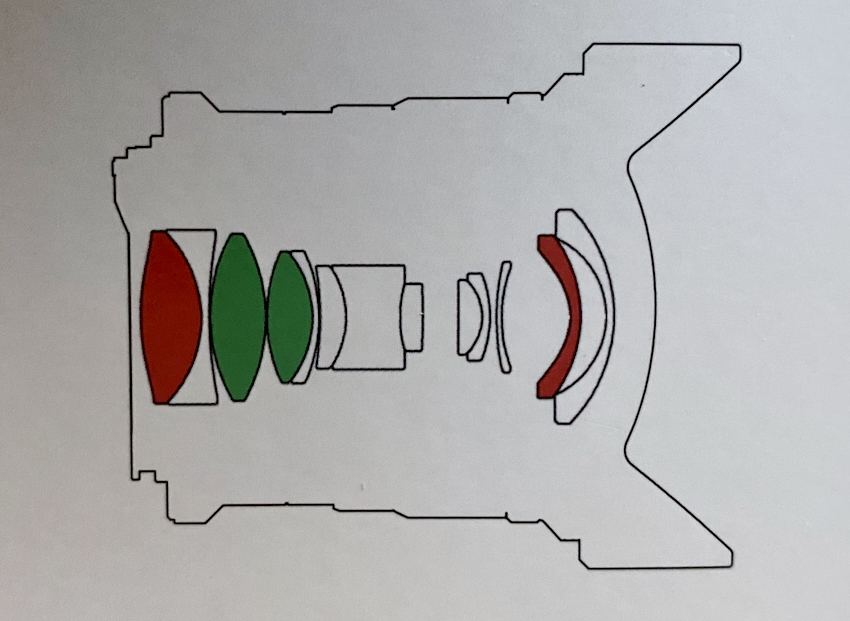 Loawa 14mm lens diagram from the box

A little over a week ago, Andy Chua (PetaPixel) tested a LAOWA-supplied lens. As he was using the Nikon D850 I took careful note of what he found. As he writes, often small lenses weigh a lot. My Tamron 35mm weighs in at 805 gms, then there is the camera to add to that. He writes that the LAOWA is 320gms (even with 13 elements in 18 groups) which would help back strain considerably, although it is marginally heavier than my workhorse Nikkor 50mm f/ 1.8 lens. As he went through his findings I was quite impressed. The article showed a lot of work, particularly with the display of images at a range of aperture settings.
After discussing starbursts which do not interest me (I rarely take photographs at night) and flare, which does, I was impressed with the lack of distortion: the Perspective tool is one of the most used when I edit my photographs; so this lens with a wider angle than I usually work with scores major points here. Then he looked at Close Focussing. While I was impressed with the results, what convinced me above all was the closeness of the Woody figure to the lens. From the photograph with the article I estimate it was only 3-4cms away. I don't have any lens that can do that. I do now.
After reading the article, I gave myself 24 hours then hit the Buy button. The purchase is made directly from Venus Optics and cost $499 with no additional charge for shipping (worldwide), although the courier service seemed confused, sending it from Hong Kong to Japan, then Vietnam, and back to China (Guangzhou) where there were no updates for hours, slipping past the expected original delivery time. It arrived some 24 hours late along with a delivery of medium format film from Hong Kong.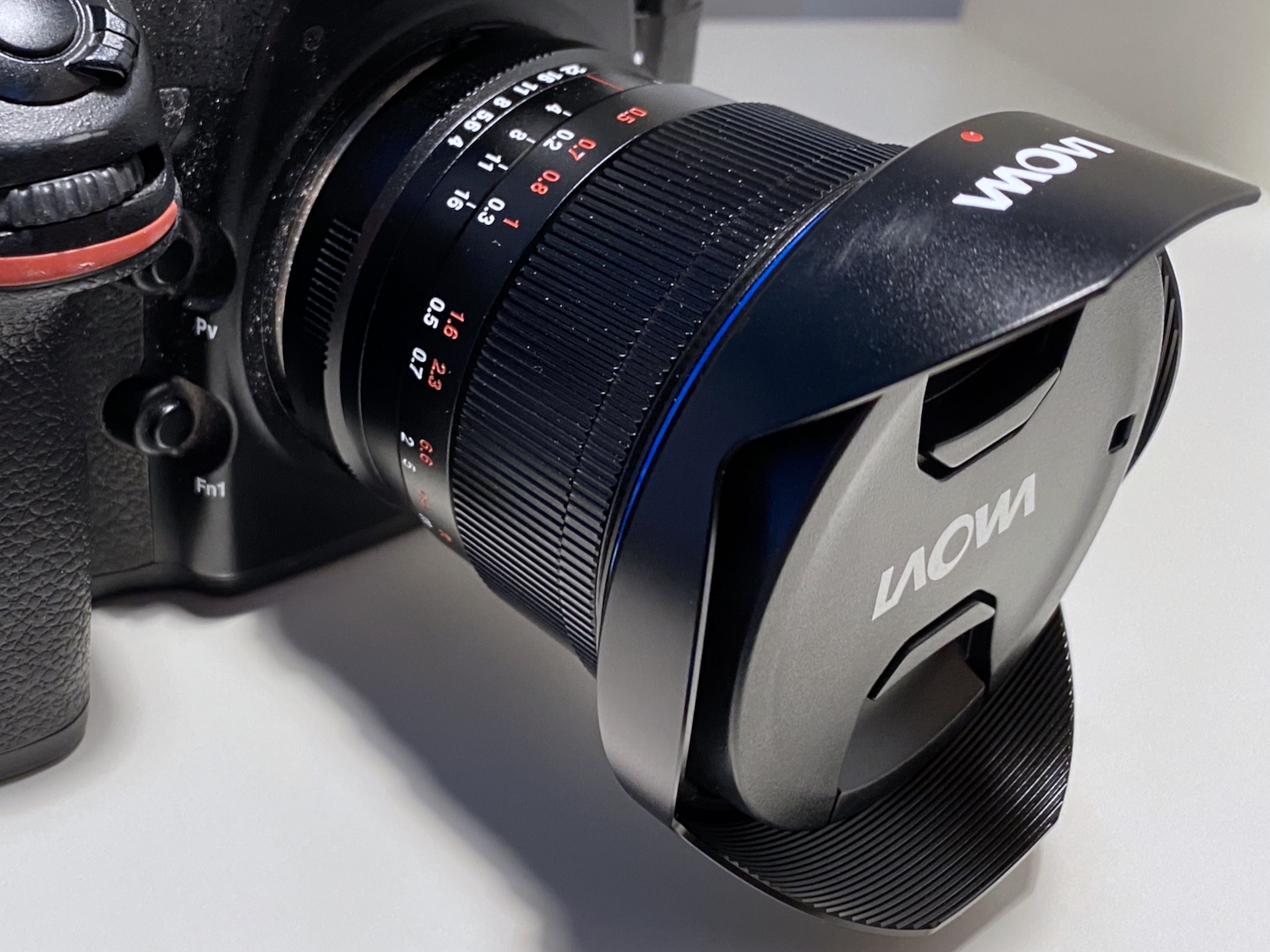 Most lenses for DSLR use an autofocus system which adds to design, cost and weight. As I regularly use lenses with my film cameras that I have to focus myself (manual) I do not see this as a problem and may add to the enjoyment of using the camera-lens combination. This is something perhaps for a later comment. I also have plans to try this with my Nikon F3.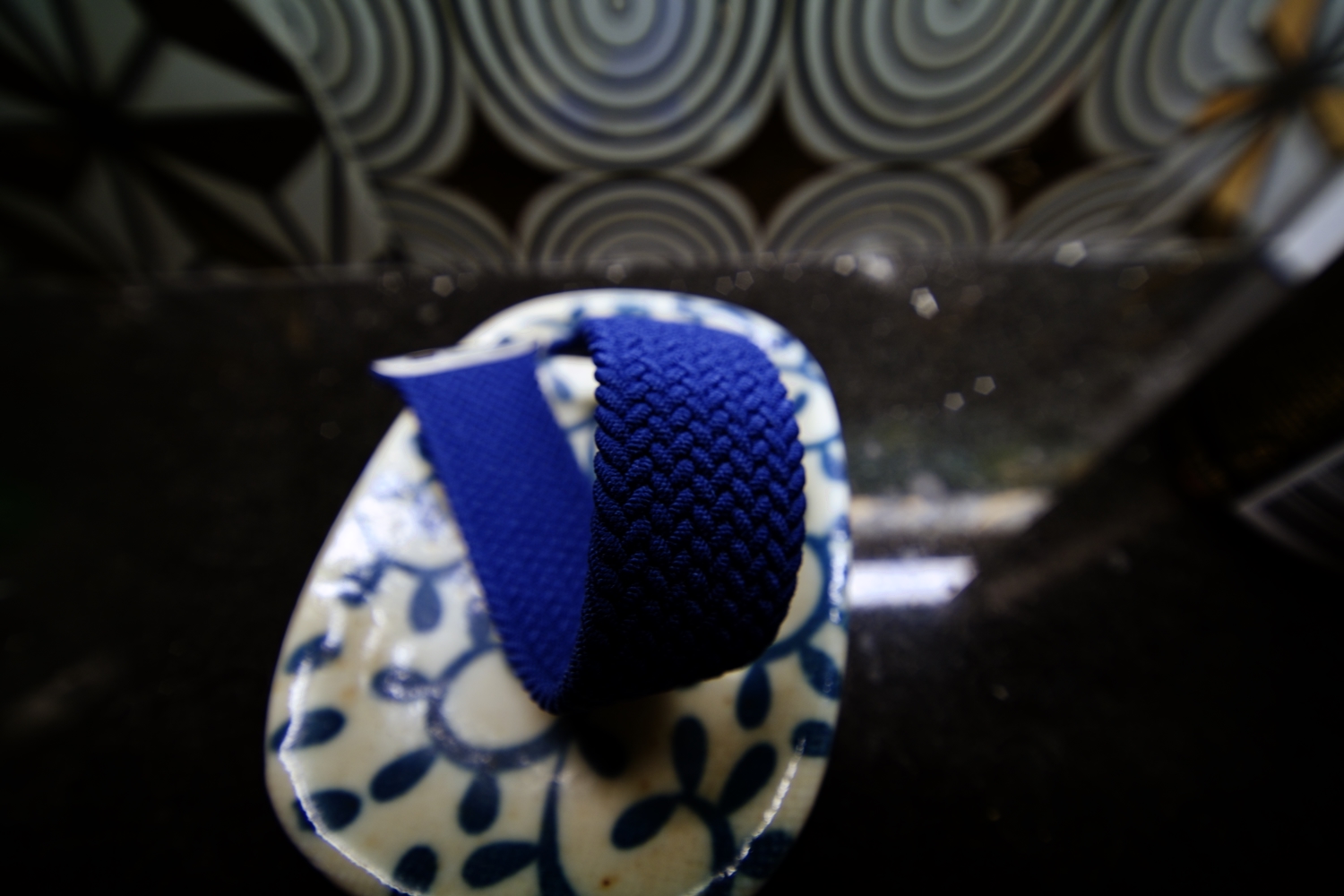 My first look at output from this lens was when I took it out of the box, then wasted a few shots round the apartment: focus was my main concern. The next morning I went into Bangkok briefly and took as many shots as I could in the short time available. My D850 is normally set for Aperture Priority, but with this lens, this was changed to ISO Auto. When changing the aperture on the lens, I noted that the camera display showed f/5 for f/22 on the lens, down to f/0 at f/4 on the lens. I trusted the lens (and the camera), but minimal metadata is available and only ISO and shutter speed are shown. Generally, when shooting, I ignored this, set the lens to f/22 and kept my fingers crossed for this first outing.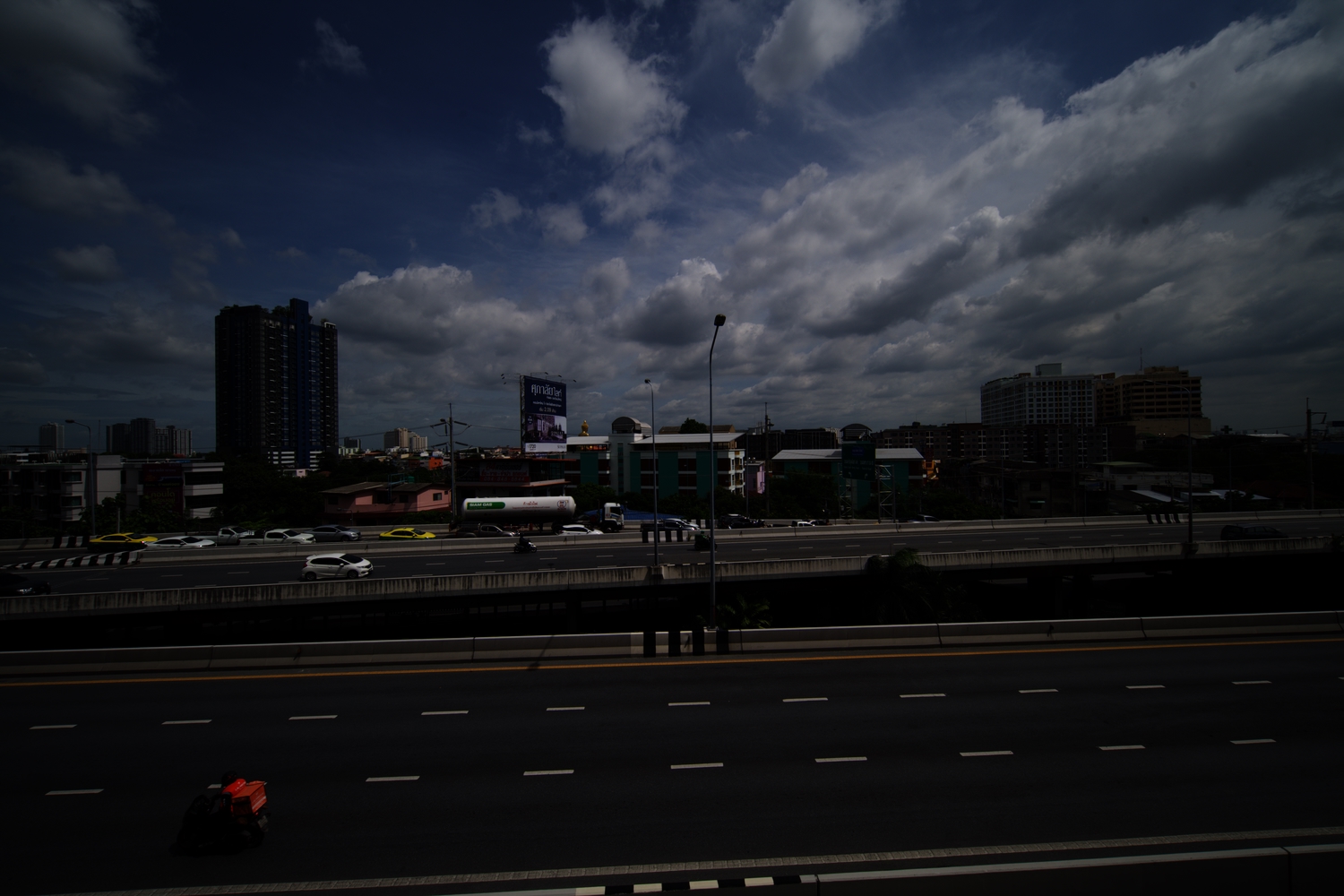 With those settings in an increasingly overcast Bangkok almost all of the photographs needed minor editing as can be seen by the image of the road with blue, cloudy sky (unedited RAW exported as JPG - above). The sharpness is apparent and there is hardly any problem from perspective. With only minor exposure and brightness changes, this image was improved considerably. On a social media site it prompted one of my former students to question why it was so thin. That is what the wide angle capabilities of the lens allow.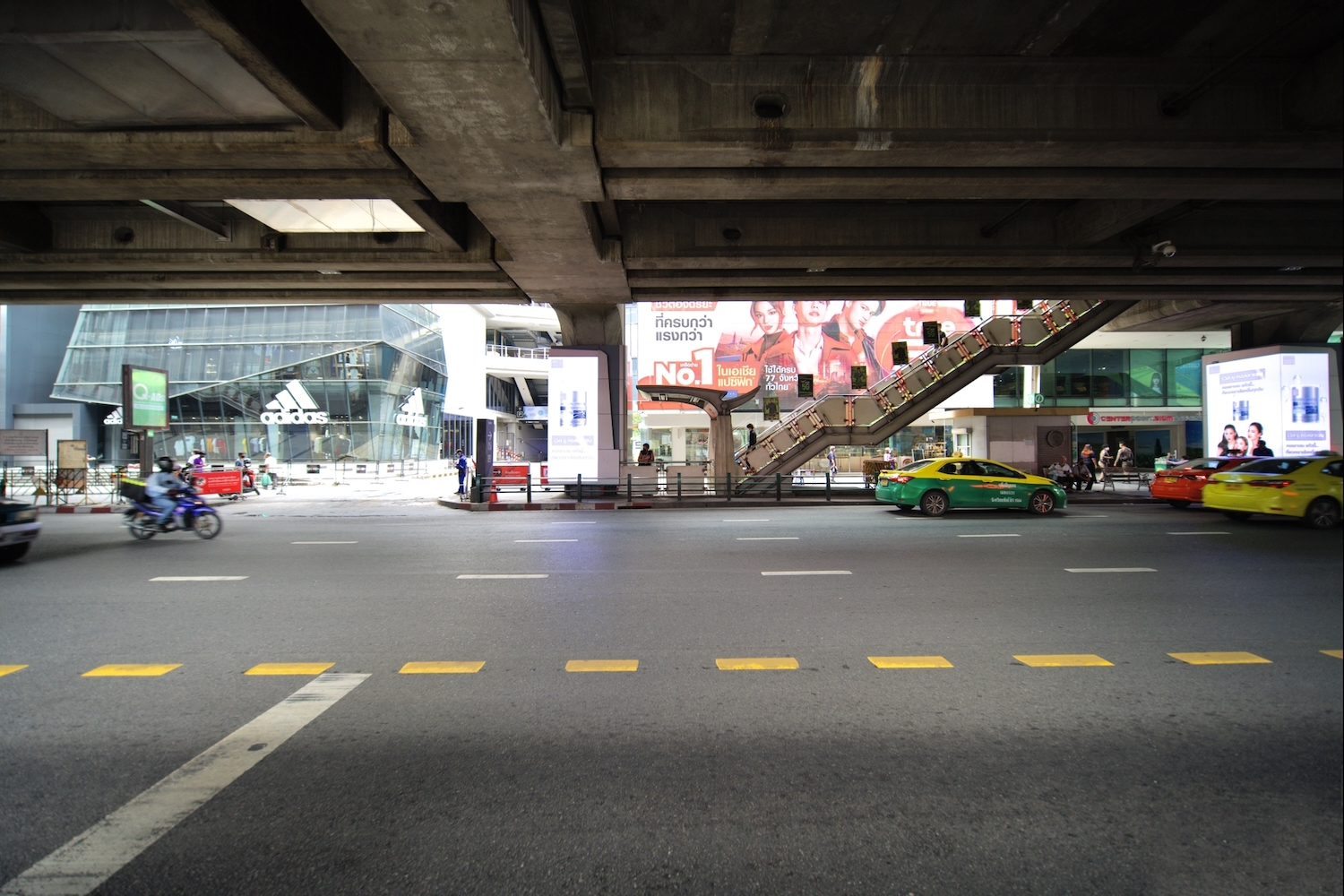 Another comment on social media mentioned that I would have to be careful to keep my toes out of the shot. As I set up shots, I found I was having to move to avoid street furniture that was in the shot that my 35mm and 50mm lenses would not have included. I was, however, able to revel in the potential for a one-shot mini-panorama and the ability to view familiar scenes in a totally different way. There is more work for me to do, and more experimentation. I am also waiting for some batteries so that I can try this lens on my Nikon F3: a modern lens with a classic camera.
Graham K. Rogers teaches at the Faculty of Engineering, Mahidol University in Thailand. He wrote in the Bangkok Post, Database supplement on IT subjects. For the last seven years of Database he wrote a column on Apple and Macs. After 3 years writing a column in the Life supplement, he is now no longer associated with the Bangkok Post. He can be followed on Twitter (@extensions_th)