Tuesday Review: New Apple Products; Apple's Nest of Hornets
By Graham K. Rogers
---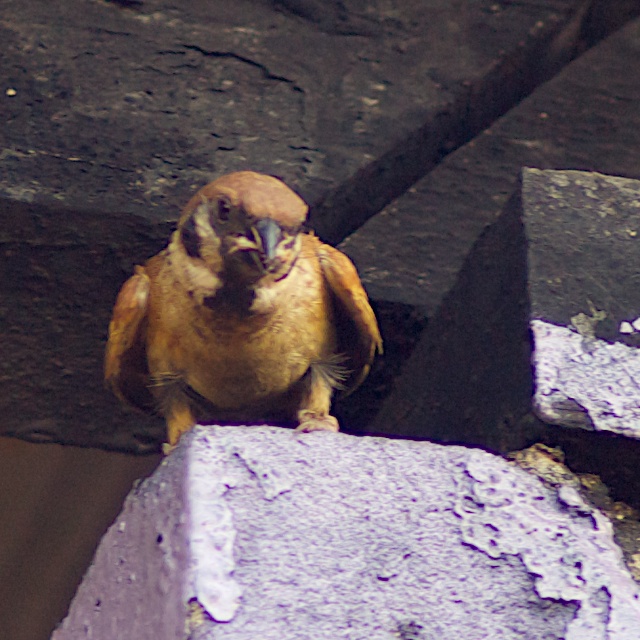 In the near future, Apple is expected to release a number of new products, probably starting with the next iPhone in September. For the present, Cupertino has walked into a storm with its announcements concerning CSAM checks that are expected to become active in iOS 15. Despite good intentions, many fear a weakening of Apple's privacy protection.

Although I expected my New Zealand Watch Band to arrive on Thursday, it came Friday afternoon. I had been pre-warned by a message from the Apple Store (appropriately) on my Watch. I noticed that within the box there was a code that would allow me to download the relevant Watch face. That took me a couple of seconds on the iPhone: scan, connect, download.


The new face loaded immediately on the Watch, although when I tried to take a photograph the iPhone had a problem balancing the grey of the stripe, turning it into a pale mauve. My attempts at doctoring the image with white balance and some color adjustments were not successful so I just took a screen shot.

I rather like these Sport Loop nylon bands. They are lighter than the early Sport polymer bands and with the range of colors, less formal than leather or metal bands that are available for the Watch. I tend to wear these round the house. The Graphite (black) Milanese Loop is more formal. The braided bands are nice, but need the wrist to be measured for the right fit. They are the same price as the leather bands and the Milanese Loop. Metal link bands and the Hermès selection are higher priced, although I must admit I am attracted to the Single Tour bands.

There have been rumors over the weekend concerning new MacBook Pro models which several sources suggest are going into production. The next iPhone will probably be announced next month and its release will follow soon after. If all follows as normal, I would expect to see the iPhone on sale here around the middle of October. Apple's iOS 15 will be released just after the initial announcement. I have a beta version on my spare iPad Pro, but rely on others to examine the new features and write about them. One of these new tricks is QuickNote and John Voorhees (MacStories) has written about how this works for him. I use Notes extensively and never find this is particularly slow when I open it, so I wonder how it will benefit me.
QuickNote will be available for Monterrey as well as iPadOS (but not the iPhone) providing another cross-platform feature for users, although I find that Notes synchronization is quite useful for most of my needs. It is interesting to change some text on one device and see the changes appear on the others in an instant. What I do I find interesting is that the new feature is able to work with a number of apps already using the NSUserActivity API. As Voorhees notes, some new features from Apple take a while to be taken up by developers, but this already has a lot of fans.
Although it is a feature of iOS 15, if I create a QuickNote it will appear in the Notes app on my current iPhone, on iPadOS 14 and on a Mac running Big Sur: both the Mac and the iPad Pro use M1 chips. Voorhees is baffled that this feature is unavailable on the iPhone. However Quick Notes created are found on the iPhone.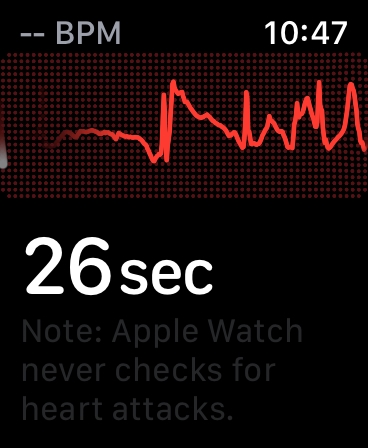 I am a fan of the health app and use the Apple Watch input to give me a fairly full picture of daily activities, ranging from sleep, heart rate, blood-oxygen content, as well as physical inputs like exercise. Occasionally I run the ECG feature (here distorted by taking the screenshot) although results are pretty much always the same, which is just how I like it.
The features of the Watch and Health app have increased over time, although there are some shortcomings. One example is non-invasive testing of blood-sugar levels which would help those who suffer from diabetes or other related illnesses. The only way to check currently is to draw a small amount of blood and analyze with a suitable device.
I have one of these that I bought a few years back for testing purposes. I ran this for a month, checking my blood daily before breakfast and noted that the device indicated slightly elevated levels. I had to enter data manually into the Health app, but that was only a slight inconvenience.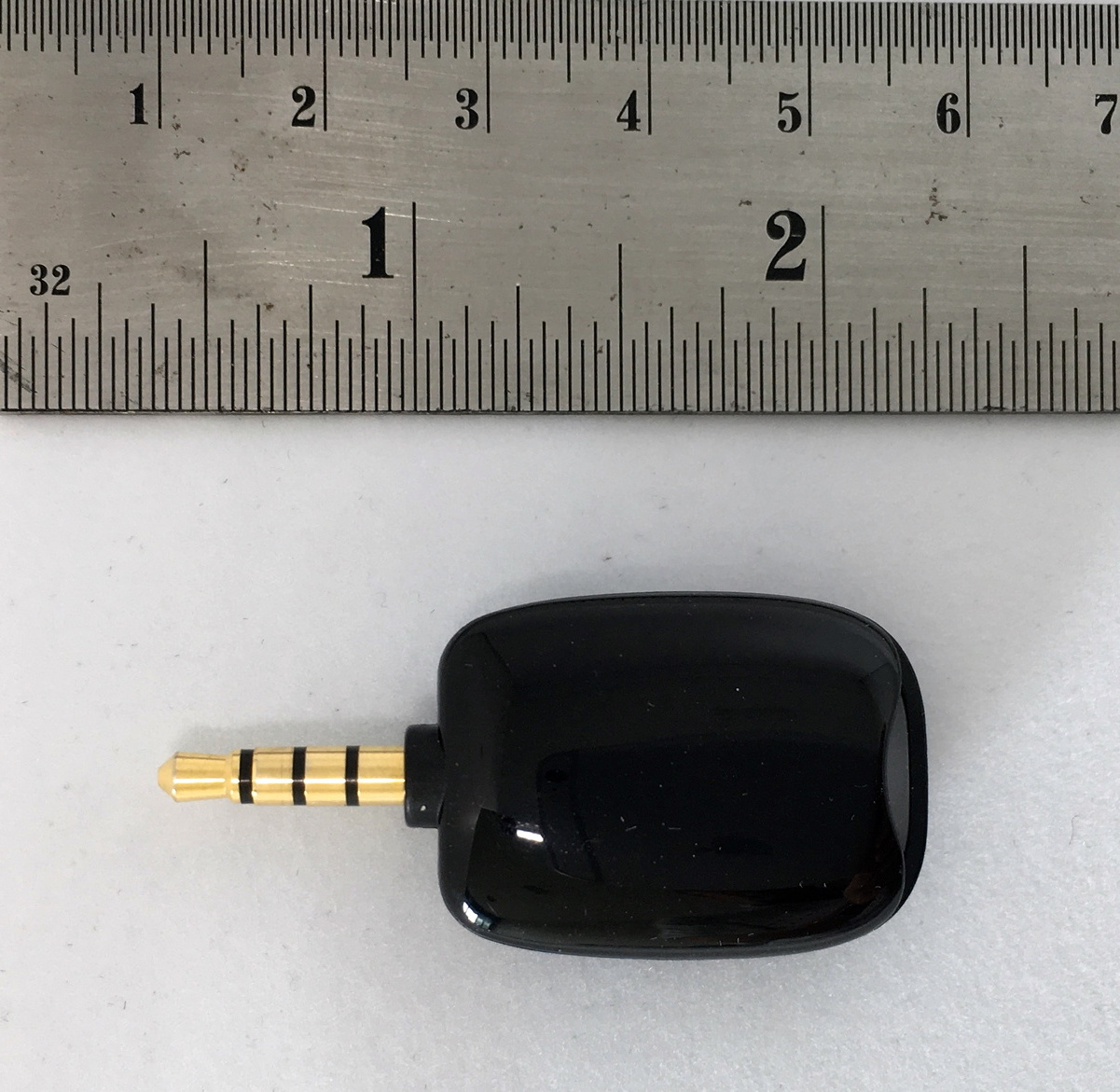 With the readings I went to a local hospital where the blood was checked for sugar and other potential problems (cholesterol, lipids, liver function). While no major problem was found, there were indications that I ought to make some changes in diet and with exercise. I have my blood checked every 6 months now and for an old guy I am just fine.
I had also tested a couple of blood pressure monitors, one of which I gave to my mother, but again, in general terms, the readings did not indicate any significant problem. The device I kept later broke and I should buy another: it was so useful. This and a set of scales from Nokia/Withings both synchronize with the Health app, entering data that builds that valuable picture and allows problems to be noted earlier.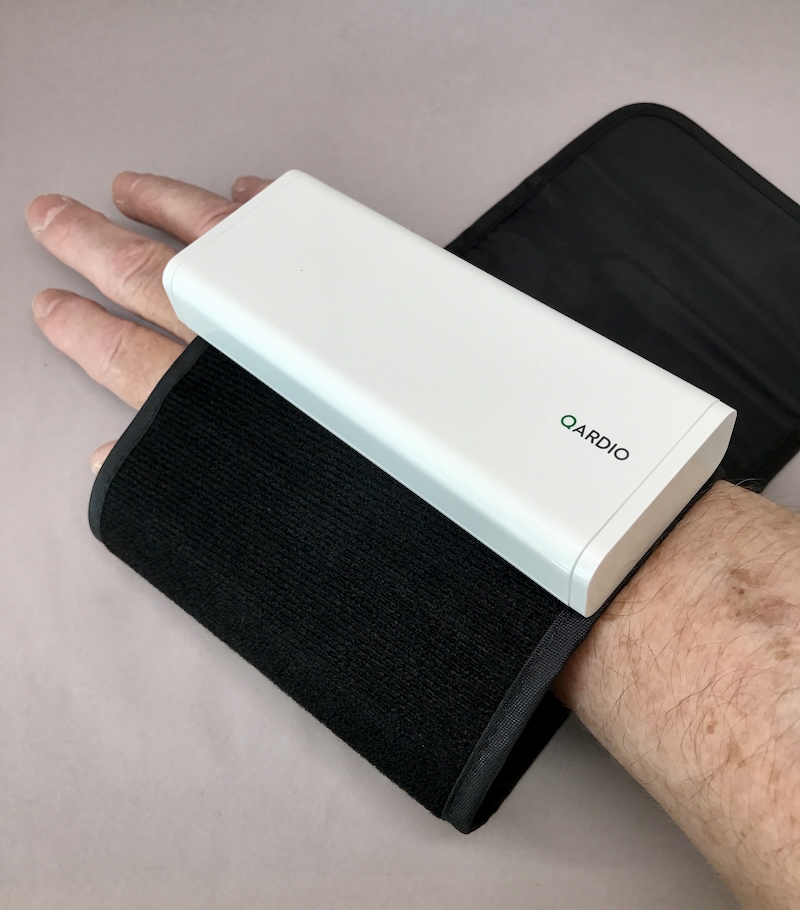 For example, I was feeling unwell a couple of years ago and noted that, apart from copious overnight sweating, my weight dropped rapidly over the course of a couple of days. A subsequent examination revealed a problem that was fixed short term at the hospital, then long term with surgery. I would probably have found out anyway, but the statistics accelerated my recognition that I had to see a doctor.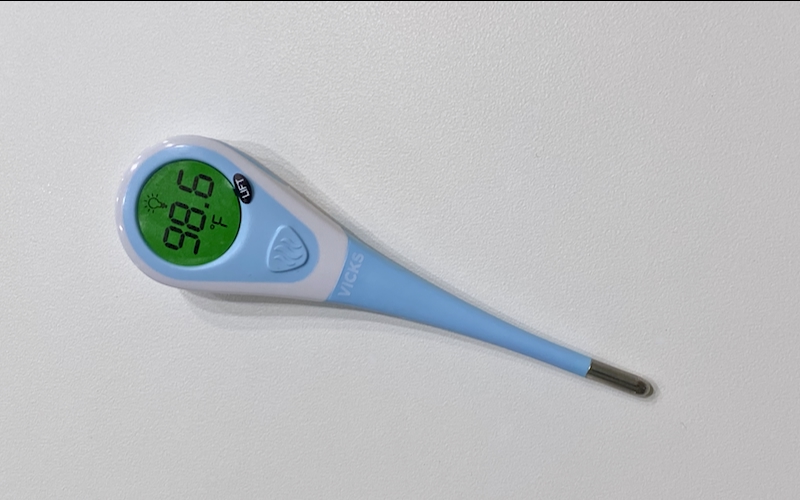 With Covid, one of the checks that is carried out regularly when entering a building or other location, is for temperature. This feature is missing from the iPhone and the Watch but can be tracked using an external device. There are several on the market, ranging from basic manual thermometers, to more sophisticated electronic devices. A search online showed a number that had some potential, but I ordered one that did not synchronize with the Health app: I will have to enter data manually.
Apple's Nest of Hornets
At the weekend I was prompted to write an examination of Apple's introduction of CSAM checks that were planned to become active in iOS 15. Looking at a number of sources and organizing the information helped me bring it into some perspective, between the knee-jerk Twitter comments and the more measured analysis that some provided. What is clear is that the initial examination does not look at an image but at an assigned hash number.

This is not an easy concept to grasp and my technical knowledge failed me at that point, but a FAQ from TidBits (Glenn Fleischmann and Rich Mogull) has a link to an Apple document that explains the technology behind these numerical (binary) assignments. If you or your source have not read that, you are missing critical information about the actions being taken and the technology used. I note that a number of articles coming out at the beginning of the week are more measured. Several now make reference to the Apple documentation as well as to comments coming from Apple sources that are putting some of the knee-jerk reactions in a better perspective.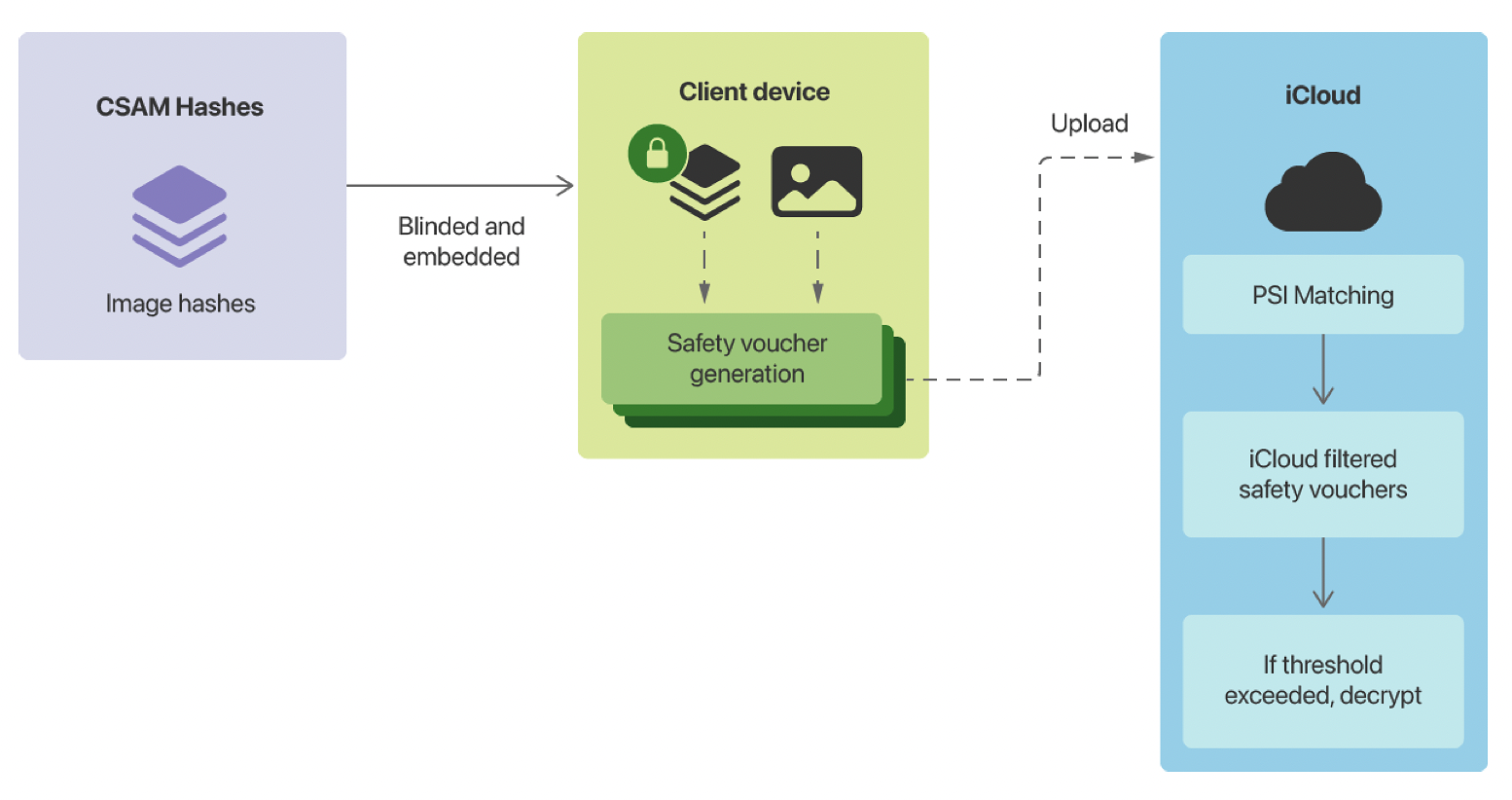 Interpreting contents of safety vouchers associated with matching CSAM images - Apple CSAM Detection document

The image is not viewed but the technology analyzes an image and converts it to a unique number specific to that image. Only another image that appears nearly identical can produce the same number. The system performs on-device matching using a database of known CSAM image hashes. These comments are introductory and the paper explains the mathematics behind these hash number assignment in some detail. It is clear that Apple has been working on this for a long time and some suggest it may have been why "Apple delayed its implementation of iCloud backup encryption (which the FBI objected to) in 2018 so it could do this instead" (John Gruber, Daring Fireball).
Writing in Petapixel, William Damien notes that "It is worth remembering that all Android and Apple built devices already analyze your photos to be able to make them searchable." Expanding on this Stratechery, in a wide-ranging examination that does not let Apple totally off the hook, explains how and why Facebook for example, "made 20.3 million reports of Child Sexual Abuse Material (CSAM) in 2020, while Apple made only 265". The key there is in the word, "knowingly" in the legislation.
Facebook examines all images, while Apple (thus far) does not because of privacy concerns. Facebook and other online sites have been doing this for a while, but no objections have been raised, however this move by Apple has stirred up a nest of hornets. A criticism aired in much of the comment concerns expanding the hash numbers to include other image types, although Apple insists that it will not be forced by governments to do this (Kif Leswing CNBC). By using algorithms, the images can be examined for CSAM content, without the need for human intervention unless a significant number of such images are found: a threshold.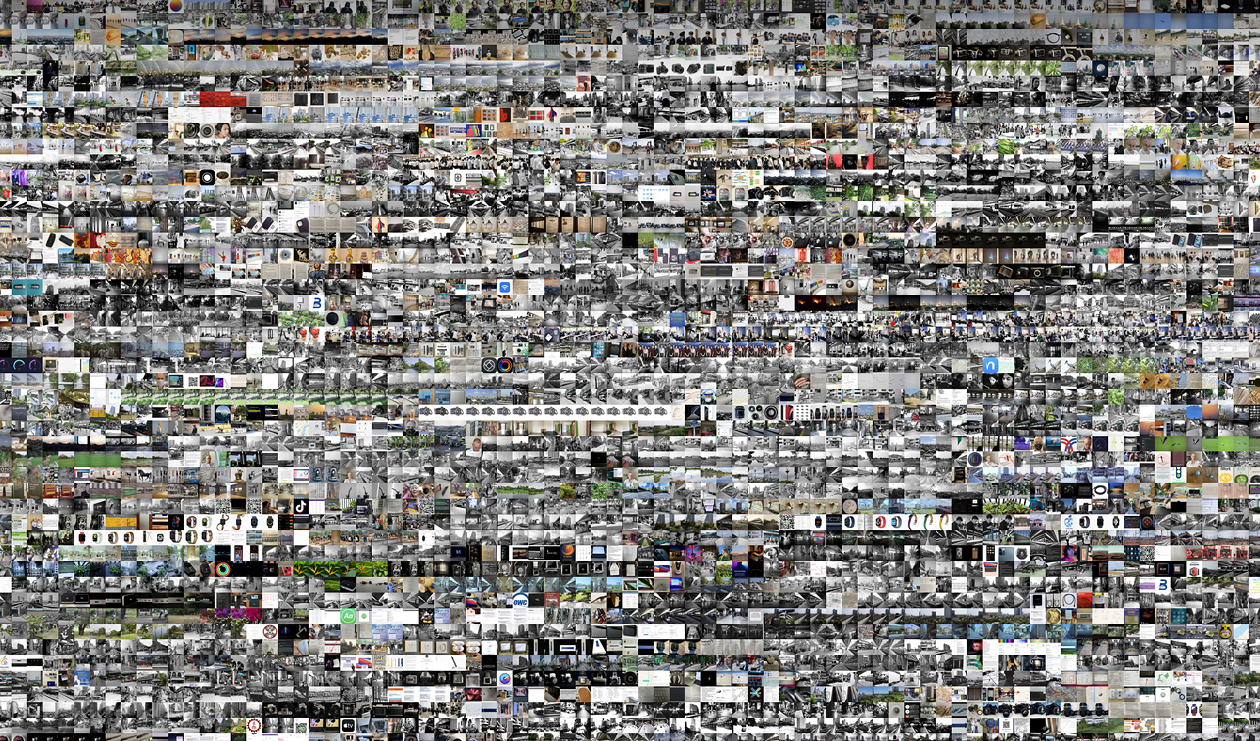 Note that Stratechery believes Apple is introducing this system to pre-empt imminent regulation in the UK and EU as well as the USA. In the first instance it will only be implemented for users in the USA. Several sites are also reporting that Apple has not ruled out expanding this image detection system to 3rd party apps (like Instagram and Spotlight).
In his explanation of what Apple is trying to do, hoakley (The Eclectic Light Company) also notes that already, "Each image that you upload to social media, including Twitter and Facebook, is analysed by cloud servers to produce a 'hash', which is compared with a huge database of hashes of known CSAM". If that is the case, Apple is following accepted practice, yet there was no outcry when these steps were announced by the other companies. This may bring us back to the rollout last week which some suggest was heavy-handed, bundling all three changes into one: perception is all. By Monday (here) Apple had also released a more accessible FAQ on Expanded Protections for Children which avoids the technical terms in the earlier document.

Most agree that dealing with CSAM (child abuse) images is a good thing, but advocates of privacy are concerned that it opens a door that may never be closed. If it is possible to assign specific identifiers to one class of images, then other images (violence, political) could be added in the future. Less than a month after it was revealed that several governments had been using the Pegasus software to break into phones (iPhone and Android) to attack political enemies, journalists and others, there is palpable fear that privacy is under attack.
Within a couple of days of Apple's announcement, a large number of critics and concerned individuals had signed an open letter asking "that Apple "immediately" halt the deployment of "its proposed content monitoring technology", and that Apple issues a statement "reaffirming their commitment to end-to-end encryption and to user privacy" (Stephen Warwick, iMore). Almost 7,000 have signed the letter, including some well known names in the areas of privacy, surveillance and encryption. Warwick cited 3700 signatures, but when I checked a few hours after his article was put online that had increased and this figure is growing daily. As well as individuals, there is support from several corporations and organizations. The names of influential signees are highlighted.
As I wrote before, "The idea put forward by Apple may be noble but the way this has been presented - and the perceptions - will not leave Cupertino unstained after its previous championing of privacy. Whether this is a good idea is still in the air, but it all leaves a nasty taste in the mouth."
Although many are beginning to understand the ideas (and pressures) behind this development, there are still critics who warn about the potential for expansion. This is not going away any time soon.
Graham K. Rogers teaches at the Faculty of Engineering, Mahidol University in Thailand. He wrote in the Bangkok Post, Database supplement on IT subjects. For the last seven years of Database he wrote a column on Apple and Macs. After 3 years writing a column in the Life supplement, he is now no longer associated with the Bangkok Post. He can be followed on Twitter (@extensions_th)