Sunday Diversion: Politicians Redefine Monopoly to Target Apple and Google; Speculation on Apple Silicon; Watch-face Exclusivity Diluted
By Graham K. Rogers
---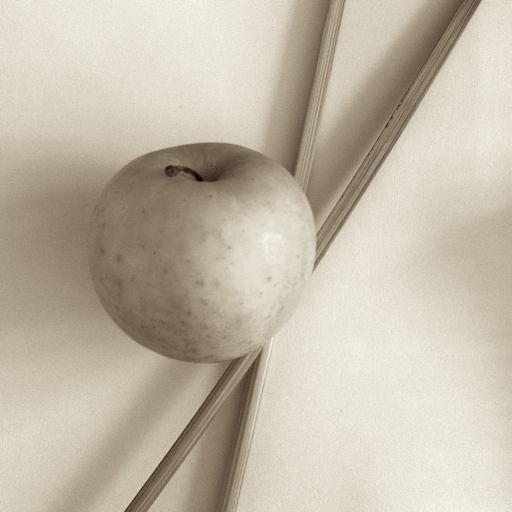 Speculation on upcoming Macs and their chips. Worldwide open season on Big Tech: Apple, Amazon, Google and Facebook in the cross-hairs. Apple Watch face exclusivity opened up by online offer. Apple Watch saving lives.

Putting these comments together I just realised it is 9 days since my last online notes. As well as moving to a new condo last week I had to visit Immigration on Monday (change of address), and again on Thursday for a new visa for the next 12 months followed by a new Work Permit. With teaching on Wednesday and a couple of thesis edits, I had time to collect information but not write it up. On Saturday, a 7-hour power cut, did nothing to improve my output. Mea culpa.

A number of sites, including Redmond Pie (Oliver Haslam) have comments on the expected Apple M2 chip. We know that some development of the M1 is sure to arrive although the nomenclature is not confirmed (M1X and M2 have both been suggested), although we do know that Apple will be expanding the use of Apple silicon to its whole range. That is not speculation, it was stated at WWDC and the first announcements about new Macs.
Those first devices were the MacBook Air, Mac mini and 13" MacBook Pro. Each had a slightly different version of the M1. It was a surprise when Apple later released the iPad Pro with an adapted M1 to suit the requirements of the device. I ordered that as soon as it was available so now have two iPad Pro devices. I did give the older iPad to my cleaner's niece who is a student and was learning online with only a mobile phone.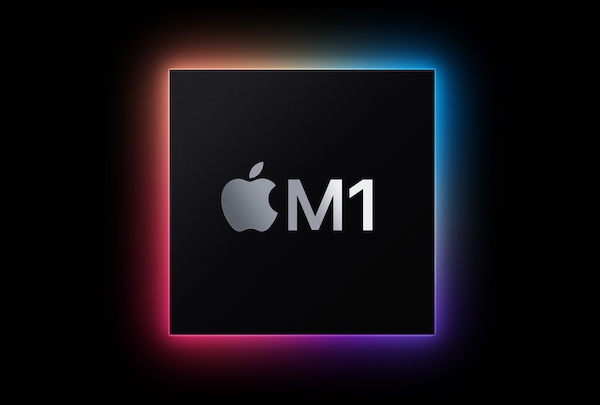 Apple's M1 chip - Image courtesy of Apple

The latest rumors suggest that the M2 is to be used in a new MacBook Air. While I like the idea of a range of colors that the speculation puts forward, I do not see that a MacBook Air that is potentially more powerful than the current M1 MacBook Pro is on the cards. The 15" (or 16") MacBook Pro would be a better fit for such a development, as would a large screen iMac that has appeared in a couple of rumors. As for the M1X, this again is naming speculation at the moment and presumes that Apple will follow the same traditions as for the iPhone and iPad.
Naming has become a concern for some commentators in the last few weeks. I wondered in May if Apple would use 13 for naming the next iPhone because many cultures regard the number as unlucky. Several articles this week suggest that Apple is not superstitious and so the next iPhone is to be the iPhone 13. Let's see what the customers think. Although this has not yet been announced, the only information is speculation (and what can be gleaned from iOS 15). That has not stopped rumors on the iPhone 14 and some of the features it will have.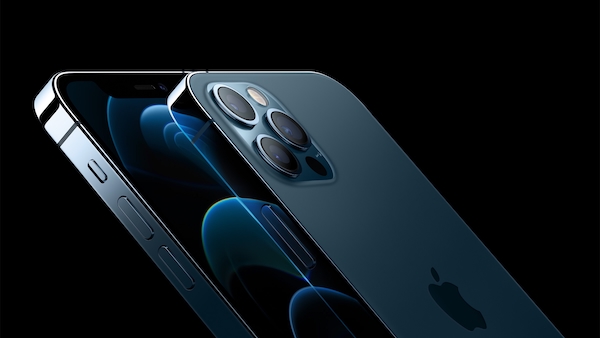 Apple iPhone - Image courtesy of Apple

One of the concerns I have had in recent times is that the EU commissioner has a fixation on Apple, particularly when she is looking for monopoly behavior. The infrastructure means that users are closely linked to the App Store and the Commissioner acts as if this is an unfair use of its position. People do not have to buy iPhones. There are hundreds of other smartphones out there, but just because they look similar to the Apple product, does not mean they are the same, although many users believe they are buying the same thing, only cheaper.
Apart from the integration, itself a major selling point that may be missed by the Commissioner, I have been pleased with the security aspects and have never had any desire to "jailbreak" the devices I have bought, nor side load apps that were available in grey markets. This is something that Android allows, so Google earns nothing from its PlayStore when these apps are used, and the user may well lose security as no one (apart from the developer) has checked the app.
If the only tool you have is a hammer, everything looks like a nail. Vestager, whose degree is in econoimics is so focused on the monopoly aspects that she misses the technical points. Indeed, she has specifically warned Apple against using the argument on privacy and security concerns to justify anticompetitive behavior with its App Store. I thought these are the main points and highly important to users like me. To ignore them is not a full examination of the question.
These comments were also covered on the investment site, Seeking Alpha (Brandy Betts, Seeking Alpha) as a list of bullet points of the same ideas covered by others. What I found interesting, however, was the reader comments at the end of the article. Most of these were dismissive of Vestager and her new found engineering knowledge. They were in the main supportive of Apple's Walled garden (as I am). Another article later in the week on targeting Google produced similar comments: the users may well be satisfied but the politicians have the scent in their nostrils. Years of experiencing better security and privacy, particularly as the surveillance society closes in, have sharpened users experiences. Yes, the App Store has restrictions, but the Vestager alternative is an untried black hole of risk.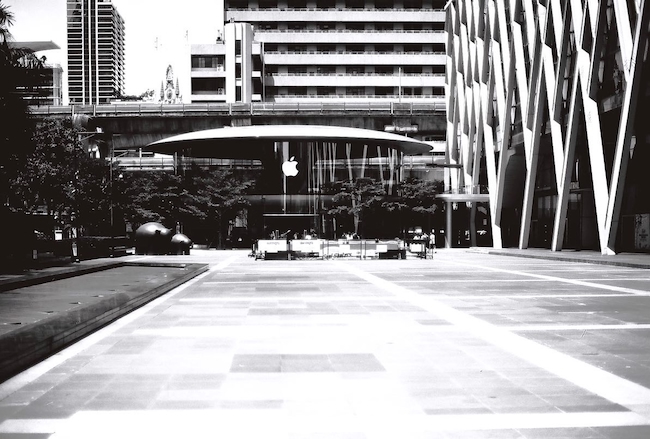 Apple Store, Central World Bangkok - Image taken with Fantôme8 film

In the USA, however, a number of states have begun proceedings against Alphabet, Google's parent and the monopoly position of the PlayStore (Bloomberg, et al). It is worth following this despite clear differences between this and Apple's iTunes App Store, particularly as part of the case against Alphabet is that Samsung was persuaded/pressured to abandon its own Android App Store. President Biden is covering that (see below). It is alleged that Google/Alphabet also paid off developers to avoid them doing the same as Epic, which is currently in dispute with Apple. It is also interesting that the complaint filed in San Francisco describes the 30% commission on sales as "extravagant". This is what Apple also charges and while it might have been OK in 2008, the success of the stores, and political pressure, suggest that a lower fee would be prudent.
One point that does concern me is that these politicians are looking at Google or Apple as separate problems when examining the question of monopolies: Apple has a monopoly; or Google has a monopoly. Android has 72.83% of the smartphone market worldwide and Apple (26.35%) is the only provider of apps on the App Store. Take them together and there is not so much a question of a monopoly as the two systems compete healthily in several areas. It is also not as if these are the only two operating systems. It used to be that Blackberry, Symbian and Windows Mobile were more used, and a couple of these are still in use. The alleged monopoly positions are because customers prefer the two.
To add to all this pressure, President Biden is signing a number of executive orders aimed specifically at the tech industry. This is partly as a way to roll back some of the previous administration's relaxation of some rules, but does send a message that this administration is on the same page as those targeting big tech. One of the first of the Diktats is a way to roll back certain mergers that went through more easily under earlier rules. This does not appear to be focused on Apple particularly but more on Facebook, Google and a couple of others that have brought in a range of companies to increase their sway. And revenue. I particularly see Instagram and Facebook in those cross-hairs and would not shed one tear for that breakup.

A survey on installed apps produced some interesting statistics on iPhones with the top ones all made and installed by Apple and Google apparently, except for Facebook, Instagram, Amazon, and a couple more, depending on whether wear looking at Android or iPhones. The Verge (Grayson Blackmon) reports that Comscore used data it regularly gathers from apps and websites alongside a survey of roughly 4,000 people, however the survey was commissioned by Facebook. The implication is that bundled apps do not give other developers a fair crack of the whip, but coming from the direction of Facebook that seems a little hypocritical. Apple says the report "was narrowly tailored to give the false impression that there's little competition on the App Store". As Apple claims to have paid out some $230 billion since 2008, Cupertino may have a point here.
There is pressure for the two OS providers not to pre-load apps, which suggests to me an icon-free home page as the new phone comes out of the box. I rather like the idea of being able to start using the phone (in my case the iPhone) right away, while the backups and previously downloaded apps are being loaded. I can also imagine the confusion of some users, particularly older folks who already have techno-fear when there are apps to use. Fine: you can't use it, but look at how free you are to choose. And free to fall.

I had put in an order for a couple of new watch bands from Apple one of which arrived within a few days. The country bands, intended to go with the celebration of the Olympic Games which may be run in Japan this year (perhaps without spectators), will not be available for a couple of weeks, the Abyss band I ordered was shown as shipped late last week. On Saturday morning, in the middle of moving to the new condo, the delivery driver called and as usual I asked him to hand it to our security guards at the Faculty of Engineering. Later that afternoon, I had a message that it had arrived and I collected it on Monday morning.

Abyss Sport band

One of the subjects I teach concerns ethics and morals, so I am on the lookout for current problems that help supplement the basic ideas I need to put over. As I had just ordered the New Zealand country Watch band, I was surprised to read (Oliver Haslam, Redmond Pie) that 9to5Mac Mac had collected all of the unique faces and made them available online. These are meant to be for those who buy the bands and that is part of the attraction of making such a purchase.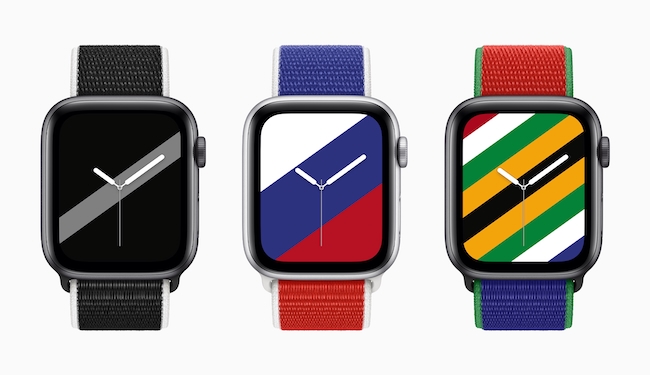 Country Watch faces for Olympic Games - Image courtesy of Apple

When I tried this on one of the faces, I went through all the steps as described, but when I tried to download the face there was a message that it was not available at this time. I am not sure if this is because the new bands have not been released or if Apple has made changes to the process. If I were at Apple that is what I would have done. There is something unsavory in making such a restricted offer available to all without the say-so of the company that owns the product.

Recently a man wearing an Apple Watch had fallen and was saved when the Fall Detection feature called the Fire Rescue service. This week I read of a woman in Michigan whose watch recorded odd readings from her heart and warned her about an unusually high 169 bpm. She contacted medical help and it was found that she had experienced a heart attack (Oliver Haslam, iMore).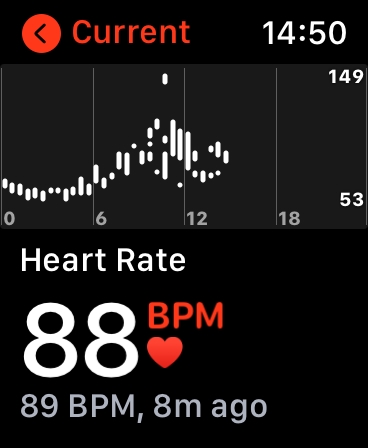 I recently had an unusually high reading when attending a medical facility, so was surrounded by doctors and medical students. I had to wait until the heart rate went down which took a few minutes. It had been OK just before and also the day before when I had had a blood test, but arriving at this place, the anticipation (and the run up the stairs) gave me a high rate.
While waiting for the rate to decrease I chatted to a medical student who also had an Apple Watch. We were able to examine the graph plotted on the Watch face which showed a normal reading as I arrived, then the rapid rise which did eventually drop. Years ago we would not have been able to do that.

I make do with a monitor that is not 4K and the same is so for my TV, although it might be nice to update one or both. I read an article on accessories for the Mac's Thunderbolt 3 ports and the LG UltraFine 4K monitor was shown for $700 which is not out of reach, so I had a quick look online for Thai sources. As before, the local prices for such devices are sky high, with the same monitor on offer for 40,400 baht or $1257.39 - almost double. The odd thing is that 4K TVs are widely available and nowhere near the markup that monitors show.
Graham K. Rogers teaches at the Faculty of Engineering, Mahidol University in Thailand. He wrote in the Bangkok Post, Database supplement on IT subjects. For the last seven years of Database he wrote a column on Apple and Macs. After 3 years writing a column in the Life supplement, he is now no longer associated with the Bangkok Post. He can be followed on Twitter (@extensions_th)