Tuesday Notes: Big tech and Politicians; Control of the Rumor Mill; Fiction and Tech Collide
By Graham K. Rogers
---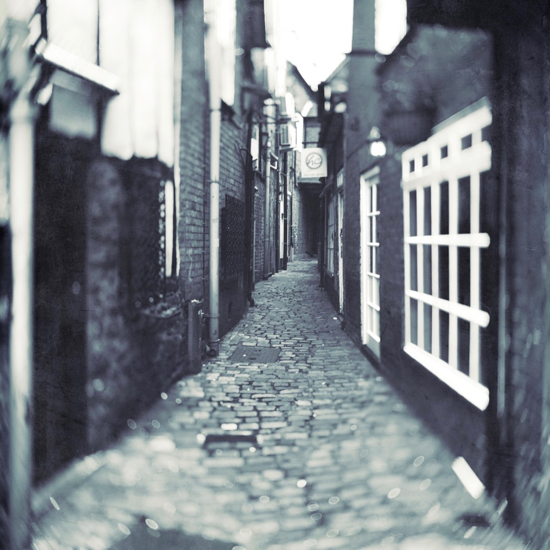 Politicians do not like powerful companies and big tech has crossed several lines: time to legislate; or even break up. Ma Bell should have been a lesson. Apple acts on some who have spread rumors, while others roam free. Art sometimes predicts life, especially science and technology. It seems Windows 11 did not get off to a good start.

The politicians are closing in on big tech companies: Amazon, Apple, Google and Facebook. With the EU gunning particularly for Apple's iTunes App Store because of a potential monopoly, Google is also drawn in to this as its own PlayStore is less stringent, but needs to come under scrutiny. The Commissioner, who has had a couple of bites already at the Apple cherry, will need to make sure that her fixation on the monopoly aspect will not limit the security aspects that users enjoy. While the Walled Garden has been heavily criticized in the past, it is seen by many who use the devices as a benefit. News this week (Josh Fineman, Seeking Alpha) implies that President Biden is about to issue an Executive Order on Antitrust concerns
Tim Cook who has been named as best CEO by Barrons (Dennis Sellers, AppleWorld Today) is warning quite strongly against the idea of side loading (Chris Davies, Slashgear) - the ability to load an app onto a device whatever its source, which the blinkered Commissioner thinks is a good idea. An executive at Apple recently said that if iPhone users want to side load apps, they should switch to Android (Tyler Lee, Übergizmo). That was a little blunt, but he is right. The freedom to do that is available, just not on the iPhone (or iPad). It is hard enough keeping track on the Mac these days, although I am fairly careful about my sources for downloading software; I do not want to have to be wary of everything on iOS as well.
In the USA, Sen Klobuchar is about to introduce legislation (Patently Apple) that will revamp antitrust legislation and the politicians are determined to rein in the tech giants. Capitalism is OK for them, except when it is really big companies like Apple and the rest. In some cases this may be shutting the stable door after the horse has bolted, particularly when the personal fortunes of Facebook and Amazon heads are added up, although there is little attempt to bring others that have potential to do far more damage under control, like Palantir.
Britain, Italy, Germany (William Gallagher, AppleInsider) and now France, separately from the EU, are now looking to examine the structures of these companies, while Russia is insisting that tech giants open local offices (Tim Hardwick, MacRumors). It seems to be open season on Big Tech. On taxation others, particularly Britain, make a lot of noise, but turn a blind eye to offshore tax havens. This was said to be one of the reasons for Brexit, as the EU was introducing controls (from last January) on those who salted their wealth far away from the grasp of the taxman. Remember, the politicians write the laws, so should not be upset when companies take advantage of what those laws allow.

Something that has niggled me for a while is the amount of leaking that occurs particularly with regard to upcoming Apple products. These leaks often come from one or two favorite sources that some cite as if they are a conduit from Apple, when often they are the result of limited logistics information from even more limited sources. Some sources appear to have a direct line to Apple, however, and their announcements are widely believed, although recent rumors about MacBookPro models that would be announced at WWDC, turned out to be compete red herrings. I wonder if Apple circulated information within the company to see just who was seeding these rumors.
Now, Wesley Hilliard (AppleInsider) reports that Apple has taken the bull by the horns and sent letters to two of the most prolific leakers in China: Kang and Duan Rui. As the leaks affect share prices (perhaps the main reason they do it) and customer ordering - why order this Mac now if the rumor says a replacement is coming next month?. Apple has sent cease and desist letters to the Chinese leakers, but there are one or two more that I would prefer not to be in my timeline in the future. Speculation used to be fun, but these have taken all the enjoyment out of it.
I saw that Mark Gurman now has his own newsletter which will free him a little from his Bloomberg overlords. It promises to include news and rumors amongst other things. He seems to have started with the idea that Apple will be developing even larger versions of the iPad Pro in the future. Within hours several other sites repeated this as if it were fact. I am quite happy with the versions that exist now, and have memories of running a test 17" MacBook Pro about 10 years ago. It was awkward in the backpack and I preferred the 15", it have been able to make do with 13" models for the last few years. I am pleased to see that others, like David Price (MacWorld) do not see the larger iPad Pro as a particularly good idea. Gurman who speculated that there would be new Macs at WWDC also now suggests that there will be no Macs or other releases before the next iPhone appears in September.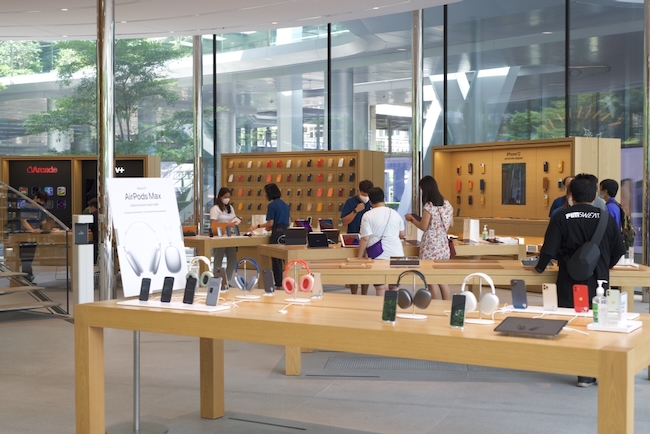 Apple Store, Central World, Bangkok

This week I saw a shout out for Thailand on Patently Apple, with reports on good sales figures of iPhones in the Land of Smiles. The figures showed "a dramatic rise" in the market here in Q4 2020 increasing just over 70% year over year with Apple's iPhone 12 at about 17% market share. This fell back to a more normal 11% in the next quarter with Xiaomi and Samsung taking the lead.

I am not usually shocked by headlines, but the death of John McAfee made me sit up straight last week. He was an odd character in a business that has such weirdness crawling out of the cracks. His early experiences with substances may have altered his perceptions, but he was good at finding a hole in the market, creating a product and then selling it. For years his anti-virus software was one of the best known. When he sold the company, his life turned in different directions. There were several lengthy comments on the man and his death (Irish Independent) after a Spanish court agreed to extradite him, although some think that suicide is unlikely. There will be more on this.

A few months ago I speculated about the next iPhone and wondered how the number 13 might affect sales. I now see that a number of writers on well-known commentary sites (Oliver Haslam, iMore, et al) have also just noticed that this might be a problem in some cultures. As I was thinking about this back in May, I am sure that Apple has already considered this and made its naming decision, or decisions. Perhaps the upcoming device will be named differently in specific areas.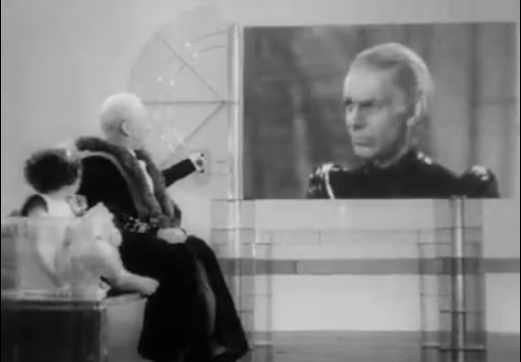 The Shape of Things to Come

Fiction sometimes crosses into real life, although as I love pointing out to my students, sometimes Art (by way of movies, novels, et al) can end up as reality. The example I like to use is the widescreen conferencing TV in The Shape of Things to Come, an Alexander Korda movie from 1937, written by H.G. Wells. Ideas from Philip K. Dick (Blade Runner), like 3D touchscreens from Minority Report are being worked on.
The AppleTV+ series, Ted Lasso which was a surprise hit both sides of the Atlantic, is about to start its second season (23 July). Warner Bros now have an official AFC Richmond gear shop which has several shirts, hoodies, cups and other merchandise. The series has garnered a couple or awards and recently, Evan Selleck (iDownload Blog) reports, the series has earned a Peabody award for excellence in storytelling. Selleck adds that "Sudeikis [Ted Lasso] himself earned a win from the Screen Actors Guild earlier this year. And the show picked up three wins from this year's Critics Choice Awards, too." I also see that Asimov's Foundation series is to start on AppleTV+ in late September (24th).
I read last week that the German military had a program that worked with a university to try to come up with some form of predictability. There is a trickle-down effect. When someone comes up with a revolutionary concept, say Einstein and the Theory of Relativity, perhaps only a few scientists understand the ideas and implications. Within a few years, intellectuals, including writers will have grasped at least the basics, and then these ideas perhaps appear in novels or other sources. Eventually, the wider public will have at least some knowledge: there are few now, for example, who are not aware of E=MC2. While there were some successes in predicting political changes, Project Cassandra (I like that) was eventually cancelled (Philip Olterman, Guardian).
The US Navy is not averse to trying new technology and it was revealed that they have been borrowing some of the images that users have submitted to an app that is available in many countries, including Thailand. Photography of ordinary objects and scenes, submitted by the users of the app for cash and presumably sold on to the Navy, are of low worth on their own, but a cache of hundreds or thousands of images can help quickly build a picture of a society without the need for spies on the ground (Michael Zhang, Petapixel).
I had always wondered about the Russian photo app Prisma which would send data back to its servers in Russia for manipulation. It would be an easy to step to copy the images for a database and collect other data such as GPS information. As much as I liked the output from Prisma, I removed this from my devices. Waterlogue is much nicer.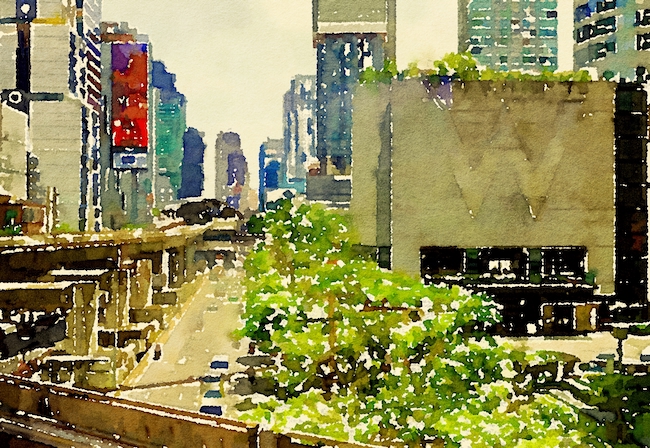 Last week Microsoft released Windows 11 and on the face of it, the new version of Windows looks reasonable according to the reports I read. As with recent Apple beta releases, once the software is in the wild and people look past the PR handouts (some don't of course) and a couple of things may come to light: good or not so good. I was relatively impressed about the ability for users to set up their own app stores (as I read it) which would impress the EU and US legislators who have Apple and Google in their sights at the moment (see above). By the weekend, however, a few not so happy users had appeared online and in some online sources.
One of the reasons I avoided Windows in the 1990s, apart from moving to the Mac then, was the controls that appeared. This worsened when the internet was widely available as the OS would phone home to check that the installation was licensed. All very well, but this did not help many users in developing countries whose micro economies were built on free copies of the OS and other software. They had to comply somehow. Microsoft tried hard when DOS 5.0 was released and admitting that they knew most users in Thailand used pirated versions, offered an upgrade to 5.0 for 500 baht, with all our sins forgotten. As it had been impossible to buy legitimate software (I tried and was rejected on a number of occasions), I jumped at this. I still have the 5.25" disks in my office, as well as the 3.5" disks for DOS 6.
In the Ballmer days, a number of restrictions and limitations were brought in and licensing became rather complex. There seemed to be several different levels of OS, depending of course on what users, or companies, were asked to pay. I did not use Windows at all (ever) so paid little attention to the details. With Apple, there was one OS X (now macOS) with an extra server option for those who wanted those functions. Even with the vanilla version it is possible to set up some server features, like a website with Apache Server which is now absorbed into macOS.
Although some did register their Windows installations and were online, sometimes that recognition process failed and users were left (at least for a time) with an expensive brick. That seems be the case with Windows 11 as there are some hardware specifics required, or the OS will not run. That apparently includes Macs as well, but who would want to (use Parallels)? These restrictions appear to mean that some PCs that are only a couple of years old cannot run the new OS. My 2014 Mac mini will be able to run Monterey, although some features will not be available: a gentle transition. Joel Hruska (ExtremeTech) has the details but his title may be enough: Windows 11 May Not Run on Early Ryzen, Threadripper, Skylake-X, or Any Pre-2016 Intel PCs.
Hruska is also pretty unhappy about the way users are supposed to log in with the new OS, using a Microsoft Account. That is like Apple insisting we all log in using the iCloud account. Some services are better if we are connected, but if the internet is off, or the iCloud account is not being used, the Mac will still run. I have set up a couple of Macs without iCloud. There would be a major outcry if that need was enforced. Nonetheless, this anger is reflected with a number of online comments I saw.

I thought I had a new student last week - trying to keep track of these guys in online classes is not the same as looking directly into a group of faces. I did not recognize the name, but he stayed online at the end of the class to ask questions about a project. He also added his name to the Line group for the first time. I asked about this (and the name change). That was because he had logged into WebEx having switched to a new Mac: quite a step for a Computer Engineer in what is probably his final year. He had the M1 MacBook Pro with the same specifications as mine but was not fully up to speed. I dropped a couple of suggestions as to things he might look at. From one or two students and staff with Macs a few years back to wide use of Macs, iPhones and iPads there has been quite a change.

I also write about my other pastime of photography, but my content mainly appears on the Emulsive website. Since my last article here there was one on using ISO 8 film on the Emulsive site: 5 Frames . . . Of Fantôme Kino ISO 8 with a Nikon F3 (35mm Format / EI 8 / Nikkor 50mm f/1.4 AI-S).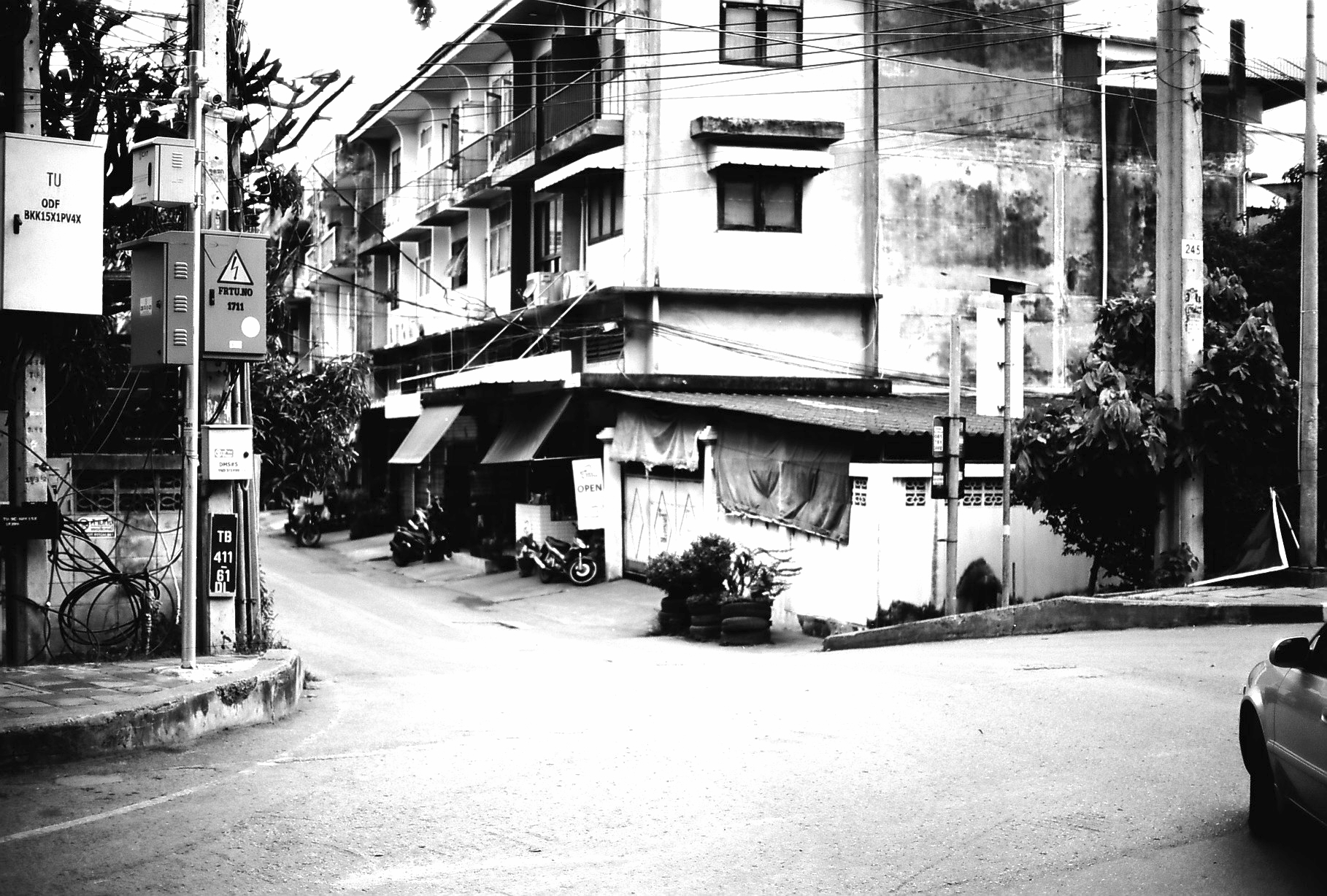 Graham K. Rogers teaches at the Faculty of Engineering, Mahidol University in Thailand. He wrote in the Bangkok Post, Database supplement on IT subjects. For the last seven years of Database he wrote a column on Apple and Macs. After 3 years writing a column in the Life supplement, he is now no longer associated with the Bangkok Post. He can be followed on Twitter (@extensions_th)