Thursday Review: WWDC - No iPads were harmed in the making of this event
By Graham K. Rogers
---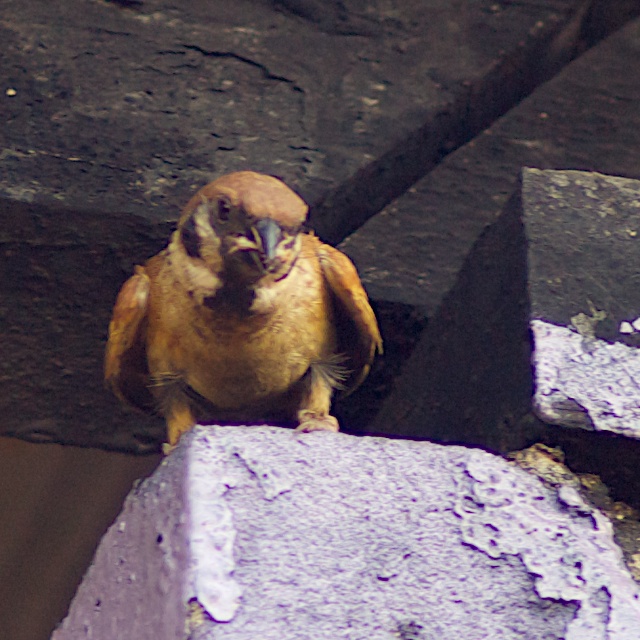 I watched the WWDC video delivery on the Apple TV and was generally pleased with the evolution that Apple has made with the future releases of iOS, iPadOS, macOS and WatchOS. There was an emphasis on privacy and connectivity. Later reports show much work done will make these new versions integrate better which will help increase productivity.

What a surprise: despite all the solid rumors about the hardware that Apple was to announce at WWDC, there was none. Maybe Gurman should find a better source (or maybe Apple has found who his source was), and maybe all those slavish repeaters of the rumors might think twice next time. WWDC is a developers conference and especially with the video formats now used, why clutter the timeline with announcements that are not relevant to the main themes: iOS, iPadOS, macOS, WatchOS and tvOS?
Hardware can be put out another day and that focus will create a better effect. There may, however, been a consideration to include a new Mac if the tag seen in the YouTube video from Apple is correct (Oliver Haslam, iMore). Later perhaps. . . .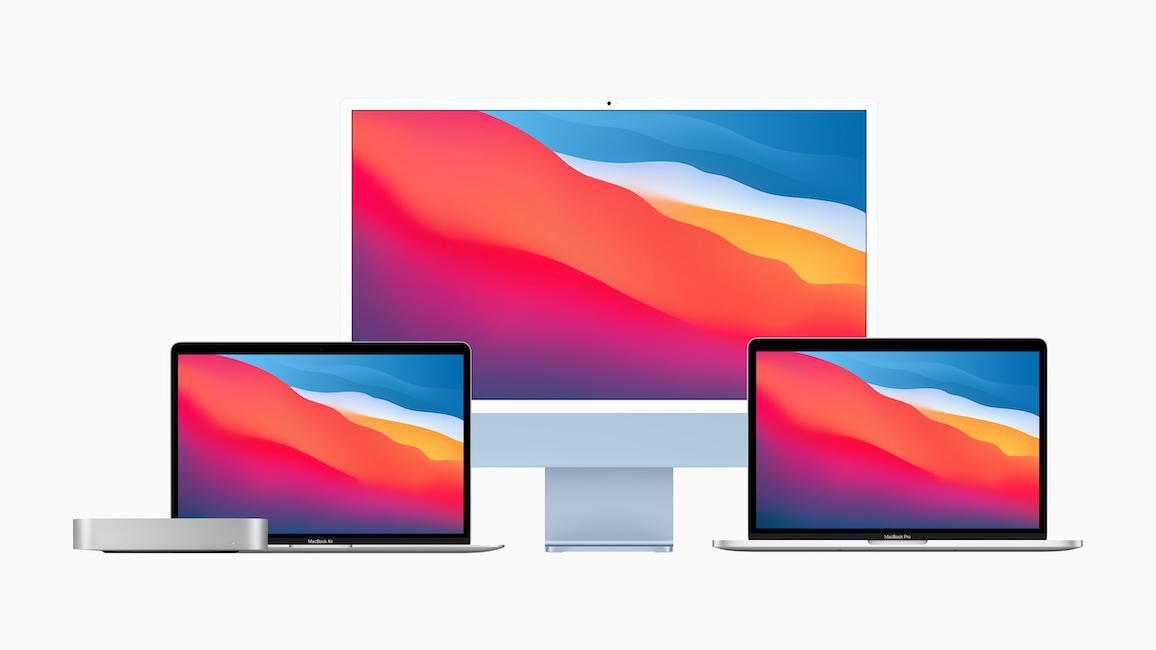 M1 Macs: with more to come - Image courtesy of Apple

Apple Events are transmitted way past my bed time. If I were to stay up and take notes, or even update my site live (which I tried once), I would be doing the same as several others: dozens maybe. In the rush to be one of the first, things are missed, details omitted; and during the delivery there is less chance to view press releases (it can be done if you have a team) or technical specifications.
I have a good night's sleep and look at all the hard work of the other heroes - and some great work is done. With the benefit of a few hours, a few insights are revealed and I can have a better overview in general terms. When I was free after lunch, I sat down and watched the replay of the event on AppleTV. I can pause to catch up on my notes. I can replay to make sure that that was what Tim or Craig really said and look up other information online to see how the products may fit in the environment here.

Instead of a themed video, the event began with developers, each suggesting how the opening scenes could play out. Each of these ran for a few minutes until the idea fizzled out. There were a couple of unusual approaches - perhaps unrealistic, impractical - including one that turned into a musical. Apple was gutsy to run these. One theme was used in Tim Cook's walk-on (and the close) with an audience video emojis: better than an empty auditorium.
As usual, Cook outlined the importance of developers and the training that Apple has set up, particularly for minority groups. On WWDC he discussed the number of sessions that would be run and the point that the entire conference (not just the Keynote) could be downloaded. He quickly handed over to Craig Federighi for the outline of iOS 15.
Craig outlined several specific new features and improvements to existing ones, starting with FaceTime. Apple wants the devices to be both personal and productive and he threaded a path between these, but with later information (iPadOS, macOS) he referred back to the iPhone system, showing that while the software and uses are different, there is some coming together. I find this attractive from a productivity aspect as I am often switching between 3 or 4 devices while I am working. One of my tasks is online teaching and Apple lags here, although FaceTime for Apple users is useful in a family or friends situation, this is nowhere near what can be done with Zoom, WebEx or the software from Microsoft or Google.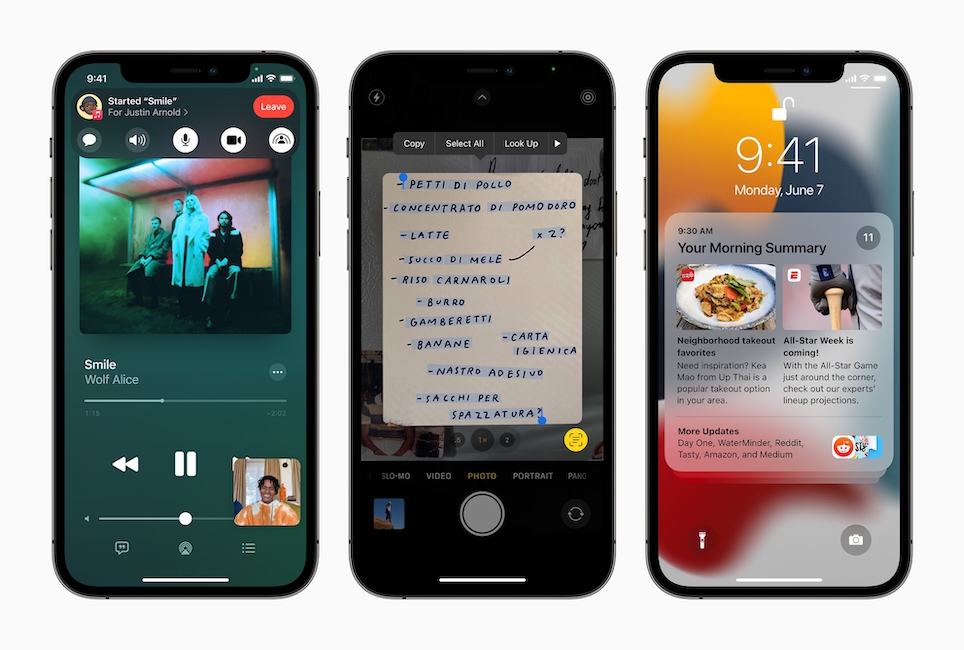 New features in iOS 15 - Image courtesy of Apple

Apple has made some steps in the right direction with its new grid view, as well as portrait mode (best for one on one I guess), but has now made the conferencing available for those on Windows or Android devices via the browser. Other features may be limited here, such as SharePlay (video, music, TV, shared screen). I have given up trying to play movie clips to my students as the frame rate makes the output jerky. Any improvement there is welcome and I look forward to trying this, especially as the display can be expanded to AppleTV.
Messages also has improvements, perhaps overdue, including shared content. Particularly useful is a new feature, Focus. This allows specific settings to be used for notifications depending on activity, enhancing the current Do Not Disturb. Several options are available, including a Custom option; and the Focus setting the user decides on is then on all devices.

I have long used OCR (optical character recognition) with mixed results, especially in its early days. The demonstration that Apple showed off its new Live Text, that works across iPad, iPhone and Mac (M-series only), takes the possibilities in new directions. Text is (seemingly) lifted from any photograph and is immediately available for use. The demo had me agog with the potential, not just of phone numbers or restaurant names (this showed linking to an online search) but real work. Sometimes my students send me JPGs instead of the PDFs I ask for, and this could cut out some backwards and forwards communications. The feature will be on iOS and iPadOS, but will only be available on Macs with the M1 chip. This and other M1-only features are outlined by Oliver Hallam (Redmond Pie).
In the demo, Federighi repeated Steve Jobs' famous Starbucks call from the 2007 iPhone introduction, using the phone number of Wanderlust Creamery at Pasadena, in a photograph to tap and call. The feature can be used with whiteboards, screenshots, Quicklook and photos on the web. It works in 7 languages, English, Chinese (simplified and traditional), French, Italian, German, Spanish and Portuguese (that was Apple's order).
Also mentioned in this part of the demonstration was Wallet. There are so few apps available here that I have never used this. Apple Pay is also unavailable so there are limits to what users can do. Weather is to be updated, which is reasonable. I use this regularly and although it has limited use here, updated maps and other graphics will be welcome. An interface update to Maps also looks good, if your city is included, but these three updates emphasize the weakness in content availability between Apple's favorite countries and the rest of the World, even though users pay the same for the devices. Updates to AirPods will provide assistance for those with hearing problems and these are to be in Find My, also with a separation alert: walk away and there is a reminder.
Additional information from John Voorhees (Macstories) outlines a number of other changes to iOS, such as the ability to drag data between apps (also see macOS below). One change that I am pleased to see is that it will be possible to view and edit EXIF metadata in Photos. This had not been available before and the Information panel is weak in Photos on the Mac, especially when compared with the metadata display that had been available in Aperture. As someone who takes a lot of photographs, I find metadata incredibly useful so this is another plus. The article has a lot more information on the other OS releases from Apple.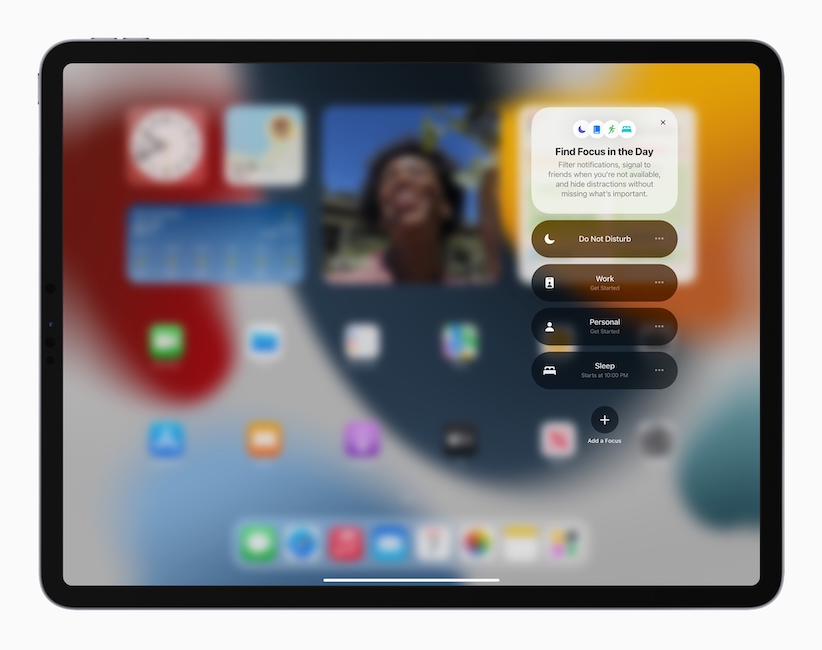 New features for iPads - Image courtesy of Apple

The information about the next update to iPadOS shows some clear separation that users have been asking for. It is not a big iPhone (nor is it a small Mac). Home Screen widgets will be updated and this also helps in the organization of apps with pages (I use folders a lot now). New keyboard shortcuts are to be added, although I use the Folio Keyboard that already allows these, adding to my productivity, the naked iPad or iPad Pro does not have these. This is a positive.
Notes is also improved: again something that I use often (like this text I am typing) as the content is immediately available on all my devices. An addition here is the Quick Note (dragging from the bottom right of the screen) which should be useful, although I find it just as quick to start the app. We shall see in the Fall.

Apple has made great emphasis on privacy, particularly in the last couple of years, and this was enhanced with announcements at WWDC. Despite several controls from Apple that are already available, it is still possible to track users online. The use of invisible pixels in emails was outlined - these enable tracking when the message is opened. Apple will now hide IP information. With Safari too, the IP address will be hidden with a redirection through Apple servers where the information is stripped out, and the user will be shown a privacy report: who is sharing your information?
With iCloud, the price is unchanged but there are some improvements concerning privacy and assistance when the password is lost. Users can nominate a trusted friend and this will allow a code to be issued to assist with recovery. Apple has also given thought to what happens to our data when we die. There are tales of people , such as relatives, unable to access information (with some severe implications) after a death. A user can nominate a "Legacy contact" and that will allow access to the account, for data recovery or deletion.

Health has also been an area that Apple (and others) have been working hard on. We were shown a video of a cardio app that was developed by doctors working with developers at Cupertino. I downloaded the Corrie app which helps those with heart problems monitor process, medications and other input, including Watch biometrics. Users need to sign up via their cardiologist at a hospital that supports this app.
For the rest of us, there are changes and additions to the ways in which Apple Health will monitor changes: the Watch already sends out warnings for some metrics. One of the more interesting additions, is the monitoring of Gait: an injury or problem changes the way we walk; and with he data already captured, the user can see reports on walking steadiness.
Information from the health app can be shared with doctors, although I have seen little enthusiasm for this here, apart from passing interest. Doctors here are not convinced, although I was at a clinic on Monday and one saw me checking heart rate and engaged me in a conversation about how I used the Watch. Progress. Another addition is the ability to share family health. Normally we keep health data private, but parents need to know how their children are, while those with older relations want to make sure they are in good health.

After Kevin Lynch outlined some of the new features of WatchOS 8 - evolution not revolution - Craig Federighi returned and stood in front of a mocked-up house. Many noticed that the garage included a car under covers and there was speculation about this: it was a tease. The main presentation was by Yah Cason but while a lot of good ideas were presented, this only emphasises the difference in markets, particularly as the demonstration highlighted the use of Siri and the HomePod mini. The former is limited here; the latter is unavailable. Although most speak Thai of course, most in the HomePod demographic speak English. Apple Home-capable devices are now available, but these are hit and miss, and usually more expensive. Markets in Asia and Africa are poorly served and relatively untapped.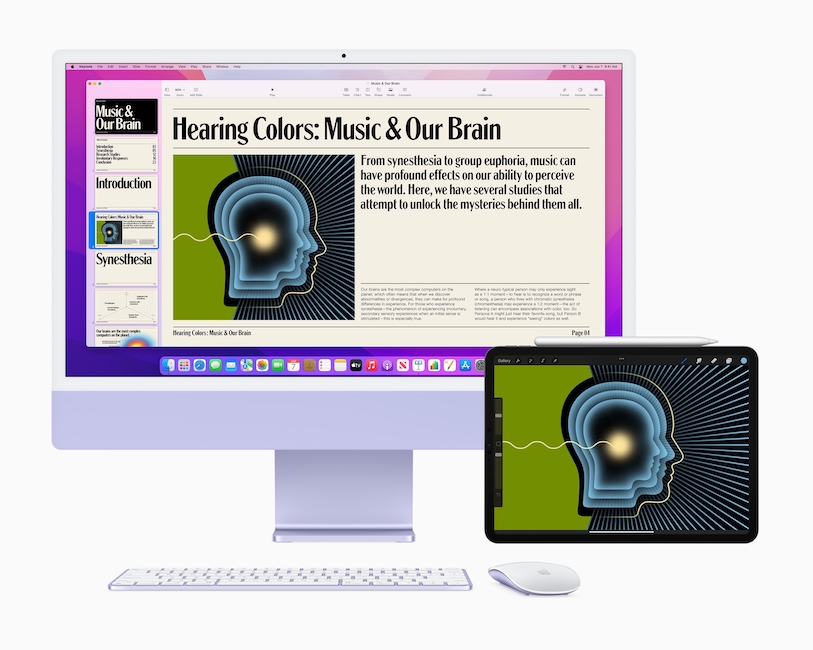 New features in macOS Monterey - Image courtesy of Apple

A link video had Craig remove the covers from the car. Although only parts were visible, it was not the Apple car: wooden steering wheel, analog dials, stick shift, convertible; I think it was a Sunbeam (Alpine or Tiger) from the 1970s. Craig outlined MacOS with the next version being name, Monterey. Many of the new features had been mentioned in regard to iOS and iPadOS, showing greater integration, including Focus and the new FaceTime options.
The new feature of Continuity, however, that also works with the iPad, will enhance productivity for many. It allows files to be dragged from one device to another, with three as the maximum. The demo had a MacBook Pro with iPad Pro on the right and iMac to the left. Bluetooth uses the proximity of devices, that must also be linked via the same iCloud account, and senses when the cursor moves to the edge of the screen. It then appears on the next device, allowing drag and drop between devices. Also bringing the Mac closer to iPad and iOS is the addition of Shortcuts to macOS which we were told was the start of a multi-year transition.

A few days ago, working on information available at that time, hoakley posted information about what were expected to be the devices that could handle the updated macOS, which we now know is to be called Monterey. Apple updated the information, which I am pleased to say now does include my venerable Mac mini and hoakley has put out the revised list
iMac Late 2015 onwards,*
iMac Pro,*
MacBook Early 2016 onwards,*
MacBook Air Early 2015 onwards,
MacBook Pro Early 2015 onwards,
Mac mini Late 2014 onwards,
Mac Pro 2013 onwards.
However, he does note that some of the new features which may depend on M1 chips, particularly "Universal Control, which lets you use one keyboard and mouse/trackpad across your Mac and devices" is limited and almost matches his original list, so the Mac mini will not be able to do that.

The Developers were not forgotten and Susan Prescott VP of WWDR outlined some of the new technologies, particularly some of the APIs, which allow so many apps to be built with unique features. It is harder to see now as the APIs listed fly out of the screen rather than being content of a slide as they were before. Other developments include Swift, the App Store and Xcode in the Cloud, which will help with collaboration. Test Flight, which helps with the development of apps, putting them in the hands of more beta testers, will also be coming to the Mac.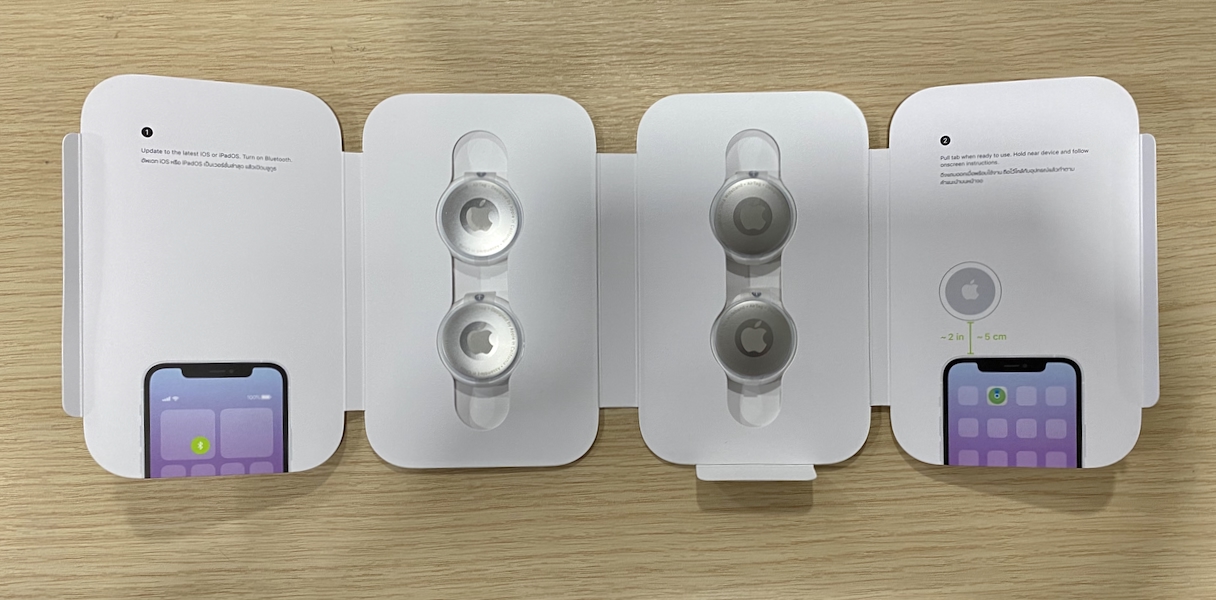 Last time I wrote I was expecting the delivery of the Apple AirTags. The keychain and couple of loops had already arrived at my office and I had a look at these on Monday. As one would expect, nicely made. There was no sign of the AirTags during the day so I checked the Apple store and through that the tracking. I was slightly disappointed to see that although my four AirTags are marked as "Shipped", they were still sitting at the airport in China, although a check later in the day told me they had now arrived in Thailand. I knew that some had already been delivered here.
Pairing the AirTag and use with keys

On Tuesday DHL phoned and they had been delivered to the office. I picked them up after online teaching on Wednesday and used the first one with the keychain. Setting up was as simple as a tap, which I may have done accidentally. The AirTag image appeared on the iPhone in a similar way to AirPods. I gave it a suitable name and the link was done, with the AirTag appearing immediately in FindMy.

After Tim Cook's final goodbye to the emojis the screen credits rolled. On the version available through the Apple site, there is a voice over. The screen-credits information is mainly about the isolation, mask-wearing and other safety aspects maintained in the making of the video event. It ended with, "No iPads were harmed in the making of this event".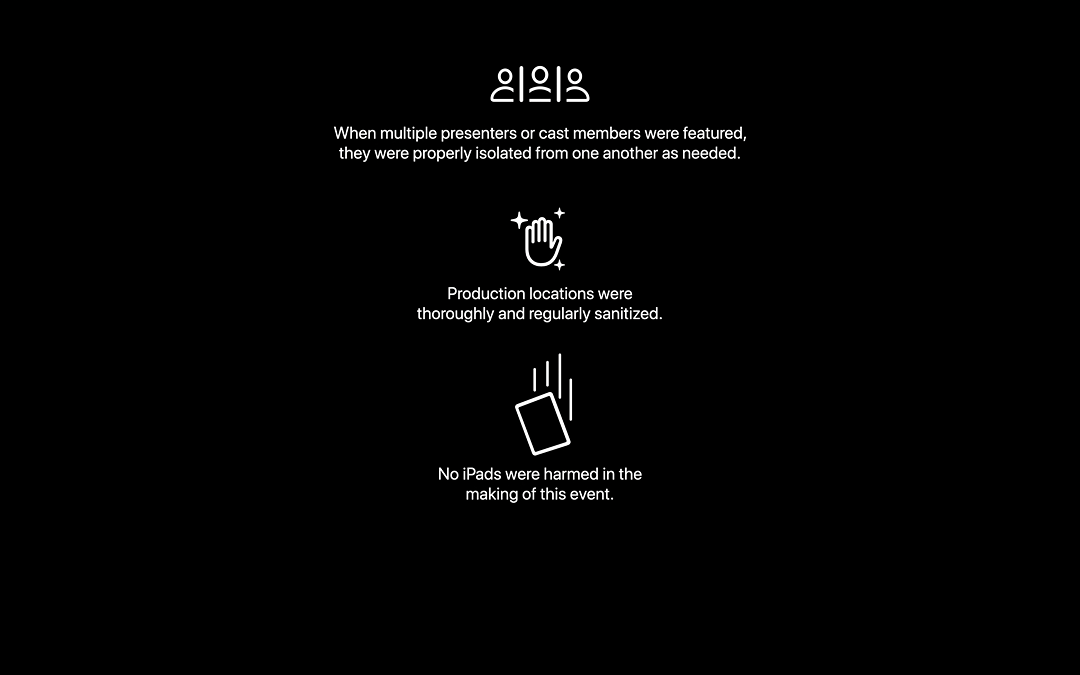 Graham K. Rogers teaches at the Faculty of Engineering, Mahidol University in Thailand. He wrote in the Bangkok Post, Database supplement on IT subjects. For the last seven years of Database he wrote a column on Apple and Macs. After 3 years writing a column in the Life supplement, he is now no longer associated with the Bangkok Post. He can be followed on Twitter (@extensions_th)