Tuesday Review: Emergency Updates; New Products; Everyone is an Expert
By Graham K. Rogers
---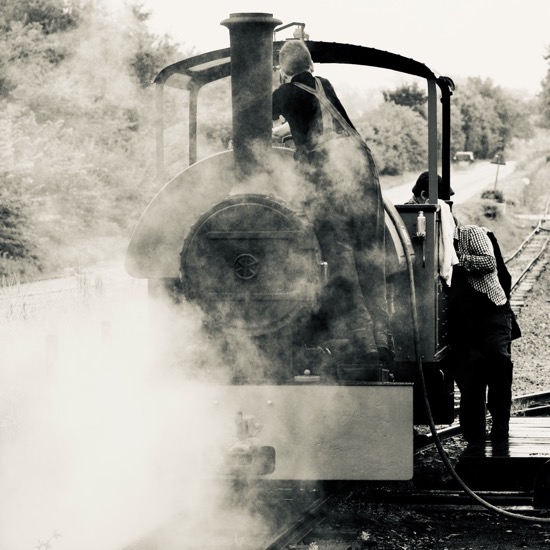 An emergency update to iOS, watchOS and macOS appeared at the weekend: a critical WebKit fix. Rumors about Apple events and upcoming products. New Apple accessories for me. Patents and beer cans. Politicians and technology.

There was an unusual update last weekend. It was released here on Saturday which is a rare event: it was probably available late Friday in the USA. It was a security update and for a critical WebKit fix. I saw this Saturday evening, but despite checking for several minutes on iPad and iPhone, nothing appeared, not even the words, No update available. When I tried again Sunday morning it appeared almost immediately on the iPhone. On the iPad Pro it was there ready to go as I opened the screen cover. Installation was quick enough and was done by the time I had finished breakfast.
A watch update, 7.3.3 did appear but I waited until morning for that too. Like the iPadOS update, it was shown as already being downloaded, but Verifying went on and on. Last time I updated the Watch something similar happened and there was a note that it would be installed in the evening. I would like to control my own updates and the evening is less convenient, particularly as I wear the Watch while sleeping for health checks. It was worse this time.
I wore my Watch in bed as usual, but put it on the charger early Monday morning. The Watch app on the iPhone still showed "Verifying" an hour later. Scratch head. I restarted the Watch. On the iPhone, I was asked to enter the passcode for the phone (that was different), but it went back to "Verifying" again. I focused on the news and coffee. I did check a little later and saw that the panel on the iPhone now showed Installing, so the restart must have done the trick, but this is not in Apple's plan. Coincidentally, by 07.33, WatchOS 7.3.3 reported that it was installed. While I was writing this, the Watch signaled it had restarted with the tone: 24 hours.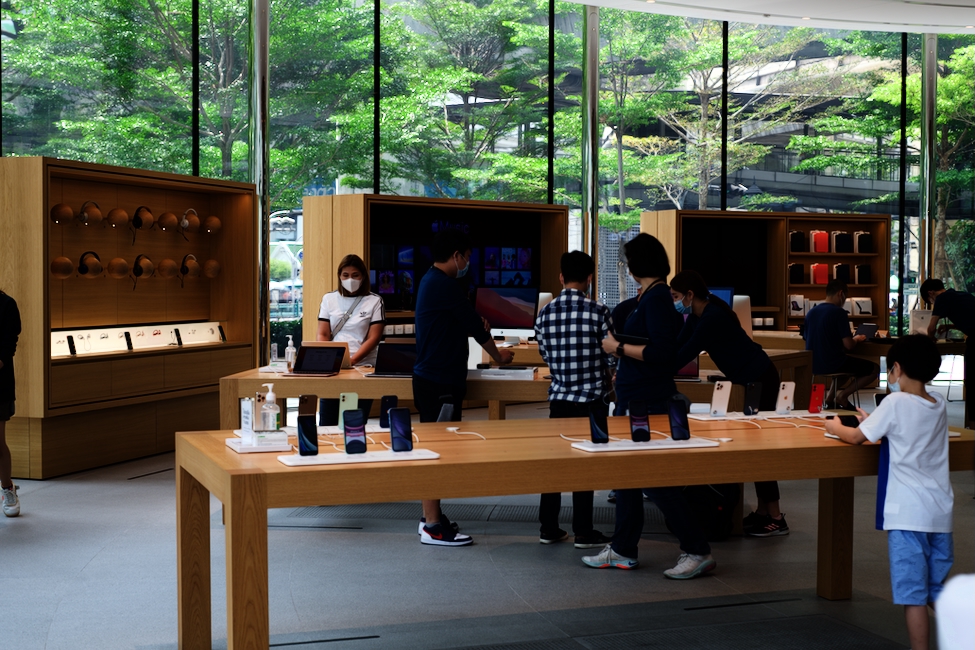 Apple Store, Central World, Bangkok

There are still vague rumors about Apple's next event which some think could happen in April, but I am also beginning to think about WWDC which is normally run in June. I do not think that will change because, even with the online format that ran well last year, bringing together all the Apple engineers, preparing demonstrations and presentations, and inviting developers to participate needs fixed dates. WWDC has always been June and many factor this in to their planning, even before Apple confirms the dates and (when relevant) location.
It is not wholly surprising to see some references to future developments creeping into code. Last week we reported on vague hints concerning unlisted Macs in a beta update. This week Chance Miller, 9to5Mac points out that iOS 15 and macOS 12 are referenced in WebKit code. Miller also suggests that an announcement for WWDC should be expected soon.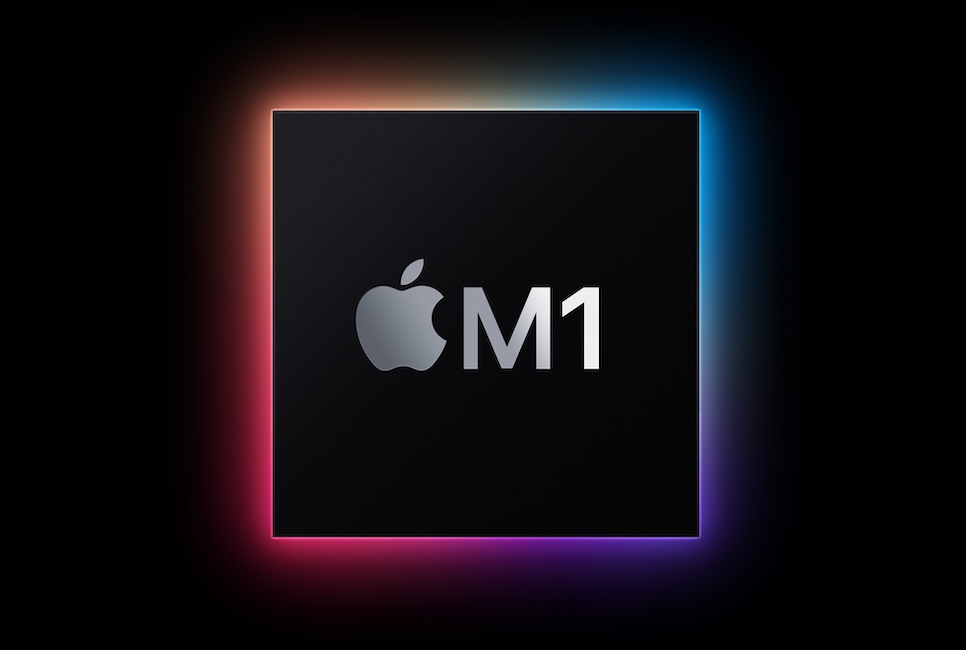 M1 chip - Image courtesy of Apple

A late rumor suggests that while the current M-series chips are made using a 5nm process by TSMC, who are developing 3nm foundry capabilities, Apple has ordered the next chips with a 4nm capacity (Sami Fathi, MacRumors). The report based on information from DigiTimes (so unverified) suggests that the chips are expected to become available late in the year, which puts them out of contention for any Macs that are to arrive in the next month or so. However, it does gel with timing for end of year product releases.
On Tuesday (this morning) I saw another update to Keynote but had some problems downloading that to the Mac, while third party apps were installed without any fuss. I wondered if this were related to other outages that had been reported for some Apple services earlier in the day (Evan Selleck, iDownloadBlog). It eventually arrived but took three attempts. When I updated Keynote on a MacBook Air at my office later, while a third party update had no problem, Keynote was again difficult. That time it only took two goes.

Over the years, there have been a number of products that have been immediately on my radar. There are the obvious stars, like the M-series chips and Apple silicon. The moment that was announced I knew I would be buying a new MacBook Pro. The money was put aside a couple of weeks after last June's WWDC I was so confident. There have also been other, less obvious products. When Apple loaned me the AirPods, I loved these from the moment they were handed over to me in Siam Paragon on a December Saturday. When I had to return them to Apple in 2019 after my columns ended, I went out right away and bought my own: they had become so integrated into my iPhone use.
At the beginning of this year, I noticed a sudden drop off in the time I was able to use the AirPods. As they seemed to stop working just as the BTS train pulled into a station, I wondered if it were a Bluetooth issue. It persisted and it was fairly obvious the battery was dying, as they all do. I knew the serial number but was not able to find out when I had bought them (was there still a warranty?). The only way to confirm was through Apple, so I made my way to the Central World store last weekend and checked. It was confirmed that I had bought these in July 2019, so I was certain that the battery was gone. I bought a new set.

I set the AirPods up later at home. I had forgotten how simple the process was. In the box was the container with the AirPods and a USB to Lightning cable along with some printed information. When the AirPods case is opened normally there is either a green light (charged) or orange (charging). Before setup this is white and a Bluetooth signal is being transmitted. This is recognized almost instantly by the iPhone (or another device) and pairing takes place. The pairing information is shared with a user's other devices, so they are ready to roll on my Macs and iPads as well as the phone. The AppleTV needs the user to interact with the controls, but is quick.

Another product I really liked was the Milan Watch band and was over the moon when my first loaned Watch had this and other bands. When a later Watch loan came and was black, I bought my own black Milan band, which I use regularly still, although it does not have quite the panache of the original stainless steel one. With the latest products I am on my own so buy what I want, within the limits of my wallet. I liked the blue Apple Watch 6, but was even more impressed with Apple's Braided Solo Loop bands, particularly the blue one.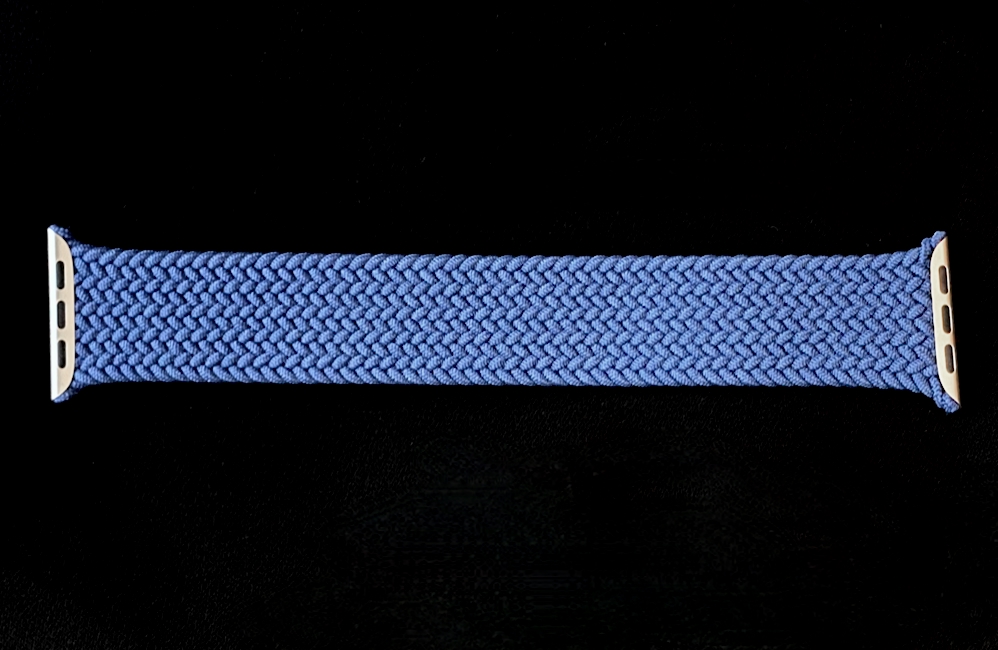 Braided Solo Loop in blue

The problem here is that because they are not adjustable a user needs to be measured. There is an online gauge that can be printed out, but I did not have confidence in that. I first went to the Apple Store late last year but the Apple Watch 6, the bands and the measuring tool were not available. When I went to the local retail outlets (iStudio) they did not have the measuring tool even though I bought the Watch. They still do not have these bands: only the two Apple Stores. When I went to check on the AirPods, I also picked up a new band.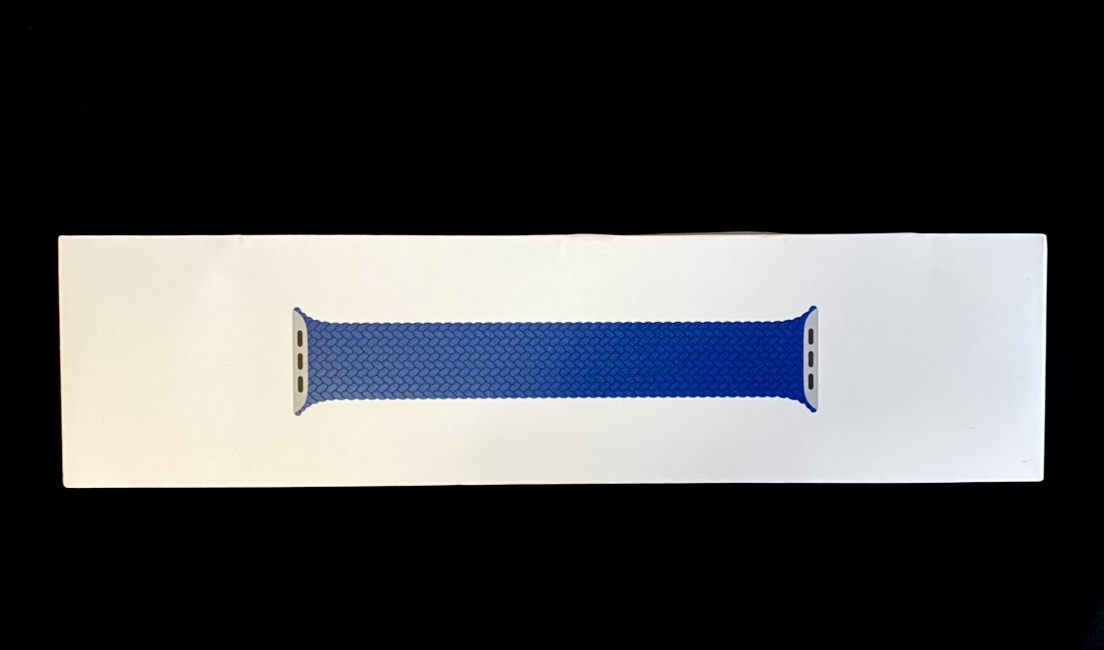 Braided Solo Loop in blue

I looked at a couple of bands, including a blue leather loop band. The process is set up so that customers can try the bands with a Watch and before each new use, the band is wiped using cleaning materials. The measuring tool was also cleaned before I used it and it showed the size of braided band I wanted was 10. I tried a 10 and a 9, deciding on the 9 as that felt better (at least in the Store). The products arrived but I turned down the Apple bag as I already had a couple for food shopping.
Payment is effected easily with the handheld communication device (he had looked up the serial number of the AirPods earlier) and a receipt was printed out. This is far more efficient than some of the processes used in local department stores and supermarkets: one store even checks the receipts about 5 meters from the till and PAID is stamped on it before one can leave.

The band comes in the normal Apple packaging which has padding inserted a certain strategic places in the band container to limit any damage. There is no up or down with these braided bands as there is no clasp mechanism: attach the band to the Watch, slide it over the wrist. I think the most difficult thing was taking photographs (iPhone 11) and trying to get the color balance right.

Apple is granted several patents every week. Some do not find their way into products. Some are ideas that can be used in several ways. There are also a number of patents that refer to industrial processes: how they make the products. Patently Apple reports this week on an Apple patent concerning the manufacture of Macs from recycled aluminum. It is not simply throwing old cola cans into a pot and melting them down. For example, Peugeot used a system of plasma torches for recycling the metal which is also widely used in the auto-manufacturing industry. I used a report on this that I acquired from EDF (Eléctricité de France) in teaching. They used to send out paper reports if they were asked. I am pleased to see that the same report (Kassabji & Weber) is online. I may use that again.
The plasma torch needed some pre-processing to remove the labeling, and the new Apple patent which also uses cans outlines pre- and post-processing, which includes the inclusion of other metals. Alloys are usually far better than base metals: take iron and steel, for example; and bronze. In this method, there is also a substrate, to make the surface stick better to the basic structure. Who would have guessed Apple took such care over its products?

In recent months there has been much criticism of social networking sites and I have been looking at some of the comments on this, including Facebook's use of AI, and the way Google collects user data. I really do not know which is the lesser of these two evils. I was sent a link this week about how Google shut down an online operation run by a US ally: an "expert" hacking group exploiting 11 powerful vulnerabilities to compromise devices running iOS, Android, and Windows. Project Zero is used to find and control security problems, but as Patrick Howell O'Neill comments, there could be an ethical problem here. Russia, China, North Korea, we all understand that, but if a friendly government is running an operation against bad guys, shouldn't this at least be checked with US security? Google is in touch with such agencies after all.
When replying to the comments from the sender of the link, I wrote that for a major company like Google to do this is unusual and plays into the hands of shortsighted politicians who want to impose control over social networking sites. Some restrictions MAY be of benefit (self-policing has failed), but political or judicial oversight may not be the answer. Look at Bell Telephone for an example of the latter; and politicians are less intelligent.
Watching some of the questioning of industrial executives like Zuckerberg (his own worst enemy) and in the past, Tim Cook over taxation, many of the politicians asking the questions are grandstanding. A few have done their homework, but the main objective seems to be scoring points and working towards their own agendas. Not long after I wrote that reply, I found almost perfect support from Neil Hughes (Apple Insider) who points out that many of these self-appointed experts (they are invited to the committees of course, but may not have technological nous) are not really knowledgeable enough to ask the questions, let alone legislate on mega corporations.

In the last output I wrote that an advantage of Gil Amelio bringing in NeXT was that this also included Steve Jobs with the operating system that became OS X. When I reread that after posting, I had a rethink. Of course Jobs was valuable as a figurehead, driver and clear thinker, but acquiring NeXT also brought in a talented team who should not be forgotten, like Avie Tevanien, Bertrand Serlet, Scott Forestall.
Phil Schiller and Jony Ive were already at Apple. Tim Cook and others were recruited later.

Apple Store, Central World, Bangkok
Graham K. Rogers teaches at the Faculty of Engineering, Mahidol University in Thailand. He wrote in the Bangkok Post, Database supplement on IT subjects. For the last seven years of Database he wrote a column on Apple and Macs. After 3 years writing a column in the Life supplement, he is now no longer associated with the Bangkok Post. He can be followed on Twitter (@extensions_th)