Saturday Review: Zuckerberg to Inflict Pain on Apple with a Data-gathering Watch; Beolit 20 Speaker Notes
By Graham K. Rogers
---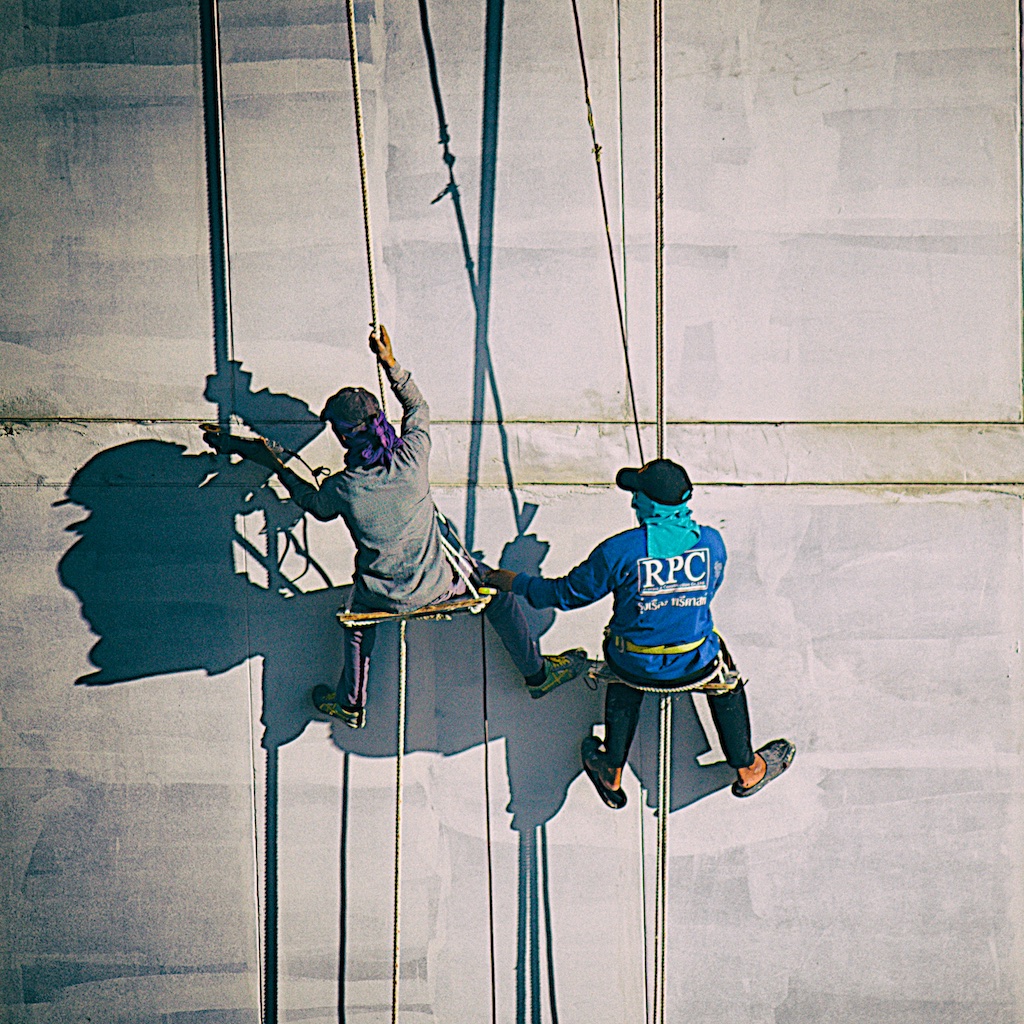 With hybrid teaching - classroom and online - we still need improvements in methods and equipment. Facebook versus Apple and Facebook versus the World. Zuckerberg wants to inflict pain, but people are less sympathetic as the hope of the internet turns into everything that is wrong with it. A new B&O speaker works well although initially I forgot to check the settings.

Going back to the classroom was not the positive experience I was hoping for. As one student in a class I teach lives in an area that has travel restrictions, I have to provide a hybrid classroom: live and online. Before the class, 3 others asked if they could go online as they had an exam and could find no suitable spot on campus to allow for this so needed to work from home. I said Yes to that. I was early to set up but went online a minute or so late.
I did take my own camera and tripod. The one I saw last week was not good enough. There was another one already set up in the room so I decided to use that: a mistake. Use what you know works. Sound output needed better setting up too, but that was partly because I had a new speaker (see below) and I should have tested that more. I did try it out, but not fully.
Five students attended, four were online. One was missing. One is always missing. I will dispose of him later. When we started, the students online could not hear me. Wrong microphone settings. The volume was good on the new Beolit 20 speaker, but the signal kept dropping. This may be because with extended quiet periods it saves power and disconnects. I need to test that. When I projected the student writing on the board, class members commented that it was hard to see. That was true, but is partly their fault as the light handwritten input was poorly photographed. I have trouble reading some of it on the iPad Pro. The Mac's zoom feature (Accessibility preferences) allowed me to enlarge the output. We are moving to typed text, so that many solve that visibility problem.
The students in class were able to catch all of my input, but some was lost to those online. Next time that will only be one student but I still need to improve this. The students did ask if we could go back to an online format, which I was OK with. When I asked the whole group, I did not even finish the question, Yes from all. I was OK with that, but the university is not. Rules is rules and those working online need a special dispensation. They are concerned that some students see it as a way to cut work, and I understand that from earlier experience. This group (apart from the missing body) are all good. After a discussion with the department I had to tell the students that this was a No and we would have to meet in class next time and for the rest of the trimester.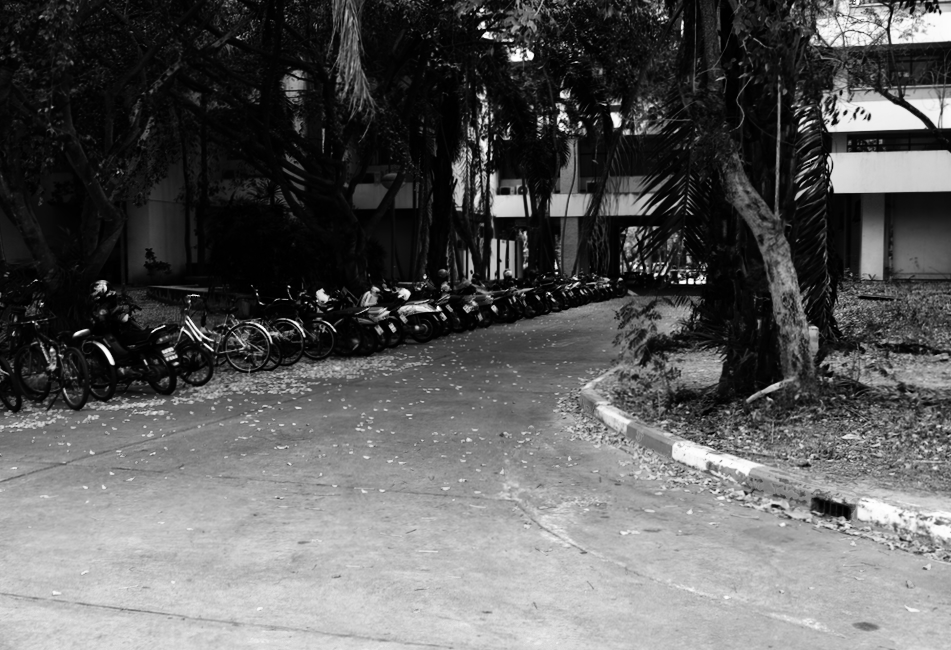 Returning to campus

The office (teachers and staff) discussed this arrangement and offered alternative room assignments, but these would mean a 500 metre trek or more and I am carrying too much equipment already. Several others I have spoken to since say that where I was teaching always has a poor internet signal. One told me that the whole area was suffering intermittent connections this week. At home, it has been fine and the students commented that when we did the online teaching before they never had problems hearing the output, which was sort of encouraging.
I also had to teach a live class on Friday with just under 30 Electrical Engineering students and a number of attendees - students and other teachers - following via Webex. The technician brought in a computer plus monitor in a frame topped with a massive camera. This is used for official university events but as the department is responsible for transmissions, it is available for classes. I asked: about 50,000 baht ($1500 or more). They set up the web-room and I logged in so that my presentation (and live delivery) could be seen by the others. I was also equipped with a radio microphone.
The session went well, although as the second half was a workshop, there was less emphasis on the conferencing. It was kept running so that other teachers could monitor and add comments if they needed. Although the cost for this camera setup was high, I was told that there is a cheaper (10,000 baht) version that might be useful for the other departments who are still struggling with effective classroom delivery when there are online components.

With the Apple-Facebook disagreements still simmering in the background, an interesting piece of news is circulating concerning Zuckerberg's reaction. Sounding something like a despot, he is alleged to have told staff that, "We need to inflict pain," after a 2018 interview Cook did on the question of privacy. That is juvenile. In an article by Chance Miller (9to5 Mac) it is also reported that Facebook considered joining the case brought against Apple by Epic Games. They stayed out of that, but around the time that the beta of iOS 14.5 came out, when it was clear Apple was moving to more privacy restrictions and the Facebook Wall Street Journal advertisement appeared, there was more talk of litigation. Staff at Facebook were concerned about this and managed to cool the Facebook number one down. I am not sure he realises (or cares) about how the rest of the world views Facebook.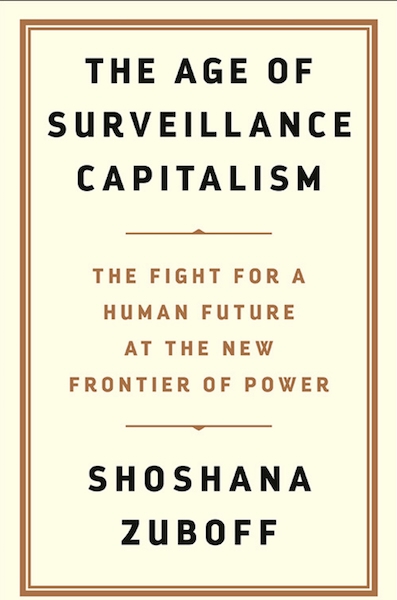 I have been reading The Age of Surveillance Capitalism (Zuboff, S. 2019, Profile; London) this week and have marked several passages in the opening sections, including
The top five internet companies - Apple, Google, Amazon, Microsoft, and Facebook - are often regarded as a single entity, but when it comes to surveillance capitalism, this is not the case.
She notes that Apple has so far drawn a line, but notes that "Its behavior in this regard is not perfect. . . " adding, "Time will tell if Apple succumbs to surveillance capitalism, holds the line, or perhaps even expands its ambitions. . ." (Zuboff). As we are now a couple of years down the line and Apple is clearly digging in its feet (with Google now following), it appears to be holding that line.
If we cast our minds back to 2007 and following events, Samsung tried several times to hurt Apple, although the wall between the chip-making part of the company and its handset production seemed to hold fast. Apple does still use their excellent facilities; and when they follow their own path, Samsung does produce some pretty good handsets (apart from the Android component). When other companies try to inflict pain on Apple, they are not always as successful as they hoped. Take recent benchmarking and advertisements about the M1 chip from Intel for example. These are producing some eye-rolling reactions from commentators. As Steve Jobs used to say, focus on what you do best. Intel can make some good products: get on with it.
There were reports over the weekend that following Samsung, Fitbit, Garmin, Fossil and Apple, Facebook is about to enter the smartwatch market. Tyler Lee on Übergizmo reports that despite trying to produce examples of hardware in the past unsuccessfully, this time it wants to develop a smartwatch that is "expected to tie-in with its current services and will work with a cellular connection, thus discarding the need for it to be tethered to a phone." It will have messaging and health-related features. It will use a version of Android. To save me asking the question, Lee writes, "with Facebook's privacy issues, we're not sure how many people would be so keen to have their movement and health information shared with the company", adding that as the watch is expected to be low cost maybe some will ignore that minor detail. C. Scott Brown on Android Authority also wonders about user trust regarding this device:
You can imagine what the response would be to a Facebook smartwatch that tracks consumer health data and then puts that data in the hands of a company that has an awful track record when it comes to protecting that data.
Likewise, Tyler Sonnemaker on Business Insider, reporting on the news about this watch, comments that this "could raise concerns for consumers given the company's shaky record on data privacy," with Maggie Tillman on Pocket-lint adding that it may be that users , "don't like the idea of having a Facebook-branded device with a microphone or camera in their home or on their person." There are several other similar comments without even looking at the Mac-centric sites, including me of course. Surely this is not what Zuckerberg means by inflicting pain?
In the middle of all this (and with more to come) it was reported by Natasha Lomas (TechCrunch) that Italy had fined Facebook again ($8.3m) for continuing to misinform users about what they do with the data collected. The decision by Italian authorities particularly mentioned the "lack of an opt out for advertising". There seems to be a familiar thread here and it suggests the actions taken by Apple and being considered by politicians elsewhere may have some meat to them.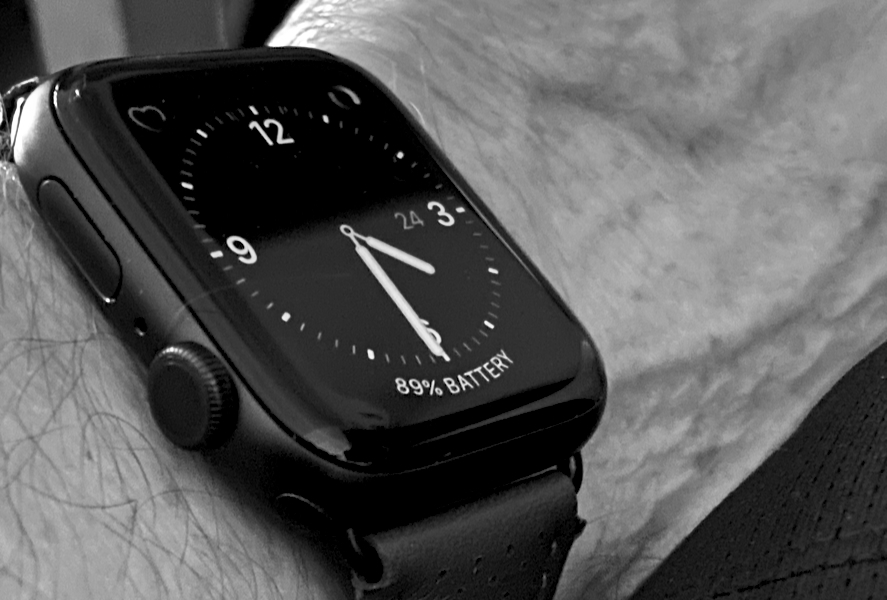 An Apple Watch

Australia has passed laws about payment for news that appears on certain sites, including Google and Facebook. This legislation seems to have been pushed by old-style news media who have not grasped (or maybe they have) that print media and advertising have changed forever. Google initially dug its heels in and has since relented. There is a point here about who does the work to create news and who earns money out it if for zero effort: just adding a link which is done automatically. Google relented and there will be a solution. Facebook refused and now has cut all links to real news, presumably relying on fake news. Google has begun to accept a certain encroaching reality, with regard to news and personal data.
With Facebook's repel all boarders approach, there will be consequences. Among others, Emily Bell (The Guardian) suggests this is an unusual level of PR disaster even for Facebook. Adding to the PR problems, Dorset Eye looks at how Facebook allows news outlets run by the Chinese Communist Party to promote misinformation about the repression of Uyghur Muslims to millions with a link to an article by William Turville (Press Gazette)
On another track, Steve Dent (Engadget) comments on a Financial Times article that suggests Facebook has knowingly inflated its ad audience: overestimating the number of users its advertisers could reach. I had some small experience of this when I paid Facebook for promotion of articles to an audience of thousands, which quickly dropped to hundreds, then less than a hundred - all for the same fee - before I stopped. A letter querying these figures was met with a bland response: a sort of take it or leave it.

In the middle of all the comments and criticisms of what Facebook is, what it does, and how it acts, there is the Oversight Board. Mike Masnick (TechDirt) points out that although most call it the Facebook Oversight Board, it "plans to work with other social media companies". His discussion about this, and some of the personalities (and ethics) involved, is worth reading. Although it is flawed and weak, he concludes that it might not really matter that Zuckerberg misunderstands how it could be of value, "It might just make itself useful by accident."

The Apple car is still a work in progress with fluid expectations. Nissan was rumoured to be in the running as co-developer or builder, but that has now been denied (Sam Byford, The Verge). The CEO of VW, who are known to be developing their own electric car, and which some suggest could partner with Apple, is pragmatic over the car rumours. In a sort of bring it on approach Herbert Diess says he would love to see Apple come in to the market, particularly with their knowledge and dollars, but would not expect them to take over the industry immediately (Malcolm Owen AppleInsider).
That is fairly realistic. As a company leader he knows Apple has a track record for work behind the scenes and any product would be ready before it were announced. Several articles in the last day or so have mentioned that Apple is apparently sourcing advanced LIDAR technology that will still be cutting edge a few years from now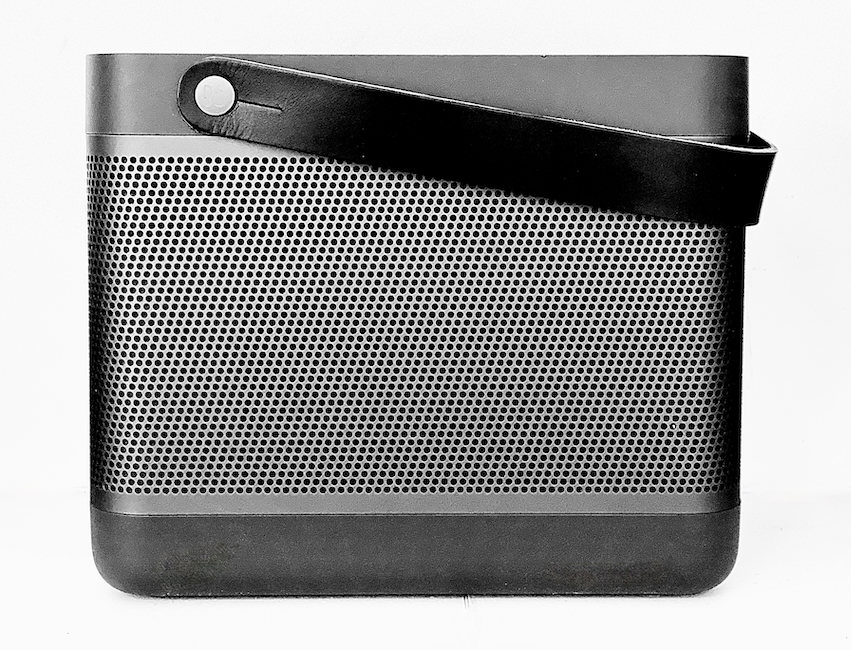 After trying my new Bang & Olufsen, Beolit 20 speaker in the classroom I brought it home. I had already connected with the iPhone, the MacBook Air and the iPad Pro. At home I tried to connect with the MacBook Pro: the new one with the M1 chip. Despite trying a number of ways to pair or re-pair, as well as restarting both devices several times, I was not able to hear any sound coming from this expensive speaker. I did try the Apple TV which paired immediately: pretty good sound too. In case it were a B & O problem, I also tried the older Beoplay 17 headphones. These do work with the Apple TV and all the other devices. It was no problem to pair them with the new MacBook Pro, and music was played through these headphones perfectly.

I had tried to register the iPhone app for this company at the office and failed, but this worked with my home Wi-Fi. The text on the panel in the app shows that the color is black, but my eyes are convincing me that the side panels are a dark blue (see images above). I was able to use that app to register feedback concerning this problem. I was wondering if the new Bluetooth type which uses a Broadcomm 4378 chipset is causing this, but if so why did the older headphones work? The solution came later, just before I went to bed. I had enjoyed a couple of hours of television, with some really good sound and kept thinking, why won't it work with the new Mac.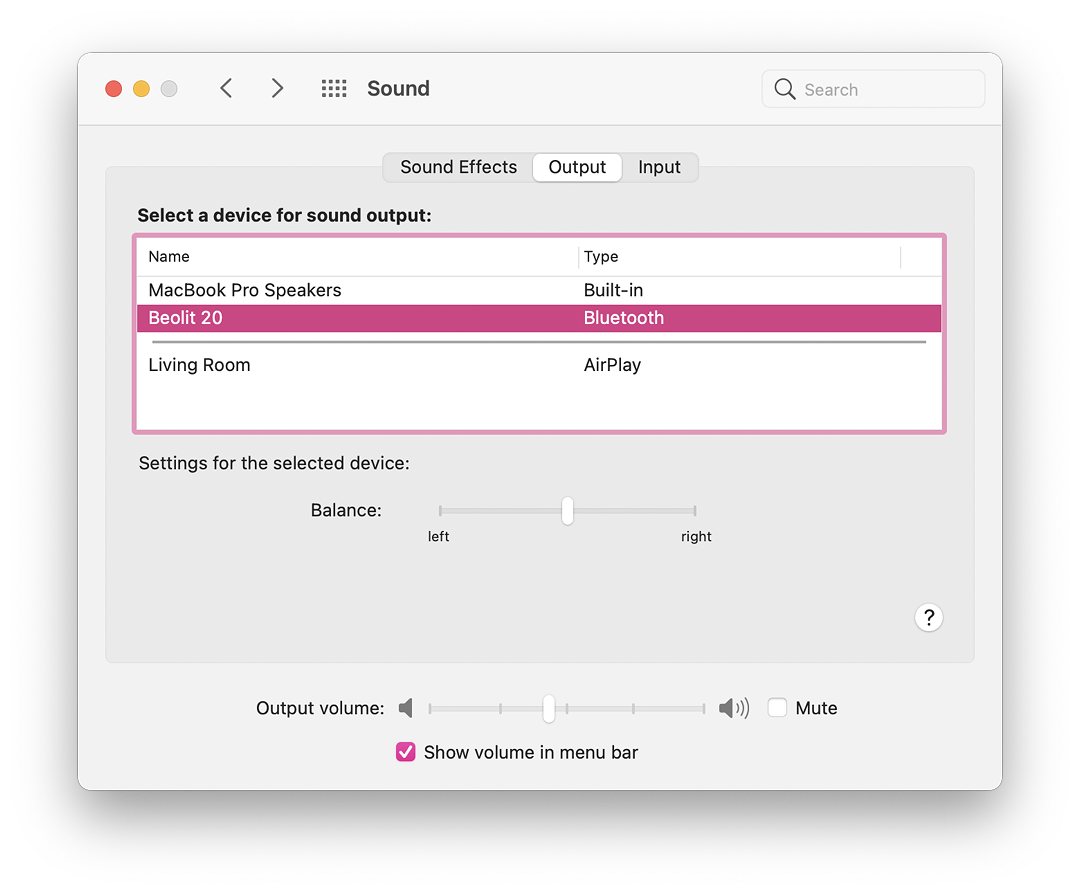 I was looking through the preferences and considered Sound, which I had not looked at earlier. I turned the speaker on again, linked with Bluetooth and saw it appear in the Output panel of Sound preferences, but it was not highlighted. I moved the highlight up to select the Beolit 20, and the sound poured out. I wrote a quick email to B & O to confirm my solution. I bet I am not the first and it might be useful to have this in a FAQ or Troubleshooting.
Graham K. Rogers teaches at the Faculty of Engineering, Mahidol University in Thailand. He wrote in the Bangkok Post, Database supplement on IT subjects. For the last seven years of Database he wrote a column on Apple and Macs. After 3 years writing a column in the Life supplement, he is now no longer associated with the Bangkok Post. He can be followed on Twitter (@extensions_th)