Sunday Diversion: Apple's Potential $1b Quarter; Rumors about Touch Bar and SD Card Reader on the Mac
By Graham K. Rogers
---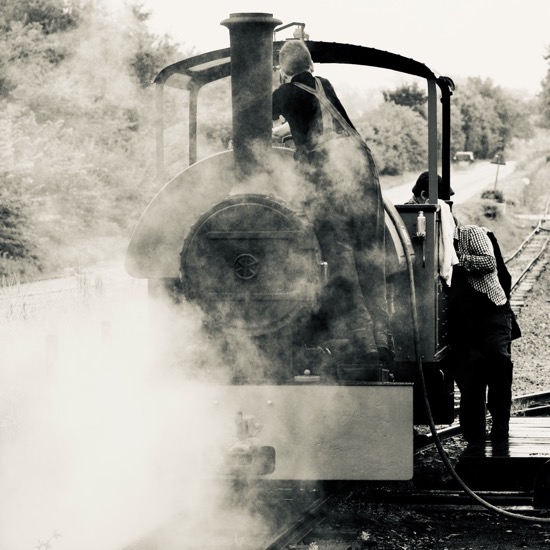 Apple's Q1 2021 financial report is this week. Free speech, Apple, Google and the courts. MacBook Pro rumors: Touch Bar to go and SD card reader to return - I hope neither. M1 notes on power use and control.

In a few days Apple will announce its latest financial report (Q1 2021) and this is expected to be another good showing. With increased sales from home working, the new M1 Macs and high iPhone sales reported, the company seems in a good position with some reports suggesting we may see the first $100 billion quarter (Paul Morris, Redmond Pie). That does not prevent sniping of course, and perhaps makes Apple a larger target. Rumors abound as ever and I am carefully ignoring those about the iPhone 13 which is probably several months from release and may not even be finalized at Apple. Look for other announcements soon after the financial report.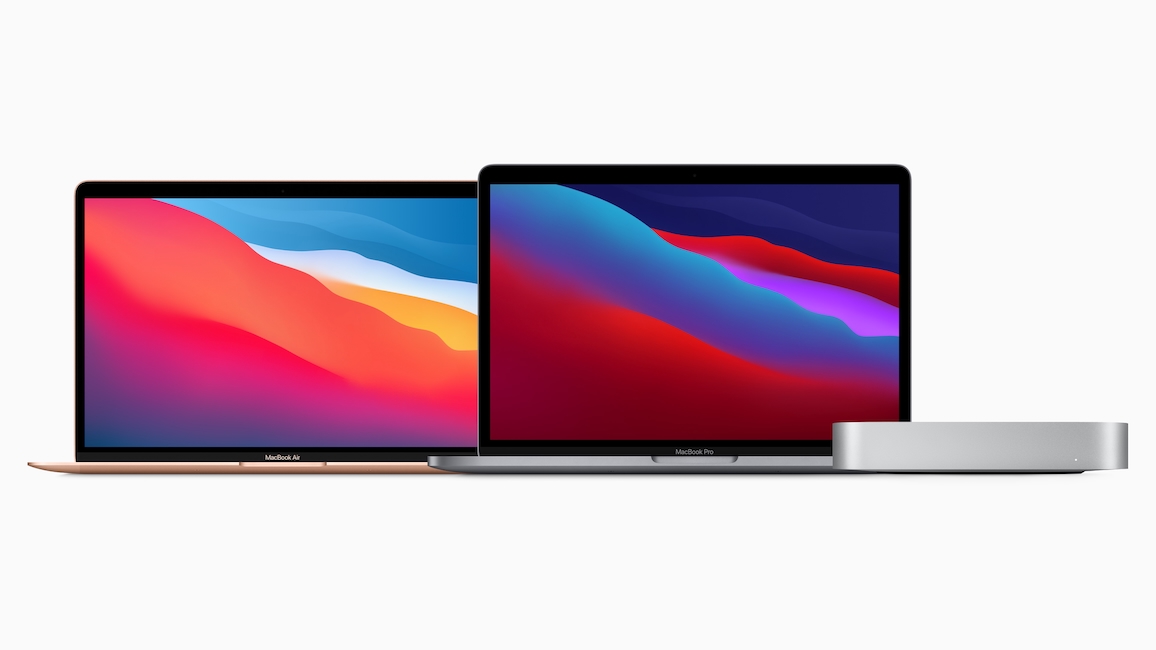 M1 Macs - Image courtesy of Apple

Recently there was considerable discussion over the ways messaging was being handled by different companies in the light of the violence surrounding the attack on Congress. Twitter is fairly open and there are discussions from all parts of the political spectrum. When these overstep a mark (one which does seem to move occasionally) a user may be suspended or even banned. There are a number who think they are personalities who have been lost to Twitter because of this.
Some of these persons found their way to Parler. I had a look when it first became available. Once logged in it took me 5 minutes to look at messages, blink and delete the app. It was no surprise to see that it figured in the Congress encroachment. Nor was it a total surprise when first Google, then Apple suspended the app. It still worked if it was installed on a device, but not for long as Amazon which hosted the servers pulled the plug. The service did return on a website that was hosted in Rostov-on-Don. The irony was noted by several commentators.
Apple is regularly sued, but the Parler app removal (Tim Cook says they can come back if they put mechanisms in place to control extremism - Stephen Warwick, iMore) did cause a few ripples. I had an eye-roll moment when I saw an item (Patently Apple) about Marc Ginsberg, the former US ambassador to Morocco, who was suing Apple because Parler was removed but not Telegram which has links to nazis (and Islamic extremists). One notes that Google removed Parler first, and also has Telegram on the Play Store, but it is Apple that is being sued. I tried Telegram too and only saw it as a messaging app. All messages are encrypted end to end. There was no extremist content visible at all. It did not suit because of the registration process, so I let that one go too. But why sue Apple and not Google?
Ginsberg has an iPhone XR and he is claiming damages in excess of $75,000. His action demands trial by jury (I bet he knows a judge would probably throw this one out summarily). I read the action and it includes a number of images that he says prove the app is being used for anti-Semitic purposes. I think I have seen some of these on Twitter (with appropriate warnings). He notes that other apps have been removed by Apple. And also notes sections from the app description concerning end to end encryption and the developer's comments that content will not be removed (free speech). But why Apple? I checked and Telegram is available on the Play Store, so why not sue Google as well.
I frequently mention hoakley on The Eclectic Light Company and the technical information (as well as Art) that is available on the site. This week, the site has provided a link to a collection of articles on M1 Macs which is a valuable reference and a good starting point. The site had a discussion on Bluetooth problems this week and as a result I downloaded the wireless discovery tool, iStumbler. I had had this years ago and let it lapse so the reminder was timely. The Thai App Store has this for 499 baht.
A tenuous link, I know, but one of the departures now that President Biden is in the White House is Ajit Pai, whose tenure and opposition to net neutrality, almost broke the internet. Nitish Pahwa (Slate) is not sorry to see him go.

A few days ago there was a report in Ireland about the theft of an iPhone. When police there tracked down the phone using Find My, they also arrested a teen with lots of drugs and plenty of drug money. This week, a report from Tyler Lee on Übergizmo outlines the story of a woman kidnapped in San Antonio, Texas who was tracked to a Hyatt Hotel by the Apple Watch she was wearing.

A number of articles have appeared in the last few days after rumors appeared concerning the development of new Macs and changes that are expected. These include the removal of the Touch Bar and the inclusion of an SD Card reader. The card reader is not a problem for me: I moved on when this was removed, in the same way I did when the optical disk drives disappeared and the 3.5mm headphone jack was removed from iPhones. The SD card was easy, I bought an adapter from Apple; but when Nikon added the XQD card to its D850, I had to buy another card reader for that (the first Sony product I had purchased in years after the disgraceful root kit problem). That card reader used a micro-USB port and I had cables that connect directly to the USB-C ports on the Mac. Among the commentators on this, Jaron Schneider, (PetaPixel) writes that photographers have been yearning to see the return of the SD card slot.
These days, however, the card reader is redundant - at least for me - I just connect the camera directly to the Mac (or the iPad) using the same micro-USB to USB-C cable and all images are downloaded. Some users are still stuck on old ways of working obviously and I noted a comment on SlashGear from Chris Davies about how he hoped that the SD card reader would return as he hates having to use the adapter. He does note that some (like me) do connect cameras directly, but adds that many still prefer to pull out the SD card (or XQD) and work that way. He does also comment that he does not mind the Touch Bar.
The visual interactive display that appeared a while back was heavily criticized, often by those who did not use it, in the same way as AirPods were panned when they first appeared by those who had not tried them. I took one local user to task when he commented how he hated the Touch Bar, but when pressed his sole experience was 5 minutes in a store with a display model. I immediately liked the way I could do different tasks, depending on the App I was using. As more apps updated to include Touch Bar features, it became more valuable. I use it daily to adjust volume and brightness on the Mac, as well as quick actions in a number of apps. When typing, or editing papers, I find the words offered far better than Autocorrect can ever be.

Touch Bar display in Safari

Like the SD card, the Touch Bar has its detractors, but Zac Hall 9to5 Mac is a fan, but I do not accept his comment that "the Touch Bar virtually never changed despite being presented as something dynamic". It is changing all the time dynamically, but physically it does not need to change. Like with motorcycle maintenance, the adage, "if it ain't broke, don't fix it" applies. How would Apple improve a long, thin rectangle that sits neatly between the keyboard and screen?

Touch Bar display in Mail

He does put forward some sensible ideas: "haptic feedback, sharper visuals, adjusted placement to avoid accidental taps" and I do like the idea of improved sharpness. But relocation may not work. It is one of the input methods that improves with familiarity, not by change. Take the QWERTY keyboard, developed to avoid type bars (strikers) from becoming entangled when typing fast not a problem that I would ever have. There have been some attempts to improve the keyboard, such as the Dvorak keyboard. I thought this was a development that came about with computers, but the patent was filed in 1936. That would require a typist to completely relearn the layout.
Other keyboard layouts also need learning, for example the French equivalent is referred to as AZERTY and some of my Thai friends can type on an English keyboard but cannot type Thai. There are also keyboards that are specifically designed for those working with certain apps: Final Cut, Adobe Photoshop, et al. With the Touch Bar, familiarity with the app and how some of its features integrate with the Touch Bar are keys to more efficient working.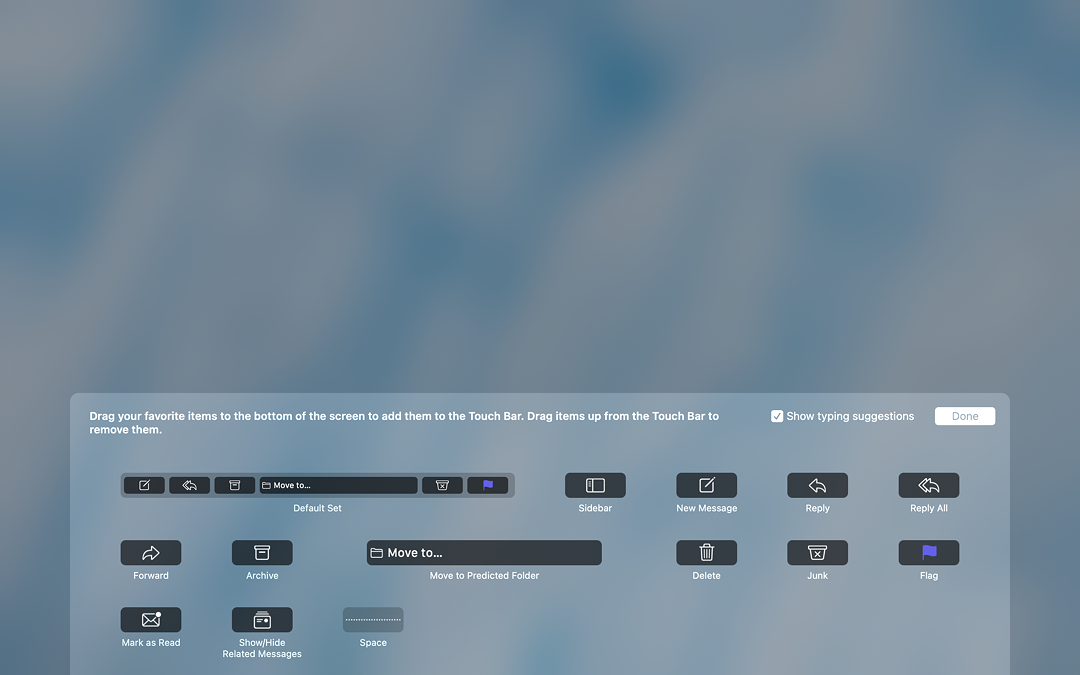 Touch Bar customization for Mail on the Mac

The Touch Bar can be customized in some apps. Finder and Mail have menu items for this as does Notes. Calendar and Photos do not although Touch Bar operations are available for both. The menu item for customization is in the View menu although its position changes depending on the app. Some Third party apps will have Touch Bar features, although I found that some were sparse. Zac Hall is right here, this should be pushed more by Apple.

I do not shut down each time I finish working on a Mac and normally shut the lid of when I go to bed. I may not shut down or restart for several days or even a couple of weeks at times. One morning this week I saw that the Mac lid was up so expected to need the power cable and a retrieval from the coma state that Macs enter when I forget to use Sleep. When I touched a key, however, the Mac sprung to life (unlocked by its connection to my Apple Watch). I saw that the charge was 80%. I checked the settings.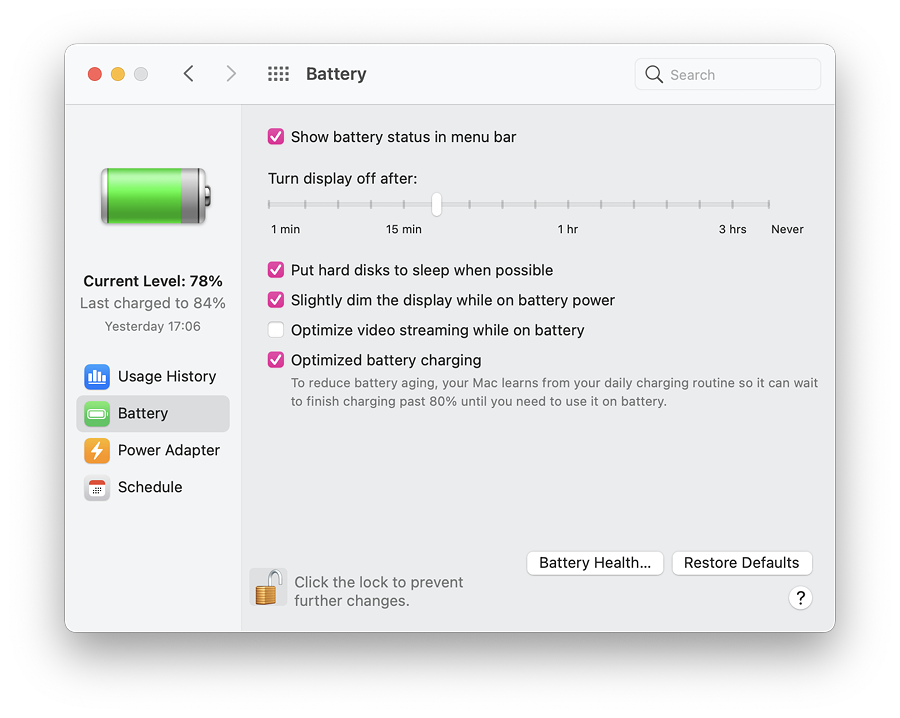 Battery Preferences - Battery panel

There is no Energy Saving panel in System Preferences now. The functions have been moved to a new 4-part Battery preference pane with Usage History, Battery, Power Adapter and Schedule options. Usage showed me I had stopped working on the M1 MacBook Pro around 6pm, which was not long after I had edited some photographs I had scanned. Battery level had dropped slightly before that from 100% to 80% where it had remained. The Battery information shows me I allow the screen to stay on for 20 minutes (I have now changed that to 5 mins). When I am not using the computer, it sleeps after a while and battery life is now maintained: this is far better than with the Intel Macs.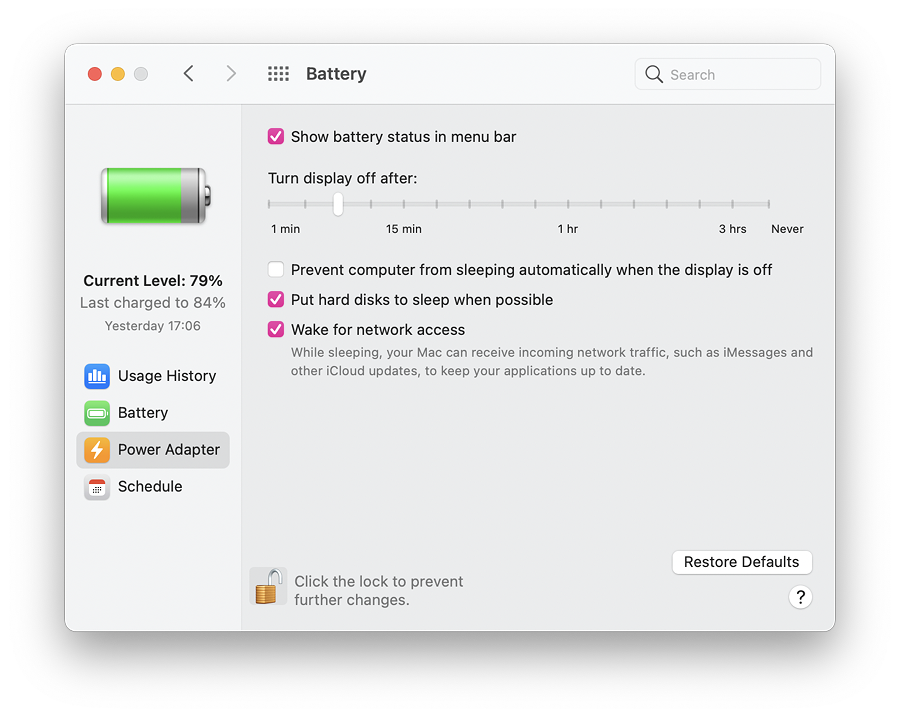 Battery Preferences - Power panel
Graham K. Rogers teaches at the Faculty of Engineering, Mahidol University in Thailand. He wrote in the Bangkok Post, Database supplement on IT subjects. For the last seven years of Database he wrote a column on Apple and Macs. After 3 years writing a column in the Life supplement, he is now no longer associated with the Bangkok Post. He can be followed on Twitter (@extensions_th)